Carlos Condit is a former UFC Welterweight champion, a former four-time WEC Welterweight champion, and Rumble On The Rock 9 finalist.
Athlete Statistics
Full Name: Carlos Joseph Condit
Born Name
Nickname
Age & DOB
Carlos Joseph Condit
The Natural Born Killer
The Albuquerque Bandit
Carlos Condit is currently 39 years old according to his date of birth April 26, 1984.
Fight Stats
Height
Weight
30 Wins // 13 Losses // 0 Draws
6 ft 2 in or 188 cm
170.5 lbs (77 kg)
Reach
Fighting Style
Association
75 inches (191 cm)
Kickboxing, Gaidojutsu
UFC, Team: Jackson Wink MMA Academy
Nationality
Net Worth
Born Place
American
$0.5 Million
Albuquerque, New Mexico, United States
Profile
Carlos Condit is known for very attractive and various striking techniques which could confuse even the most experienced fighter. In the stand-up, there is no chance to predict which strike is coming. The Albuquerque Bandit throws everything, from superman punch to tornado kick. His most successful techniques throughout the career were flying knees, low kicks, spinning back elbow, and left hook.
Condit utilizes Muay Thai clinch very successfully. His special strike is a knee to the head, especially when his opponent is on the fence. Sometimes he uses right hook and uppercuts from close range.
The Natural Born Killer has good takedown defense. He prefers stand-up fighting over ground and pound game. On the ground, he usually delivers punch after punch until the referee stops the fight. His submission game is also great, and he prefers triangle-choke, armbar, and rear-naked choke over other submissions.
Road To The Top
Carlos Condit had his MMA debut on September 6, 2002, at Aztec Challenge, where he defeated Nick Roscorla via rear-naked choke in the first round.
The Natural Born Killer had the amazing score of 23-4, with impressive 13 submission victories. Carlos Condit had the fastest victory of his career against Renato Verissimo, whom he defeated after only 17 seconds in the first round. He defeated some famous names like Carlo Prater, Kyle Jensen, and Frank Trigg, but he lost to Jake Shields.
Carlos Condit – UFC Career
In the first UFC fight, Condit got an honor to fight in the main event of the evening. He fought Martin Kampmann at UFC Fight Night 18, on April 1, 2009. Kampmann won via split decision.
The Natural Born Killer was more successful at UFC Fight Night 19 on September 16, 2009, where he defeated Jake Ellenberger via split decision.
Condit defeated Rory MacDonald at UFC 115 on June 12, 2010, via TKO (elbows and punches) at 4:53 of the third round, winning his first Fight Of The Night award. It was one of the latest Welterweight three-round bout finishes in history.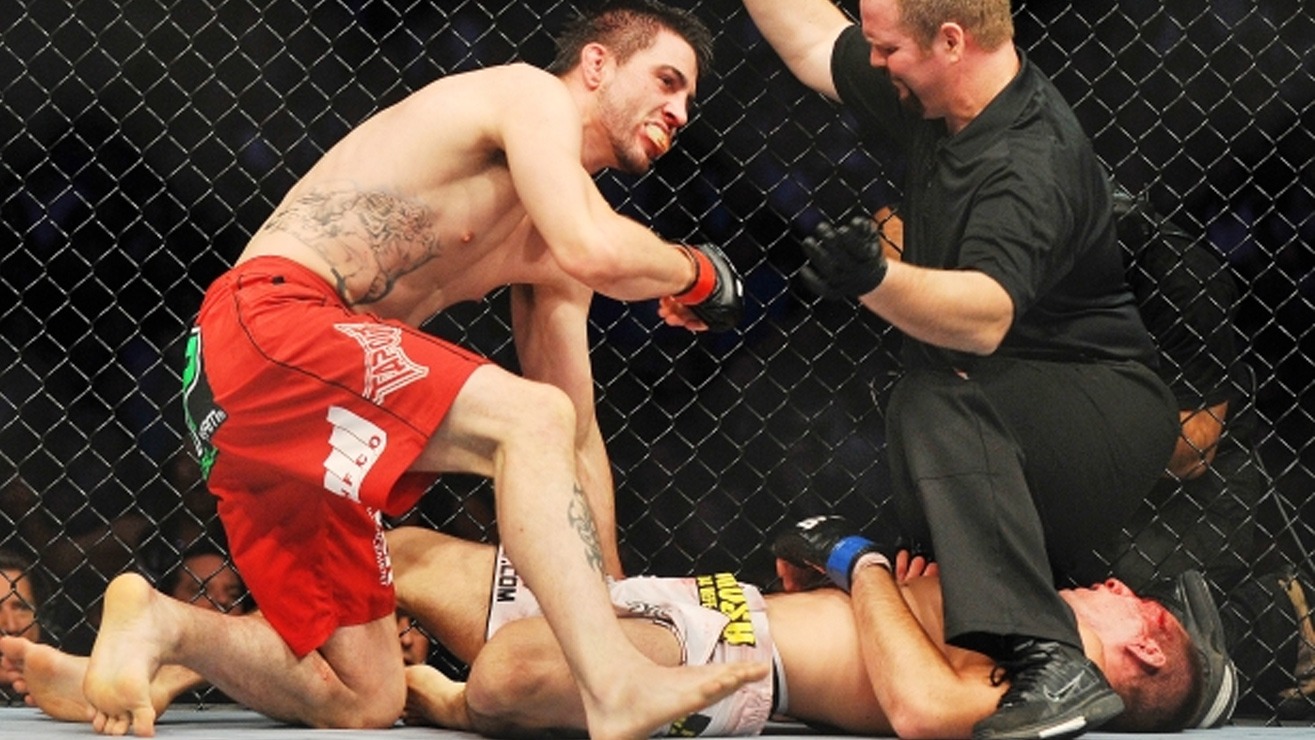 Then he faced Dan Hardy at UFC 120, on October 16, 2010, and dropped him with a strong left hook in the first round. After two strong strikes on the ground, the referee stopped the fight, and Carlos Condit earned his first Knockout Of The Night award.
Carlos Condit – Knee Injury
The Albuquerque Bandit had to pull back from UFC 127 and the fight against Chris Lytle due to a knee injury suffered in training.
Carlos Condit literally destroyed Dong Hyun Kim at UFC 132 on July 2, 2011, via attractive flying knee and punches in the first round.
Carlos Condit Vs Nick Diaz – Interim UFC Welterweight Title Fight
It was expected Carlos Condit to fight BJ Penn on October 29, 2011, at UFC 137. Dana White stated at UFC 137 press conference that the bout between Penn and Condit is canceled, and Condit steps in as a replacement for Nick Diaz in the fight against GSP for the UFC Welterweight championship at UFC 137. Georges St-Pierre pulled out of the fight later due to a knee injury.
It was decided that Condit won't compete against a replacement fighter at UFC 137. Nate Diaz defeated BJ Penn at that event, so officials decided Georges St-Pierre should fight Nick Diaz at UFC 143. The Natural Born Killer should face Josh Koscheck at UFC 143. GSP still didn't make to recover from a knee injury, so Carlos Condit faced Nick Diaz in an Interim UFC Welterweight title fight at UFC 143, on February 4, 2012.
The Albuquerque Bandit defeated Nick Diaz via unanimous decision and he was promoted to an interim champion. All the time during the fight, El Diablo was insulting, challenging, and provoking Condit to hit him and even dropping his guard from time to time. Diaz even said "Spinning shit? You're throwing spinning shit?" after Condit missed with a spinning back elbow few times in a row.
Carlos Condit Vs Georges St Pierre – UFC Title Shot
The two faced at UFC 154 on November 17, 2012. Condit shocked the world when he knocked GSP down at the third round via world-class high kick. The Natural Born Killer delivered few punches on the ground but didn't finish his opponent. Georges St-Pierre won via unanimous decision, and both fighters were awarded Fight Of The Night bonuses.
Carlos Condit Vs Johny Hendricks
The two faced at UFC 158 on March 16, 2013. Johny Hendricks scored multiple takedowns during each round which gave him an advantage on the scorecards. Condit was a lot better striker all the time. Johny Hendricks won via unanimous decision, and both fighters received Fight Of The Night awards. This fight was UFC Welterweight title eliminator.
Other Fights:
Carlos Condit had a rematch against Martin Kampmann at UFC Fight Night 27 on August 28, 2013. This time, Condit won via TKO (knees and punches) in the fourth round. Condit scored his fourth Fight Of The Night bonus.
Carlos Condit – Back Injury
The Albuquerque Bandit was pulled back from UFC On Fox 9 fight card, citing back injury.
Carlos Condit Vs Tyron Woodley – Knee Injury
The two faced at UFC 171 on March 15, 2014. Since the opening, Tyron Woodley surprised Condit by using low kicks, superman punches, and spinning back-fists. Woodley hurt Condit during a takedown attempt. As soon as the referee stood them up for inactivity, T-Wood landed a brutal right low kick which visible dislocated Condit's leg and won the fight via TKO.
Condit suffered torn ACL and partially torn meniscus, he had to undergo surgery and make around a year break from fighting.
The Natural Born Killer faced Thiago Alves at the main event of UFC Fight Night 67 on May 30, 2015. The doctor stopped the fight at the end of the second round and Condit won.
Carlos Condit Vs Robbie Lawler – UFC Welterweight Title Shot
The two should fight at UFC 193 but Robbie Lawler pulled back due to a thumb injury and they faced in the main event of UFC 195 on January 2, 2016. Lawler won by split decision but it was one of the most controversial decisions ever.
Both fighters scored one knockdown, but Carlos Condit delivered 198 of 504 strikes, while Lawler's score was only 78 of 177. When it comes to media outlets, only 3 gave victory to Lawler, 2 counted it as a draw, while 15 scored the bout in the favor of Condit. Both fighters received Fight Of The Night awards.
Carlos Condit Vs Demian Maia
The two faced at the main event of UFC On Fox 21, on August 27, 2016. As soon as the fight opened Demian Maia took Condit down with a single-leg and landed in a spread half-guard and delivered few punches and elbows. As soon as Carlos Condit tried to escape, the Brazilian grappler secured the back mount and finished the fight after only 1:52 in the first round. This was the quickest defeat in Condit's career.
Condit is defeated by Neil Magny at UFC 219 on December 30, 2017, via unanimous decision.
The Natural Born Killer suffered one more loss to Alex Oliveira at UFC On Fox 29 on April 14, 2018. Condit initial opponent at this event should have been Matt Brown, but Brown pulled out of the fight citing knee injury.
After the fight, Condit mentioned that he thinks about the retirement, but a month later, The Albuquerque Bandit stated that he puts his retirement plans on hold.
Personal Life
Carlos Condit has Austrian, German, Native American and Mexican descent. He is married to Seager Marie McCullah, and they have a son Owen.
Carlos Condit – Social Media Profiles