Rory MacDonald is current Bellator Welterweight champion, a former King Of The Cage Lightweight champion, and a former UFC Welterweight division runner-up.
Athlete Statistics
Full Name: Rory Joseph MacDonald
Born Name
Nickname
Age & DOB
Rory Joseph MacDonald
Ares
The Red King
The Canadian Psycho
The Mass Murderer
The Waterboy
Rory MacDonald is currently 33 years old according to his date of birth July 22, 1989.
Fight Stats
Height
Weight
21 Wins // 6 Losses // 0 Draws
6 ft 0 in or 183 cm
169 lbs (77 kg)
Reach
Fighting Style
Association
76 inches (193 cm)
MMA, BJJ,
Team: Tristar Gym
Bellator MMA
Nationality
Net Worth
Born Place
Canadian
$1 Million
Quesnel, British Columbia, Canada
Profile
Rory MacDonald is a pure example of an all-around mixed martial artist. He knows all aspects of the game but it is very hard to say which move is his trademark. He is an amazing fighter, with a great cardio, power, and endurance. He is good in long-range strikes, clinch, ground and pound, and submission game.
Rory is a black belt in Brazilian jiu-jitsu, and his best submissions are a rear-naked choke, triangle choke, and an armbar. When on the ground, he prefers punches over elbows. His most often punch is right cross. Rory knows to throw an effective kick or knee to the body, low kick, hook, or even a super fast combo. He sometimes keeps superman punch and spinning backfist as surprise attacks. Rory uses his jab a lot when he wants to create a distance.
When his opponent is on the fence, MacDonald usually opens him up with a punching combo, which is followed by a very brutal knee or an attractive takedown attempt.
The Red King usually uses double leg takedown or a German suplex to take the fight to the ground. One thing is certain – you don't want this guy behind you. He has similar fighting style to Georges St-Pierre – he can outwrestle the best wrestlers, escape submission attempts of BJJ experts, and outstrike the best strikers.
Road To The Top
Rory MacDonald had his MMA debut on October 15, 2005, at Extreme Fighting Challenge 4, when he was only 16 years old! He defeated Terry Thiara via first-round rear-naked choke.
The Red King has built his reputation as a fearless striker who is ready to face anybody. He joined UFC with the score of 9-0 (6 submission victories).
Rory MacDonald – UFC Career
Rory MacDonald had his UFC debut versus Mike Guymon at UFC Fight Night 20 on January 11, 2010. Ares won the fight via world-class armbar.
His next opponent was Carlos Condit at UFC 115 on June 12, 2010. The Natural Born Killer won the fight via third-round TKO. Both fighters received Fight Of The Night awards.
Rory MacDonald defeated Nate Diaz at UFC 129 on April 30, 2011, via unanimous decision.
Ares' next opponent was Mike Pyle at UFC 133, on August 6, 2011, whom he easily defeated via TKO.
MacDonald justified one of his nicknames, Canadian Psycho, in the fight against Che Mills at UFC 145, on April 21, 2012. Rory received some heavy shots in the first round, but he immediately took the fight to the ground in the second round and delivered endless punching combo before the referee stopped the match.
The Red King surprisingly defeated BJ Penn at UFC On Fox 5 on December 8, 2012, dominating him during all three rounds.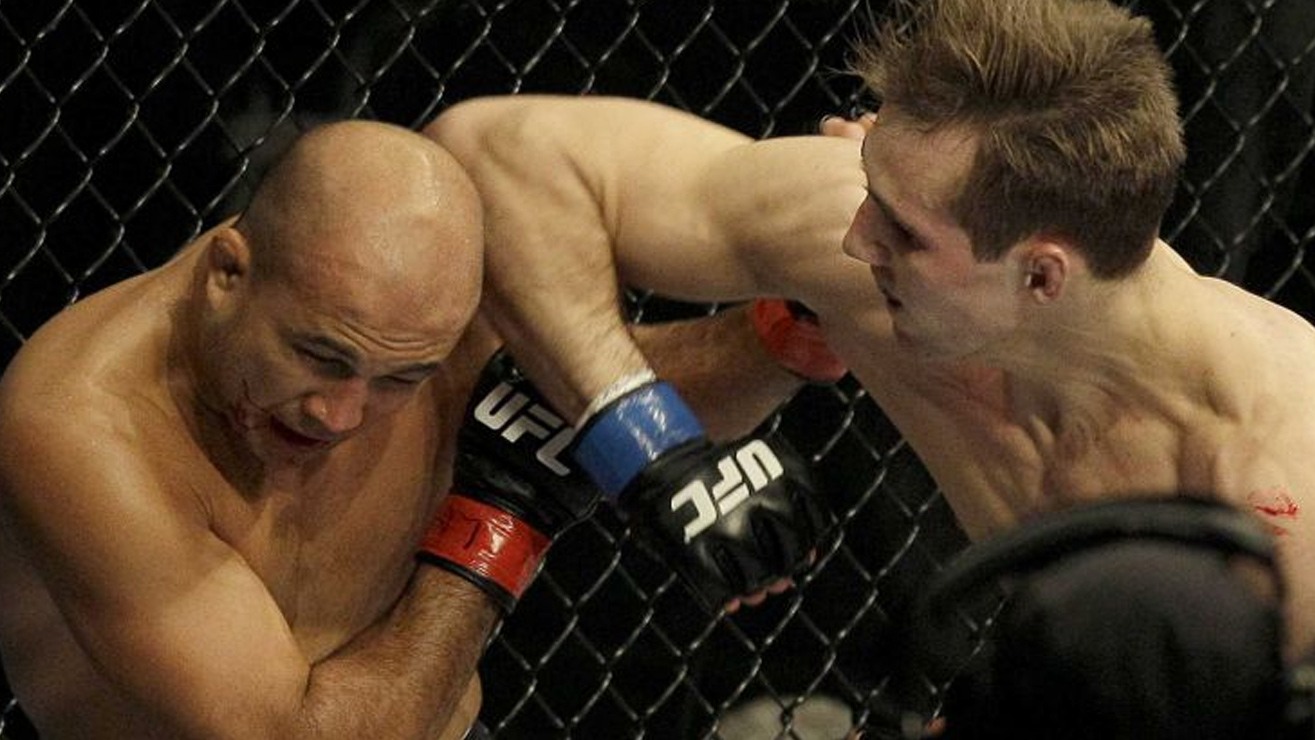 MacDonald demonstrated the power of his long-range striking versus Jack Ellenberger at UFC On Fox 8, on July 27, 2013. He was repeatedly throwing his jab, not letting shorter Ellenberger get close, and won the fight via unanimous decision.
Rory MacDonald Vs Robbie Lawler
Robbie Lawler crossed gloves with Ares at UFC 167 on November 16, 2013. The fight was very interesting to watch and until the last moment, you couldn't be sure who was better. Lawler won via unanimous decision.
Other Fights:
Despite he defeated Demian Maia via unanimous decision at UFC 170 on February 22, 2014, and earned his second Fight Of The Night bonus, The Red King almost had to pull off from this fight. He stabbed himself while cutting an avocado few days before the event.
Rory MacDonald Vs Tyron Woodley
Rory MacDonald and Tyron Woodley had their showdown at UFC 174 on June 14, 2014, in the co-main event of the evening. Rory MacDonald won via unanimous decision.
MacDonald fought for the first time in the main event of the evening versus Tarec Saffiedine at UFC Fight Night 54, on October 4, 2014. Ares won via TKO, earning his first Performance Of The Night award.
Rory MacDonald Vs Robbie Lawler 2 – UFC Title Shot
Robbie Lawler was defending the title for the first time at UFC 189 in a rematch versus Rory MacDonald on July 11, 2015, in Las Vegas, Nevada. It was also known for the latest Welterweight finish in a title bout. In the fifth round, at 1:00, Lawler won MacDonald again, this time via TKO. Both fighters received Fight Of The Night bonus. The fight was announced for The Fight Of The Year too.
The damage MacDonald took to his face during the fight combined with his near finishes left an undeletable trail. Rory was nicknamed The Red King. Dana White stated that this was one of the best fights in the history of this sport.
Rory MacDonald Vs Stephen Thompson
Ares faced Stephen Thompson at the main event of UFC Fight Night 89 on June 18, 2016. After five rounds of tremendous performance, Wonderboy won via unanimous decision.
Rory MacDonald – Bellator MMA
The Red King signed Bellator contract on August 26, 2016. He appeared at Bellator 160 and described his intentions to win Welterweight division.
Rory MacDonald Vs Paul Daley
The two faced at the main event of Bellator 179 on May 19, 2017. MacDonald controlled the fight from the beginning, not letting Paul Daley take a breath. Ares won in dominant fashion via second-round rear naked choke.
In his next fight, Rory won Bellator Welterweight division by defeating Douglas Costa at Bellator 192, on January 20, 2018, via unanimous decision. Midway through the fight, Rory had a nasty injury with the big swelling on his left shin bone.
Rory MacDonald Vs Ben Askren – Possible Next Fight?
Rory MacDonald and Ben Askren had some Twitter beef related to the possible showdown. While Rory seems relaxed and interested in the possible matchup, Askren threatens the current Bellator Welterweight champion. Askren believes he will finish him in the third round but The Red King disagrees.
Rory MacDonald Vs Gegard Mousasi – Callout Accepted!
Looks like Rory is everything but a stubborn narcissistic fighter. He has the heart to accept everything. Gegard Mousasi challenged him to fight, and The Red King accepted. But this time, both fighters have very strong comments… strange for Rory, but if it happens, it will be one of the best stand-up shows in Bellator ever!
Personal Life
Rory MacDonald has a daughter with Ashlin Rainbow. They are currently engaged. Rory was dating her since he was 14 years old. He is a Catholic.
Rory MacDonald – Social Media Profiles