Tyron Woodley is a four-time UFC Welterweight champion of the world and a current UFC Welterweight champion.
Athlete Statistics
Full Name: Tyron Lakent Woodley
Born Name
Nickname
Age & DOB
Tyron Lakent Woodley
The Chosen One, T-Wood
Tyron Woodley is currently 40 years old according to his date of birth April 7, 1982.
Fight Stats
Height
Weight
19 Wins // 5 Losses // 1 Draws
5 ft 9 in or 175 cm
170 lbs (77 kg)
Reach
Fighting Style
Association
74 inches (188 cm)
Boxing, Wrestling
UFC
Team: Roufusport
Nationality
Net Worth
Born Place
American
$4 Million
Ferguson, Missouri, United States
Profile
Tyron Woodley has amazing wrestling throws. He has great boxing, especially right cross and right hook. His right low kick is super strong, and he sometimes tries diagonal and roundhouse kick to the body. Tyron Woodley has a very dangerous superman punch and spinning back fist, which is very rare among boxers.
Tyron Woodley is a BJJ brown belt. T-Wood prefers punching his opponents on the ground. In the clinch, Tyron Woodley usually goes for the slam, a takedown, or a right knee to the head. He is one of the strongest Welterweight competitors of all time.
Tyroon Woodley Record
Tyron Woodley has one negative record – T-Wood is one of the rare fighters who had 9 Strikeforce fights and didn't make to become the champions.
The Road To The Top
Tyron Woodley had his MMA debut at Headhunter Productions: The Patriot Act 1 on February 7, 2009, versus Steve Schnider, whom he defeated via submission (punches).
After first two victories, T-Wood joined Strikeforce. He had nine fights there, and he is defeated in the title fight of Nate Marquardt. He joined the UFC with the score of 10-1.
Tyron Woodley – UFC Career
Tyron Woodley had his UFC debut versus Jay Hieron at UFC 156 on February 2, 2013, in Las Vegas, Nevada. The Chosen One knocked him out cold after only 36 seconds in the first round. This was the fastest victory of his career.
His next opponent was Jake Shields at UFC 161, on June 15, 2013. After three difficult rounds, Shields won via unanimous decision.
In the fight versus Josh Koscheck at UFC 167, on November 16, 2013, Tyron Woodley earned his first Knockout Of The Night award. T-Wood won the fight via first round KO.
Woodley faced Carlos Condit at UFC 171 on March 15, 2014. He did an unbelievable thing by using Condit's weapon against him – superman punches, spinning backfists, and low kicks. Tyron Woodley won the fight via TKO after the tremendous right low kick.
Carlos Condit suffered a meniscus tear in this fight. Tyron Woodley hurt him during the takedown attempt, and a right low kick just ended up the fight and visibly dislocated Condit's leg.
The next opponent was Rory MacDonald at UFC 174 on June 14, 2014, in the co-main event of the evening. Rory MacDonald won via unanimous decision.
Woodley fought in the co-main event of UFC Fight Night 48 on August 23, 2014, against Dong Hyun Kim, one of the best Korean competitors. T-Wood won in the first round via TKO after a rain of punches on the ground. Tyron Woodley earned his first Performance Of The Night award.
His next fight was versus Kelvin Gastelum. The two faced at UFC 183 on January 31, 2015. It was a Catchweight fight since Gastelum didn't pass weigh-in. The fight was very tight, and Tyron Woodley won via split decision.
Tyron Woodley Vs Robbie Lawler – UFC 201 Title Shot
In the first title fight, Woodley faced Robbie Lawler on July 30, 2016, in Atlanta, Georgia. The fight was the main event of the evening. In the first round, Tyron Woodley faked Lawler with a jab and delivered a brutal overhand right. Lawler fell on the ground, and The Chosen One connected with few right hooks while Lawler was in the cage. The referee stopped the fight, and Woodley won. He also earned his second Performance Of The Night award.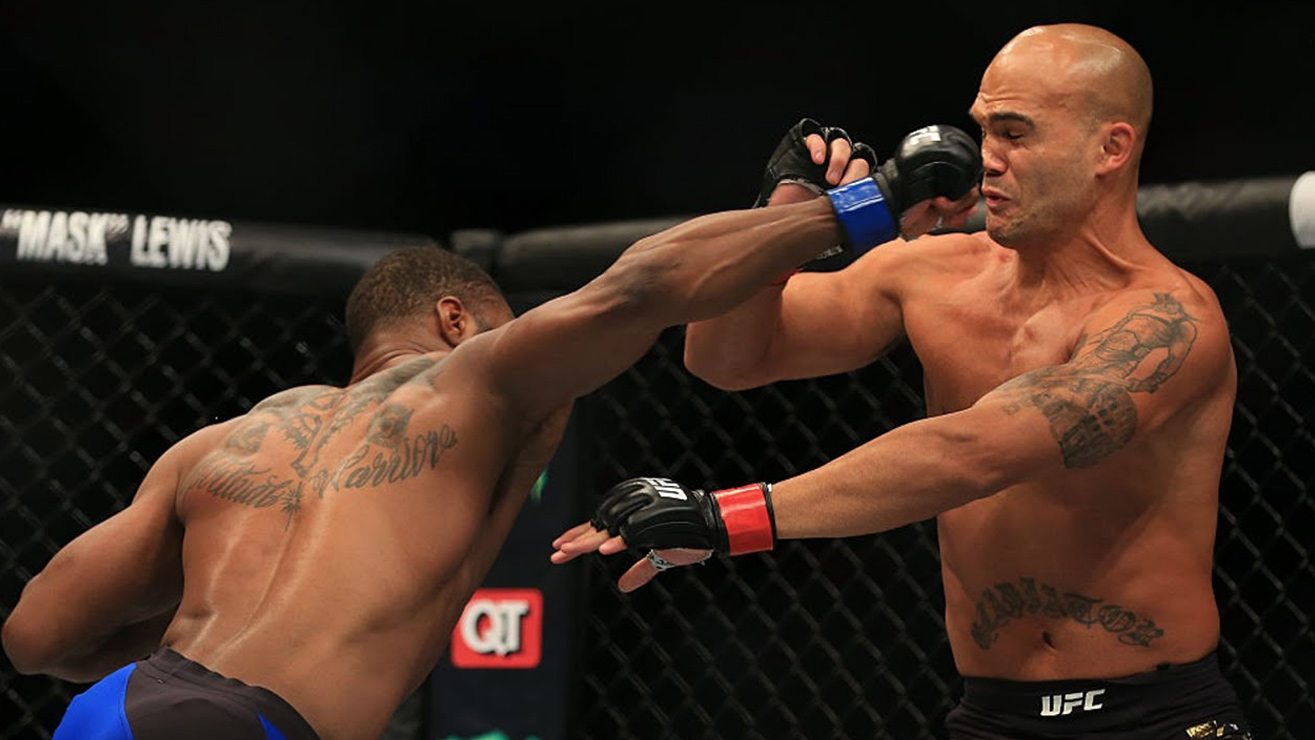 Tyron Woodley Vs Stephen Thompson
In the first title defense, Tyron Woodley fought Stephen Thompson at UFC 205 on November 12, 2016, in New York City, New York. The fight was extremely close, and two judges scored it as a draw, 47-47, while the third judge scored 48-47 for Woodley. The result was announced as a split decision victory for Woodley, but it was corrected to draw moments later.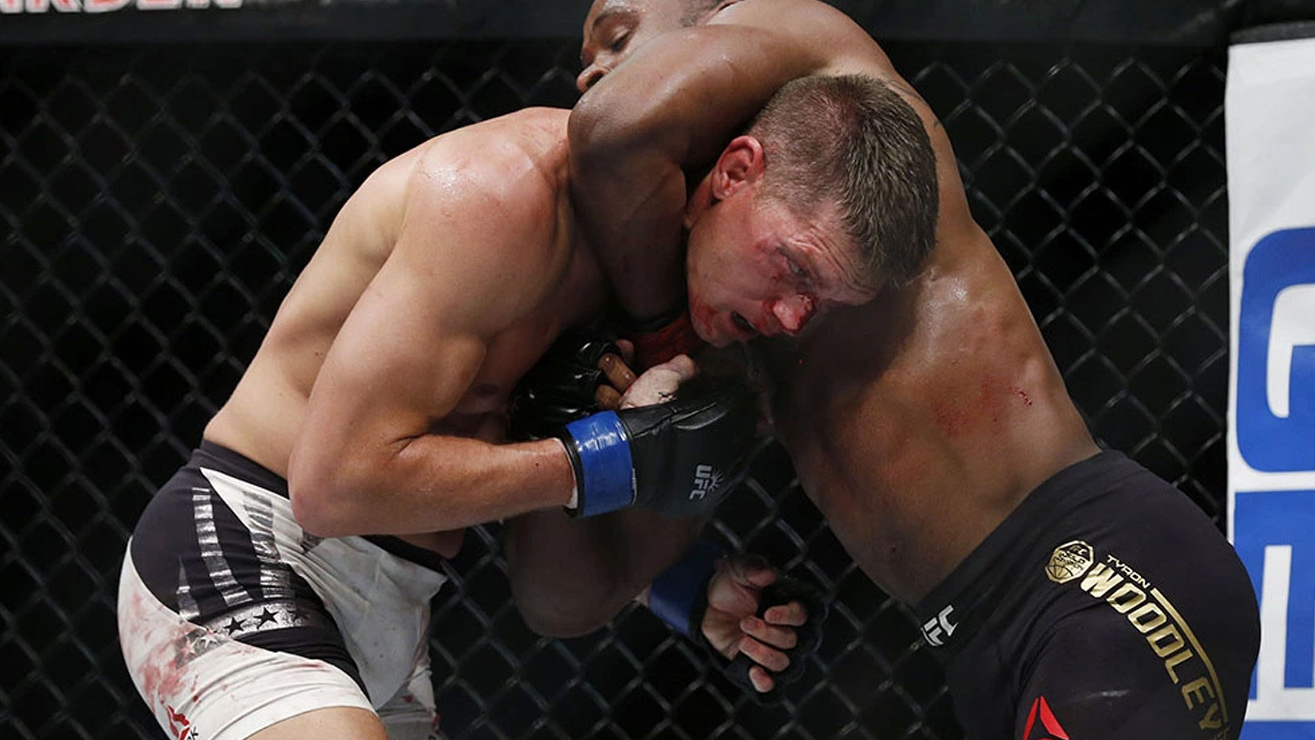 T-Wood retained the title. Dana White was very interested in their rematch. Both fighters got their Fight Of The Night bonuses.
Tyron Woodley was defending the title for the second time in a rematch against Stephen Thompson at UFC 209, on March 4, 2017, in Las Vegas, Nevada. In the main event of the evening, Woodley won again, this time via split decision.
The Chosen One had one more successful title defense versus Demian Maia at UFC 214, on July 29, 2017, in Anaheim, California.
T-Wood defended 21 takedown attempts against Brazilian grappler and BJJ black belt during the fight. This fight broke the negative record for the least number of punches in a championship fight – only 57. The Chosen One won the fight via unanimous decision.
Personal life
Tyron Woodley has a spouse, Averi Woodley. He is a father of three sons – Tyron Woodley Jr, Dylan, and Darron, and a daughter – Gabby.
Tyron Woodley – Social Media Profiles