The UFC is the leading mixed martial arts organization in the world by far, and as time passed by the popularity of the sport also increased with more people interested in MMA now than ever. Today, the UFC has over 650 active fighters on their rosters and hosts over 40 events a year.
As the UFC kept getting bigger, more ethnicities began to enter the UFC. In 1997 Maurice Smith became the first Black UFC Champion at UFC 14 when he beat Mark Coleman via decision. Now the UFC is filled with fighters from different backgrounds and the promotion currently has 4 Black UFC Champions. In this article, we take a look at the top 15 Black Fighters to have ever competed inside the UFC octagon.
Top 15 Black UFC Fighters Ever
This list is in no particular order.
#1 Jon Jones
Nationality: American
Record: 26-1 1NC (10 KO's, 6 Subs)
Division: Light Heavyweight
Years in the UFC: 2008 – Active
One of the greatest to ever do it in MMA. Jones came to the UFC in 2008 and only has one loss, which many people consider controversial, that came via disqualification. The 34-year-old holds the record for most title wins in UFC history with 14, and holds wins over many of the greats such as Daniel Cormier twice, Vitor Belfort, Glover Teixeira, and many more.
Jones made history at UFC 128 when he stopped Maurício 'Shogun' Rua to become the youngest ever UFC Champion at 24 years. Jones hasn't competed since 2020 and has been teasing a move to Heavyweight this year. Since his last fight the 34 year old has had his trouble outside the octagon, with him getting arrested on domestic violence charges in Las Vegas last September.
#2 Rashad Evans
Nationality: American
Record: 20-8-1 (8 KO's, 6 Subs)
Division: Middleweight, Light Heavyweight
Years in the UFC: 2005 – 2018
A UFC veteran with over 20 UFC fights, Evans never shied away from a fight and fought everyone in his time in the Light Heavyweight division. His status as a legendary fighter was confirmed in 2019 when he was inducted into the UFC hall of fame. 'Suga' had a great start to his UFC career winning the second ultimate fighter at Heavyweight, which is not his natural fighting weight, and then going 8-0-1 in his first 9 fights and winning the Light Heavyweight belt in the process.
After going through the worst skid of his career Evans announced his retirement in 2018. However, Evans decided to come out of retirement in 2022 and got a unanimous decision victory over Gabriel Checco at Eagle FC 44.
#3 Kamaru Usman
Nationality: Nigerian
Record: 20-1 (9 KO's, 1 Sub)
Division: Welterweight
Years in the UFC: 2014 – Active
Usman is currently the number one pound-for-pound fighter in the UFC with 5 title defenses so far. The 'Nigerian Nightmare' first made a name for himself in 2015 when he won his season of the Ultimate Fighter. Beating Tyron Woodley at UFC 235 made Usman the first African-born champion in the UFC. He holds impressive victories over the likes of Colby Covington twice, Jorge Mavisal twice, and Leon Edwards
The Welterweight champion is on a 15 fight win streak in the UFC and is looking to get his record-tying 16th UFC win when he rematches Leon Edwards next in July. Usman has also expressed an interest in boxing Canelo Álvarez, the number one pound for pound boxer, as he believes the fight will be the 'the biggest event ever and in combat sports history.'
#4 Yoel Romero
Nationality: Cuban
Record: 13-6 (11 KO's)
Division: Middleweight
Years in the UFC: 2013 – 2020
A fan favorite for all fight fans, Yoel Romero was known in the UFC for his explosive style that could finish the fight anytime with 8 post-fight bonuses in 13 fights. Romero is also tied for the second most knockout wins in UFC Middleweight history with 7 stoppages. The Cuban wrestler was scheduled to compete for UFC gold 4 times, and had he made weight at UFC 221 for his fight vs Luke Rockhold he would have an interim UFC belt to his name.
Romero was involved in one of the greatest middleweight fights ever, losing a close decision vs Robert Whittaker in the rematch at UFC 225, I'd recommend everyone to watch the fight if you didn't! Even though Romero is now 44 he is showing no signs that he wants to stop soon and has a fight scheduled vs Melvin Manhoef at Bellator Paris later this year.
#5 Aljamain Sterling
Nationality: American/Jamaican
Record: 20-3 (2 KO's, 8 Sub's)
Division: Bantamweight
Years in the UFC: 2014 – Active
Sterling is one of the best BJJ black belts in the 135-pound division and has many different submissions in his arsenal, such as the Suloev stretch which he used to stop Cody Stamann at UFC 228. Sterling holds many impressive victories over the top 15 Bantamweight fighters such as Cory Sandhagen & Pedro Munhoz.
Currently riding a 6 fight win streak, Sterling is one of the most underrated fighters in MMA today and tied for second-most wins in Bantamweight history with 11. Sterling is coming off a controversial DQ win over Petr Yan to win the Bantamweight title and is expected to rematch Yan for the belt at UFC 273 in Jacksonville.
#6 Francis Ngannou
Nationality: Cameroonian
Record: 17-3 (12 KO's, 4 Sub's)
Division: Heavyweight
Years in the UFC: 2015 – Active
Ngannou is known for being one of the greatest knockout artists in UFC history with 10 knockouts so far. He knocked out Stipe Miocic to win the UFC Heavyweight title in March of 2021. In his run-up to getting the belt, Ngannou finished his last four opponents in a combined total time of 162 seconds.
Francis is now on a 6 fight win streak and is set to be out of action for the remainder of this year due to having to recover from knee surgery. The UFC champion's contract is also expiring at the end of the year, so it will be interesting to see what the future holds for Ngannou. The Cameroonian has expressed massive interest in competing in a boxing match against Tyson Fury early next year, with Fury also wanting the fight. However, UFC president Dana White believes Ngannou boxing Fury would be 'a really bad idea for Franis' and that the Heavyweight champ should stick to the octagon.
#7 Israel Adesanya
Nationality: Nigerian/New Zealand
Record: 22-1 (15 KO's)
Division: Middleweight
Years in the UFC: 2018 – Active
One of the most popular fighters in the UFC today, Adesanya quickly rose to fame thanks to his unique fight style. It took him 14 months to get his first title shot in the UFC, beating Kelvin Gastelum in the fight of the night at UFC 236 to capture the interim Middleweight belt. He is undefeated at Middleweight in the UFC and is currently riding an 11 fight win streak at 185.
'The Last Stylebender' is coming off a unanimous decision victory over Robert Whittaker at UFC 271 and looks to fight at least two more times this year. The UFC champion is showing no signs of slowing down as he's enjoying the prime years of his career.
#8 Demetrious Johnson
Nationality: American
Record: 30-4-1 (5 KO's, 12 Sub's)
Division: Flyweight, Bantamweight
Years in the UFC: 2011 – 2018
Considered by many as one of the greats in UFC history, 'Might Mouse' has an incredible 12 title fight wins in the UFC as he held the Flyweight belt for 6 years. He is one the most well-rounded mixed martial artists today, with a solid wrestling base and the ability to land fast strikes.
Johnson is still actively competing for ONE Championship, he has special rules bout coming up on March 26th against Rodtang Jitmuangnon. This is a unique fight as rounds 1 and 3 will be fought under the ONE Muay Thai ruleset, while rounds 2 and 4 will be under the ONE MMA ruleset.
#9 Benson Henderson
Nationality: American
Record: 29-11 (5 KO's, 9 Sub's)
Division: Lightweight
Years in the UFC: 2011 – 2015
https://www.instagram.com/p/BZWtqMSBY7L/
Although Henderson only had a short UFC career he managed to accomplish a lot in his 4 years with the company. He won the Lightweight belt in his 4th fight in the UFC, and is tied for the most title fight wins in the Lightweight division with 4 wins.
One of the main things that made Henderson stand out early on, was that he was one of the first fighters in UFC history to be using calf kicks effectively. The former champion is still competing today for Bellator, he is coming off a split decision victory over Islam Mamedov at Bellator 273.
#10 Derrick Lewis
Nationality: American
Record: 26-9 1 NC (21 KO's, 1 Sub)
Division: Heavyweight
Years in the UFC: 2014 – Active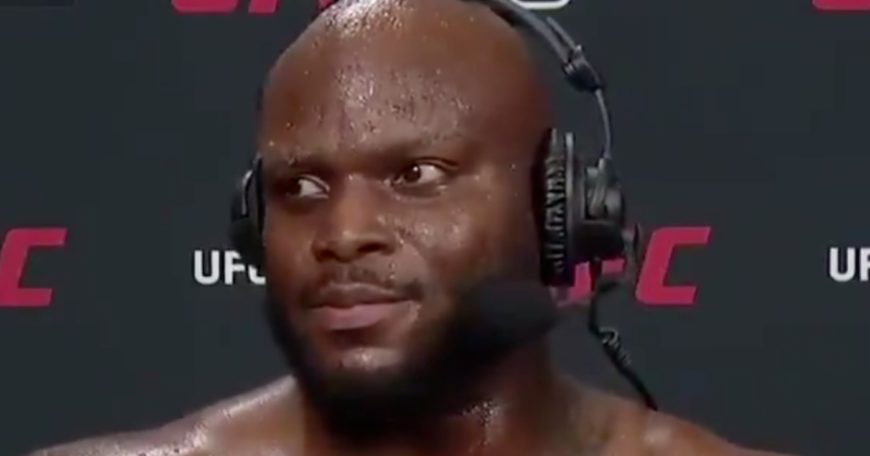 Lewis is the greatest knockout artist in UFC history, he leads the way for knockout wins in the UFC with 13. The two-time title challenger is a fan favorite not just because of his knockouts, but also for his funny post-fight interviews. He holds wins over some of the best in the UFC's Heavyweight division today such as Francis Ngannou, Curtis Blaydes & Alexander Volkov.
Now aged 37, Lewis is ranked number 5 in the Heavyweight division and is still looking to add more knockouts to his resume. He is still at the top of the division, having fought for the interim title last August at UFC 265. Lewis will always be remembered for his post fight interview at UFC 229 vs Volkov where he took off his shorts and said 'my balls was hot.'
#11 Anderson Silva
Nationality: Brazilian
Record: 34-11 1 NC (23 KO's, 3 Sub's)
Division: Middleweight, Light Heavyweight
Years in the UFC: 2006 – 2020
During his prime, Silva was considered unstoppable going on a 16 fight win streak in the UFC, the biggest win streak in UFC history. 'The Spider' was one of the most popular fighters in the world for his exceptional striking skills, he managed to win the Middleweight belt in under 3 minutes in just his second UFC fight.
He fought a who's who in the UFC, with stoppage wins over Chael Sonnen twice, Vitor Belfort, and Dan Henderson. The future Hall of Famer left the UFC in 2020, and is now having a successful boxing career having beat Julio César Chávez Jr. and Tito Ortiz so far.
#12 Daniel Cormier
Nationality: American
Record: 22-3 1 NC (10 KO's, 5 Sub's)
Division: Light Heavyweight, Heavyweight
Years in the UFC: 2013 – 2020
Cormier was an all-American wrestler known for his mauling style where he would continuously take people down and dominate. He got his first taste of UFC gold by submitting Anthony Johnson at UFC 187 in the third round to win the Light Heavyweight strap. The former Olympian was only the second UFC fighter in history to hold two UFC belts simultaneously, he achieved this when he knocked out Stipe Miocic in the first round at UFC 226 to capture Heavyweight gold.
'DC' had one of the most famous rivalries in the UFC with Jon Jones, with the pair facing each other twice in 2 of the UFC's biggest PPVs .He retired from MMA after losing a close decision to Stipe Miocic in their trilogy at UFC 252 and is now commentating for the UFC where you can find him at any big PPV show.
#13 Tyron Woodley
Nationality: American
Record: 19-7-1 (7 KO's, 5 Sub's)
Division: Welterweight
Years in the UFC: 2013 – 2021
One of the hardest hitters in UFC welterweight history, Woodley had a lot of success in his time in the UFC. He brutally knocked out Robbie Lawler in the first round at UFC 201 to win the Welterweight belt and then went on to defend his belt 4 times. In his last fight
Woodley wasn't always a fan favorite due to his less than exciting fight style that caused him to fall out with UFC president Dana White. Following the expiry of his UFC contract, 'The Chosen One' has left the MMA world and has pursued a boxing and an acting career.
#14 Quinton Jackson
Nationality: American
Record: 38-14 (20 KO's, 4 Sub's)
Division: Light Heavyweight
Years in the UFC: 2007 – 2015
During his prime 'Rampage' was a popular fighter known for his heavy hands and the firefights he'd get into. His best achievement with the promotion came at UFC 71 when he knocked out UFC Legend Chuck Liddell to win the UFC Light Heavyweight belt.
Jackson was a part of the UFC when the Light Heavyweight division was the deepest division, which means he fought the absolute best sharing the octagon with Jon Jones, Rashad Evans, Lyoto Machida and many more fighters. Rampage last fought in December 2019 where he got stopped against Heavyweight legend Fedor Emelianenko at Bellator 237.
#15 Alistair Overeem
Nationality: Dutch
Record: 47-19 1 NC (25 KO's, 17 Sub's)
Division: Heavyweight
Years in the UFC: 2011 – 2021
One of the most accomplished fighters in combat sports history, Overeem is a legend in both MMA and kickboxing. The former UFC title challenger introduced himself to the UFC in a big way by stopping the sport's biggest star at the time, Brock Lesnar, in the first round.
Overeem has had many notable wins in his 10 years in the UFC with wins over legends such as Fabrício Werdum, Junior Dos Santos and Mark Hunt. Overeem was released from his UFC contract after losing a main event bout vs Alexander Volkov at UFC Vegas 18. Following Overeem's release from the UFC, it seems he is now eyeing a move back to the kickboxing ring.
Frequently Asked Questions
Who was the first ever Black UFC fighter?
The first ever UFC event, UFC 1, featured 4 African American fighters with Zane Frazier, Art Jimmerson, Patrick Smith and Trent Jenkins all competing that night.
Who was the first Black UFC champion?
UFC 14 in 1997 Maurice Smith made history when he was the first ever black champion in the history of the organization.
Who was the first Black woman to compete in the UFC?
Dutch female fighter Germaine de Randamie became the first black woman to compete in the octagon when she beat Julie Kedzie in July, 2013.