Anderson Silva is one of the most legendary UFC fighters of all time. Known for his impossible slips, outstanding submissions, and extremely attractive kicks, he is the former three times Cage Rage Middleweight Champion, and former 11 times UFC Middleweight Champion.
Athlete Statistics
Full Name: Anderson da Silva
Born Name
Nickname
Age & DOB
Anderson da Silva
The Spider
Anderson Silva is currently 48 years old according to his date of birth April 14, 1975.
Fight Stats
Height
Weight
34 Wins // 10 Losses // 0 Draws // 1 No Contest
6 ft 2 in or 188 cm
185 – 205 lbs (84 – 93 kg)
Reach
Fighting Style
Association
77.5 inches (197 cm)
Muay Thai, Taekwondo, BJJ, Boxing, Judo
UFC
Team: Black House MMA
Nationality
Net Worth
Born Place
Brazilian
$20 Million
Sao Paulo, Brazil
Profile
Anderson Silva is a very attractive fighter with a lot of unordinary techniques. He is the owner of the longest winning streak in the history of UFC – 16. He was undefeated for more than 7 years!
The trademark of his stand-up game is a Muay Thai clinch, but he is also known for outstanding Taekwondo kicks, especially double and triple kicks to the head. He is also a master of counterpunches and elbows. His right jab and right cross almost never miss.
Anderson Silva is a black praijed in Muay Thai, a black belt in Judo, 3rd-degree black belt in BJJ, and a 5th dan black belt in Taekwondo. On the ground, he likes being on his back. His most dangerous submissions are triangle choke and triangle armbar. Silva mostly tries to keep the fight standing.
The Road to The Top – BFC, Mecca, And Shooto
Anderson Silva made his MMA debut on June 25, 1997, in Campo Grande, Brazil, on BFC 1 event. He defeated Raimundo Pinheiro via rear-naked choke after 1 minute and 53 seconds. On the same day, he won Fabricio Camoes via TKO.
The first loss was against Luiz Azeredo via unanimous decision on May 27, 2000, in Curitiba, Brazil, on his Mecca debut.
In the next two fights during the year 2000, he successfully defeated Jose Barreto and Claudionor Fontinelle via TKO. He has shown the power of his head kick in the fight against Barreto for the first time.
During the year 2001, The Spider won Tetsuji Kato via unanimous decision in Tokyo, Japan. He also defeated Israel Albuquerque via submission. But the crown of the year was winning Shooto Middleweight Championship on August 26, in Osaka, Japan, by winning Hayato Sakurai via unanimous decision!
Anderson Silva – Pride and Cage Rage Eliminator Superstar
After a submission victory over Roan Carneiro, Anderson Silva started his Pride FC career. On June 23, 2002, he opened up Alex Stiebling with a high kick and the doctor stopped the fight in the first round. In the next fight, he won Alexander Otsuka via unanimous decision.
On March 16, 2003, Anderson Silva demonstrated the world-class flying knee when Carlos Newton tried to take him down. He won via KO in the first round, and this is one of the most perfectly timed knee counters in the history of MMA!
On June 8, 2003, Daiju Takase became the first man to submit Anderson Silva in a Pride FC fight. Despite Takase was the underdog, he controlled the whole fight and won via triangle choke in the first round.
He continued fighting in other promotions and won Waldir dos Anjos and Jeremy Horn.
In the Cage Rage Title Shot, on September 11, 2004, Silva defeated Lee Murray via unanimous decision in London, England, and became the Cage Rage Middleweight champion.
In the Pride Shockwave 2004, Anderson Silva faced Ryo Chonan, and everybody was expecting an easy victory. But he was defeated in the third round via flying scissor heel hook, and Pride cut Silva out after this fight.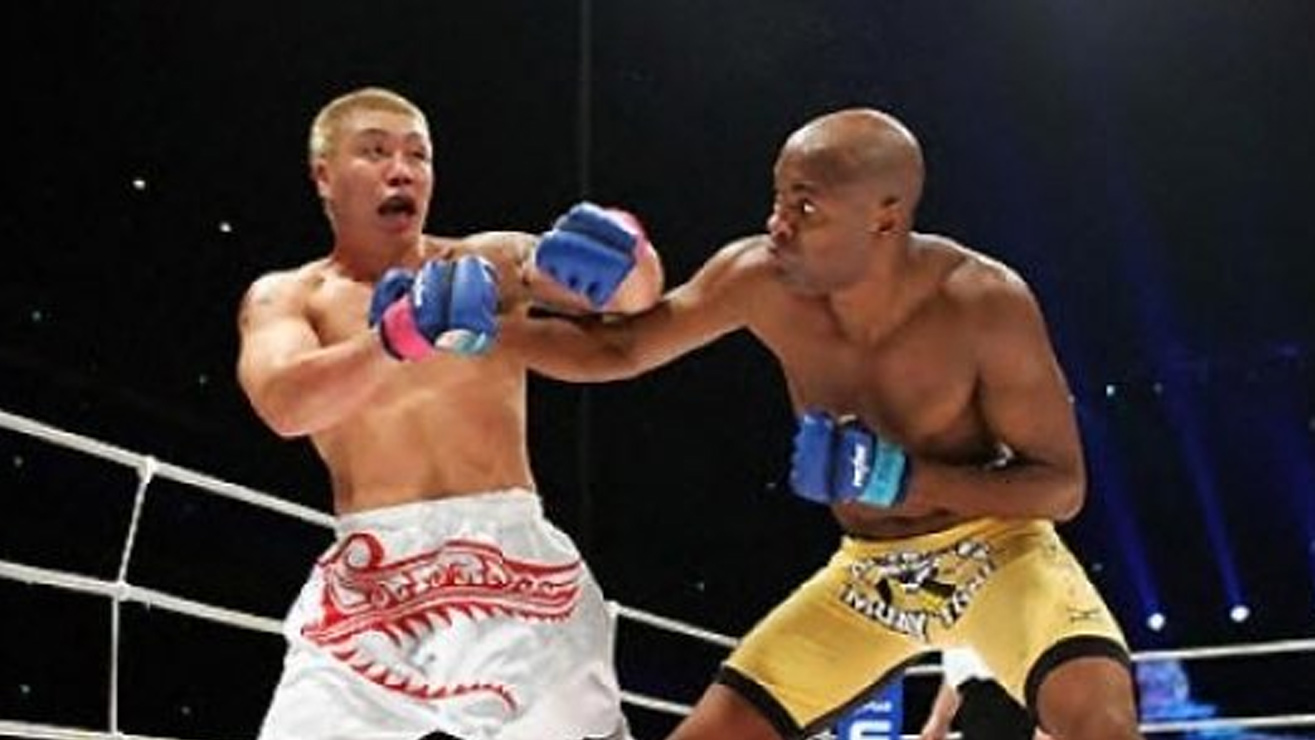 Anderson Silva successfully defended the Cage Rage Middleweight Title against Jorge Rivera and Curtis Stout via KO during the year 2005.
He faced Yushin Okami in Rumble on the Rock 8 on January 20, 2006, in Honolulu, Hawaii. Anderson Silva was disqualified due to illegal upkick in the first round, while Okami's knees were on the ground.
In the last Cage Rage Title Defense, Silva defeated Tony Fryklund successfully via world-class right reverse elbow in the first round. This was the most attractive KO of his career. The fight was held on April 22, 2006, in London, England.
Anderson Silva – UFC Career
Anderson Silva made his UFC debut on UFC Fight Night 5 on June 28, 2006, in Las Vegas, Nevada. After only 0:49, he knocked Chris Leben out with the brutal knee to the head.
Anderson Silva – UFC Champion
In the second fight, on UFC 64, Silva faced Rich Franklin. The fight was held on October 14, 2006. Anderson Silva caught Franklin in the Muay Thai clinch and landed few effective knees to the head, which lead to the Knockout Of The Night in the first round.
In UFC 67, on February 3, 2007, in Las Vegas, Nevada, Silva defeated Travis Lutter via triangle choke and elbows in the second round. This was a non-title fight.
During the year 2007, he had two more successful title defenses – UFC 73 against Nate Marquardt via TKO, and Rich Franklin at UFC 77 via knees to the head.
In UFC 82, Anderson Silva defeated the best wrestler in the division, Dan Henderson, via rear-naked choke in the second round. The event was held on March 1, 2008, in Columbus, Ohio. It was The Fight Of The Night and The Submission Of The Night.
He fought in Light Heavyweight Bout in the main event of the evening of UFC Fight Night 14. Anderson Silva won Bruce Irvin after only 1:01 in the first round via TKO. The fight was held on June 19, 2008, in Las Vegas, Nevada.
The next title defense was in UFC 90, on October 25, 2008. Patrick Cote gave up the fight after the knee injury in the third round.
Anderson Silva defeated Thales Leites, a BJJ black belt, at UFC 97, on April 18, 2009, in Montreal, Quebec, via unanimous decision.
Maybe the most interesting fight was his Light Heavyweight fight against Forrest Griffin at UFC 101, which is held on August 8, 2009. Anderson knocked Griffin out via right jab! It was the Fight of The Night and the Knockout of The Night.
The year 2010 is known for two title defenses – UFC 112 in Abu Dhabi against Demian Maia via unanimous decision, and UFC 117 versus Chael Sonnen via spectacular triangle armbar! It was the most attractive submission of his career!
UFC 126 will always be remembered by a brutal front kick to Vitor Belfort's face in the first round. On February 5, 2011, in Las Vegas, Nevada, Anderson Silva demonstrated the power of Taekwondo by hitting Belfort's chin through his guard.
Anderson Silva revenged to Yushin Okami at UFC 134, which was held on August 27, 2011. It was a TKO victory in the second round and ninth consecutive title defense!
In his rematch versus Chael Sonnen at UFC 148, he finished the fight in the second round via knee to the body and punches. On July 7, 2012, in Las Vegas, Nevada, he defended the title for the 10th consecutive time!
Anderson Silva won for the 16th consecutive time against Stephen Bonnar in the Light Heavyweight fight at UFC 153, knocking him out in the second round via knee to the body!
Anderson Silva Vs Chris Weidman – UFC 162 – Title Loss
On July 6, 2013, Anderson Silva was defeated by Chris Weidman in Las Vegas, Nevada. He dropped his guard. After a good left hook, Silva was rocked, and Weidman connected with a right cross and left hook again, sending him to the ground.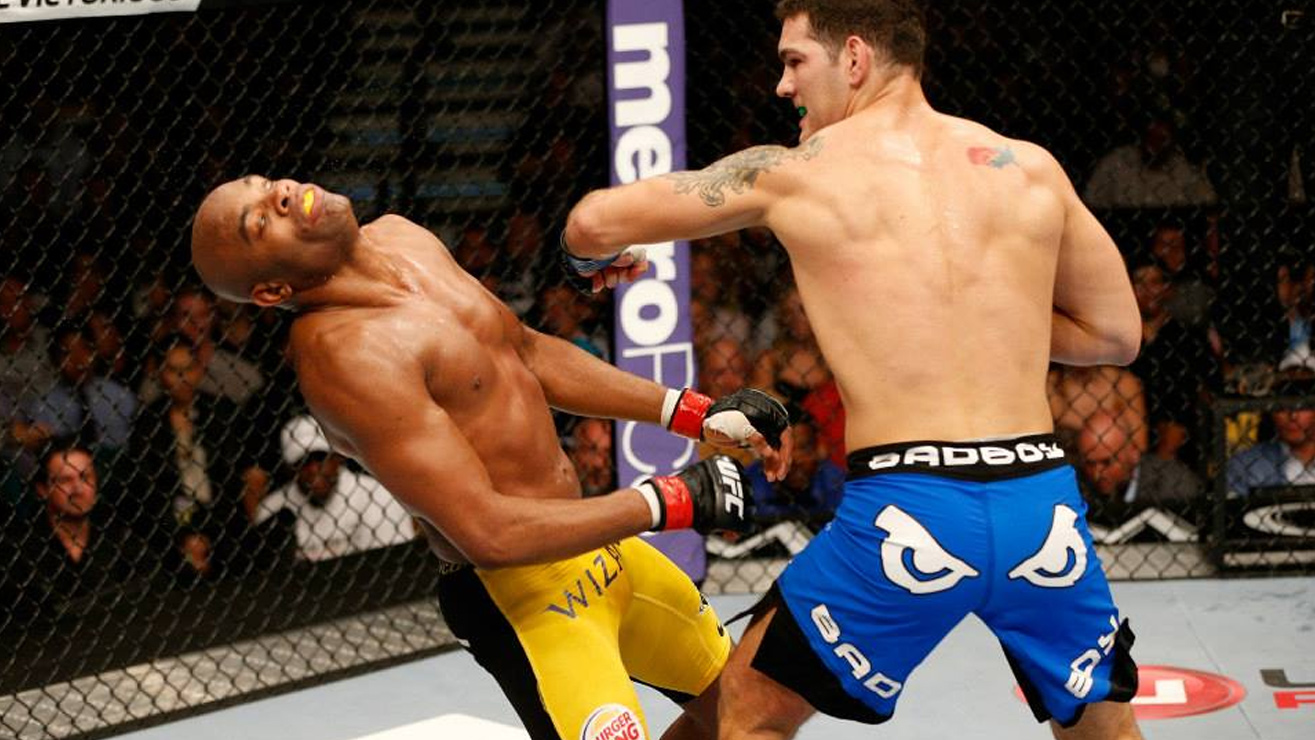 Anderson Silva Vs Chris Weidman – UFC 168 – Broken Leg
Silva tried to retake UFC Middleweight Title on December 28, 2013, in Las Vegas, Nevada. In the second round, Anderson Silva tried a left low kick, but Chris Weidman checked with his left leg. Silva's left shin went flying!
Anderson Silva Vs Nick Diaz – Steroids Abuse
Anderson Silva returned on January 31, 2015, and faced Nick Diaz at UFC 183, in Las Vegas, Nevada. It was originally a unanimous decision victory for Silva, however, he was tested positive on drostanolone and androstane, two anabolic steroids. Anderson Silva was also positive on Oxazepam and Temazepam, which are used to treat sleep deprivation.
The fight is changed to no contest. Silva was fined with $380.000 and one year of suspension.
Anderson Silva Vs Michael Bisping – The Controversy
Anderson Silva faced Michael Bisping in the main event of the evening in UFC Fight Night 84, which was held on February 27, 2016, in London, England. It was the Fight of the Night.
At the end of the third round, Bisping was showing the referee, Herb Dean, that his mouthpiece is lost. Silva landed a flying knee and knocked him out.
Anderson Silva believed he won the fight, and he started celebrating. But the fight continued for the next two rounds, and Bisping won via unanimous decision.
In UFC 200, Silva faced Daniel Cormier in Light Heavyweight non-title bout. The fight was held on July 9, 2016, and Anderson Silva was defeated via unanimous decision.
He faced Derek Brunson on UFC 208 in a Middleweight fight, and he also lost via unanimous decision, on February 11, 2017.
Anderson Silva Next Fight
Anderson Silva should face Kevin Gastelum on June 3, 2017, on UFC 212, but Gastelum was pulled out of the fight due to a positive test on marijuana. On May 11, UFC confirmed Silva will not compete at this event.
The fight with Gastelum is rescheduled to be the main event of the evening on UFC Fight Night: Silva vs Gastelum on November 25, 2017. Unfortunately, USADA flagged Anderson Silva from this fight on November 10, 2017. His sample from October 26 didn't pass USADA drug test.
Silva's coach stood by his defense, claiming The Spider will return stronger and better than ever. Anderson Silva says his fighting career is not over yet.
Anderson Silva is currently waiting for the decision of the officials. If his guilt is proven for the second time, he could face a serious suspension.
Personal life and other endeavors
Anderson Silva is married to Dayana Silva, and he has five children – three sons and two daughters. He acted in several films. He became U.S citizen in July of 2019.
Anderson Silva Social Media Links