Chuck Liddell is a former five-time UFC Light Heavyweight Champion, two-time UFC Light Heavyweight runner-up, and a former IFC Light Heavyweight Champion. He is also a UFC Hall Of Fame member.
Athlete Statistics
Full Name: Charles David Liddell
Born Name
Nickname
Age & DOB
Charles David Liddell
The Iceman
Chuck Liddell is currently 53 years old according to his date of birth December 17, 1969.
Fight Stats
Height
Weight
21 Wins // 9 Losses // 0 Draws
6 ft 2 in or 188 cm
205 lbs (93 kg)
Reach
Fighting Style
Association
79 inches (201 cm)
American Kenpo, Kajukenbo, Karate, BJJ
Team: The Pit
UFC
Retired in 2010
Nationality
Net Worth
Born Place
American
$14 Million
Santa Barbara, California, United States
Profile
Chuck Liddell was the first pure all-around striker in the history of UFC. Chuck's one-punch knockouts are still the part of legendary intros and compilations. His strongest weapons are right cross, left hook, and overhand right. The Iceman is known for lightning-fast combos which could rock even the best fighter in the split of a second. When he throws the rain of hooks, the opponent can only start praying!
Chuck is a real lord of American Kenpo – 8th dan black belt. He is also a black belt in Kajukenbo and Koei-Kan Karate, and a purple belt in BJJ. His left high kick has rocked many opponents. Chuck's striking style is very similar to Badr Hari's.
The Iceman is also a submission defense specialist. When his rival is on the ground, he punches over and over until the referee stops the fight. He became the sports first athlete to gain mainstream exposure in the process.
Chuck Liddell – Record
He is world-wide known as a first UFC fighter with seven-fight KO winning streak. Chuck Liddell has the most knockouts in Light Heavyweight division – 10, most knockouts in Light Heavyweight title bout – 5, most Light Heavyweight division knockdowns – 14, and the most Light Heavyweight division knockdowns in a title fight – 7.
Chuck Liddell is on the second place for highest successful takedown percentage. He attempted a takedown eight times, and seven were successful, which is the score of 87.50%. Chuck is placed fourth when it comes to most pay-per-view main events, with the score of 12 (after Randy Couture, Georges St-Pierre, and Anderson Silva/Tito Ortiz).
Chuck Liddell – UFC Career
Chuck Liddel had his UFC, and at the same time, MMA debut, at UFC 17 on May 15, 1998, in Mobile, Alabama, and he defeated Noel Hernandez via unanimous decision.
His next opponent was Jeremy Horn at UFC 19, on March 5, 1999. Jeremy Horn won the fight via inverted arm-triangle choke.
In the fight versus Paul Jones at UFC 22, on September 24, 1999, Chuck Liddell won via doctor stoppage.
In the meantime, The Iceman earned one more victory in the smaller promotion.
Chuck Liddell defeated Jeff Monson at UFC 29, on December 16, 2000, via unanimous decision.
Liddell shocked the world by knocking Kevin Randleman, one of the best wrestlers ever in UFC, via left hook counter out, after only 1:18 in the first round. This was the fastest victory of his career! He earned it at UFC 31, on May 4, 2001.
Chuck Liddell then had three decision victories in a row. The first one to fall was Murilo Bustamante at UFC 33, on September 28, 2001. Amar Suloev had to bite his tail at UFC 35, on January 11, 2002. He has also defeated one of the best punchers in the history of UFC, Vitor Belfort, at UFC 37.5, on June 22, 2002.
His left high kick, which ended the fight versus Renato Sobral at UFC 40, on November 22, 2002, is still one of the most brutal KOs in the history of UFC.
Chuck Liddell Vs Randy Couture – UFC Interim Title Shot
Liddell was #1 contender at the time, and UFC wanted a fight with Tito Ortiz, who cited scheduling conflicts, so Randy Couture got a chance. The two faced at UFC 43, on June 6, 2003, in the main event of the evening. Despite The Iceman was dominant in the first two rounds, The Natural slammed him hard in the third and executed world-class ground and pound, which forced "Big" John McCarthy to stop the fight. Couture won via TKO.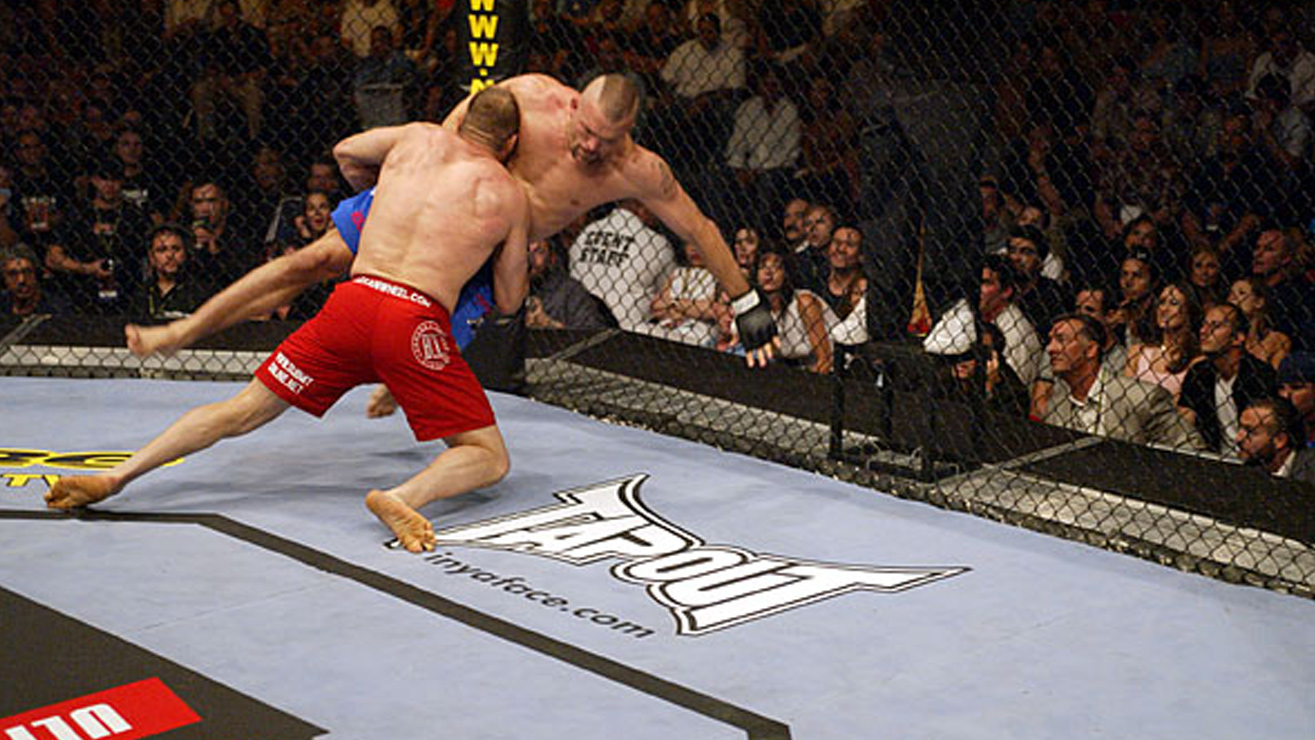 Chuck Liddell had two Pride fights after this loss. He defeated Alistair Overeem in Pride Total Elimination 2003, but Rampage Jackson taught him a lesson in Pride Final Conflict 2003.
Chuck Liddell – Legendary KO Streak
The Iceman opened up his famous winning streak at UFC 47, on April 2, 2004, when he knocked Tito Ortiz out in the second round.
His next opponent was Vernon White at UFC 49, on August 21, 2004. Despite White bravely attacked him from the beginning, Chuck Liddell knocked him out cold via right cross in the first round.
Chuck Liddell Vs Randy Couture 2 – Title Shot
Chuck Liddell revenged to Randy Couture at UFC 52, on April 16, 2005. After Couture attacked, Liddell delivered a big right hand to the temple and sent him to the ground, becoming the champ. This was Knockout Of The Year.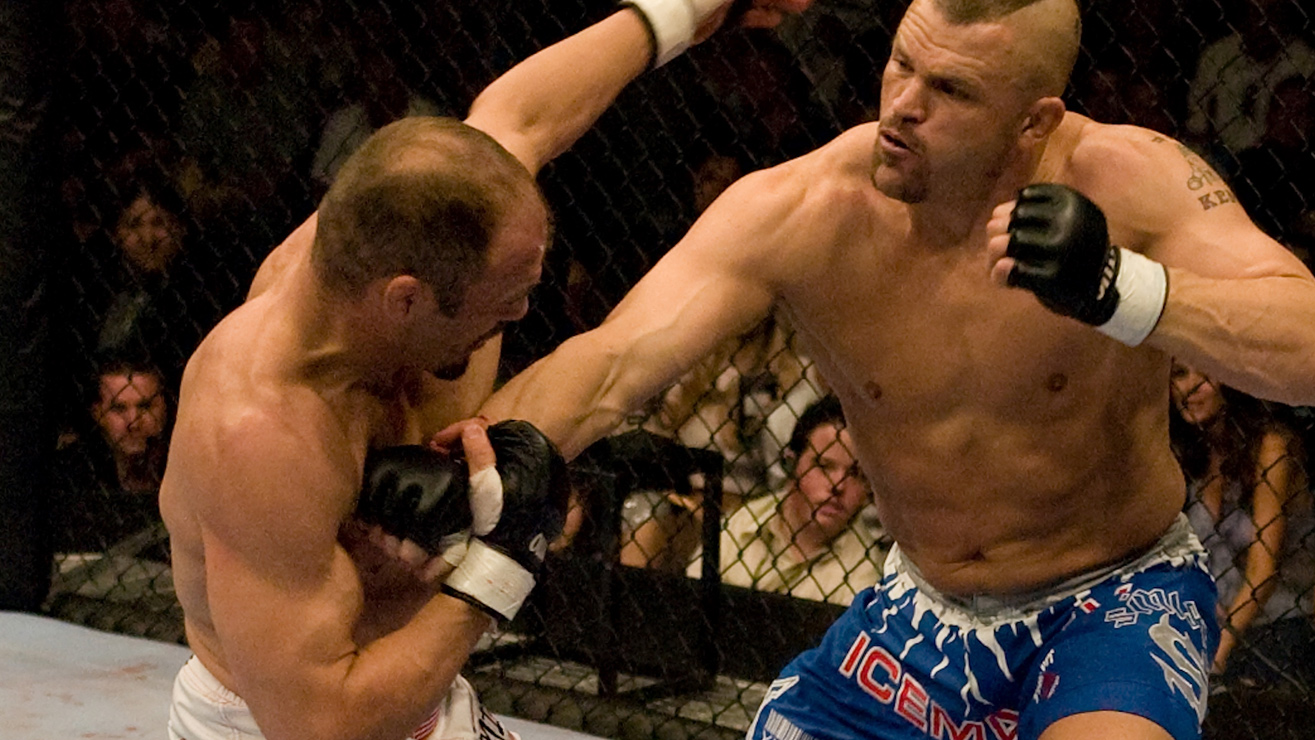 In the first title defense, Liddell successfully revenged to Jeremy Horn at UFC 54, on August 20, 2005. The Iceman won via fourth-round TKO.
Chuck Liddel Vs Randy Couture 3
The two faced at UFC 57, on February 4, 2006. The Iceman cut Randy Couture in the first round. Despite Couture took him down, he stood up immediately. In the second round, The Natural attacked again, and Liddell knocked him out cold with the similar move from their last fight.
Other Fights:
The fourth title defense looked like a training session. Chuck Liddell knocked Renato Sobral out at UFC 62, on August 26, 2006, via brutal right uppercut after only 1:35 in the first round, earning his first Knockout Of The Night award.
In the most financially successful event to that point, The Iceman defeated Tito Ortiz for the second time at UFC 66, on December 30, 2006. Liddell's takedown defense was simply world-class. Despite Liddell tore his MCL before the match, he won via third-round TKO.
Chuck Liddell Vs Rampage Jackson 2 – Title Loss
Rampage Jackson was too strong again. The two faced at UFC 71, on May 26, 2007, in the main event of the evening. Rampage landed a tremendous right hook which sent The Iceman to the ground, winning the fight in the first round.
Chuck Liddell was defeated by Keith Jardine at UFC 76 via split decision on September 22, 2007.
The most interesting fight of the career was seen at UFC 79, on December 29, 2007, when the famous UFC Hall Of Famer faced Wanderlei Silva. Almost every punch looked like a knockout blow, and both fighters were rocked few times. At some point, it looked like a real street fight!
Chuck had more precise punches and even two successful takedowns in the later rounds, winning the fight via unanimous decision. Both fighters received Fight Of The Night awards, and it was The Fight Of The Year.
Rashad Evans knocked Liddell out cold via right overhand at UFC 88, on September 6, 2008.
The Iceman lost the fight again at UFC 97, on April 18, 2009, this time by Mauricio Shogun Rua, via first-round TKO.
Chuck Liddell retired after a brutal right hook counter KO to Rich Franklin at UFC 115, on June 12, 2010.
Chuck Liddell – Movies
Chuck Liddell had his first role in the movie The Postman Always Rings Twice in 1981 when he was only 12 years old! His most known appearances are Cradle 2 the Grave, The Death and Life of Bobby Z, Drillbit Taylor, Kick-Ass 2, and Fight Life.
He appeared in famous television shows too – Bones, Criminal Minds, Dancing With The Stars, Celebrity Big Brother… Chuck Liddel was evicted from Celebrity Big Brother on February 9, 2018.
Personal Life
Chuck Liddell has two children with MMA fighter Casey Noland – son Cade and daughter Trista. He is currently married to Heidi Northcott, and they have two children – son Charles David Liddell, and daughter Guinevere.
Chuck Liddell – Social Media Profiles