Jon Bones Jones is one of the most successful, and probably the most interesting UFC fighter to watch in the history of MMA, known for many controversies. He is eight times UFC Light Heavyweight Champion and the fighter with one of the longest winning streaks ever, and one of the rare fighters who has never been knocked out.
Athlete Statistics
Full Name: Jonathan Dwight Jones
Born Name
Nickname
Age & DOB
Jonathan Dwight Jones
Bones
Sexual Chocolate
Jon Jones is currently 36 years old according to his date of birth July 19, 1987.
Fight Stats
Height
Weight
26 Wins // 1 Losses // 0 Draws // 1 No Contest
6 ft 4 in or 193 cm
205lbs (93 kg)
Reach
Fighting Style
Association
84.5 inches (215 cm)
MMA
UFC
Team: Jackson Wink MMA Academy
Nationality
Net Worth
Born Place
American
$10 Million
Albuquerque, New Mexico, USA
Profile
Jon Bones Jones is the fighter who knows everything. It is believed he knows every single takedown attempt, submission, choke, transition, sweep, punch, elbow, kick, knee, or clinch attack. His fights are always very interesting and people gladly pay to watch his fights. However, he is also known for eye gauging, steroid abuse and kicks to the knee.
Jon Jones is a black belt in Gaidojitsu and a blue belt in BJJ. On the ground, he mostly uses elbows and side control. In the stand-up, his most dangerous attacks are spinning back kicks and spinning back elbows. He is a very attractive fighter who fights dirty from time to time. His main strength is his outstanding endurance.
The Road To The Top
Jon Bones Jones made his first fight and Catchweight debut on FFP: Untamed 20, on April 12, 2008, in Boxborough, Massachusetts, versus Brad Bernard. He won after only 1:34 in the first round via TKO.

Jon Jones made his LightHeavyweight debut a week later, on April 19, 2008, in Worcester, Massachusetts. He defeated Carlos Eduardo via knockout. Later that year he won Anthony Pina, Ryan Verrett, and Parker Porter with ease.
On Battle Cage Extreme 5, on July 12, 2008, Jon Jones became the USKBA Light Heavyweight Champion in Atlantic City, New Jersey. He defeated Moyses Gabin via TKO in the second round and he earned his place in UFC.
Jon Bones Jones – UFC Career
Jon Jones made his UFC debut on UFC 87 against Brazilian competitor, Andre Gusmao. The fight was held in Minneapolis, Minnesota, on August 9, 2008. It was very tough until the end, but Jones won via unanimous decision.
He also defeated Stephen Bonnar on UFC 94 via the exact method on January 31, 2009.
Jon Bones Jones earned his first UFC submission victory in the match against Jake O'Brien at UFC 100. The event was held on July 11, 2009, in Las Vegas, Nevada. A stunning guillotine choke in the second round forced O'Brien to tap out.
The only loss of his career happened against Matt Hamill on December 5, 2009, on The Ultimate Fighter 10 Finale, which was held in Las Vegas, Nevada. On 4:14 of the first round, Jones performed few 12-6 elbows, and the referee disqualified him.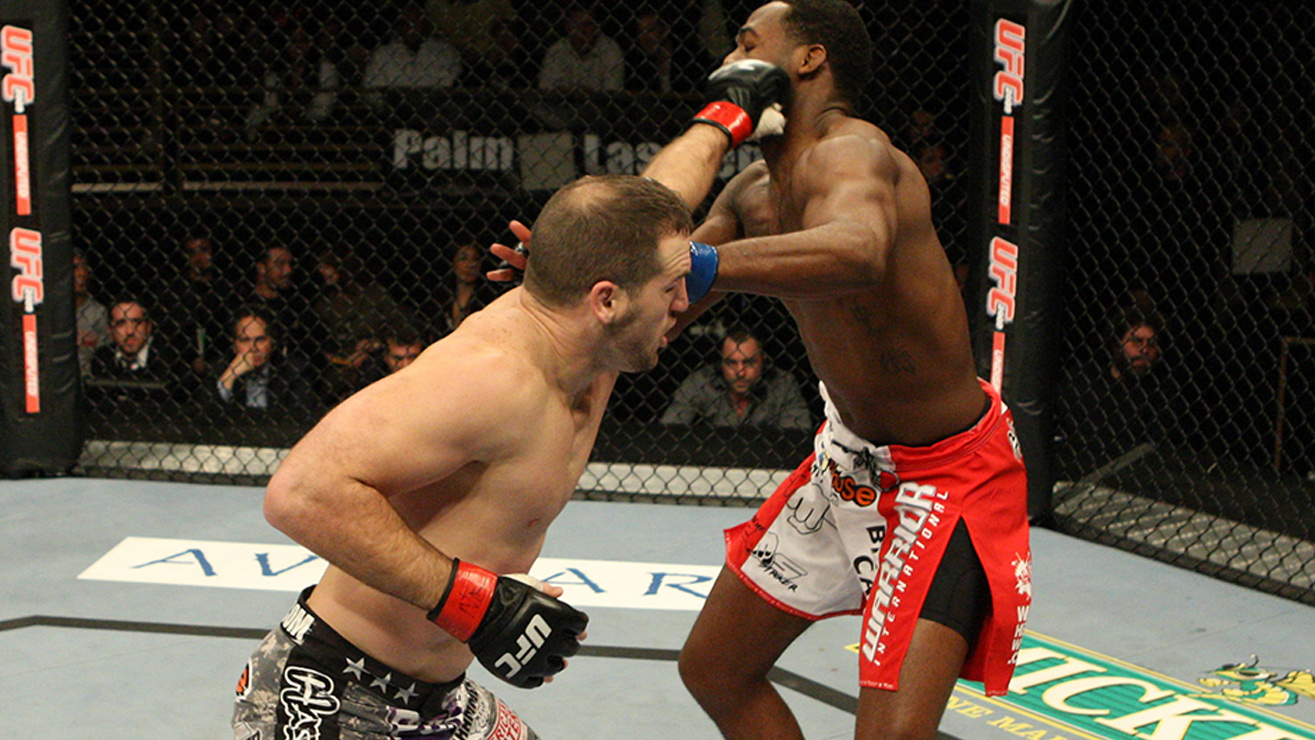 His first Knockout of The Night happened against Brandon Vera on March 21, 2010, on UFC On Versus 1. Jones took him down and landed a heavy elbow. Vera caught his face, and Jones continued landing hooks. The referee stopped the fight. This is the first time he fought in the main event of the evening.
The event UFC On Versus 2 was held in San Diego, California, on August 1, 2010. It will be remembered by Bones' stunning left spinning back kick. In the main event of the evening, he destroyed Matyushenko and won via TKO in the first round.
After submitting Ryan Bader via guillotine choke on UFC 126 and earning the Submission of The Night title on February 5, 2011, Jones finally got a chance to fight for the belt.
https://www.youtube.com/watch?v=n7RvTqiBXII
Jon Bones Jones – UFC 128 Title Shot
Jon Bones Jones won the Title Shot in UFC 128, in Newark, New York, on March 19, 2011. He won the title by winning Mauricio Shogun Rua via knockout in the third round.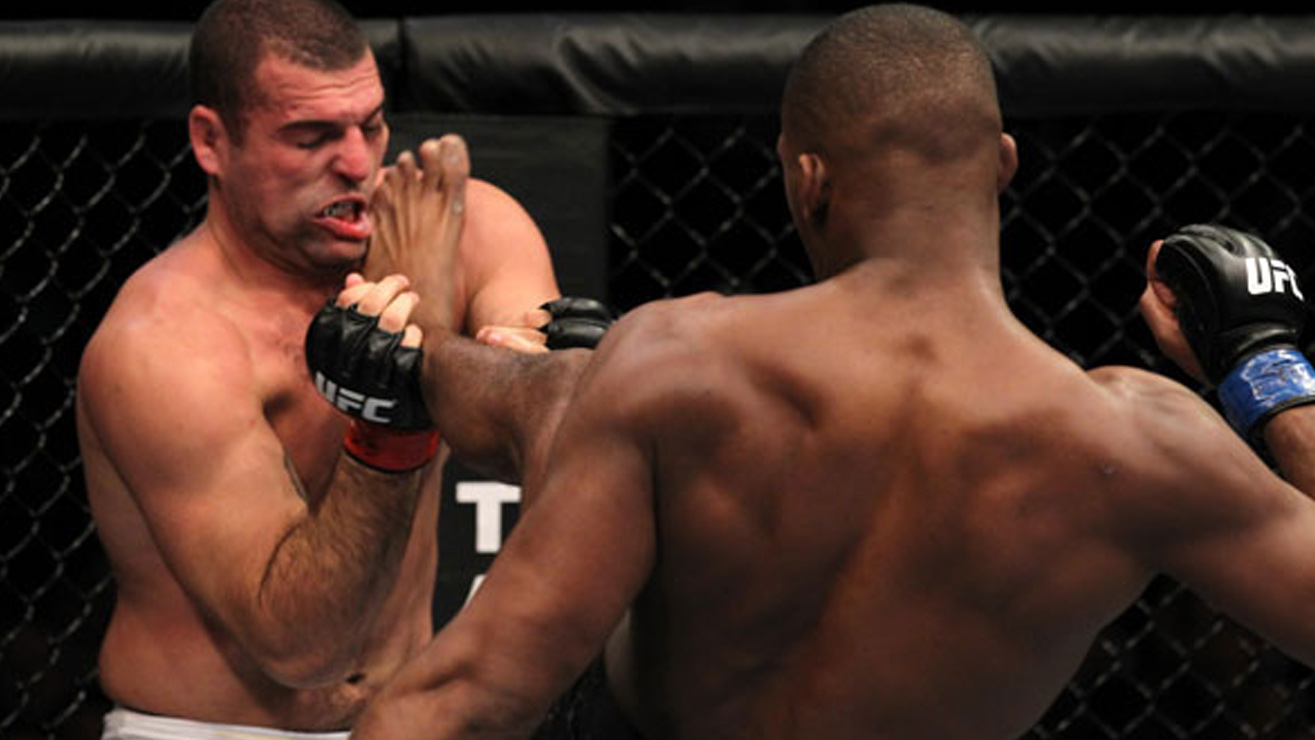 After landing a series of strong punches, Jones landed a strong knee and knocked Rua down. Rua was already on the fence and he had no space to evade strikes. The left uppercut to the body before the knee was devastating!
Jon Bones Jones – UFC Title Defenses
The first title defense was successful against Rampage Jackson in UFC 135 in Denver, Colorado. Jon Bones Jones won in the fourth round by amazing rear-naked choke.
Jon Jones than defeated Lyoto Machida via standing guillotine choke in UFC 140. Machida lost consciousness and crushed like a wrecking ball in the second round.
In the third title defense, Jones was successful against Rashad Evans in UFC 145 in Atlanta, Georgia. The event was held on April 21, 2012. The fight was very tied until the end.
One more successful victory against Vitor Belfort in UFC 152 via Americana in the fourth round, and Submission of The Night Award. It was very rare submission at that time! The fight took place in Toronto, Ontario, on September 22, 2012.
There was a lot of trash talking before his match with Chael Sonnen in UFC 159. But looks like Chael's threats were harmless – Jon Jones won via TKO in the first round. The event was held on April 27, 2013, in Newark, New Jersey.
The hardest fight of his career was the one on UFC 165 on September 21, 2013, against Alexander Gustafsson. The Viking has demonstrated awesome skills, and he even landed a spinning back elbow to Jones' face. Jon Jones won via unanimous decision after five rounds.
Glover Teixeira was his opponent on UFC 172 and seventh title defense. Despite the fight lasted for five rounds, Jones dominated it and won without any problems. The fight was held in Baltimore, Maryland, on April 26, 2014.
Jones vs Cormier – UFC 182
The fight was held in UFC 182 on January 3, 2015, in Las Vegas, Nevada. Daniel Cormier was good in boxing and he landed a lot of successful hooks and uppercuts off the clinch. However, Jones was dominant throughout the fight and won via unanimous decision. In the end of the fight, Jones punched Cormier after the bell.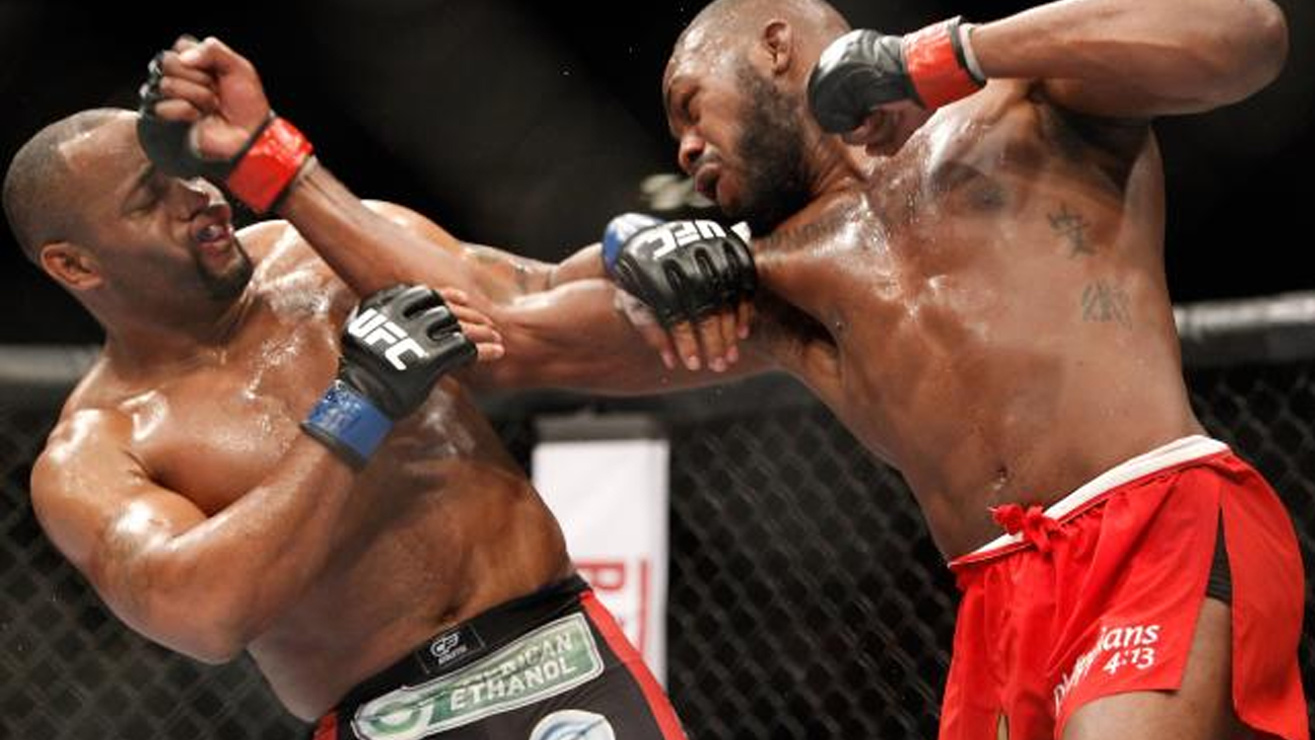 On 6th January 2015, it was published that Jones was positive on benzoylecgonine, a primary metabolite of cocaine, during random testing which was taken on 3rd December 2014, prior to UFC 182. However, Jones was tested a week after the first test and he was negative, which means no cocaine traces were present during the fight.
Benzoylecgonine is not prohibited by World Anti-Doping Agency, so NSAC didn't stop Jones from fighting. He was fined $25,000 for violating UFC Athlete's Code of Conduct Policy. In the interview a few days later, Jon Bones Jones claimed he is just a fighter who made a stupid decision, not a cocaine addict.
Jon Bones Jones – Hit And Run Incident – First Title Stripe
On April 27, 2015, in Albuquerque, New Mexico, Jones drove through a red light and crashed into another car. He left the crime scene on foot, leaving pregnant women in another car.
An off-duty police officer reported the case and recognized him. Jones was charged with a felony. At that day, he was removed from rankings, suspended, and his title was taken away due to a violation of the Athlete Code of Conduct Policy.
Jon Bones Jones Vs Ovince Saint Preux – Return And Title Shot
Jones fought Ovince Saint-Preux at UFC 197 and won UFC Interim Light Heavyweight Title. The fight took place in Las Vegas, Nevada, on April 23, 2016. Jones was extremely dominant and attractive throughout the fight and won via unanimous decision.
Jon Bones Jones – Second Title Stripe – UFC 200
The rematch against Daniel Cormier was scheduled for UFC 200. It should be held on July 9, 2016, in Las Vegas, Nevada.
Jones' steroids abuse cost him the title again! He was tested positive for letrozole and clomiphene. USADA removed Jones from the fight on July 6, 2016, following a test June 16! He was stripped of the title again, and suspended by NSAC for one year!
Jones Vs Cormier – Third Title Stripe – UFC 214
There was a Jones vs Cormier rematch on UFC 214. The fight took place on July 29, 2017, in Anaheim, California. Daniel Cormier was the champ, and Jones the challenger. Jon Bones Jones won via spectacular head kick KO. But this time, he was positive for Turinabol, and the fight was overturned to no contest.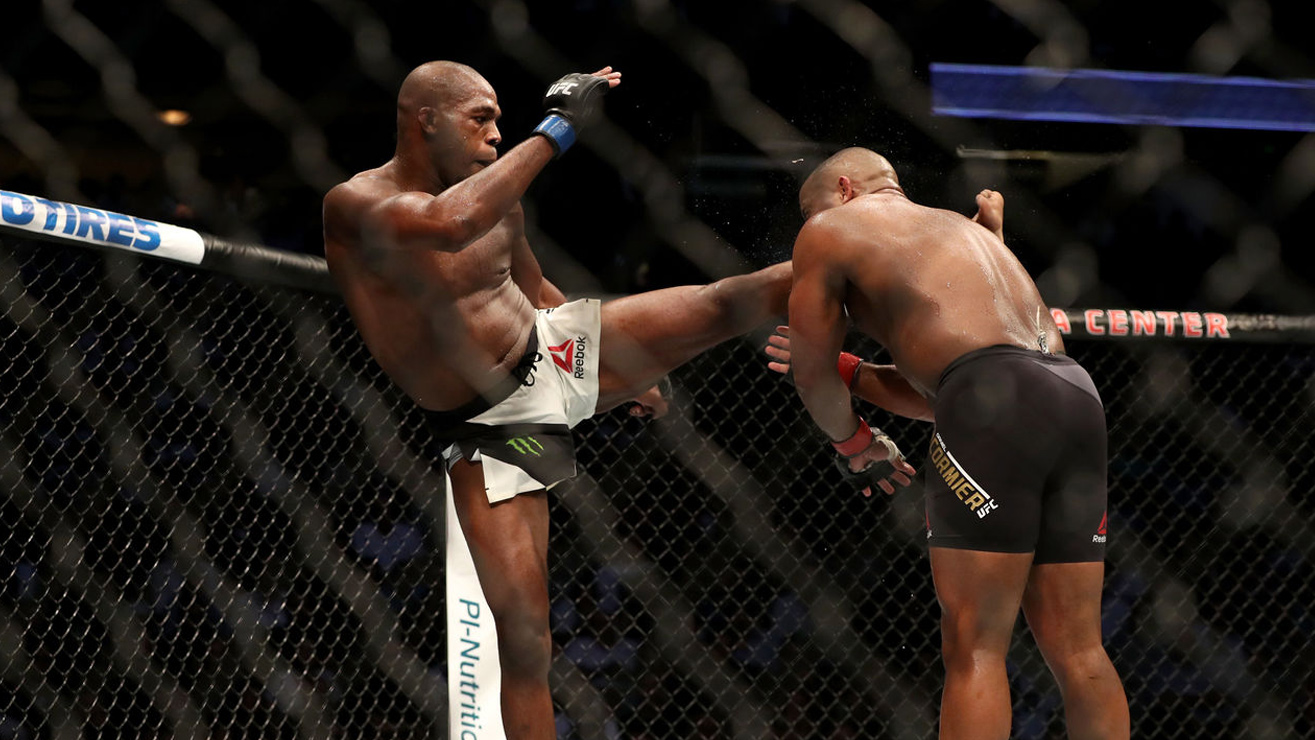 Jon Bones Jones claims he didn't know he was taking the banned substance. If his guilt is proven, he might face 4-year suspension.
He is the only fighter in the history of the UFC to be stripped of the title for 3 consecutive times.
Recently UFC Executive Jeff Novitzky revealed that Jon Jones May Be Innocent.
Personal Life:
Jones and his fiancee Jessie Moses have three daughters together. Leah was born in 2008, Carmen Nicole Jones in 2009 and Olivia Haven born in 2013. But in an interview with Joe Rogan back in 2016 Jones said he has 4 daughters stated a daughter born before Leah.
https://www.youtube.com/watch?v=cBSwJnZpUI8
Jon Bones Jones Social Media Profiles