Gegard Mousasi is a DREAM 2010 Light Heavyweight champion, DREAM 2008 Light Heavyweight champion, and a former Strikeforce Light Heavyweight champion. He is a current Bellator Middleweight runner-up.
Athlete Statistics
Full Name: Gegard Mousasi
Born Name
Nickname
Age & DOB
Gegard Mousasi
The Armenian Assassin
The Dreamcatcher
Gegard Mousasi is currently 37 years old according to his date of birth August 1, 1985.
Fight Stats
Height
Weight
46 Wins // 7 Losses // 2 Draws
6 ft 2 in or 188 cm
185 lbs (84 kg)
Reach
Fighting Style
Association
76 inches (190 cm)
Kickboxing, Boxing, Judo
Bellator MMA
Team: Sportschool Jurojin
Nationality
Net Worth
Born Place
Dutch
$2.5 Million (approximately)
Tehran, Iran
Profile
Gegard Mousasi is one of the rear non-American fighters who was competing in three different weight classes. In the stand-up, he fights like a typical kickboxer – he combines straight punches and low kicks holding his hands high, very close to his face. When the distance is shorter, The Dreamcatcher attacks with hooks and uppercuts.
He doesn't perform attractive spinning techniques. He is vulnerable to southpaw fighters. The Armenian Assassin holds his right arm a bit lower, which opens up the space for left high kick or left hook.
Mousasi tries to stay off the clinch at all costs unless he is forced to. When the opponent is on the fence, he does a double leg with ease. The Armenian Assassin has one of the best takedown defenses ever seen.
He is a black belt in Judo. His strongest takedown is osoto gari. Mousasi also competed in amateur boxing, where he earned the score of 12-1.
You don't want this guy to mount your back or assume the side control position – the fight will be over quickly. He prefers punching opponents out, but he has few very good submissions in his arsenal – Kimura, rear naked choke, guillotine choke, and triangle choke.
Gegard Mousasi – Road To The Top And Record
Gegard Mousasi had his MMA debut versus Daniel Spak at 2H2H: 1st Open Team, on April 27, 2003, and he earned a victory via TKO.
Before joining UFC, The Dreamcatcher had an impressive score of 33 wins, 3 losses, and 2 draws. He had his fastest victory versus Tsuyoshi Kurihara, whom he defeated after only 10 seconds in the first round via knockout. Mousasi has an impressive score of six victories in his last six fights!
Mousasi was undefeated from November 5, 2006, to April 17, 2010, with the score of 15 consecutive wins. He is the only fighter who wasn't a champion but got a chance to fight in the main events of the evening in his first four UFC fights!
Gegard Mousasi – UFC
Gegard Mousasi had his UFC debut versus Ilir Latifi at UFC On Fuel 9 on April 6, 2013, in Stockholm, Sweden, in the main event of the evening. The Dreamcatcher won the fight via unanimous decision. This was his only UFC fight in Light Heavyweight division.
In his first Middleweight fight, he has faced Lyoto Machida at UFC Fight Night 36 on February 15, 2014. It was the main event of the evening too. Machida successfully landed his left high kick multiple times. After impressive five rounds, Machida won the fight via unanimous decision. Both fighters received Fight Of The Night bonuses.
The Armenian Assassin defeated Mark Munoz via rear-naked choke at UFC Fight Night 41 main event on May 31, 2014. Mousasi is granted with his first Performance Of The Night bonus.
His next rival was Brazilian submission specialist Jacare Souza at UFC Fight Night 50, on September 5, 2014. In his fourth consecutive main event of the evening, he was defeated to Souza via guillotine choke.
The Dreamcatcher has shown his real face again versus Dan Henderson at UFC On Fox 14 on January 24, 2015. After only 1:10 in the first round, Mousasi ran him over via TKO, earning his second Performance Of The Night award.
At UFC Fight Night 66, on May 16, 2015, Gegard Mousasi faced the best Cyprian UFC fighter of all time, Costas Philippou, and won via unanimous decision.
Gegard Mousasi Vs Uriah Hall 1
The two faced at UFC Fight Night 75, on September 27, 2015. After dominance in the first round, Mousasi was reckless and Uriah Hall hit him with a spinning back kick, which was followed by a flying knee and a follow-up punches. Hall won the fight via one of the most attractive knockouts ever.
Gegard Mousasi – Hot Streak
Next opponent was Thales Leites, whom The Dreamcatcher defeated via unanimous decision at UFC Fight Night 84, on February 27, 2016.
The Armenian Assassin was successful again versus Thiago Santos at UFC 200, on July 9, 2016. Mousasi won via KO in the first round, earning his third Performance Of The Night award.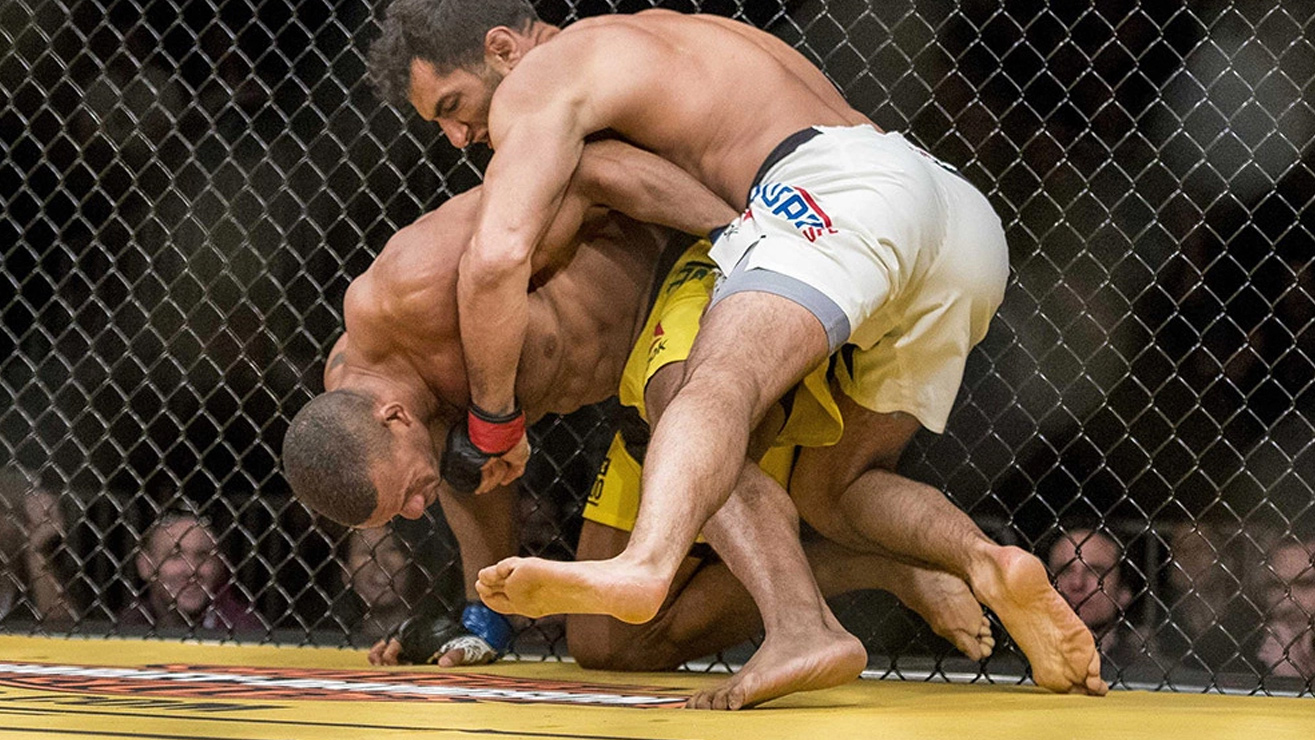 Gegard Mousasi Vs Vitor Belfort
Two legends fought on October 8, 2016, at UFC 204. Mousasi rocked Vitor Belfort via right high kick and started raining punches, which knocked Belfort down in the second round. Gegard Mousasi demonstrated the power of his ground and pound, controlling the position and landing killer punches off the top. Mousasi won the fight via TKO.
Gegard Mousasi Vs Uriah Hall 2
The rematch was set for the main event of UFC Fight Night 99, on November 19, 2016. This time, Gegard Mousasi won the fight via first round TKO after mauling Uriah Hall.
The Dreamcatcher defeated a former Middleweight champion, Chris Weidman, via TKO. The two faced at UFC 210, on April 8, 2017. Mousasi landed two suspicious knees to the head, and Dan Miragliotta stopped the fight thinking it was illegal. After consulting with "Big" John McCarthy, both knees appeared to be legal according to new rules, and the fight was ended and deemed as a TKO win for The Armenian Assassin.
Mousasi accused Weidman of trying to win via disqualification. NYSAC later released the statement that instant replay was used legally to determine whether the strikes were legal.
Gegard Mousasi – Bellator MMA
Mousasi had his Bellator debut versus Alexander Shlemenko at Bellator 185 on October 20, 2017. Shlemenko's opening minute punch broke Mousasi's right orbital bone but he continued fighting, scoring multiple takedowns, attempting several rear naked chokes and neck cranks, and delivering tremendous strikes. Mousasi fought with one eye for an almost whole bout and won the fight via unanimous decision.
Gegard Mousasi – Next Fight
Gegard Mousasi is set to face Rafael Carvalho at Bellator 200 on May 25, 2018, in the Middleweight Title Fight.
Personal Life
Gegard Mousasi is a godfather of Satoshi Ishii's son, Mousasi Ishii. There were rumors that he was dating Cindy Dandois, a Belgium MMA fighter, who is a close friend of Miesha Tate.
Gegard Mousasi – Social Media Profiles