With so many vying for the up-for-grabs 2023 Ms. Bikini Olympia championship, the finals were explosive on Saturday, November 4. After sparks flew on stage, Jennifer Dorie ended the night aglow earning her second Bikini Olympia title.
While the Bikini Olympia title is constantly changing hands, the contest has gained momentum as one of the more popular attractions in the sport. Stacked with immense competition, the fight for the crown was no easy feat.
Major contenders took the stage, including reigning champion Maureen Blanquisco, who dethroned Jennifer Dorie last year, and Lauralie Chapados. Chapados recently secured her second Arnold Classic win, which put her on an upward trajectory heading into the Bikini Olympia event. In addition, Ashley Kaltwasser was eager to win back gold.
Prejudging for Bikini Olympia on Saturday saw Maureen Blanquisco, Jennifer Dorie, and Ashley Kaltwasser stand out from several competitors who took the stage. In the end it was Jennifer Dorie's balance and glute fullness saw her earn her second Bikini Olympia title.
2023 Olympia Bikini Results
Winner — Jennifer Dorie $50,000

Second Place — Maureen Blanquisco $20,000
Third Place — Ashley Kaltwasser $12,000
Fourth Place — Lauralie Chapados $7,000
Fifth Place — Elisa Pecini $6,000
Sixth Place — Aimee Leann Delgado
Seventh Place — Ariana Brothers
Eighth Place — Ashlyn Little
Ninth Place — Daraja Hill
Tenth Place — Jourdanne Lee
Scorecard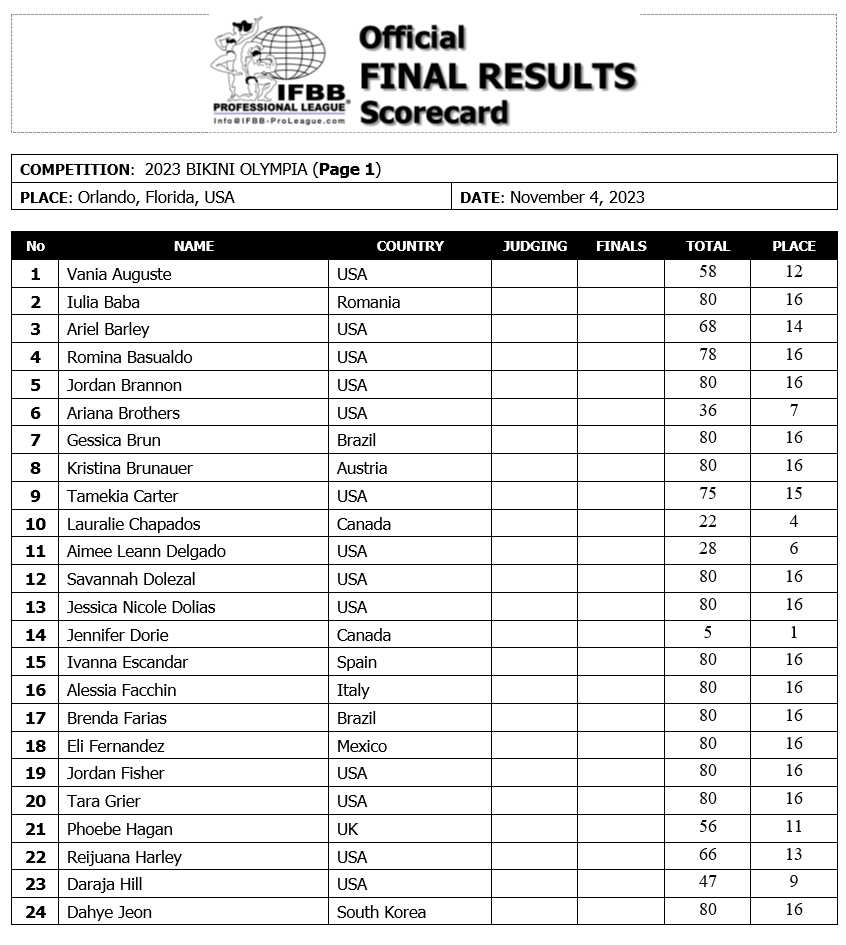 Past Bikini Olympia Winners
2022: Maureen Blanquisco
2021: Jennifer Dorie
2020: Janet Layug
2019: Elisa Pecini
2018: Angelica Teixeira
2017: Angelica Teixeira
2016: Courtney King
2015: Ashley Kaltwasser
2014: Ashley Kaltwasser
2013: Ashley Kaltwasser
2012: Nathalia Melo
2011: Nicole Nagrani
2010: Sonia Gonzalez
2023 Mr. Olympia Friday Night Results