Travis Browne is one of the most unpredictable UFC fighters. He is a former VFC Heavyweight Champion and a former Gladiator Challenge Heavyweight Champion.
Athlete Statistics
Full Name: Travis Kuualiialoha Browne
Born Name
Nickname
Age & DOB
Travis Kuualiialoha Browne
Hapa
Travis Browne is currently 41 years old according to his date of birth July 17, 1982.
Fight Stats
Height
Weight
18 Wins // 7 Losses // 1 Draws
6 ft 7 in or 201 cm
241 lbs (109 kg)
Reach
Fighting Style
Association
79 inches (200 cm)
Muay Thai, Boxing, Brazilian Jiu-Jitsu, Judo, Gaidojutsu, Catch Wrestling
UFC
Team: Glendale Fight Club
Nationality
Net Worth
Born Place
American
$0.5 Million
Oahu, Hawaii, United States
Profile
Travis Browne is known for amazing striking. Despite Travis is a master of six martial arts, he rarely keeps the fight on the ground. His trademarks are right superman punch and front kicks. When on the ground, Travis tries to end the fight with an endless barrage of elbows or hooks.
He has 14 knockout victories in his career. Travis Browne is a purple belt in BJJ. Hapa also has great knees of the clinch. For a heavyweight, Browne is a very explosive and powerful fighter. If you leave an opening, be sure his eye will be the first to see.
The Road To The Top
Travis Browne had his MMA debut against Evan Langford on February 7, 2009, in Tijuana, Mexico, and he won via TKO after only 43 seconds in the first round. Before signing for the UFC, Travis Browne had a perfect score of 9-0. He earned his fastest victory against Abe Wagner, whom he defeated in the finals of the VFC Heavyweight Championship after only 10 seconds in the first round!
Travis Browne – UFC Career
Travis Browne had his UFC debut at The Ultimate Fighter 11 Finale, on June 19, 2010, in Las Vegas, Nevada. He defeated James McSweeney via TKO in the first round.
The only draw of the career was against Cheick Kongo at UFC 120 on October 16, 2010. Lucky for Hapa, Kongo is deducted one point for holding Brown's shorts.
Travis Browne did one of the nicest moves in the history of UFC Heavyweight when he knocked Stefan Struve out at UFC 130 on May 28, 2011, via right superman punch. It was Hapa's first Knockout Of The Night.
Browne earned one more victory against Rob Broughton at UFC 135, whom he won via unanimous decision.
At UFC 145, on April 21, 2012, Travis Browne earned his first and only submission victory in the UFC against Chad Griggs. Travis won via great arm-triangle choke in the first round. It was his first and only Submission Of The Night.
Travis Browne had his first defeat at UFC On FX 5 versus Antonio Silva. The fight happened on October 5, 2012, in Minneapolis, Minnesota, and it was the main event of the evening. Antonio Silva won via TKO in the first round.
Travis Browne – Elbow Controversy
Hapa demonstrated the power of his elbows at The Ultimate Fighter 17 Finale, on April 13, 2013, where he earned a stunning TKO victory against Gabriel "Napao" Gonzaga after only 1:11 in the first round. Travis Browne was warned for elbows to the back of the head and holding the fence. But in the end, Browne elbowed Gonzaga when Napao pressed him against the cage and knocked him out cold in the end. It was his second Knockout Of The Night.
One more Knockout Of The Night was seen against Alistair Overeem at UFC Fight Night 26, on August 17, 2013. Travis Browne was switching stances and attacking via front kicks. He hit Overeem's chin with a tremendous left front kick in the first round. Travis won via head kick KO.
Travis Browne repeated his famous elbows defense against Josh Barnett at UFC 168, on December 28, 2013. At the beginning of the third round, Barnett pressed him against the cage with a double leg, but Travis delivered a rain of elbows to Barnett's head and the referee stopped the fight. It was Travis' fourth Knockout Of The Night.

Travis Browne – UFC On Fox 11 UFC Heavyweight Title Eliminator
Travis had the most important fight of his career against Fabricio Werdum on April 19, 2014, in Orlando, Florida. This was the longest match of his career. The match lasted five rounds. Despite Browne was the favorite, all he basically did was scoring one knockdown in the first round.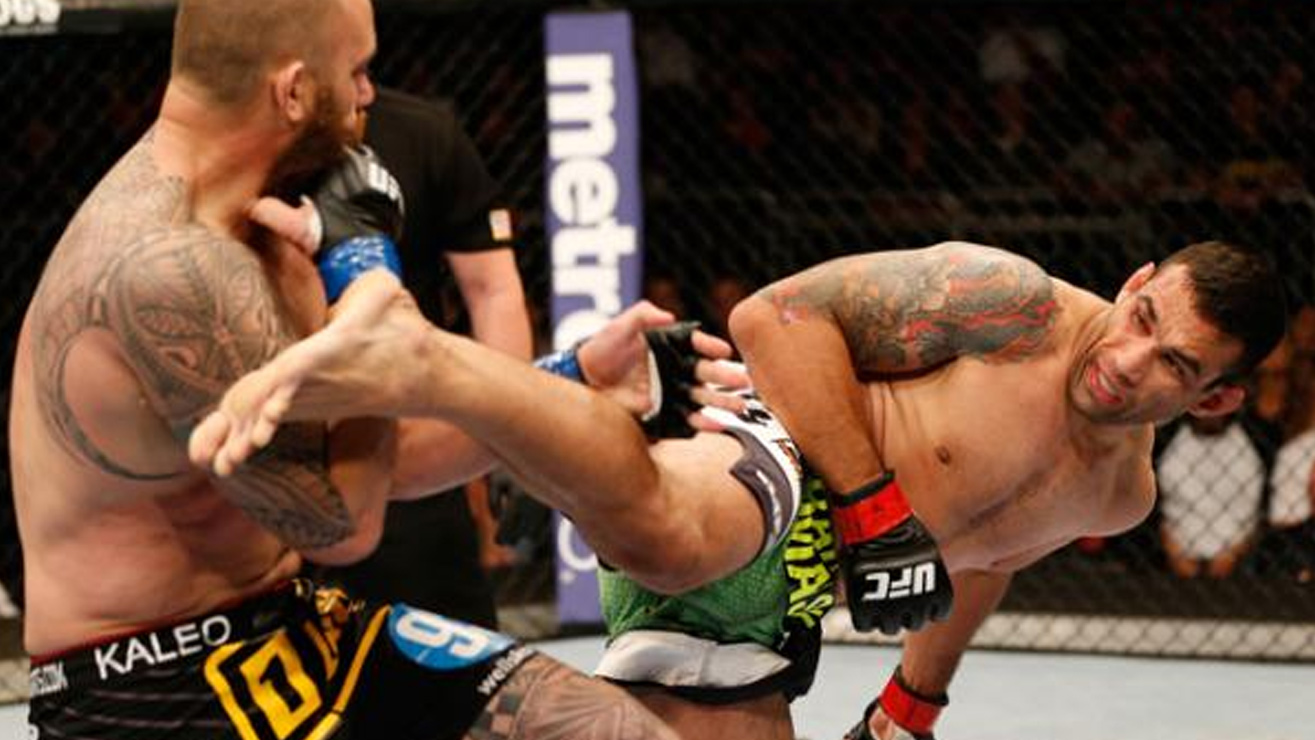 During all five rounds, Werdum was a more successful competitor. Travis also broke his hand and rib and dislocated foot during the fight. Werdum won via unanimous decision.
Browne fought Brendan Schaub at UFC 181, on December 6, 2014. Travis mounted his back and started landing tremendous hooks off the back. Travis Browne won via TKO in the first round.
Travis Browne had one more fight at UFC 187 on May 23, 2015. Andrei Arlovski was an underdog, but Hapa was defeated via TKO in the first round. This was Browne's first Fight Of The Night Bonus Award.
Travis Browne – Eye Poking Controversy
Browne fought Matt Mitrione at UFC Fight Night 81 on January 17, 2016. Travis Browne won via TKO in the third round. However, this was a very controversial fight, because Browne poked Mitrione multiple times in the eye. Mitrione ended the match with the injured eye.
Hapa faced Cain Velasquez at UFC 200 on July 9, 2016, in Las Vegas, Nevada. Cain Velasquez won via TKO in the dying seconds of the first round. Since this fight, Travis Browne is on a cold streak.
Travis Browne was a loser again in the rematch against Fabricio Werdum at UFC 203, on September 10, 2016, in Cleveland, Ohio. Werdum won via unanimous decision again. Edmund Tarverdyan, Browne's coach, started insulting Werdum after the fight, and Werdum kicked him with a front kick to the stomach.
Travis Browne Vs Derrick Lewis – UFC Fight Night 105
Despite Travis Browne earned Fight Of The Night Bonus at UFC Fight Night 105 on February 19, 2017, he was defeated again. This time, Derrick Lewis was a better competitor and knocked him out in the second round, despite Browne hurt him via body strikes in the first round.
Hapa has one submission loss in his career. At UFC 213, on July 8, 2017, he faced Oleksiy Oliynyk. Oliynik won in the second round via rear-naked choke. Dana White then said that Travis should think about retirement.
Personal Life
Travis Browne was married to Jenna Renee Webb, but they divorced in February 2016. Travis is now married to Ronda Rousey, whom he proposed under the waterfall in New Zealand. They are married since August 28, 2017.
Travis Browne – Social Media Profiles