Edmond Tarverdyan Wiki
There were many questions about Edmond Tarverdyan since Ronda Rousey entered the losing streak. A former UFC bantamweight champion received two heavy knockouts from Holly Holm and Amanda Nunes, and her career is going down currently.
Edmond Tarverdyan, her striking coach, has been a hot topic since Ronda's striking came to a halt in the last two matches.
Despite he discovered "Rowdy" when she was nothing and made a UFC superstar out of waitress, an Armenian coach is currently facing many problems, and there is a big question whether he will be able to improve his reputation after two disasters of his former champion.
Who Is Edmond Tarverdyan And Should People Stop Paying Him?
Edmond Tarverdyan is an Armenian striking coach who started training Ronda since her entrance into the world of professional MMA.
In the first few years, "Rowdy" significantly improved her striking, despite her first eight victories were performed via armbar.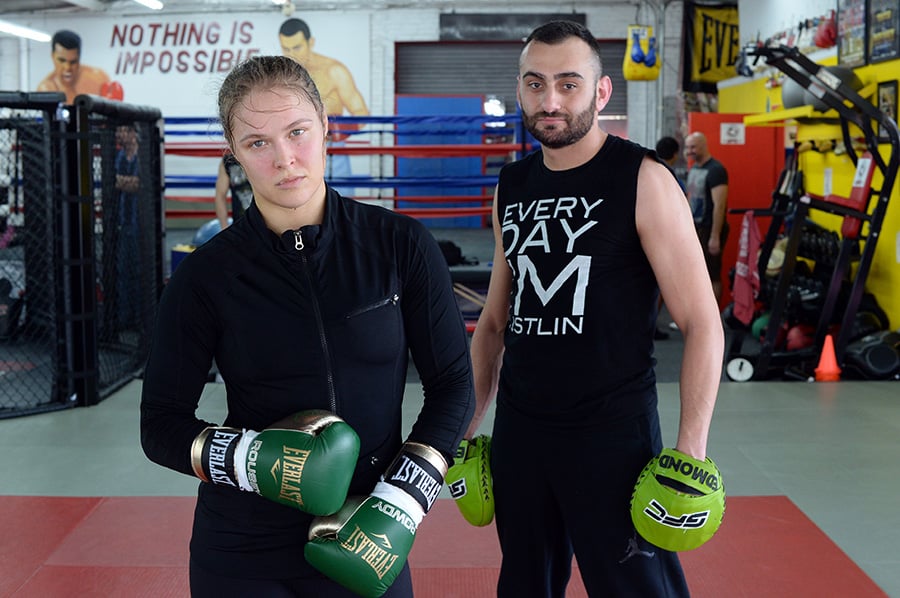 The oldest footage of Ronda Rousey and Edmond Tarverdyan is filmed in April 2011, when two of them were standing in front of a Muhammad Ali's mural. The writing "Nothing Is Impossible" is seen in the background.
Edmond had a vision that Rowdy could become the UFC champ if she would be able to build solid striking skills since she has already been the master of a ground game. An Olympic Judo medalist from Beijing 2008 has already had excellent submission skills.
Coach Edmond Tarverdyan Qualified To Be An MMA Striking Coach?
Edmond has a picture of himself standing with the WBC International Muay Thai Belt in his gym.
During the year 2007, Tarverdyan should fight with the Brian Carlos for the belt, but his opponent pulled out. Edmond faced an opponent who had almost no experience at all, Ben Yelle (5-1). However, his belt was later changed to the USA title.
Tarverdyan was given an international belt for the victory, and he started promoting himself as the WBC International Champion. In the official WBC website, Edmond Tarverdyan is listed as a national champ of the USA only.
The first problem appeared when Tarverdyan told LS Magazine he had over 300 fights with a 90% winning ratio during his career.
Since he has no regular Wikipedia page, his Armenian Wikipedia page describes him only as the WBC Muay Thai Welterweight Champion. Unfortunately, the only additional info on this page is his nickname – Diamond.
 Ronda's Striking
Before the year 2011, "Rowdy" had amazing Judo skills but very weak punches. She only knew to throw jab-cross and clinch up with the opponent. If her throw attempt was unsuccessful, she had a hard time pulling back.
But if we take a look at Ronda's fights against Sara McMann in UFC 170 (knee to the body KO), and Bethe Correia in UFC 190 (right cross), you can say he did a great job. Sara McMann is a freestyle wrestler, and Bethe Correia is a BJJ blue belt, purple sash in Kung Fu, and a great kickboxer.
He had a great chance of making a success with "Rowdy" since she believed him 100% until the match with Holly Holm. One thing is certain – Edmond has definitively improved her clinch striking.
Edmond Tarverdyan Faces Multiple Accusations After UFC 193
Ronda received a left high kick from Holly Holm and she was out of the scene for more than one year. Sometimes an extremely strong champion started to look like an amateur after the beatdown.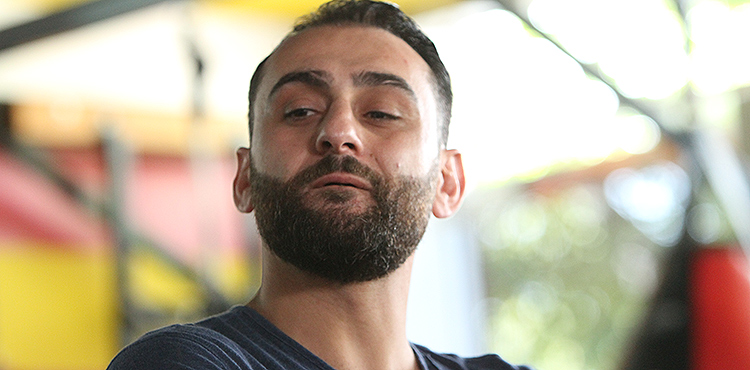 It is a big question whether Edmond can be a head-to-head coach with some world-class names like Bas Rutten or Duke Roufus.
Tarverdyan was Travis Browne's coach too. Travis was a decent striking rival against Fabricio Werdum, who is a Muay Thai black belt under Rafael Cordero.
However, have you seen how Cain Velasquez demolished Browne in the stand-up? Cain Velasquez is primarily a wrestler, but also a good kickboxer!
Since Velasquez knocked Browne out, his career is going down! He is on a 4-match losing streak, starting from UFC 200 and defeat from Cain Velasquez.
Thanks to the defeat streaks of Ronda Rousey and Travis Browne, Edmond Tarverdyan was found in the hotspot.
Edmond Tarverdyan – Controversial Behavior
The Lawbreaker
In the past, Tarverdyan had two charges – resisting arrest, and felony identity theft in 2010.
Police found multiple credit cards, social security numbers, and pin numbers.
Edmond Tarverdyan claimed he was not guilty during the trial. In the end, he was sentenced to one day in prison, 30 days of community service, 610 dollars fine, and three years of probation.
Edmond made a fraudulent activity again filling the data for his license in Boston in 2016. He was suspended for three months when the commission found he was a member of Travis Browne's corner. He has also issued a penalty of 5,000 dollars.
His corner's license was recalled later by the California Athletic Commission.
Bankruptcy
Despite he was the coach of the best bantamweight female UFC fighter of all time, Edmond "forgot" to pay his taxes, claiming bankruptcy before UFC 193 fight between Ronda Rousey and Holly Holm. He owned more than 700,000 dollars to the creditors all around the USA.
Edmond claimed he is not the owner of the Glendale Fighting Club. He also stated he had no recent income at all, despite Rowdy earned a lot of money defending the UFC title six times in a row.
Insane Stance Switch Decision
Edmond did the most controversial decision ever forcing "Rowdy" to switch stance from orthodox to southpaw. I mean, it is obvious that "Rowdy" doesn't know to duck under or slip to the right when her leading leg is right – almost every Amanda's left hook and left cross landed heavily.
In her match against Amanda Nunes in UFC 207, Ronda received an extremely quick knockout. She was extremely slow and almost no punches landed on Amanda's head at all.
You need at least 8,000-10,000 repetitions to master the skill. Ronda simply didn't have enough time for that between her matches with Holly Holm and Amanda Nunes!
I mean, what would happen if Mirko Cro Cop or Mark Hunt would switch stances? Ronda is definitively not a type of fighter as Carlos Condit or Anderson Silva, who can attack equally from both stances.
Edmond Tarverdyan Insulting Schaub
During the year 2014, Brendan Schaub was booked for a fight against Travis Browne by UFC. Travis was number 3 heavyweight contender at that time.
Schaub said that he was happy to hear Browne moving to Edmond's training camp, implying it will be "good" for him and he will have better chances of winning.
Edmond started insulting Schaub, personally and via social media. He even confronted him at the  UFC 181 weigh-in.
Edmond Has Problems With Parents
There were many aggressive words from Ronda's mom, AnnMaria De Mars, while she was discussing her impressions about Edmond.
AnnMaria was repeatedly calling Edmond "a terrible coach, who hit the lottery with her daughter". Her mother also said a very insulting statement, comparing "a no-hitter with red underwear".
AnnMaria later called people not to go to Tarverdyan's gym, because he is "a bad person". Is this true or just an angry mom talking?
Edmond Tarverdyan Versus Fabricio Werdum
UFC 203 remained known not for world-class fighting, but by the incident Edmund caused. Entering the cage at the end of the third round, he told many "offensive words" to Fabricio Werdum.
Fabricio didn't hold back and placed a left front kick to Edmund's belly, and a few UFC officials had to break up the fight.
One of Werdum's coaches stood between them, while the other one started arguing Tarverdyan. The referee pushed Edmund towards the end of the octagon.
In the end, there were no suspensions and prohibitions. Looks like Edmund was lucky one more time.
It is true that Ronda Rousey and Travis Browne are not as successful as they were earlier. It is questionable whether Tarverdyan will be able to gain their trust again.
Completely Insane In-Fight Advice
In the fight versus Holly Holm, it was obvious that Ronda is getting her ass kicked in a stand-up game. Despite that, Tarverdyan was constantly calling her to go forward, use feints, and press "The Preacher's Daughter". He was convincing "Rowdy" Holly is going to slow down but it didn't happen.
But when it comes to Amanda Nunes, his coaching was a disaster. He was yelling "head movement" and "make her miss", despite Ronda was a lot slower than her opponent. Well, he should teach her to slip in the training session! It was the worst fight of Rowdy's career!
Edmond Tarverdyan Vs CSA Gym – Strange Way Of "Motivating" Travis Browne
Edmund Tarverdyan has had a beef with TJ Dillashaw's coach, Duane Ludwig, and the instructors at CSA gym. One of the most controversial coaches was very angry when Kevin Ross posted the video of his "conversation with Travis Browne" during the fight. Here is an Instagram post CSA gym shared to troll Tarverdyan's behavior.
Tarverdyan was attacked about the use of vulgar words. He was swearing to raise Brown's level of motivation during his match versus Fabricio Werdum. But he blasted other MMA coaches, claiming that was the only way to motivate Travis Browne since he is not an aggressive fighter.
Why Should Tarverdyan Stop Coaching Ronda Rousey?
Ronda's Knockout Losing Streak
Since she was defeated against Holly Holm, Ronda is definitively not the same fighter.
She looks more opened when she enters the octagon and like an amateur who is looking for its fighting style. Ronda had only one fight in 2016.
There were many critics of Ronda's standup style and the lack of clinch game. Everybody could accept "Rowdy" will not fight again after the brutal 48-second demolition against Amanda Nunes, but not Tarverdyan.
Looks like bantamweight competitors have significantly improved their stand-up and takedown defense game. Tarverdyan will have to change something in Ronda's striking if he wants to win more matches.
However, receiving two knockouts in a row is never easy. Ronda needn't fight for money anymore – she is financially stable.
 Cris Cyborg Disagreements
While Ronda tries to avoid this fight, Tarverdyan wants it so badly.
During the episode in MMA Hour in September 2017, Edmund was saying that he wanted Ronda to face Cris "Cyborg" Santos. He is sure Ronda would have good chances.
Cris Cyborg is currently one of the most dangerous fighters on the planet, with a very brutal boxing and quick hands. "Rowdy" doesn't have good chances to take her down.
Cris has a strike of eight knockout victories, and she is a fearsome Muay Thai fighter and a brown belt in Brazilian jiu-jitsu. However, Tarverdyan is sure Ronda could defeat Cris, claiming Cyborg is "too slow".
Ronda Rousey Married Travis Browne Recently
Not a long time ago, this UFC couple became officially a wife and a husband. Ronda posted a lot of photos from her wedding on the social media pages, claiming she is busy outside of the octagon.
It seems "Rowdy" wants to move forward in the next paragraph of her life, where there will be no space for fighting left.
If she is interested in having a baby, there is no reason to risk anymore and harm her health. She could have pregnancy problems later.
However, Tarverdyan denies accepting that fact. Ronda has many other offers under her belt too.
Potential WWE Superstar
"Rowdy" has built her image of the superstar. She was an actress in many films, and she modeled for some elite outlets.
Many people expect there is place in WWE for "Rowdy".
In March 2015, Ronda was sitting in a front row, before her appearance inside of it with Stephanie McMahon, Triple H, and Rock earlier.
Triple H confirmed that Ronda is interested in pro wrestling, claiming negotiations are in progress.
When choosing between these two, Ronda would definitively earn a lot of money without too much pain. In UFC, her stand-up game is currently a big problem and there are no big chances of fixing it on time, but her knowledge of MMA could help her impressing the audience in WWE.
Edmond Tarverdyan is against Ronda's WWE career. He only thinks about his paydays, neglecting Ronda's health.
After receiving two heavy knockouts, "Rowdy" should either change something in her stand-up game, or she should change a coach. It is obvious that something isn't right for the last two years.