On September 24, 2023, Dubai echoed with cheers and applause as Mazin Salim AlRahbi, Terrence Ruffin, and Adeyemi Awoyemi emerged victorious in the Men's 212 Bodybuilding, Classic Physique, and Men's Physique divisions, respectively, at the 2023 Dubai Pro show. This prominent competition, held in Dubai, United Arab Emirates, presented a golden ticket for the winners to participate in the coveted 2023 Mr. Olympia event, slated to take place in Orlando, FL, from November 2-5, 2023.
This year's Dubai Pro attracted over 70 IFBB Pro League athletes globally, competing in the Men's 212 Bodybuilding, Classic Physique, and Men's Physique divisions. The stakes were higher this season, as the IFBB Pro League revamped the qualification system. Athletes had a clear task ahead – clinch a Pro show victory or risk missing out on the grand Mr. Olympia competition.
In the Men's 212 Bodybuilding segment, the audience was treated to a thrilling performance. Mazin Salim AlRahbi, with his striking physique marked by distinct striations and well-defined muscles, notably his biceps and quads, secured the top position. Kingsley Oben Arrah and Mohamed Embaby followed him, clinching second and third places respectively.
The Classic Physique category witnessed a nail-biting competition between Fabio Junio Ramos Vale and two-time Arnold Classic champion Terrence Ruffin. Ramos, showcasing an impressively sculpted back, appeared confident, having won first place in the 2023 Xtreme Bodybuilding Pro Mexico event earlier in July. However, the evening belonged to Terrence Ruffin, fondly known as "Ruff Diesel", who managed to edge out Ramos in an exceptionally tight contest to secure the top spot.
The Men's Physique category was equally intense. Adeyemi Awoyemi, exhibiting remarkable shape, proportions, and muscle details, took the title, leaving Abisai Pietersz and Youseff Hassan in the second and third spots, respectively.
The 2023 Dubai Pro has undeniably set the stage for a riveting Mr. Olympia showdown later this year, where the world's best bodybuilders will come together, vying for the sport's most prestigious title.
2023 Dubai Pro Winners
Men's 212 Bodybuilding: Mazin Salim AlRahbi
Classic Physique: Terrence Ruffin
Men's Physique: Adeyemi Awoyemi
2023 Dubai Pro Results
Men's 212 Bodybuilding
First Place — Mazin Salim AlRahbi
Second Place — Kingsley Oben Arrah
Third Place — Mohamed Embaby
Fourth Place — Wael Ali
Fifth Place — Mohamed Salah
Sixth Place — Muhammet Kurutas
Seventh Place — Ismail Ahmed Mohamed Radwan
Eighth Place — Mohamed Ramzy
Ninth Place — Radoslav Angelov
Tenth Place — Siwei Yang
Classic Physique
First Place — Terrence Ruffin
Second Place — Fabio Junio Ramos Vale
Third Place — Wesley Vissers
Fourth Place — Chen Kang
Fifth Place — Jose Maria Mete Bueriberi
Sixth Place — Abou Konate
Seventh Place — Patrik Herczik
Eighth Place — Khaled El Nahawy
Ninth Place — Miguel Malimo
Tenth Place — Valeri Enchev
Men's Physique
First Place — Adeyemi Awoyemi
Second Place — Abisai Pietersz
Third Place — Youseff Hassan
Fourth Place — Sidy Pouye
Fifth Place — Emile Walker
Sixth Place — Carlos Asiedu Ocran
Seventh Place — Imran Khan
Eighth Place — Mahmood Al-Maghrabi
Ninth Place — Hossein Karimi
Tenth Place — Jiang Kun Zhi
2023 Dubai Pro Scorecards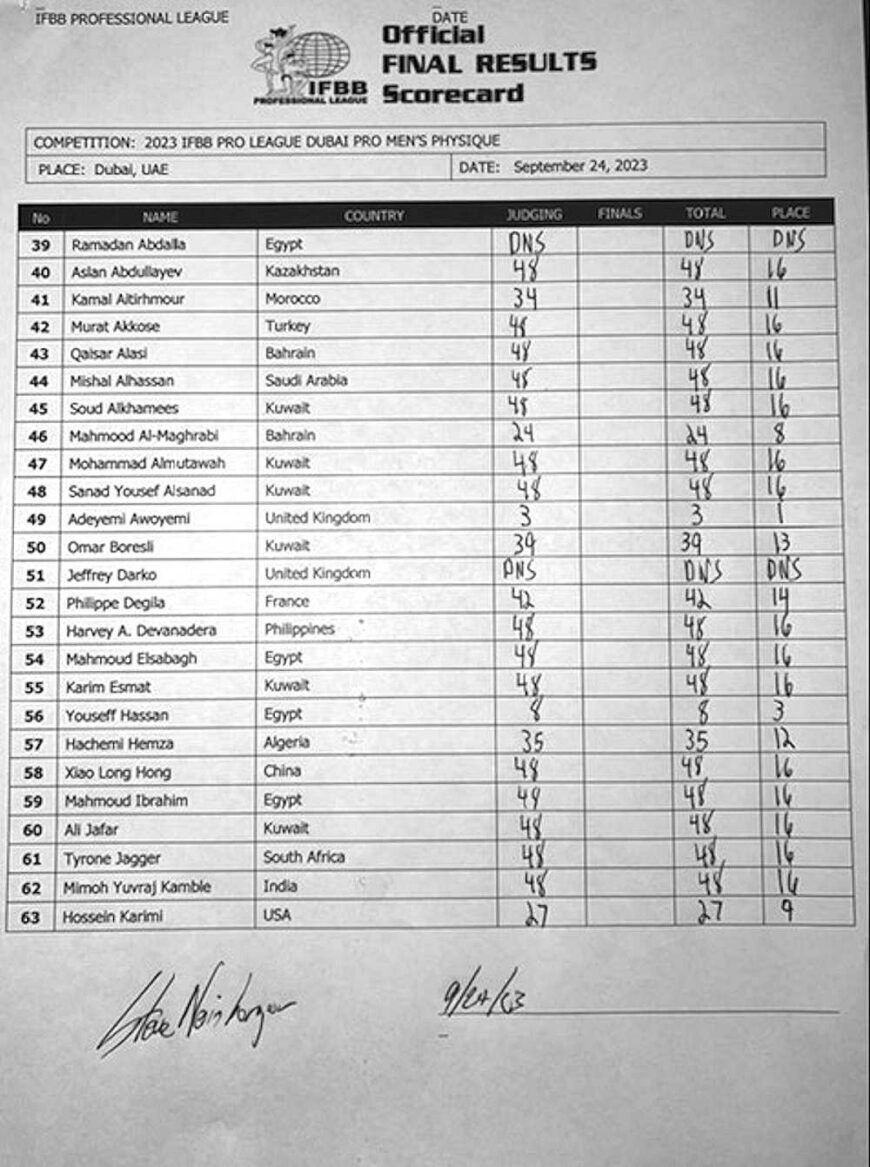 MiddleEasy extends heartfelt congratulations to all the winners of the Dubai Pro 2023!