The eagerly awaited 2023 Mr. Olympia bodybuilding contest is on the horizon. This is the preeminent event in bodybuilding, bringing together the best competitors from all 11 divisions to vie for the prestigious Mr. Olympia title, the highest honor in the sport. The weekend is set to be filled with intense competition, an engaging expo, and much more.
The 59th Joe Weider's Mr. Olympia competition will take place in Tampa, Florida, in November 2023. The Mr. Olympia competition, which is among the most prestigious bodybuilding events globally, will see top professional bodybuilders compete for the illustrious title.
The official website of the Mr. Olympia competition has shared the qualification rules and a list of competitors for the 2023 Olympia Weekend. As of July 24, 2023, Hadi Choopan, the current title holder, is set to defend his title against a host of formidable competitors, including Nick Walker and Derek Lunsford. The anticipation is high as we await the event in Tampa, Florida, this coming November.
2023 Olympia Qualification System Rules
The IFBB Professional League, in conjunction with Joe Weider's Olympia Fitness & Performance Weekend, has announced the rules for the 2023 Olympia Qualification System ("OQS"). The 2023 OQS will qualify athletes for the 2023 Olympia. The qualification period begins on November 21, 2022, and concludes on October 9, 2023.
The athletes who qualify for the 2023 Olympia include:
The top 5 competitors from the 2022 Mr. Olympia;
The top 3 competitors from all other 2022 Olympia divisions; and
The winner of each contest held during the qualification period.
Notably, the previous point system has been abolished. Now, to qualify for the 2023 Olympia, a competitor must win their event. Moreover, any former Olympia winner has lifetime eligibility. However, this eligibility is not automatic. If more than five (5) years have elapsed since their last Olympia win, the approval of the Pro League is required for their participation.
Full List of Qualified Athletes for 2023 Mr. Olympia
Men's Open Mr. Olympia
Brett Wilkin (USA)
Hadi Choopan (Iran)
Derek Lunsford (USA)
Nick Walker (USA)
Brandon Curry (USA)
Mamdouh Elssbiay (Egypt)
Samson Dauda (United Kingdom)
Behrooz Tabani (Iran)
Tony Burton (USA)
Ross Flanigan (USA)
Iain Valliere (Canada)
Michal Krizanek (Slovakia)
Phil Clahar (USA)
Andrea Presti (Italy)
Hassan Mostafa (Egypt)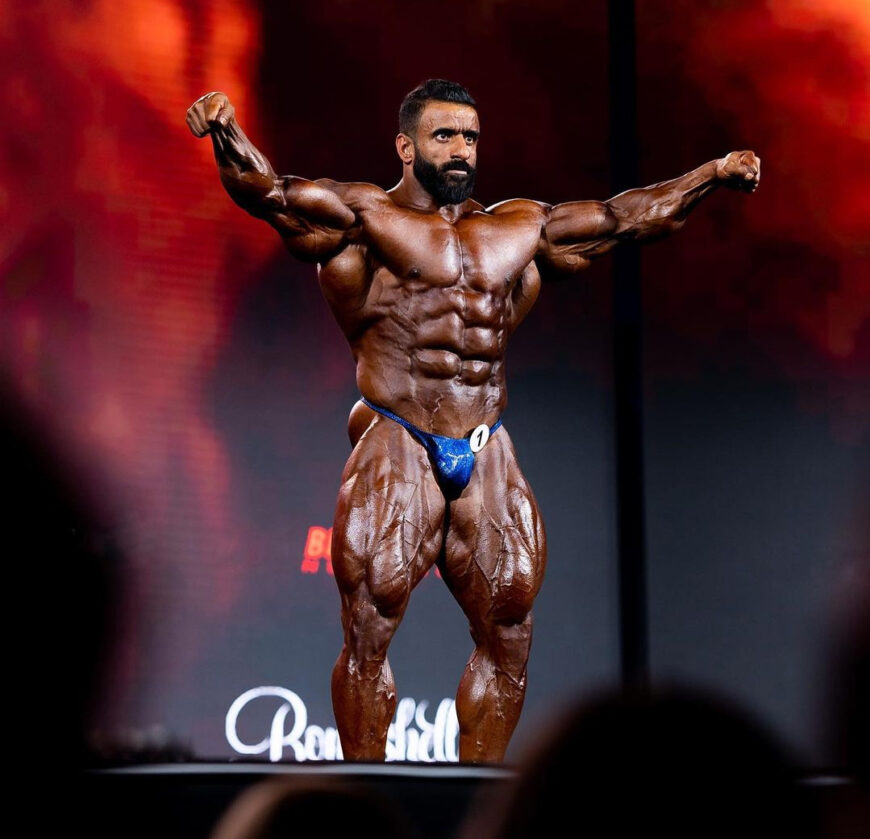 212 Bodybuilding Olympia
Felipe Fierro (Chile)
Shaun Clarida (USA)
Angel Calderon Frias (Spain)
Kamal Elgargni (Libya)
Ahmad Ashkanani (Kuwait)
Felipe Moraes (Brazil)
Kerrith Bajjo (USA)
Piotr Borecki (Poland)
Andrei Melnikov (Russia)
Roman Iushchenko (Ukraine)
John Jewett (USA)
Classic Physique Olympia
Woilid Baatout (France)
Chris Bumstead (Canada)
Ramon Rocha Queiroz (Brazil)
Urs Kalecinski (Germany)
Mike Sommerfeld (Germany)
Eric Brown (USA)
Daniil Famponte (USA)
Andrei Kozhokar (Russia)
Michael Daboul (United Kingdom)
German Pastor (Spain)
Eric Wildberger Lisboa (Brazil)
Samuel Paquin (Canada)
Damien Patrick (USA)
Damian Kuffel (Poland)
Vahid Badpei (Iran)
Laszlo Kiraly (Hungary)
Antoine Loth (Spain)
Carlos Dommar (USA)
Fabio Junio Ramos Vale (Brazil)
John Le (Canada)
Men's Physique Olympia
Mehdi Kabbadj (Morocco)
Ming Chieh Tsai (District of Taiwan)
Kahlia Ramzi (Algeria)
Corey Morris (USA)
Erin Banks (USA)
Brandon Hendrickson (USA)
Diogo Montenegro (Brazil)
Mahmood Al-Maghrabi (Bahrain)
Emanuel Hunter (USA)
Mauro Fialho Garcia, Jr (Spain)
Carlos DeOliveira (Brazil)
Benquil Marigny (USA)
Riccardo Croci (Italy)
Derrick Stevenson (USA)
Ryan Terry (United Kingdom)
Emmanuel Costa (Brazil)
Daniel Ammons (USA)
Andre Ferguson (USA)
Vinicius Mateus Veiro Lima (Brazil)
Vitor Chaves (Brazil)
Joseph Lee (USA)
Victor Manuel Ramirez Chavez (Costa Rica)
Bhuwan Chauhan (India)
Sidy Pouye (Spain)
Yoon Sung Lee (South Korea)
Jason Huynh (USA)
Anderson Arruda (Brazil)
Jeremy Potvin (USA)
Wheelchair Olympia
Harold Kelley (USA)
Gabriele Andriulli (Italy)
Antoni Khadraoui (Algeria)
Josue Fabiano Barreto Monteiro (Brazil)
Mohammadreza Tabrizi Nouri (Canada)
Tyler Brey (USA)
Women's Bodybuilding Ms. Olympia
Andrea Shaw (USA)
Angela Yeo (USA)
Helle Trevino (USA)
Sherry Priami (USA)
Natalia Kovaleva (USA)
Julia Whitesel (USA)
Alcione Barreto (Brazil)
MayLa Ash (USA)
Fitness Olympia
Missy Truscott (USA)
Jaclyn Baker (USA)
Ariel Khadr (USA)
Darrian Tissenbaum (USA)
Oksana Grishina (Russia)
Tiffany Chandler (USA)
Amber Steffen (USA)
Sara Kovach (USA)
Women's Physique Olympia
Natalia Abraham Coelho (USA)
Sarah Villegas (USA)
Brooke Walker (USA)
Anne-Lorraine Mohn (France)
Pamela Canfield (USA)
Elena Aviles Romero (Spain)
Emily Schubert (USA)
Emilija Martic (Canada)
Romana Skotzen (United Kingdom)
Zana Benta (Brazil)
Caroline Alves Dos Santos (Brazil)
Amy McKown (USA)
Figure Olympia
Cydney Gillon (USA)
Jessica Reyes Padilla (Puerto Rico)
Lola Montez (Canada)
Bojana Vasiljevic (USA)
Donya Jackson (USA)
Gabriela Consolmagno (USA)
Madison Dinges (USA)
Cherish Richardson (USA)
Maria Luisa Baeza Diaz Pereira (USA)
Natalia Soltero (Mexico)
Jennifer Zienert (Germany)
Kristen McGregor (Jamaica)
Adela Ondrejovicova (Slovakia)
Gina Palma (USA)
Bikini Olympia
Jibin Park (South Korea)
Ivanna Escandar (Spain)
Amanda Marques (Brazil)
Phoebe Hagan (United Kingdom)
Maureen Blanquisco (Norway)
Jennifer Dorie (Canada)
Ashley Kaltwasser (USA)
Nittaya Kongthun (Thailand)
Alessia Facchin (Italy)
Lauralie Chapados (Canada)
Brenda Farias (Brazil)
Aimee Leann Delgado (USA)
Eszter Ozcella (Hungary)
Hyo Jung Kim (South Korea)
Vania Auguste (USA)
Romina Basualdo (USA)
Savannah Watchman (USA)
Zsofia Reka Molnar (Hungary)
Elisa Pecini (Brazil)
Sierra Swann (USA)
Reijuana Harley (USA)
Cristobalina Pajares (Spain)
Eli Fernandez (Mexico)
Jessica Wilson (USA)
Jordan Fisher (USA)
Jil Meret Schmitz (Thailand)
Areum Song (South Korea)
Lexus Redmond (USA)
Tatiana Lanovenko (Russia)
Dahya Jeon (South Korea)
Ariel Barley (USA)
Tara Grier (USA)
Wellness Olympia
Francielle Mattos (Brazil)
Isabelle Nunes (Brazil)
Angela Borges (Brazil)
Kassandra Gillis (Canada)
Alexis Adams (USA)
Renata Guaraciaba (Brazil)
Amanda Burnett (USA)
Giselle Machado (Brazil)
Tefani Sam Razhi (USA)
Sandra Colorado Acal (Spain)
Lili Dong (China)
Leonida Ciobu (Moldova)
Frida Paulsen Stern (USA)
Lisa Meiswinkel (Germany)
Johanna Calcano (USA)
2023 Mr. Olympia Schedule
Friday 11/03/2023
OLYMPIA PRE-JUDGING
9:00am
Fitness Olympia
212 Olympia
Figure Olympia
Women's Physique Olympia
Ms. Olympia
Wellness Olympia
OLYMPIA FRIDAY EVENING FINALS
6:00pm
212 Olympia
Fitness Olympia
Figure Olympia
Women's Physique Olympia
Ms. Olympia
Wellness Olympia
PLUS Mr. Olympia Pre-Judging
Saturday 11/04/2023
OLYMPIA PRE-JUDGING
9:00am
Classic Physique Olympia
Men's Physique Olympia
Bikini Olympia
Wheelchair Olympia Pre-Judging & Finals
OLYMPIA SATURDAY EVENING FINALS
7:00pm
Mr. Olympia
Men's Physique Olympia
Bikini Olympia
Classic Physique Olympia
In the forthcoming 2023 Mr. Olympia competition, reigning champion Hadi Choopan from Iran is set to defend his hard-earned title. Alongside him, Chris Bumstead, the four-time Classic Physique Olympia, is poised to carve his mark in history yet again. Spanning across 11 divisions, the event will also see a host of celebrities in attendance. These athletes, along with other esteemed champions, will vie to sustain their dominance and extend their winning streaks in this distinguished event.