The 2023 Romania Muscle Fest Pro, a pivotal event in the bodybuilding calendar, concluded with a flourish on November 11-12 in Bucharest, Romania. This competition, a qualifier for the 2024 Mr. Olympia, showcased the prowess of athletes across nine diverse divisions. These included Men's Open, Men's 212 Bodybuilding, Classic Physique, Men's Physique, Bikini, Women's Bodybuilding, Figure, Women's Physique, and Wellness.
Following the exciting conclusion of the 2023 Mr. Olympia, where Derek Lunsord claimed the Men's Open title, the bodybuilding community's focus shifted to the 2024 Mr. Olympia. Scheduled to mark its 60th anniversary in Las Vegas, Nevada, the next Mr. Olympia promises to be a monumental event. Competitors at the Romania Muscle Fest Pro, one of the earliest qualifiers for the 2024 showdown, displayed exceptional talent and determination, vying for a spot in this prestigious competition.
Among the standout winners, Samson Dauda, a recent third-place finisher at the 2023 Olympia, clinched the Men's Open title. His impressive shape and detailed back musculature dominated the stage, solidifying his position as a top competitor. Other winners included Ahmad Ashkanani in Men's 212, Wesley Vissers in Classic Physique, and Miroslav Juricek in Men's Physique, each demonstrating superior conditioning and stage presence.
The full results are not available, check out the top 10 results for each division below:
2023 Romania Pro Results Breakdown
Men's Open
In a fiercely contested Men's Open division, Samson Dauda emerged victorious, displaying remarkable shape and mass. Behrooz Tabani Abarghani, a defending champion who faced visa challenges for the 2023 Olympia, showed resilience and clinched second place. Marcello De Angelis, making an impressive Open debut, took third place, showcasing his potential in the sport. The division was a spectacle of muscle and mastery, as each competitor brought their best to the Romanian stage.
First Place — Samson Dauda
Second Place — Behrooz Tabani Abarghani
Third Place — Marcello De Angelis
Fourth Place — Nathan De Asha
Fifth Place — Mohamed Foda
Sixth Place — Andrea Presti
Seventh Place — Alfred Chiriac
Eighth Place — Volodymyr Byruk
Ninth Place — Jan Turek
Tenth Place — Kevin Brucher
https://www.instagram.com/p/CzjoXEVscz1/
Men's 212 Bodybuilding
Ahmad Ashkanani, fresh from his fifth-place finish at the 2023 Mr. Olympia, dominated the Men's 212 Bodybuilding division with a tighter and more defined package. He was closely followed by Christian Zagarella and Radoslav Angelov, who both displayed impressive conditioning and aesthetics. The division was a testament to the evolving standards of bodybuilding, with each athlete showcasing their dedication to the sport.
Winner — Ahmad Ashkanani
Second Place — Christian Zagarella
Third Place — Radoslav Angelov
Fourth Place — Alexandru Vasile Uta
Fifth Place — Lucas Garcia
Sixth Place — Dawid Cnota
Seventh Place — Daniel Vasilica
Eighth Place — Vincent Alliot
Ninth Place — Junior Pagula
Tenth Place — Morad Zahir
Classic Physique
The Classic Physique category was a crowd-pleaser with Wesley Vissers taking home the trophy. His control over posing and an enhanced stage presence marked a significant improvement from his last performance at the 2023 Mr. Olympia. Competitors like Ruben Lopez Reyes and Alexander Westermeier also made strong impressions, making this division one of the most competitive and visually stunning.
Winner — Wesley Vissers

Second Place — Ruben Lopez Reyes
Third Place — Alexander Westermeier
Fourth Place — Sebastien Theurel
Fifth Place — Ali Shams Ghamar
Sixth Place — George Achampong
Seventh Place — Nicolas Alberto Concepcion
Eighth Place — Mehmed Mehmedov
Ninth Place — Chris Pistolas
Tenth Place — Pekka Kotipohja
Men's Physique
Miroslav Juricek dominated the Men's Physique division with his refined upper body and commanding stage presence. The competition was intense, with Caike DeOliveira and Furkan Er showcasing top-notch physiques and posing skills. This division illustrated the dynamic nature of Men's Physique, where aesthetics and presentation play pivotal roles.
Winner — Miroslav Juricek
Second Place — Caike DeOliveira
Third Place — Furkan Er
Fourth Place — Mohammad Ali
Fifth Place — Jeffrey Darko
Sixth Place — Alessandro Cavagnola
Seventh Place — Mauro Fialho
Eighth Place — Alexandru Panek
Ninth Place — Alessandro Colacchi
Tenth Place — Andrea Amato
Women's Bodybuilding
Leyvina Rodrigues Barros emerged as the champion in the Women's Bodybuilding division, showcasing a perfect blend of shape and muscularity. The competition was fierce, with Anastasia Korableva and Tiana Flex giving stellar performances. This division highlighted the extraordinary strength and dedication of women in bodybuilding.
Winner — Leyvina Rodrigues Barros
Second Place — Anastasia Korableva
Third Place — Tiana Flex
Fourth Place — MayLa Ash
Fifth Place — Barbara de Freitas Moojen
Sixth Place — Hagit Seindlis
Seventh Place — Jacqueline Fuchs
Eighth Place — Viktoria Knysh
Ninth Place — Gemma Lancaster
Tenth Place — Ivana Dvorakova
Bikini
Alice Marchisio clinched the title in the Bikini division with her impeccable poise and aesthetic presentation. Her competition with Valerya Fedorenko and Giuditta Taccani was a captivating display of beauty, symmetry, and stage charisma, underlining the unique appeal of the Bikini division.
Winner — Alice Marchisio
Second Place — Valerya Fedorenko
Third Place — Giuditta Taccani
Fourth Place — Dorottya Zoe Toth
Fifth Place — Kerry Sexton
Sixth Place — Rania Stamatiadou
Seventh Place — Irene Iravedra Cunarro
Eighth Place — Violeta Palamarchuk
Ninth Place — Lorena Blanco
Tenth Place — Andrina Scharli
Figure
The Figure division was a showcase of finesse and muscle definition, with Tereza Linhartova taking the top spot. Her competitors, including Stefana Sandu and Rejoice Godwin, displayed impressive muscle tone and stage presence, making this one of the most closely contested divisions.
Winner — Tereza Linhartova
Second Place — Stefana Sandu
Third Place — Rejoice Godwin
Fourth Place — Jennifer Reece
Fifth Place — Jennifer Zienert
Sixth Place — Sonja Ivanov
Seventh Place — Daiane Aparecida Freitas
Eighth Place — Zulfiya Bitieva
Ninth Place — Veronica Gallego Garcia
Tenth Place — Anna Kohckar
Women's Physique
Raluca Raducu stood out in the Women's Physique division with her detailed muscle volume and clean aesthetics. The competition was intense, with Caroline Alves Dos Santos and Sahar Rahmani also delivering remarkable performances. This division showcased the incredible diversity and talent within women's physique bodybuilding.
Winner — Raluca Raducu
Second Place — Caroline Alves Dos Santos
Third Place — Sahar Rahmani
Fourth Place — Natalia Bystrova
Fifth Place — Silvia Cuartero Martinez
Sixth Place —Julia Glazycheva
Seventh Place — Jo Kelly
Eighth Place — Modesta Halby
Ninth Place — Marina Kassinopoullou
Tenth Place — Emilija Martic
Wellness
Gisele Machado emerged as the champion in the Wellness division, demonstrating a blend of strength, symmetry, and stage flair. Her contest with Paula Dominguez and Sandra Colorado Acal was a testament to the evolving standards in the Wellness category, highlighting the importance of balanced physiques.
Winner — Gisele Machado

Second Place — Paula Dominguez
Third Place — Sandra Colorado Acal
Fourth Place — Klaudia Vanessza Csuri
Fifth Place — Dainora Dvarionaite
Sixth Place — Lexy Oliver
Seventh Place — Valentina Mabrouk
Eighth Place — Houda Hmini
Ninth Place — Rosa Benadero Munoz
Tenth Place — Laleska Bruschi
2023 Romania Muscle Fest Pro Scorecards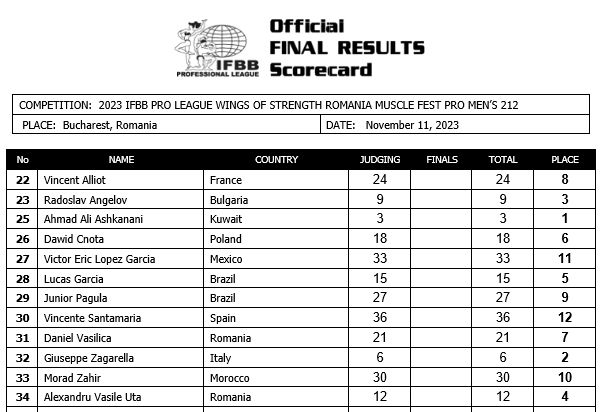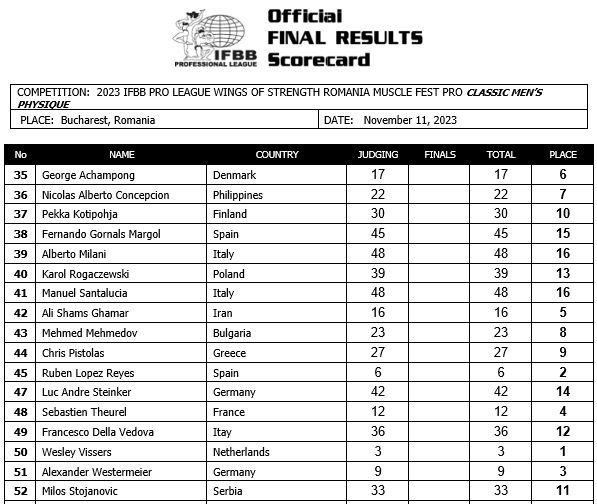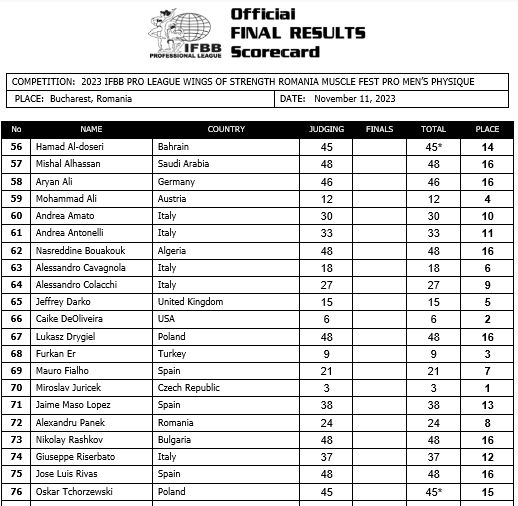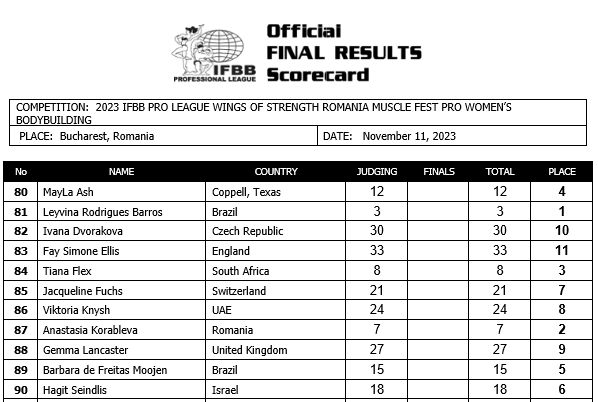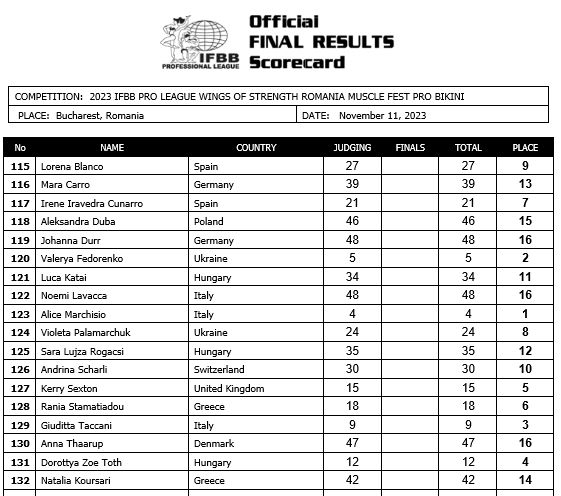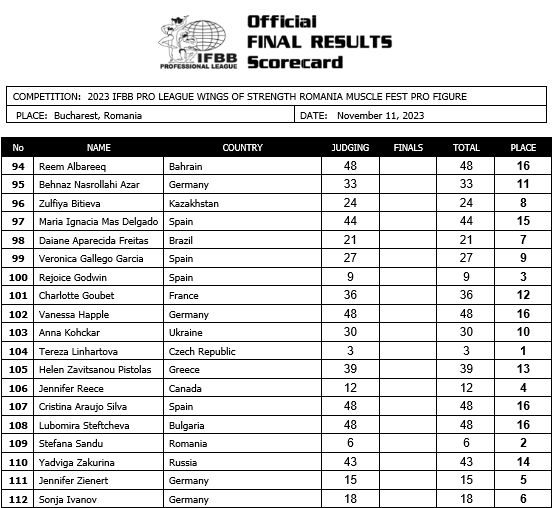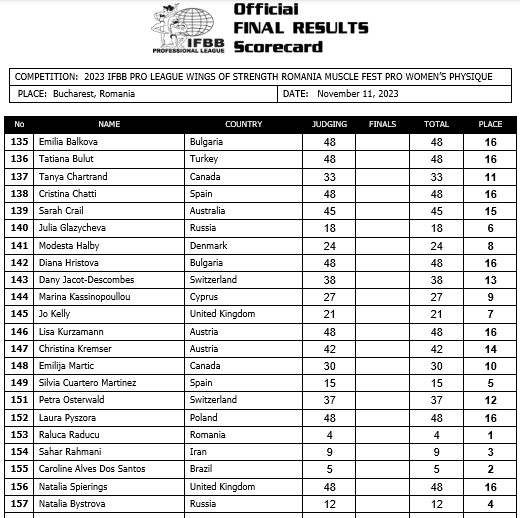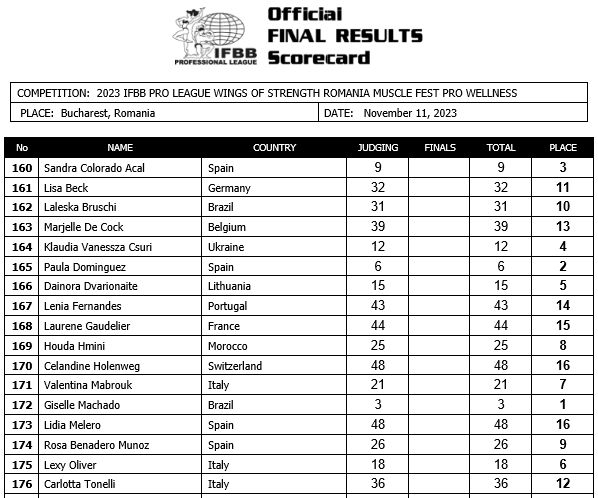 MiddleEasy extends heartfelt congratulations to all the winners of the 2023 Romania Pro, celebrating their remarkable achievements in this prestigious competition. Their dedication, skill, and hard work are truly inspirational, and we look forward to their continued success in the world of bodybuilding.