Are you an MMA fan looking for the best UFC commentators? From Joe Rogan to Michael Bisping, there are a number of popular and knowledgeable personalities who have brought energy and insight to combat sports broadcasting. In this blog post, we'll introduce you to some of the greatest commentators in UFC history and what makes them stand out from the rest. Read on to learn more about these top-tier broadcasters!
The Top 15 UFC Commentators
This section ranks the top 15 UFC commentators, including Joe Rogan, Michael Bisping, Daniel Cormier, Jon Anik and more.
1. Joe Rogan: King of The Octagon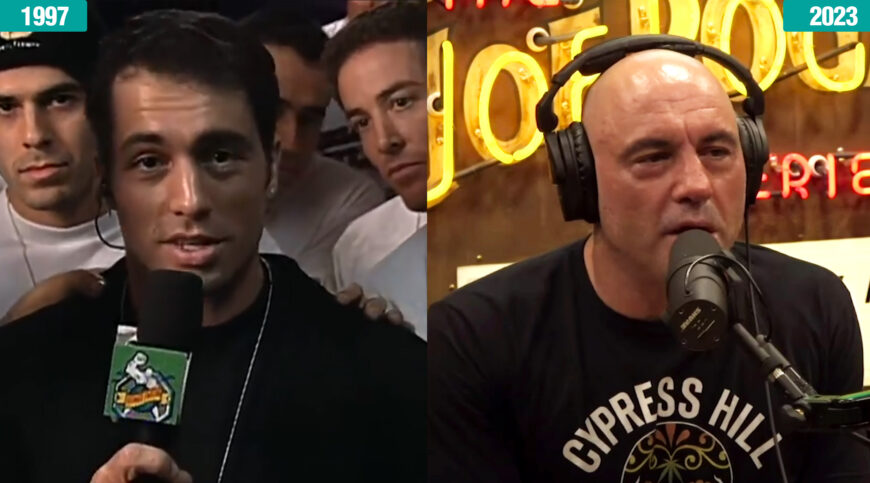 Joe Rogan has been the undisputed king of UFC commentary since 1997. The comedian and all-around MMA enthusiast is known for his knowledge and insight into the sport, often providing expert analysis on different techniques during bouts. His deep understanding of MMA makes him an engaging commentator, bringing added enthusiasm to each fight. He's even made an appearance in the Octagon himself, interviewing fighters post-fight in some high-profile events. With over 20 years as a part of UFC broadcasting teams delivering topnotch commentating and hosting duties, Joe Rogan is truly the King of the Octagon.
Rogan's popularity with viewers undoubtedly contributes to making commentary more entertaining for fans tuning in from home. He brings energy and excitement to every event that consistently attracts millions of people around the world who follow UFC religiously. With humorous banter between commentators along with a storyteller approach giving context behind fighters' journeys ahead of battles, there's always something intriguing about Joe Rogan's play-by-play commentating keeping viewers hooked on fights until their conclusion.
Read also: Joe Rogan Working Alongside Daniel Cormier, Jon Anik For UFC 270 Commentary Duty
2. Michael Bisping: The Voice of UFC
Michael Bisping has become a recognizable face in MMA and UFC broadcasting. As one of the sports' most prolific commentators, he offers fans an entertaining blend of insight, analysis and humor.
His extensive background as an MMA fighter gives him unique credentials to colorfully discuss the bouts taking place in real time. He is also known for his current roles on ESPN+ post-fight shows such as 'UFC Post Fight Show' and 'Ariel and The Bad Guy'.
Bisping's clear understanding of fight technique makes him one of the best analysts out there today and it's no surprise that he is known to some as "The Voice of UFC". Whether he's hosting pre or post fight events or providing color commentary during fights, Michael Bisping keeps viewers updated on every aspect of the sport which makes for a truly enjoyable viewing experience for fans everywhere.
3. Daniel Cormier: The Analyst
Daniel Cormier is a UFC Hall of Famer and one of the most sought-after commentators in MMA today. He has an incredible knowledge of martial arts and the ability to break down fights with an expert analysis that few can match.
With more than two decades in the Octagon, his long term experience provides both casual fans and avid enthusiasts with crucial insight into what's happening inside and outside of the cage. He truly embodies excellence when it comes to analyzing fights or providing a breakdown from a strategic perspective.
On top of that, his enthusiasm for fighting shines through every time he evaluates a fight card or talks about upcoming matches. In short, Daniel Cormier is tied with Joe Rogan at being among some of UFC's best commentating talent today.
4. Jon Anik
Jon Anik is one of the most respected commentators in the UFC, having started his commentary career in 2010. He has become a fan favorite for his detailed and analytical play-by-play commentary during fights. Anik also hosts several podcast series covering MMA and UFC topics as well as interviewing fighters, coaches and other personalities associated with combat sports.
Anik is considered one of the best play-by-play announcers due to his ability to accurately anticipate which fighter will win rounds or matches even before they start. His insight into the MMA community makes him an invaluable commentator for those looking for accurate information about upcoming matchups or ongoing events. In addition, he often offers comedic relief on some of his podcasts and during fight broadcasts, making them enjoyable for people who are not familiar with MMA or UFC events.
Anik's experience doesn't end within broadcasting; he serves as part of numerous behind–the–scenes projects working with both ESPN and the UFC production team. His knowledge has allowed him to stay ahead of trends in fighting styles, helping viewers understand what's happening inside the Octagon easier than ever before while bringing excitement to each broadcast through detailed analysis on both offensive and defensive strategies employed by contenders.
5. Paul Felder
Paul Felder is a former UFC fighter and current color commentator for the promotion. A Renzo Gracie-trained martial artist, he has an impressive record in the Octagon, having successfully competed in some of the most prestigious organizations including Cage Fury FC and MMA.
As part of his broadcast career, Paul provides expert analysis and insight during post-fight interviews and live events. His enthusiasm for combat sports shines through when discussing technical aspects of fights such as grappling or striking range.
He also gives a unique perspective on matchups between fighters with different styles since he was once competing himself. Fans appreciate Paul's candor as well as his feedback about specific fight strategies employed by competitors inside the cage.
6. Dominick Cruz
Dominick Cruz is an American mixed martial artist, commentator and analyst for the UFC. He was the last WEC Bantamweight Champion before Zuffa merged with the WEC to form the UFC.
Cruz has been a commentator since 2013, having commentated many fights as well as providing analysis for special events. His commentary style is analytical and creative, making him a great addition to any fight nights broadcast team.
In addition to being an expert in his field of MMA, he offers fans insight into different aspects of fighting that they may not have previously considered such as body positioning and energy conservation. Fans appreciate his enthusiasm during broadcasts which add excitement and make even mundane matchups exhilarating.
7. Mike Goldberg
Mike Goldberg was a veteran UFC commentator for two decades. He began his career with the company in 1997 and became a prominent figure on their broadcast team, partnering up with Joe Rogan from 2002-2016.
During this time, Goldberg provided color commentary and insight on fights while also covering fighter introductions before each bout as well as post-fight interviews. His enthusiasm during these segments would add an electricity to the pre-match atmosphere in the arena and he helped bring viewers closer to the action by giving them firsthand knowledge of what was happening both inside and outside of the octagon. His iconic voice could be heard calling out some of MMA's most memorable bouts over his time at UFC, making him one of its most beloved commentators.
8. Dan Hardy
Dan Hardy is one of the most beloved UFC commentators. He has worked as a play-by-play commentator, color analyst and backstage interviewer.
With his vast knowledge of mixed martial arts and his commentary style that's passionate yet clear cut, he brings viewers into the action like no other fighter can. His experience in mixed martial arts also allows him to provide unparalleled analysis for every fight, giving fans a deep understanding of each match up. He's also known for his signature catch phrase "Now let's get it on!" which always excites the crowd before fights begin.
9. Kenny Florian
Kenny Florian is one of the longest-tenured and revered commentators in UFC history. The former two-division fighter joined Joe Rogan and Mike Goldberg as part of the broadcast team for UFC Fight Night: Ortiz vs. Shamrock 3 in 2006. Florian has since provided his signature blend of expertise, enthusiasm, and analysis to every broadcast that he's been a part of since then. A longtime staple on ESPN+ commentating teams, he brings an expert perspective to each bout that no other commentator can match due to his vast fight experience from his MMA career.
Florian often breaks down techniques with great detail, such as dissecting various submissions during fights or pointing out details about striking exchanges between fighters so viewers can better understand what is happening inside the cage at any given time. He is also highly adept at recognizing changes in momentum taking place mid-fight, giving him an edge as a color commentator over many others who don't show off their knowledge nearly as much when analyzing bouts live on air.
In addition to being one of UFC's most recognizable announcers today, Flrian occasionally fills in behind the table performing post fight interviews with victorious fighters after they finish their respective bouts—a testament to how versatile and well versed he truly is when it comes to all facets of MMA broadcasting.
10. John Gooden
John Gooden, originally from England, is a color commentator and analyst for the UFC. Gooden's knowledgeable insight into the sport has made him a fan favorite when it comes to commentating bouts.
He is also a former professional MMA fighter who competed in Cage Rage and won title belts in two different weight classes. In addition to his expertise as an analyst, he offers an impressive depth of knowledge about some of the world's most elite fighters due to his long-time involvement in martial arts and combat sports on many levels. As one of UFC's most important commentators, John continues to deliver dynamic commentary on every fight card since joining the team back in 2014.
11. Brendan Fitzgerald
Brendan Fitzgerald is one of the most experienced commentators in the UFC and has been part of the team since 2013. He currently serves as a reporter, announcer, and on-air host for different UFC events around the world.
Along with his co-hosts Joe Rogan and John Gooden, they are responsible for providing some of the best post fight interviews to viewers. His expertise on MMA goes beyond just providing analysis of fights; he also shares insight into training techniques and fighter background stories which allow fans to really get to know their favorite athletes. In addition to all this, Fitzgerald's smooth delivery style makes him the perfect commentator for any MMA event.
12. Brian Stann
Brian Stann is a retired Marine Corps Officer and former mixed martial artist. He is currently one of the UFC commentators, delivering expert analysis and exciting commentary during fights.
His knowledge of MMA fighters' techniques earned him respect from his peers as he was able to provide up-to-date fight insights that fans could appreciate. As a commentator, Stann's enthusiasm for the sport creates an infectious atmosphere that amplifies viewers' excitement for each match.
Additionally, Stann has a great ability to tell stories about the fighters which provides context and elevates the overall viewing experience. Brian Stann has quickly become one of the most respected commentators in MMA today due to his insight, expertise and natural gift for storytelling.
13. Frank Trigg
Frank Trigg is a former professional mixed martial artist and current MMA commentator. He is perhaps best known for his fight with Matt Hughes at UFC 45 in 2003, where he was fighting for the welterweight title.
As a color commentator, Trigg has been part of many prominent broadcasts including Pride Fighting Championships and Elite XC on Showtime. His unique style of analysis helps to bring fights to life by providing insight into strategies employed by each fighter.
Trigg also served as an analyst on Spike TV's "MMA Uncensored Live" program and continues to provide commentary during UFC events. He's considered one of the most knowledgeable commentators out there due to his extensive background in grappling and knowledge of game plans.
14. Jeff Blatnick
RIP Jeff Blatnick, who loved @UFC , all MMA, Wrestling & Olympics! Classic photo from early UFC! @DanaWhite pic.twitter.com/GKxgFMnb

— Bruce Beck (@BruceBeck4NY) October 25, 2012
Jeff Blatnick was an Olympic gold medalist in Greco-Roman wrestling and a much beloved MMA commentator. He gained fame for being an analyst and commentator during UFC events, offering his expert insight into the sport whenever he spoke.
In addition to analyzing fights, Blatnick also hosted post-fight interviews with winning fighters as well as refereeing some of them himself. As a respected figure within the combat sports world, Blatnick's opinion was often sought by both promoters and fighters alike. His unique ability to explain what it takes to be successful inside the cage made him one of the most popular commentators in UFC history.
15. Jeff Osborne
For those who aren't aware of how bizarre and awesome early-days #MMA was:

This is NOT from "To Catch a Predator". It's Jeff Osborne, the Godfather of #WomensMMA and one of the most important and influential promoters in the sport.

There will NEVER be another era like the 90s. pic.twitter.com/g29Xs4A1o5

— Paul Lazenby (@MaulerMMA) August 24, 2018
Jeff Osborne is a veteran of MMA commentary, being involved with the UFC since 1999. He has called numerous fights including dozens of episodes of The Ultimate Fighter, and pay-per-view events like UFC 105 and UFC 108.
Over the course of his career he's been part of some historic broadcasts from marquee venues such as Madison Square Garden and London's O2 Arena. Osborne brings an upbeat attitude to the broadcast booth while also providing knowledgeable insight into each fight. His ability to make engaging play-by-play calls to match the action in cage have made him one of the most beloved commentators in Mixed Martial Arts (MMA).
Other Notable Commentators
1. Jimmy Smith
Jimmy Smith is an American mixed martial arts (MMA) commentator who has appeared on international broadcasts for the UFC, Bellator Fighting Championships, and other organizations. He made his debut in 2006 as a color analyst for MMA fights on The Fight Network.
Smith has provided commentary alongside Mike Goldberg, Kenny Florian, Jon Anik and Daniel Cormier among others. His enthusiasm during play-by-play analysis frequently sets the stage for exciting broadcasts and helps fans stay engaged with the action in the cage. In addition to his work as a commentator, Jimmy Smith is also an experienced Brazilian jiujitsu coach, who brings his expertise to viewers throughout all of his broadcasts.
2. Julie Kedzie
https://www.instagram.com/p/Cnk8BowuVHm/
Julie Kedzie is a well-known Mixed Martial Arts (MMA) commentator, having worked within the Ultimate Fighting Championship (UFC) organization since 2013. She has worked on dozens of events in her time with UFC, offering both insight and commentary to fans across all platforms. Though she isn't currently working as an analyst for any major MMA promotions at the moment, she continues to be a strong advocate of the sport.
Kedzie is known for her knowledge of MMA and its finer points, offering viewers pertinent information about fighters during their fights. Aside from being an analyst for the UFC, Kedzie also has experience as a fighter herself. As part of the Strikeforce Bantamweight Women's division from 2009 to 2011, Julie demonstrates that she understands how real combat works in terms of strategy and technique more than many other commentators do.
Though Kedzie left her post at ESPN when they severed ties with UFC in 2020, she still presents pre-fight analysis and post-fight interviews outside of broadcast channels for them which can be seen on their YouTube channel or website. Despite no longer being involved full time with a major promotion such as UFC or Bellator, Julie remains one of the most knowledgeable broadcasting personalities within martial arts circles today.
3. Pat Miletich
Pat Miletich is a long time MMA commentator who has been active in the sport since 1997. He began his career as an analyst, but eventually became renowned for his ring announcing abilities. As such, Miletich was the first ever ring announcer of the original Ultimate Fighting Championship (UFC) event and also went on to serve as a ringside commentator throughout its early years.
Miletich has since become one of the most respected commentators and analysts within UFC circles due to his expansive knowledge of mixed martial arts styles and strategies. Covering fights with insightfulness and precise call outs, Pat consistently makes sure that all viewers have access to quality broadcast coverage. Additionally, he is often assigned special broadcasting roles including pre-fight interviews with fighters before their bouts begin.
4. Randy Couture
Randy Couture is one of the most recognizable figures in mixed martial arts. He has been a UFC Hall of Famer since 2006 and was inducted into the UFC Hall of Fame in 2009 at UFC 102.
His fighting career spanned over two decades and he achieved great success as an MMA fighter, winning four world titles across three weight classes. Aside from his tenure as an MMA fighter, Randy also made waves as a commentator for some major fights on ESPN between 2017-2019.
His expert analysis coupled with his enthusiasm and colorful commentary style earned him the respect of both fans and fellow commentators alike. As if having a successful fighting career wasn't enough, Randy has continued to stay close to the sport by working briefly as a color commentator for major events such as Bellator 199 and Bellator 222. Without doubt, Randy remains one of the all-time greats in combat sports history!
5. Rashad Evans
Rashad Evans is a former MMA champion and one of the most renowned UFC commentators. A successful light heavyweight then middleweight fighter, his years in the ring enabled him to bring an unparalleled level of insight and perspective to his role as commentator.
He joined Fox Sports 1 in 2013 where he has been a valuable part of the broadcasting team ever since. His special knack for analyzing fights as they unfold gives viewers exciting detail which helps them understand what's happening during bouts and makes them appreciate the fighters' techniques even more. Fans have come to rely on Rashad's commentary when watching big fight nights, he adds depth and energy to each broadcast providing thoughtful analysis which never fails to make viewers feel like they are right there with him cageside during each event.
Qualities Of A Great Commentator
A great commentator should possess a deep knowledge and insight of the sport, be able to provide expert analysis, create enthusiasm in the audience, and tell an engaging story.
Knowledge And Insight Of The Sport
A great commentator needs to have an in-depth knowledge and insight into the sport. This allows them to explain it to viewers, and often times give valuable breakdowns of what happens during fights. They should also be able to accurately anticipate when a fight could end or a shift in momentum. It is important for commentators to give expert analysis on how fighters can best utilize their technique, as well as prediction of outcomes based on these factors.
They should also have comprehensive understanding of different martial arts disciplines, enabling them to explain why certain strategies are being employed by the fighters at any given time or match up. In addition, successful MMA commentators need strong research skills in order to stay ahead with current storylines within the UFC or other promotions they might commentate for. Commentators must also follow all rules applicable for each particular event that they're covering in regards to announcing decisions and fouls from officials.
Expert Analysis
Having expert analysis by commentators is key for any MMA fan looking to understand the techniques and strategies of a fight. From experience, knowledgeable MMA commentating can make all the difference in being able to appreciate a match or not.
Commentators have to be well versed in martial arts styles, fighting technique and even game plans used by certain fighters that may not always be obvious during the match. It is their job to break down each move and explain why it's important in order for fans to gain insight into what is happening inside the octagon.
This provides an exciting commentary which allows viewers at home to appreciate every moment of a fight much more than if they were just watching with no 'experts' talking them through it. The well-informed opinions from commentators help keep fandom alive from sport-to-sport as viewers become increasingly loyal towards different personalities on TV or radio.
Ability To Create Enthusiasm
Enthusiasm from commentators is a key aspect in the success of any MMA event. Commentators should be able to captivate their audience and keep them engaged throughout the show.
Competent commentators have an innate understanding of when to interject outbursts or reactions that intensify the energy in the arena, creating excitement among viewers that will allow them to better enjoy the show. This can range from celebrating extraordinary feats by fighters, highlighting unique strategies they employed, or just generally giving insightful analysis on what's taking place during fights.
Solid commentators also understand how important pacing is; enthusiastic highs and lows provide engaging transitions between rounds, which aids viewers in comprehending how each fight unfolds even more clearly. The best commentators are those who can effectively communicate their emotions thoughtfully without overwhelming fans with cheerleading as this keeps it inspiring for everyone watching along at home.
Ability To Tell A Story
The ability to tell a story is an incredibly important skill for any UFC commentator. A great storyteller can draw in the audience, making them feel invested in the fights and artistry of MMA. Great commentators think like journalists, finding ways to tie together compelling narratives that explain why opponents act or react as they do. They connect with their viewers by delivering thoughtful storylines that take into account subtle details about each fighter's career within the sport and beyond. With creative storytelling, top-notch commentators can make audiences fall in love with fighters despite seeing only snippets of their lives outside of the Octagon.
A commentator needs more than just raw knowledge and insight of mixed martial arts to deliver good stories; he must also be able to speak passionately about what he knows without guiding away from facts too much—just enough for dramatic effect without turning it into an overly cheesy telenovela. As such, commentators must have an understanding of human emotion as well as effective communication skills when narrating events inside and outside the cage during UFC broadcasts or pay-per-view cards.
FAQs
Who are considered the best UFC commentators?
There are several UFC commentators who are highly regarded by fans and analysts alike. Some of the most popular ones include Joe Rogan, Jon Anik, Daniel Cormier, Michael Bisping, and Dominick Cruz.
What makes a good UFC commentator?
A good UFC commentator should have a deep knowledge of the sport, including the fighters, their styles, and their records. They should also be able to provide insightful analysis of the action in the Octagon, as well as convey their excitement and passion for the sport to the viewers.
Why is Joe Rogan considered one of the best UFC commentators?
Joe Rogan is considered one of the best UFC commentators because of his extensive knowledge of the sport, his ability to articulate his thoughts clearly and concisely, and his passion for the fighters and the sport. He is also known for his candid commentary, and is not afraid to criticize or praise fighters when warranted.
What sets Daniel Cormier apart as a UFC commentator?
Daniel Cormier is known for his extensive experience as a former UFC fighter and champion, which gives him a unique perspective when providing commentary. He is also highly regarded for his ability to break down complex technical aspects of fights and explain them in a way that is accessible to casual fans.
How important are the commentators to the overall UFC viewing experience?
Commentators play a crucial role in the overall UFC viewing experience, as they provide context and analysis for the action in the Octagon. They can also help build excitement and anticipation for upcoming fights, as well as provide insight into the personalities and motivations of the fighters. A good commentator can make even a lackluster fight exciting, while a poor commentator can detract from the viewing experience.
Conclusion
The UFC's incredible success in the combat sports world can be largely attributed to its talented commentators. Joe Rogan, Michael Bisping, Daniel Cormier, Jon Anik and many more have played an important role in keeping fans excited about MMA and UFC events.
Every one of them has something unique to bring to the table—from knowledge of the sport and expert analysis to colorful stories that put viewers at the edge of their seats. They are all essential components for making any MMA or UFC event a memorable experience for spectators.