Joe Rogan is a famous American stand-up comedian, martial arts color commentator, television host, actor, and one of the most popular podcast hosts ever. His sense of humor and wit brought him world-class glory. Despite his age, Joe moves and trains like a natural!
His full name is Joseph James Rogan, and he was born in New Ark, New Jersey, on August 11, 1967. He has one-quarter Irish, and three-quarters Italian descent. He currently lives in Bell Canyon, California. Joe Rogan is 5 foot 8 inches tall and weighs 190 pounds. Joe Rogan is currently 56 years old.
Rogan started his stand-up career in August 1988, developing a blue comedy act. He appeared in television sitcoms Hardball and NewsRadio as an actor in 1994, and also worked in local comedy clubs in New York City. The legendary comedian released his first comedy special in 2000. He is a host of many very popular television shows since 2001 – Fear Factor, The Man Show, and Joe Rogan Questions Everything…
Joe is a fan of hunting, cannabis legalization, and overall unity of physical and mental well-being. He is a huge tattoo lover, and he has tattooed sleeves on both of his hands.
Joe Rogan – Martial Arts And Training Lover
Joe Rogan has always been a big fan of martial arts. He trained Karate until the age of 14. Then he moved to Taekwondo, where he improved kicking power and accuracy. Joe was a US Open Champion in the lightweight division when he was 19 years old. The famous comedian also competed in amateur kickboxing, where he earned the score of 2-1. He retired from competitions at 21 due to frequent headaches fearing for worse injuries.
He became interested in BJJ after Royce Gracie earned a victory at UFC 2. Joe is a black belt in BJJ, Taekwondo, and 10th Planet Jiu-Jitsu. He is also a blue belt in Judo.
Joe Rogan trains like a real fighter. He has an octagon in his garage, where he spars with his friends. The main part of his training routine is kettlebells, and he adopted routines from kettlebell experts Mark Cheng and Steve Maxwell. Even at 50 years of age, Rogan can perform 40 dips and lift 315 lbs off the bench press. His kick is stronger than Francis Ngannou's punch!
Joe Rogan – UFC
He is a member of UFC since 1997, and the main reason why the popularity of this sport outside of the octagon has grown so much. He appeared at UFC 12 for the first time, as a backstage and post-fight interviewer.
Joe Rogan became friend with UFC President Dana White, who offered him a job of color commentator in 2001, but Joe declined, claiming he would "like to go to the fights and drink". Dana White was able to hire Rogan for free in 2002, in exchange for free tickets for him and his friends. After around 15 free gigs for commentary, he accepted the payout for the job and worked shoulder-to-shoulder with Mike Goldberg until 2016.
His parodies are the real pieces of cake, Joe turns a bloody war into the house of laughter. He is known for many mean UFC comments, including the spectacular ice spill melody. He mentioned fighting with ice on the floor in numerous funny ways, and even made a drama about where the pieces of ice were located!
Joe is known for demanding guaranteed salaries for UFC fighters. He dislikes the win bonus idea and claims the fighter should sign a contract for "x" amount of money.
Rogan also had controversial commentary during UFC 223 title match between Al Iaquinta and Khabib Nurmagomedov. Iaquinta was a big underdog but he wasn't knocked out! The famous comedian seemed angry since Iaquinta kept the most of the fight standing, and started talking about cracks in Khabib's defense.
He has criticized MMA judges, even veterans, many times. Just remember how he attacked Mario Yamasaki for giving Priscilla Cachoeira multiple chances versus Valentina Shevchenko at UFC Fight Night 125, claiming the fight should have been stopped much earlier.
He is also known for praising Conor McGregor and his greatness, believing he is "an extraordinary person", but the recent bus attack tells a different story. Maybe the previous incident between Khabib Nurmagomedov and Artem Lobov lead to hooliganism, who knows.
Joe Rogan – Fear Factor
Fear Factor is a stunt/dare show that was on NBC from 2001 to 2006. It was revived in 2011 but canceled again in 2012. It was originally hosted by Joe Rogan until it was revived for the second time in 2017 when the famous rapper Ludacris took over the host.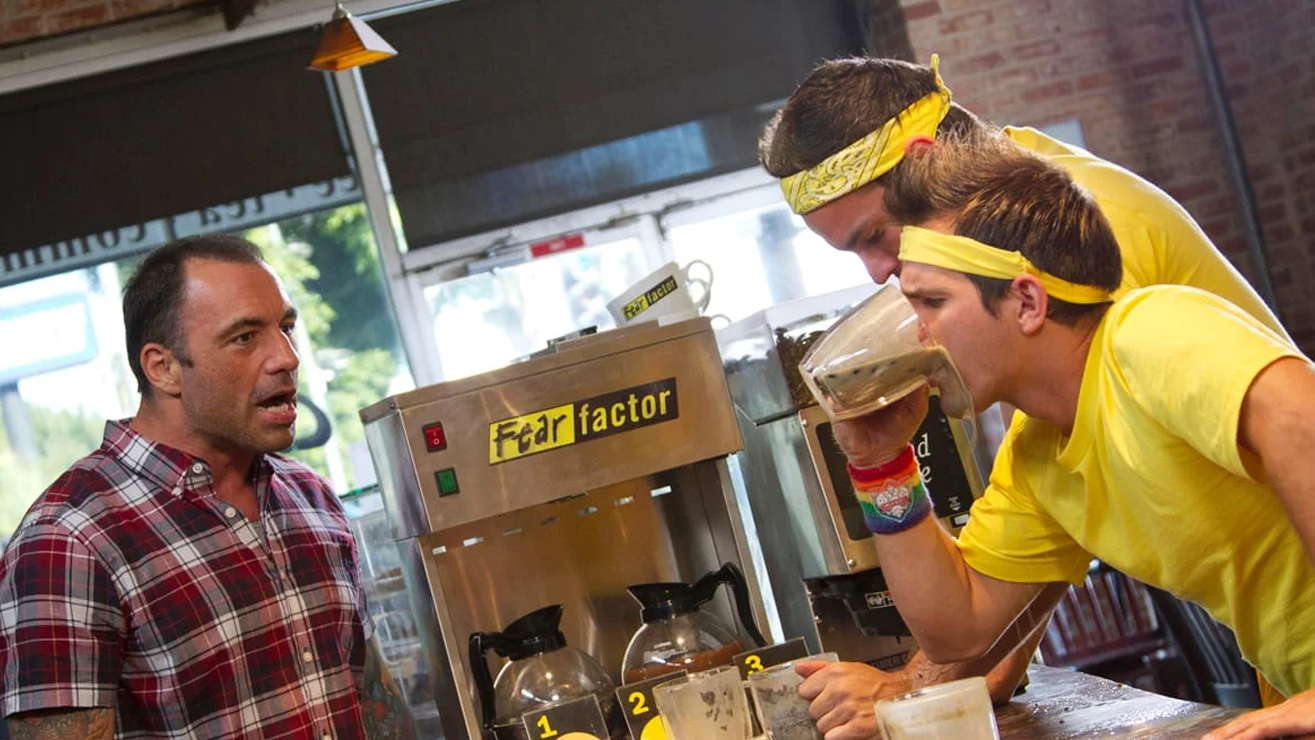 The popular comedian was constantly questioning what challenges are competitors ready to handle for $50,000. The combination of disgusting and dangerous challenges, and the famous motivational speech and controversial comments, made Fear Factor one of the highest-contrast TV shows.
Joe Rogan – Podcast
Joe Rogan launched a free podcast in 2009 with his friend comedian Bryan Redban. The first episode was held as a live broadcast at UStream on December 24. The name of the podcast was changed to Joe Rogan Experience during 2010. By August 2010, it entered top 100 podcasts on iTunes. In January 2015, it was listened by more than 11 million people! It became one of the most popular podcasts during 2015, with around 16 million downloads each month!
Joe Rogan Experience is today recognized as a long-form conversation hosted by Joe with his friends and guests including actors, musicians, comedians, MMA fighters, artists and many more. Until the present day, 1105 podcast episodes were released. It covered many attractive topics in a humorous way. Here is the link to his podcast website.
Joe Rogan Questions Everything
Joe Rogan Questions Everything is a six-episode television show, launched by Joe Rogan, on the SyFy network. It was hosted in 2013 and covered few topics that were already mentioned in his podcasts – an existence of UFOs, Bigfoot, psychic ability, and lot more.
Joe Rogan – Net Worth
Joe Rogan is one of the richest people in the world of martial arts – his net worth is $25 million. It is believed that he earns an average of $100,000 dollars per the episode of a podcast. Rogan's house is worth an impressive 2.2 million dollars!
Joe Rogan Wife And Kids
Joe Rogan is married to Jessica Rogan. They have two daughters (born in 2008 and 2010), and Rogan is also a stepfather to Jessica's daughter from previous marriage. He doesn't like to talk a lot about his family in public, however, he opened up a bit in a podcast episode in 2017.
https://www.youtube.com/watch?v=IxsFZsByxow
He suffers stress-related vitiligo on his hands and feet. Despite he was raised as a Catholic, Rogan dislikes Catholic church and he identifies himself as an agnostic.
He doesn't support the idea of routine infant circumcision. He believes there isn't enough scientific evidence to support the benefits of this practice and also considers it not entirely different procedure from female genital mutilation because of its non-consensual nature. Hear the words of famous comedian here!
Famous MMA Stars Who Had Beef With Joe Rogan
Have you ever wondered what would happen if Joe Rogan would undergo a tongue surgery? UFC would lose popularity overnight. There were many controversial and provocative statements he had towards fellow UFC fighters.
Rampage Jackson was calling him out in the octagon, claiming he would beat the shit out of Rogan if they fought. Of course, the comedian provoked him first by questioning the lack of kicks in his game.
Cris Cyborg accused him of bullying after he made a joke about her gender in the podcast with another comedian Tony Hinchcliffe, who added that Cyborg losses weight by chopping off her d**k.
Dada 5000 was taken to the hospital due to heart issues after his Bellator 149 match against Kimbo Slice. However, Rogan claimed his heart stopped because it was full of "cheeseburgers, fried chicken, and orange soda".
He also stated that there is no fucking way that transgender fighter Fallon Fox will be able to fight women. According to Rogan, someone who has a d**k at one point of his life has all the bone structure that goes with having a d**k – bigger hands, joints etc., and that makes him a man.
Joe Rogan attacked Ronda Rousey after her loss at UFC 193 to Holly Holm, saying nobody cares about her charisma, and that these types of knockouts happen when you get absorbed with the idea that you are special. Ronda Rousey walked off and didn't let Rogan interview her after UFC 207 loss to Amanda Nunes.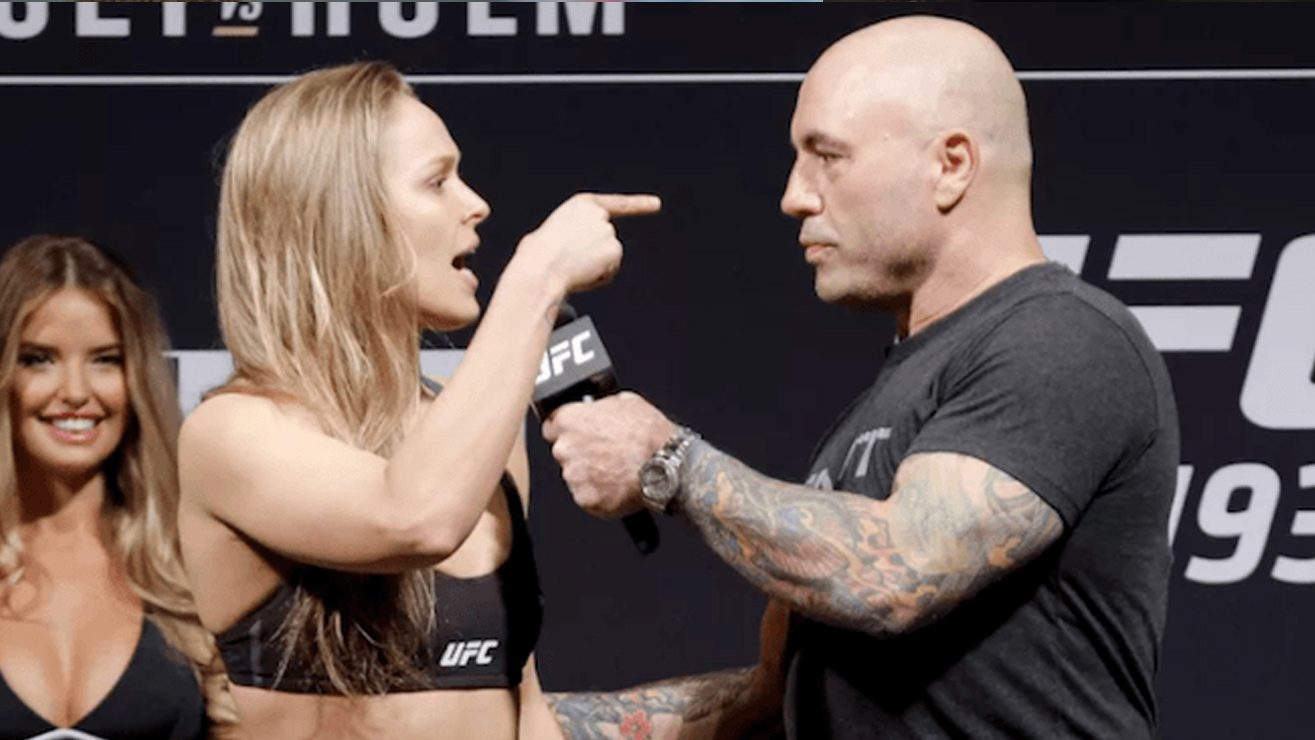 Jose Aldo looked "soft, deflated, and way different" in his UFC 194 loss to Conor McGregor, according to Rogan. After all, Joe speculated that too much cardio training made Aldo vulnerable to the fastest KO in the history of UFC title bout. The famous comedian issued a public apology later.
While watching the UFC 171 fight between Tyron Woodley and Carlos Condit, legendary color commentator started questioning Woodley's cardio, saying that Tyron's muscular physique made him more susceptible to cardio issues. He even compared him to the muscle car at one point.
Frank Mir was very angry when Rogan undermined the most important victory of his career over Antonio Rodrigo Nogueira, accusing him that he always makes excuses for certain fighters why they performed badly.
Joe Rogan – Drugs Advocacy
Joe Rogan supports the legalized use of cannabis, claiming it has numerous benefits. The vigorous UFC comedian was a host in a documentary movie The Union: The Business Behind Getting High, and Marijuana: A Chronic History. He supports the relationship between fitness and marijuana.
He supports the use of LSD, DMT, and psilocybin mushrooms for consciousness enhancement, as well as introspection.
DMT (N, N-Dimethyltryptamine), also known as "the spirit molecule", is a potent short-term hallucinogenic drug which is found all throughout nature including the human brain and is responsible for altering and expanding human consciousness. Joe Rogan was the presenter of the film DMT: The Spirit Molecule in 2010, which explains its long-obscured mystery.
Joe Rogan announced that he quit alcohol, weed and any other substance for a month, remaining sober for October 2017 on his Instagram profile, claiming that the plant is not chemically addictive and smoking weed might become a habit to some people but cannot be compared to heroin cessation or fasting.
But the real reason for this action is heartbreaking – few comedians issued a challenge at one another. Joe Rogan, Tom Segura, and Ari Shafer united their forces to help their fellow buddy Bert Kreischer lay off the booze.
Joe Rogan – Social Media Profiles
Instagram – https://www.instagram.com/joerogan/?hl=en
Facebook – https://www.facebook.com/JOEROGAN/
Twitter – https://twitter.com/joerogan
Official Website – https://www.joerogan.com/
Youtube Channel – https://www.youtube.com/user/PowerfulJRE