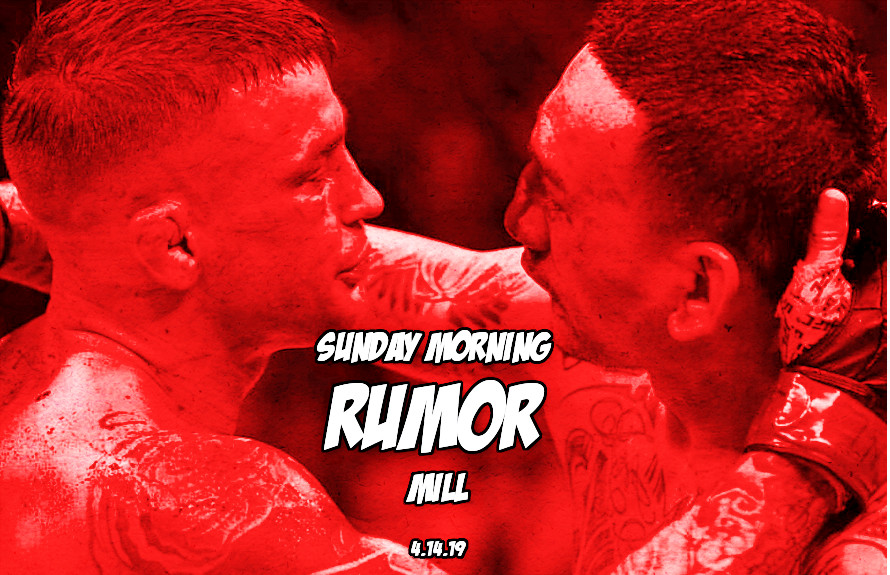 When MMA is at it's best, there is no other sport in the world that can top it. MMA rumors are at their best following the sport's best nights.
The final two fights of UFC 236 were MMA's peak. Cut out the shady business side or out of the cage antics, and at least MMA will always have Israel versus Kelvin and Dustin versus Max.
As always these are
rumors
that have been talked about behind closed doors between MMA higher ups, so take them as MMA
rumors
.
The only cure for an UFC 236 is catching brunch with your Sunday Morning Rumor Mill.
Dustin versus Khabib is the UFC's plan but it is not set in stone. Rumors point to Conor McGregor still being the UFC's number one choice to fight Khabib in the Fall.
Israel versus Robert Whittaker will likely be the next fight for both men. Israel would need two to three more title defenses before he'd get a super-fight crack at Jon Jones
Despite rumors to the contrary, the UFC still wants Brock Lesnar back. Lesnar and the UFC may be far apart on money.DC vs. Brock is still the UFC's number one choice at heavyweight.
Looks like Max Holloway will move back down to 145 despite a clear number one contender not being available.
The latest rumor on Ronda Rousey and WWE is she is suffering a hand injury. This injury may put her wrestling career on hold, but don't be surprised if she comes back before the end of 2019
If you have heard of any interesting Sunday Morning Rumor Mill MMA rumors that you would like to add, feel free to post them in the comments section below, on our Facebook page, tweet us or mail them to us in an unmarked envelope. Just remember they are rumors and not confirmed as fact, so please take them as such.