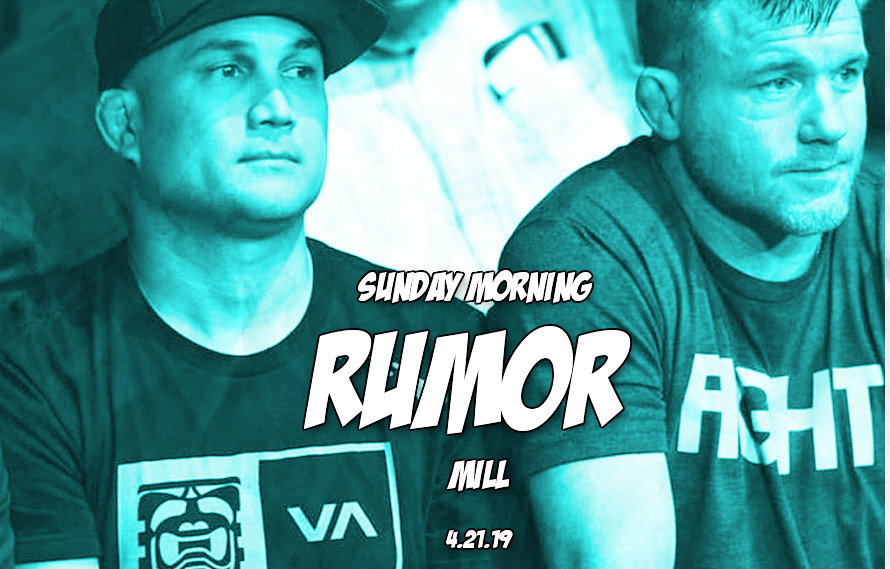 Happy Easter, Passover, and post 420 to everyone. Also, a happy day for MMA rumors.
The powers that be that control every action in the world from their secret underground lab need to hold a meeting. During this meeting all three of these holidays need to always fall on the same weekend moving forward. Also Rizin must always hold a card on this weekend.
The JMMA subsection of MMA was always meant to held in conjunction with these three April holidays. So it is written, bless it be from the Fight Gods.
As always these are rumors that have been talked about behind closed doors between MMA higher ups, so take them as MMA rumors.
For those who it made through 420 AND a Rizin all nighter, MiddleEasy salutes you. Take this Sunday Morning Rumor Mill as a hat tip to your courage.
Rizin and uncrowned multiverse champion Kyoji Horiguchi's next fight will come in Bellator. A possible rematch between Kyoji and Darrion Caldwell seems likely.

Huge if true but it looks like nobody knows what the hell Conor McGregor is doing. A new UFC fight before the end of 2019 still seems like the safest bet.

Rumor is Ronda Rousey had surgery on her hand. Despite rumors to the contrary, Rousey may return to WWE sometime in 2019.

Rumors are BJ Penn's legal troubles are far from over. Whatever has come out is rumored to be just the tip of the iceberg for the UFC legend.

Olympic wrestler Jordan Burroughs is said to be interested in MMA. Just a one off fight but, both Bellator and ONE have been linked to Burroughs.
If you have heard of any interesting Sunday Morning Rumor Mill MMA rumors that you would like to add, feel free to post them in the comments section below, on our Facebook page, tweet us or mail them to us in an unmarked envelope. Just remember they are rumors and not confirmed as fact, so please take them as such.