Boxing is arguably the most famous combat sport ever and over time the popularity of the sport keeps increasing. This rise of boxing is due to the noteworthy athletes that competed in the sport, such as Mike Tyson & Muhammad Ali, and because of the many famous boxing movies like the Rocky film series. This has made many people want to compete in boxing and make a living out of it. In this piece I will tell you all that is needed to become a professional boxer!
What is Boxing?
Boxing is a singles combat sport, meaning that it's a competition between two individuals with the objective of knocking down your opponent using punches. In a boxing fight there will be a referee in charge of the action in the ring and a set of judges to determine a winner should the fight reach a decision.
Any professional fight has to be sanctioned by an athletic commission, who put in place the rules of the bout and create a safety protocol for the events. An athletic commission is also responsible for putting on fair fights and ensuring that no corrupt events take place.
There are 2 types of boxing, amateur and professional, the traditional route is for boxers to start in the amateurs and then move to professional boxing once they gain enough experience. Oscar De La Hoya and Muhammad Ali are two examples of boxing greats that started out in amateur boxing and then used the platform they created from competing in the amateurs to boost their popularity when they transitioned to professional boxing.
History of Boxing
The earliest evidence of boxing dates back all the way to 3000 BC in Egypt, where there were depictions of men boxing with no gloves on the walls of tombs. The sport then became more practiced during Ancient Greece times where two men would wrap their hands in leather and start boxing until someone drops unconscious or at times until someone is dead, this led to boxing being known as a brutal, cruel sport.
In the 1740s boxing took a big step towards becoming a respected sport when Jack Broughton, a British bare-knuckle boxing champion, created the first boxing school located in the UK. Broughton also created the first ever official rule set for boxing, one of the rules he created was that a round continued until a man went down and after 30 seconds he had to stand in front of his opponent, standing a yard away, or he would be declared beaten. Another major rule that Broughton created was banning hitting a downed opponent, which is still a rule up until today. The motivation behind the creation of these rules was that one of Broughton's opponents died post fight due to the injuries he sustained in the fight.
Difference Between Amateur and Professional Boxing
Amateur and professional boxing have many differences that directly impact the way a fight is fought. One of the main differences is the length of the bout, in the amateurs men box for 3 three minute rounds and women box for 4 two minute rounds, this has been the norm since 2009. While professional bouts can be up to 12 rounds, depending on what was agreed with the promoters and whether there is a belt on the line. Professional men boxers fight for 3 minutes a round while women box for 2 minutes a round.
This leads to the amateurs fights being much more high paced since there are less rounds and there is no need to conserve energy, as opposed to a 12 round fight.
Both gloves and mouth guards are compulsory for anyone competing in amateur or professional boxing. While headgears used to be compulsory for amateurs competing, a major rule change occurred in 2013 when the Amateur International Boxing Association (AIBA) decided that amateur men boxing should not wear headgear. The decision was made after the AIBA conducted research which showed that boxers who fought without headgear are less likely to experience acute brain injury than the boxers who wore head protection.
Despite the results of the research, women are still required to wear headgear when competing in the amateurs because of a lack of data on head injuries in female boxing, as it's still relatively a new sport.
How To Become A Professional Boxer?
Now that you know all about the sport of boxing and the differences between professional and amateur boxing, it's time to find out how to become a professional boxer. Before a boxer becomes a professional they usually start as an amateur so let's start by taking a look at how to become an amateur boxer first.
How to Become an Amateur Boxer
1. Find a gym
The first step in your journey to becoming an amateur boxer is finding the right gym for you. There are many factors to take into consideration when choosing your gym such as, coaches quality, sparring partners available and the reputation of the gym.
This could be considered the most important step as it will shape the entirety of your boxing career. If you find the right boxing gym that is a good fit for you and gets the best of you on a daily basis, then you will more likely reach your full potential in boxing.
However, if you choose the wrong gym for your amateur career then this could have serious consequences for your boxing career and hinder your development. This is why an aspiring boxer should test out more than one gym before making a decision.
Another important factor to take into consideration is that you should find a pure boxing gym and not a martial arts gym that offers boxing classes. This is essential because in a pure boxing gym everyone will have a boxing background and will be fully dedicated to the art.
Ideally when starting out your career, you should find a boxing gym that offers you the chance to have individual sessions and not be part of big group sessions. Taking part in group sessions is helpful to an extent but it won't allow you to improve as quickly as you can because the coach's focus will be split between all the people participating.
2. Find your coach
When you choose your gym the next step is to find your coach. Like choosing a gym, finding your coach will have a huge effect on your boxing career moving forward.
One of the first things to look out for in your coach is whether or not they have experience with training and improving amateur boxers. This is crucial because if a coach does have experience with amateur boxers then they will know what is required for the aspiring boxer to make it.
A coach's work ethic should also be looked at when deciding on your coach. If the coach has a poor work ethic then it will be difficult for them to get the best out of you as an athlete and therefore you won't see any improvements in your boxing skills.
Finally, you should look for a coach you have good chemistry with. Your coach will be someone that you will spend a lot of time with, so you need to ensure that you get along with them, otherwise you might get demotivated if you don't click with your coach.
3. Train
Now the hard work can start after settling on your gym and coach. Amateur boxing Training for amateur boxing is not as detailed as professional boxing training and a lot of emphasis will be placed on learning the basics such as practicing your stance, throwing the jab and basic footwork. Each coach has different ways of training their fighters so be prepared to train in new, unique ways.
4. Get a license
To be able to fight, you'll have to get your hands on an amateur boxing license. This usually involves a physical exam, where the amateur boxing organizations find out if you can compete in a healthy manner. They take a look at blood pressure, heart rate, concussion history, reflex speed and any past injuries .
Once you pass this part, you will need to fill out an application, submit the relevant documents and pay a small sign-up fee of around $50, then you will receive your license. Without a license, competing will be impossible so make sure you keep it in a safe place!
5. Have your first fight
This is where the fun begins! Once enough time has passed in training and your coach sees progress being made, they will declare you fit for a fight. The coach usually takes the responsibility of finding you an amateur fight or signs you up to an amateur competition going on.
In the amateurs there are generally two types of events you can compete in, a tournament or a local club fight. Tournaments are the most popular choice for amateurs as they will increase your reputation in the amateur boxing community. While a local club would sponsor a fight card for a night, these are usually smaller shows with less fights.
Tournaments last numerous days and are a knockout style, meaning the winner moves on in their weight bracket, while the loser gets eliminated. The number of people competing in your weight class will determine how many fights you will need to win before reaching the final. The very light or very heavy weights usually have less people competing in them.
On the other hand, club fights don't have much of a structure like tournaments and will vary in terms of venue, fighter and the audience size. Fights in clubs usually involve just matching up people who have similar amateur experience and similar weights.
Now that you know all that is needed to be an amateur boxer, let's move on to how to be a professional boxer.
Steps to be a Professional Boxer
1. Continue training
Now that you've finished your amateur career and want to transition to professional boxing you need to ensure the hard work doesn't stop, and if anything the intensity of training should increase with your coach. You will now be competing in longer fights against tougher opposition, therefore conditioning training and having good sparring partners are of massive importance.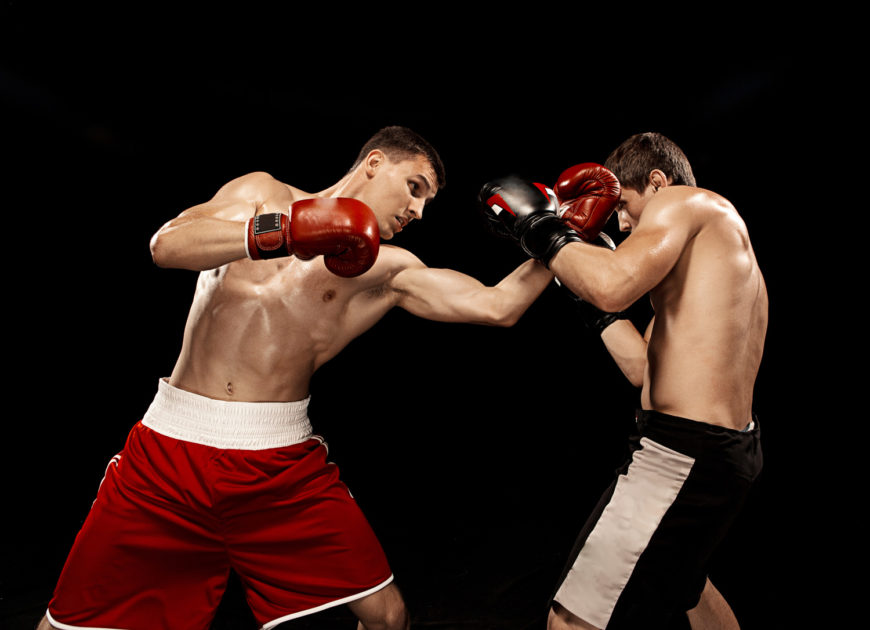 2. Get a manager
A good manager is the most important person to kickstart your professional career. Your manager will work for you in order to organize your boxing career by arranging your fights, signing you to a promoter and finding you sponsorship opportunities. Managers could be more famous than the fighters, so you need to find the perfect fit for you that will take your career to the next level and boost your popularity.
Managers make their living by taking a percentage of your earnings, the better the manager the higher percentage they will take. Some managers take all the way up to 20%, however if the manager is adding value by providing you lucrative opportunities, then it is definitely worth it.
3. Get a license
There are four major professional organizations, WBA, WBC, WBO, and IBF, you will be required to get a license with one of them to compete professionally. The process is very similar to getting an amateur license. This is the final hurdle before starting to compete professionally.
4. Start fighting
Once you get your license all that is left to do is start fighting and start to make a name for yourself. Having a good manager that you can trust is essential in this as they will get you your opponents, and if they match you up correctly then your popularity will keep increasing as you fight more. As you continue to win fights the level of your opponents will keep getting tougher, so make sure to never lose motivation inside the gym.
To wrap up, being a professional boxer will require patience and discipline and not everyone has what it takes. Make sure you don't miss a step and take decisions with your career in mind.
Related: Best Boxing Gloves To Use For Cardio Kickboxing
Benefits of Boxing
1. Gets you in shape
Boxing training is one of the best ways someone can get into shape, you can burn up to 1000 calories in a boxing workout. Boxing is an excellent form of cardio and is great for weight loss & strength training. Many great boxers today, such as Anthony Joshua and Canelo, are known to have amazing physiques which comes from boxing training.
2. Less stress
Many people who practice boxing use the training as a way to reduce their stress levels. Being able to release anger through boxing training makes people less stressed and happier when leaving the gym. Boxing is also known to increase the production of endorphins, a hormone that reduces stress.
3. Increasing confidence
Knowing that you can defend yourself at all times is a confidence booster for anyone. Boxing is also great for confidence levels as it will lead to an improvement in your lifestyle because going to training every week and seeing improvements in yourself, both physically and in the ring, will motivate you to keep going and make you happier.
4. Build friendships
One of the great things about being in boxing is the people you will meet on your journey. In boxing you will experience some of your highest and lowest points in life and there will be people, whether it's your coach or teammates, who go through all that side by side with you. Having these experiences with people will make you build genuine friendships lasting for life.
5. It's flexible
There are many levels to boxing and you can do whatever suits you best. You don't have to get into boxing to be a champion, some people go a couple of times a week just to relieve stress. This means that you don't have to switch up your routine to fit in boxing, you can train as often as you want to. You can also train in the way that makes you most comfortable, for example many people who train boxing don't like to spar and be exposed to contact.
Related: What To Know Before You Start Boxing Classes
Frequently Asked Questions
How many fights do you need to go pro in boxing? 
This all depends on your skills as a boxer and your coach's opinion, however the majority of coaches think that you can get the necessary experience to turn pro after around 10 amateur fights.
What age can you go pro in boxing?
There is no set age where someone has to be a professional, it all depends on your skills as a boxer and if you can get a professional license.
How many times does a pro boxer fight in a year?
This depends on which stage of your career you are in. If you just transitioned from amateur boxing then having 6-12 fights a year is common. On the other hand, a champion or an elite name could fight just twice in a year.