Starting boxing classes is a great decision for anyone who wants to get in shape, learn a new skill, and make friends. If you're new to exercise or simply used to more traditional gym workouts, though, the transition to a martial arts or boxing gym can bring some surprises. Boxing classes will build your endurance, burn fat, build muscle, and give you a mental workout during each session.
If you're ready to take the leap and sign up at your local boxing or MMA gym, here's what you should know:
Things to Know Before Starting Boxing Workout:
1. You'll need the right gear
Many boxing gyms will loan gloves to new students during a trial class, but once you sign up, it'll be your responsibility to acquire your own gear. At a minimum, you should expect to have gloves, hand wraps, and a sweat towel. You should also bring a water bottle, and eventually, you'll need a mouthguard if you want to start sparring. If you want to branch out into Muay Thai or kickboxing, you'll also need to invest in shin pads so that you can kick and catch kicks without injuring yourself or your training partners.
The price you'll pay for this gear depends on its quality and source. If you're not sure if you'll want to continue boxing, it's easy to find second-hand gear for cheap, and you can find new, better quality gear when you decide that you want to make boxing a permanent part of your life. Your coach can also make recommendations for where to find the gear you need, and you can often purchase gloves and hand wraps inside the academy itself.
2. Holding pads correctly is crucial
Boxing isn't just about throwing punches properly — it's also about catching them. Partner work requires one person to be the pad holder, and though some people think this is a time to catch their breath, it's sometimes more challenging than being the puncher.
Being a good pad holder requires you safely simulate a real moving target for your partner by:
Holding the pads at the correct height and angle
Meeting your partner's strikes with the right amount of resistance
Remembering the combinations your partner is throwing so they don't hit you by mistake
Holding pads requires you to be a physically and mentally active training partner, and you may even find that this part of training is more tiring than the boxing itself.
3. Don't expect it to be easy
The pros always make boxing look fairly simple, but that's why they're the pros. Boxing takes a lot of cardio, strength, coordination, and muscle memory, and you will likely struggle with all of that for a while before it starts to get easier. During a typical boxing class, you're likely to spend some time skipping rope and stretching to warm up before you learn techniques and combinations. You'll learn to move many parts of your body a certain way to maximize the potential of your strikes, and it will require more effort than simply choosing which fist to move in which direction. You'll be exhausted during and after your session, and you'll be tired and sore in the days that follow.
The good news is that everyone experiences this transition period, and it gets easier with time. The more you show up, the more your endurance will build and the easier it will be to tell your right arm from your left. Don't give up, and you'll soon be on your way to achieving your goals.
4. Getting punched hurts, but becomes easier with time
"Everybody has a plan until they get punched in the mouth." The famous quote from Mike Tyson is good to remember before your first sparring session. Getting hit, especially in the face, isn't just painful; it rattles your mind, especially if you aren't used to it. Many new boxers recall experiencing panic in their first sparring session even after they've gotten comfortable hitting pads. Don't think that body shots are any easier, either. Anyone who's ever been punched in the liver can tell you that learning to block hits to the torso is just as important as protecting your face.
As you get used to it, though, the pain of getting punched begins to suck less. Your body and mind will build up a tolerance, and you'll develop a better understanding for how to avoid those hits in the first place, as sparring provides real-world context for your practice with pads. Like many aspects of boxing, this will be an adjustment process, but it'll be worth it in the end.
5. Your teammates will become your friends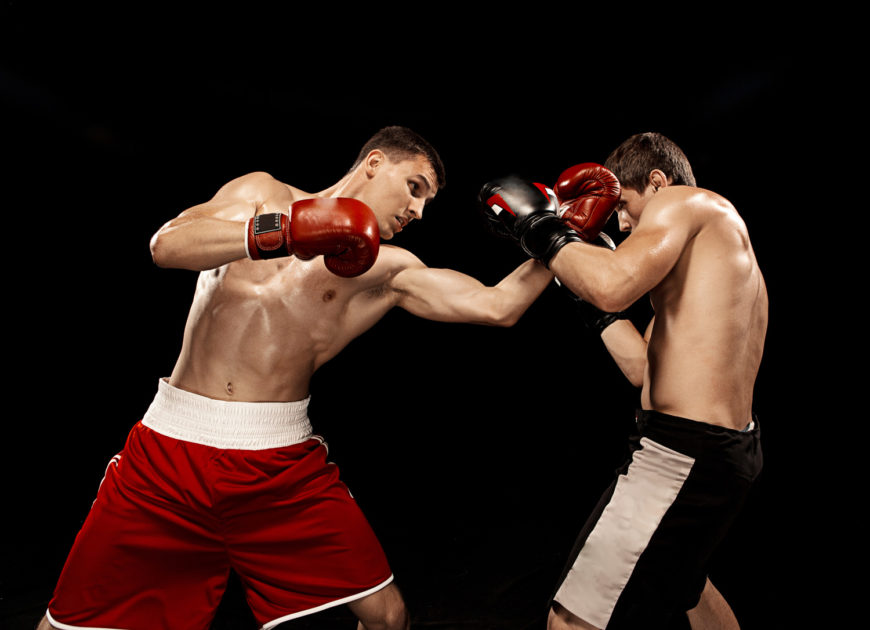 It's strange to walk into a new environment as an "outsider" when everyone inside knows each other, but give it time. Soon enough, you may find that your conversations with your teammates extend outside the gym. The friendships made in martial arts are built on trust and a shared passion. Given how tough it is to make friends outside of work as an adult, this is a great opportunity to build a social circle with like-minded people.
Be sure to introduce yourself to your new teammates and become a regular presence at the gym. By asking questions and engaging with your training partners, you'll make yourself more open to meaningful friendships that will last for years. Boxing can be a strictly athletic endeavor, and you don't have to hang out with your teammates, but you'll have a lot more fun in class if you enjoy the company you train with.
A Better Beginning in Boxing
There are plenty of people who walk into a boxing gym with no idea what to expect and do just fine. But knowing what to prepare for — and that every new student struggles before they get better — can help you stay motivated and on track toward your goals. If you keep showing up to class, the hard parts will get easier, and soon, you'll be the one teaching and encouraging new boxing students who are looking to change their lives through a fun and challenging sport.