Matt Mitrione is a former American football player who turned out to be an MMA fighter. He currently competes in Bellator MMA Heavyweight division.
Athlete Statistics
Full Name: Matthew Steven Mitrione
Born Name
Nickname
Age & DOB
Matthew Steven Mitrione
Meathead
Matt Mitrione is currently 44 years old according to his date of birth July 15, 1978.
Fight Stats
Height
Weight
13 Wins // 7 Losses // 0 Draws
6 ft 3 in or 191 cm
255 lbs (116 kg)
Reach
Fighting Style
Association
79 inches (200 cm)
MMA, Shotokan
Karate, Boxing
Bellator MMA, formerly UFC (2009 – 2016)
Team: Hard Knocks 365
Nationality
Net Worth
Born Place
American
$1 Million (approximately)
Springfield, Illinois, United States
Profile
Matt Mitrione is known for his powerful punches and very narrow kicks. His kicks originate from Shotokan Karate, where he has a black belt, and he finds the shortest way to hit the target. His strongest punches are hooks, right uppercut, and world-class left straight. Sometimes he throws knees off the clinch.
He is a real strength and cardio machine. During the whole match, Meathead maintains the same pace. He also claims that he is an athlete in the heart. When the fight goes to the ground, he has only one goal – to punch the opponent out.
His weaknesses are submission defense and takedown defense. As a striker and warrior by nature, Mitrione usually keeps his center of gravity high and this leaves the lower parts of his body exposed. He doesn't defend his neck well.
The Road To The Top
After injuries ended his NFL career, his close friend, Jayson Werth, phoned him to check mixed martial arts promotion. Mitrione soon relocated to Indianapolis to train.
Meathead is one of the rare fighters who got the chance to sign for the UFC immediately. His coach Rashad Evans gave him his famous nickname – Meathead. He appeared in the Ultimate Fighter Season 10 for the first time, where he was defeated by his teammate James McSweeney in the quarterfinals.
Matt Mitrione – Record
Meathead shares the third place in the history of UFC Heavyweight division with Roy Nelson and Derrick Lewis for highest knockouts per win percentage. He has 9 wins, 8 by a knockout, which is the amazing score of 88.89 percentage.
Matt Mitrione – UFC
At The Ultimate Fighter 10 Finale, on December 5, 2009, he ran Marcus Jones over, knocking him out cold in the second round.
Mitrione defeated Kimbo Slice at UFC 113 via second-round TKO on May 8, 2010.
His next opponent was Joey Beltran at UFC 119 on September 25, 2010. In a great matchup, Matt Mitrione won via unanimous decision, and both fighters received Fight Of The Night bonuses.
Meathead then defeated Tim Hague via the first-round TKO on January 22, 2011, at UFC Fight Night 23. It was later confirmed that Mitrione broke his hand during the fight.
Christian Morecraft was beaten at UFC On Versus 4 on June 26, 2011, this time via second-round KO.
He had his first professional loss to Cheick Kongo via unanimous decision on October 29, 2011, at UFC 137. Mitrione had no solution for Kongo's stand-up strikes, and Kongo also took him down early in the third and kept it there until the final bell.
He was then chosen as a replacement for injured Shane Carwin, and he fought Roy Nelson at the main event of The Ultimate Fighter 16 Finale on December 15, 2012. Nelson won via TKO.
UFC On Fuel TV 9 on April 6, 2013, will be remembered for Mitrione's fight against Phil de Fries and the fastest knockout of his career. Mitrione won English superstar via KO after only 19 seconds in the first round! This was the fastest victory of his career!
Matt Mitrione – Contract Suspension
Meathead had a beef with male-to-female transgender fighter Fallon Fox during an interview for MMA Hour. Matt called Fox "lying, sick, sociopathic, disgusting freak" who he hoped would never fight again, and referred to Fox by male pronouns. He also had critics for the state of Florida for giving Fox a license to fight. Mitrione's suspension was lifted after two weeks, as soon as his fight versus Brendan Schaub was set.
In the collision of two former NFL players, Brendan Schaub defeated Matt Mitrione at UFC 165 on September 21, 2013, via technical submission (D'Arce choke).
Mitrione earned one more successful victory against Shawn Jordan via first-round KO at The Ultimate Fighter China Finale on March 1, 2014, winning his first Performance Of The Night award.
The fight versus Stefan Struve was set for UFC 175, but Struve collapsed in the locker room and it was canceled.
Matt Mitrione Vs Derrick Lewis
The fight was planned to last, and Matt Mitrione was even an underdog according to bookmakers. The two faced at UFC Fight Night 50, on September 5, 2014. As soon as the fight started Meathead didn't let Derrick Lewis get close. Early in the first, Mitrione delivered brutal right hook which sent his rival to the ground. After around ten punches on the ground, the fight was stopped and Mitrione won.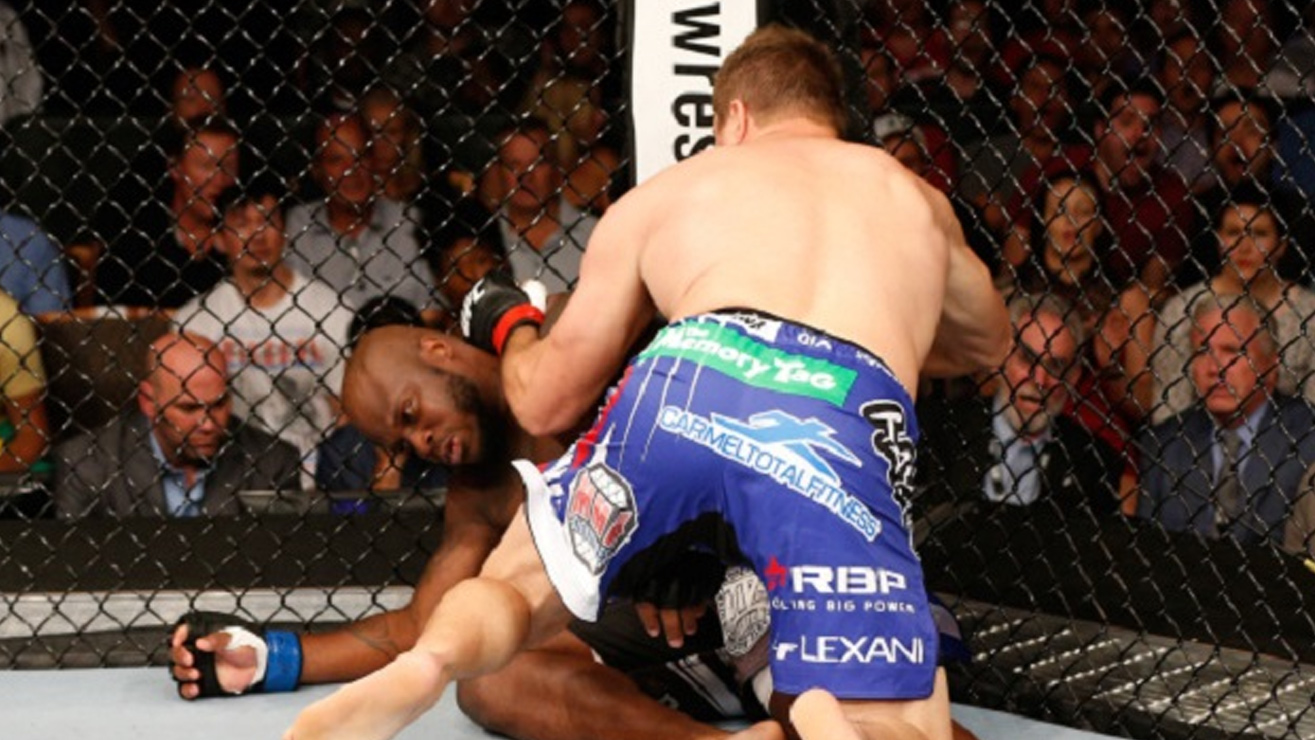 Other Fights:
His next opponent was Gabriel Gonzaga on December 13, 2014, at UFC on Fox 13. Meathead won via first-round TKO, winning his second Performance Of The Night award.
Matt Mitrione faced Ben Rothwell on June 6, 2015. Rothwell surprised Mitrione at UFC Fight Night 68 with a completely different approach, winning him via gogo choke in the first round.
In the last fight of his UFC contract, Mitrione fought Travis Browne on January 17, 2016, at UFC Fight Night 81. Despite Browne won via third-round knockout, the fight was followed by a huge controversy. Travis Browne delivered two clear eye pokes, but the referee didn't even warn him!
Matt Mitrione – Bellator MMA
He had Bellator debut versus Carl Seumanutafa at Bellator 157 on June 24, 2016. Seumanutafa dropped him with an overhand early on, but Meathead recovered and won via first-round KO.
Matt Mitrione easily defeated Oli Thompson at the co-main event of Bellator 158, on July 16, 2016, via KO.
Matt Mitrione Vs Fedor Emelianenko
The two rivals should face on February 18, 2017, but Mitrione had to withdraw few hours before due to kidney issues. Their fight was rescheduled for Bellator NYC on June 24, 2017.
Despite Fedor Emelianenko was the favorite, Matt Mitrione didn't pay much attention to it. He moved like a real Karateka, not letting The Last Emperor get close. Fedor hit with a right straight, Meathead with a right hook. Both fighters hit each other's chins and fell down, but Mitrione recovered first and landed few hard shots on the ground. The referee stopped the fight. One more victory for Matt Mitrione!
Meathead improved his Bellator score to 4-0 by defeating Roy Nelson at Bellator 194 on February 16, 2018, via majority decision. The fight was followed by a controversy, and Mitrione accused Roy Nelson of cheating.
Matt Mitrione – Next Fight
Matt Mitrione is planned to face Ryan Bader in the Bellator Heavyweight Grand Prix Semi-Final.
Personal Life
Matt Mitrione has both Italian and Irish descent. He was married to Tina Mitrione until 2014 when the couple split up. They have two sons and a daughter. He is also an anti-bullying program promoter from time to time.
Matt Mitrione – Social Media Profiles