Francis Ngannou is a former UFC Heavyweight No.1 Contender and the best Cameroonian mixed martial artist of all-time.
Athlete Statistics
Full Name: Francis Ngannou
Born Name
Nickname
Age & DOB
Francis Ngannou
The Predator
Francis Ngannou is currently 36 years old according to his date of birth September 5, 1986.
Fight Stats
Height
Weight
15 Wins // 3 Losses // 0 Draws
6 ft 4 in or 193 cm
263 lbs (119 kg)
Reach
Fighting Style
Association
83 inches (210 cm)
Boxing, Savate
UFC
Team: MMA Factory
Nationality
Net Worth
Born Place
Cameroonian, French
$0.25 Million
Batie, Cameroon
Profile
The Predator is known for his ultimate knockout power. As a typical boxer, Francis Ngannou tries to keep the fight standing and maintain the distance. His strongest weapons are left uppercut and right cross. He is specific for one detail – when he knocks someone down, his first attack is flying hammer fist!
He is the fighter with the strongest punch in the history of UFC, and he has third longest reach, after Jon Bones Jones and Stefan "The Skyscraper" Struve.
On the ground, Ngannou throws a barrage of superhard punches which usually create a big damage. His submission game is good but he lacks at takedown defense. Many opponents are trying to take him down as soon as the fight starts to neutralize his iron fists. He sometimes throws a low kick but in a very unattractive way. He has never been knocked out!
Road To The Top
The Predator had his MMA debut at 100% Fight: Contenders 20 on November 30, 2013, where he faced Rachid Benzina. Ngannou won the fight via straight armbar.
Francis Ngannou had his fastest victory versus Luc Ngeleke, whom he defeated after only 0:44 in the first round. He had the score of 5-1 before joining UFC.
Francis Ngannou – UFC Career
Francis Ngannou had his UFC debut versus Luis Henrique at UFC On Fox 17, on December 19, 2015, where he defeated Luis Henrique via KO in the second round.
His next opponent was Curtis Blaydes at UFC Fight Night 86, on April 10, 2016, whom he defeated via doctor stoppage at the end of the second round.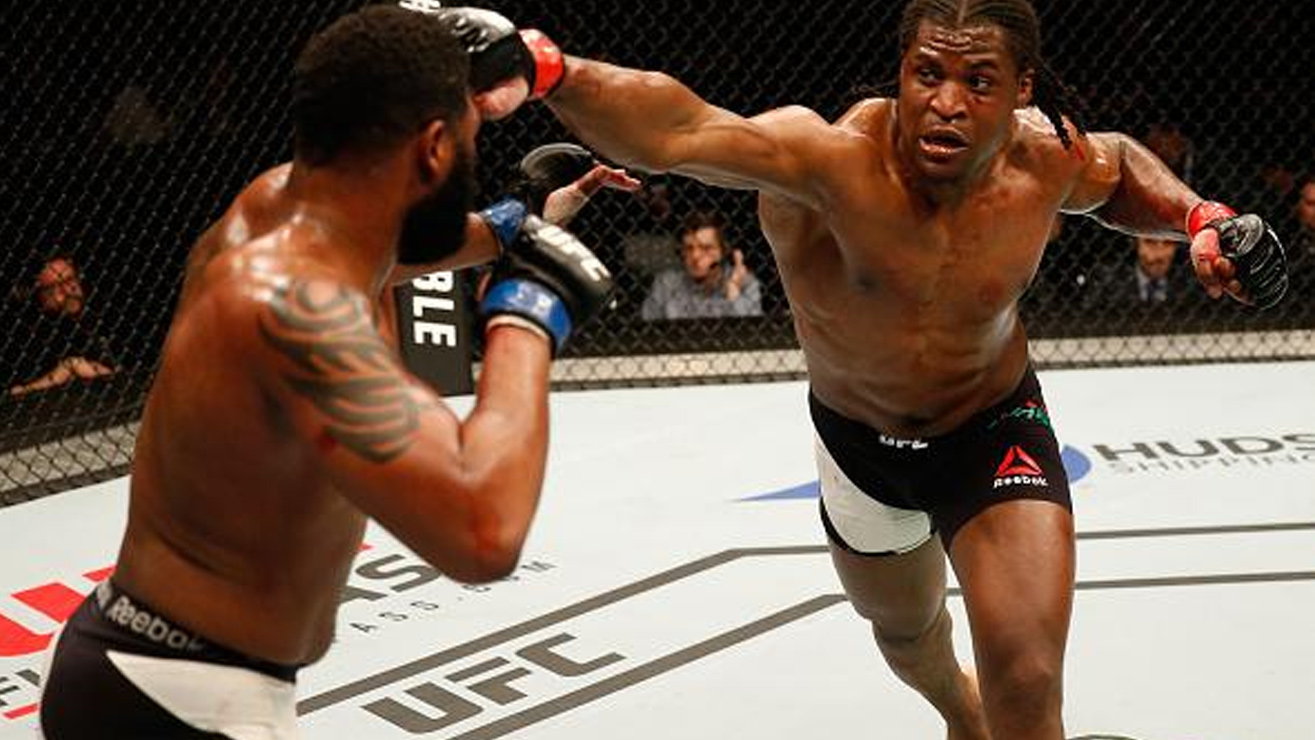 Francis Ngannou demolished Serbian superstar Bojan Mihajlovic at UFC On Fox 20, on July 23, 2016. The Predator rocked him with a left hook and ended the fight via superb ground and pound.
Ngannou was convincing again at UFC Fight Night 102, on December 9, 2016, where he defeated Anthony Hamilton via Kimura in the first round, earning his first Performance Of The Night award.
The Predator shocked the world when he defeated Andrei Arlovski via TKO after only 1:32 in the first round. The two faced at UFC On Fox 23, on January 28, 2017. Arlovski missed overhand right, which Francis successfully countered via right uppercut. The referee almost immediately stopped the fight. He earned his second Performance Of The Night award.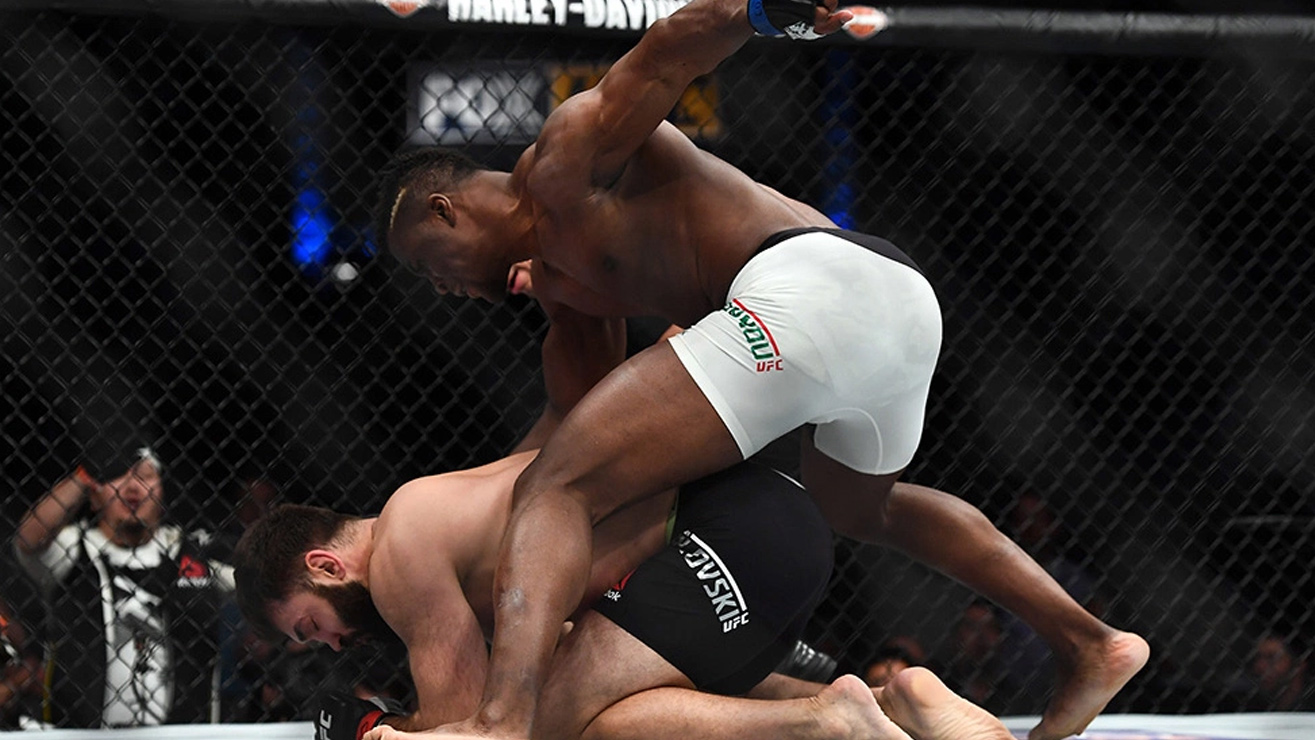 Francis Ngannou Vs Alistair Overeem – The Biggest Surprise
Despite being an underdog, Ngannou didn't show any fear versus Alistair Overeem at UFC 218, on December 2, 2017. As soon as the fight opened, he didn't let Overeem get close – he defended two takedown attempts with an ease.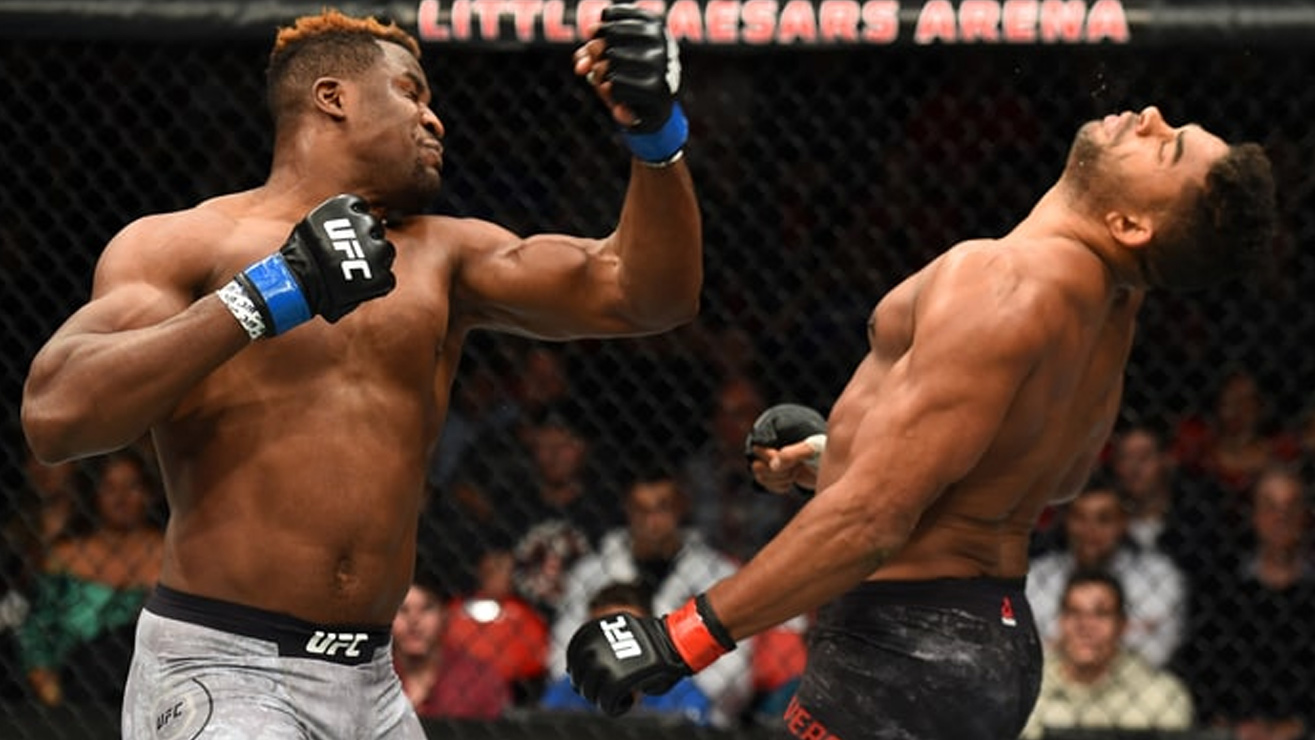 Alistair Overeem missed left hook by a hair, and Ngannou's left uppercut exploded like a nuclear blast, sending The Demolition Man to the ground – one more victory for Predator. This KO was later pronounced for the Knockout Of The Year.
Francis Ngannou Vs Stipe Miocic – UFC Heavyweight Title Shot
The two faced at UFC 220, on January 20, 2018, in Boston, Massachusetts. Stipe Miocic was very cautious during the fight, and he used every opportunity to take Ngannou down and eliminate the biggest threat – his punches.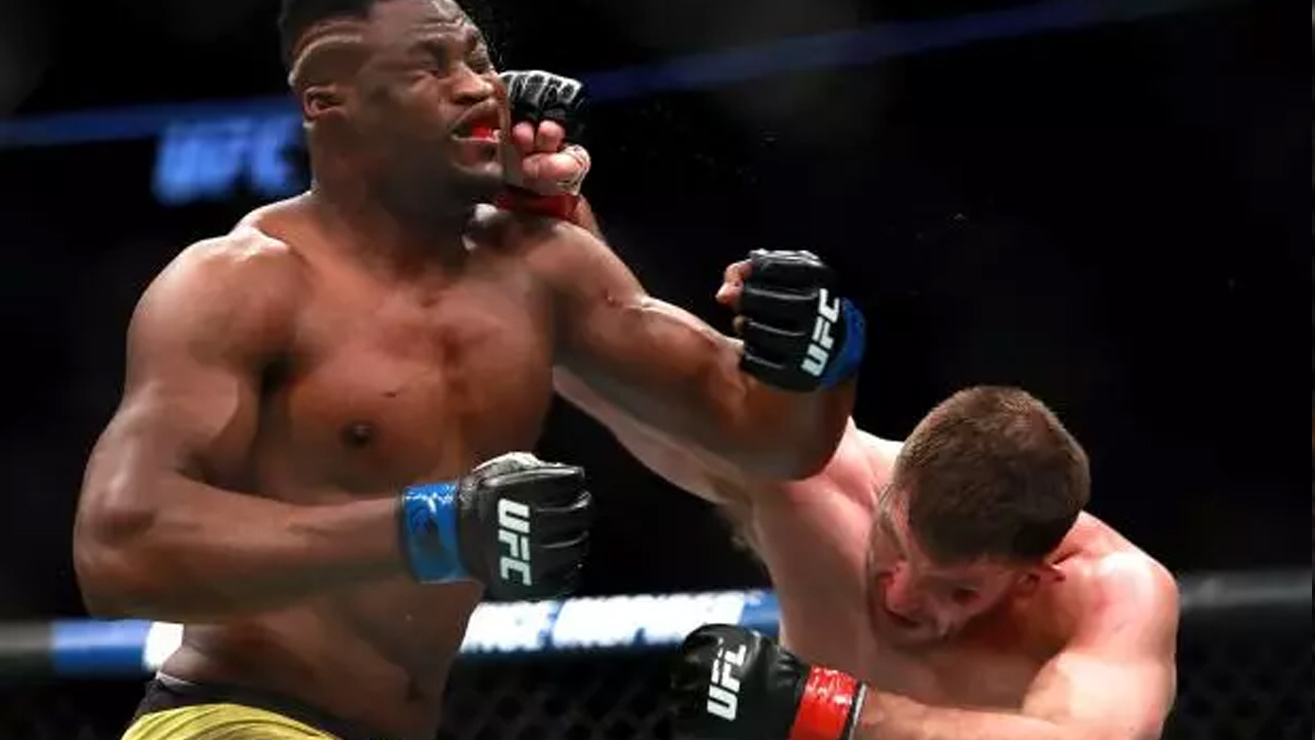 During all five rounds, Stipe Miocic maintained the control of the match. The Predator spent the biggest part of the game on his back, trying to defend Miocic's ground and pound game. He won the fight via unanimous decision.
Francis Ngannou – Next Fight
Francis Ngannou is scheduled to face Derrick Lewis at UFC 226.
Personal Life
The Predator had a very difficult childhood. At age 12, he started working in a sand quarry due to a lack of funds. He emigrated to Paris at the age of 26 to pursue his professional boxing dream. He was even living homeless on the streets of Paris until August 2013, when he joined MMA Factory team.
Francis Ngannou is a big fan of Mike Tyson. He has never talked about his private life in public.
Francis Ngannou – Donald Trump Controversy
Francis Ngannou will probably stay away from the White House for a long time. Donald Trump reportedly called Haiti and several African countries as "shithole countries" when he was talking about the immigration reform in a closed-door meeting. The Predator got angry and called Donald Trump "the shame of America". Francis is an immigrant, and this attitude could be justified.
But looks like Cameroonian Heavyweight superstar and Dana White express opposing views when it comes to Trump. Dana praises US President, calling him "a stand-up human being". Trump and White talk on a regular basis, and Trump has even called him to start bringing UFC champions to the White House.
Francis Ngannou – Social Media Profiles