Hadi Choopan won Mr. Olympia title at the 2022 Mr. Olympia, which happened Dec. 15-17 at Planet Hollywood Resort & Casino in Las Vegas, Nevada. He edged out runner-up Derek Lunsford and third-place-finisher Nick Walker.
Men's Open division has long been the main attraction of Joe Weider's Olympia Fitness and Performance weekend. Fans were pumped to see reigning two-time Mr. Olympia winner Mamdouh 'Big Ramy' Elssbiay take to the stage against fellow mass monsters in one of the most stacked editions of recent history.
There was no shortage of talent as former champion Brandon Curry and proven veteran Hadi Choopan looked to stake their claim for the top prize. Fellow standout Nick Walker displayed a significantly improved physique and handily defeated rival Hunter Labrada.
Nick Walker was awarded the winner of the Olympia People's Choice Award.
Besides the seasoned pros, former 212 champion Derek Lunsford made his Open division debut after accepting a special invite. William Bonac was another top contender who showed promise going into the show. Newcomers Michal Krizo and Andrew Jacked gained a ton of attention this season and received major backing to shake things up in the marquee division of the sport.
Surprisingly, Big Ramy was not called to battle it out in the middle as Lunsford and Choopan stole the show during the prejudging. Walker, Samson Dauda, and Curry also made it to the last callout. When it was time for the finals, no one could be certain about any contender's chances.
Ultimately, it was Hadi Choopan's time to shine. He emerged as the winner of Mr. Olympia. His unreal conditioning combined with overall proportions and symmetry secured him his first Sandow trophy.
2022 Mr. Olympia Results
Winner — Hadi Choopan – $400,000
Second Place — Derek Lunsford – $150,000
Third Place — Nick Walker – $100,000
Fourth Place — Brandon Curry – $40,000
Fifth Place — Mamdouh 'Big Ramy' Elssbiay – $35,000
Sixth Place — Samson Dauda
Seventh Place — Hunter Labrada
Eighth Place — Andrew Jacked
Ninth Place — William Bonac
Tenth Place — Rafael Brandao
Scorecard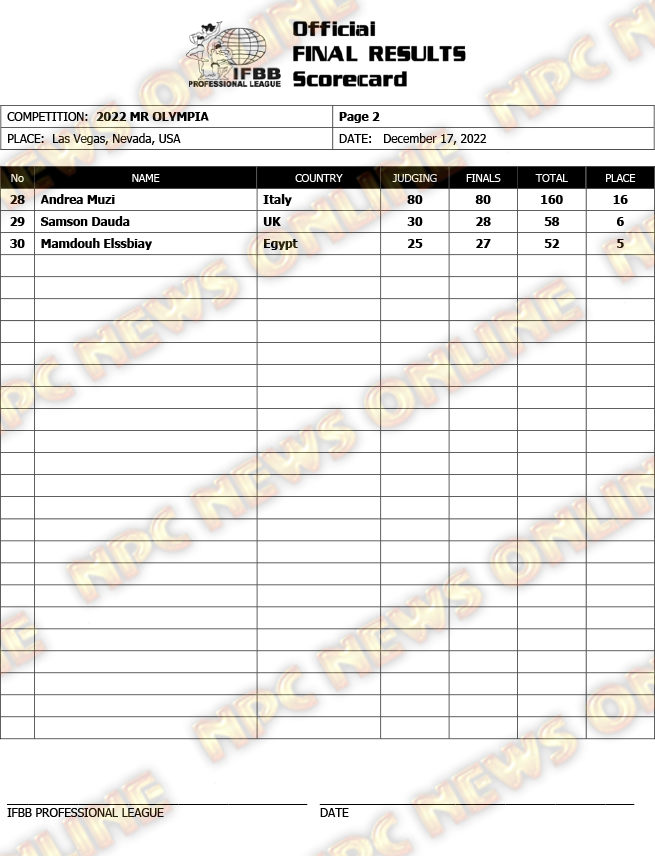 Previous Mr. Olympia Winners
| | | |
| --- | --- | --- |
| 2021 | Mamdouh "Big Ramy" Elssbiay | Orlando, FL |
| 2020 | Mamdouh "Big Ramy" Elssbiay | Orlando, FL |
| 2019 | Brandon Curry | Las Vegas, NV |
| 2018 | Shawn Rhoden | Las Vegas, NV |
| 2017 | Phil Heath | Las Vegas, NV |
| 2016 | Phil Heath | Las Vegas, NV |
| 2015 | Phil Heath | Las Vegas, NV |
| 2014 | Phil Heath | Las Vegas, NV |
| 2013 | Phil Heath | Las Vegas, NV |
| 2012 | Phil Heath | Las Vegas, NV |
| 2011 | Phil Heath | Las Vegas, NV |
| 2010 | Jay Cutler | Las Vegas, NV |
| 2009 | Jay Cutler | Las Vegas, NV |
| 2008 | Dexter Jackson | Las Vegas, NV |
| 2007 | Jay Cutler | Las Vegas, NV |
| 2006 | Jay Cutler | Las Vegas, NV |
| 2005 | Ronnie Coleman | Las Vegas, NV |
| 2004 | Ronnie Coleman | Las Vegas, NV |
| 2003 | Ronnie Coleman | Las Vegas, NV |
| 2002 | Ronnie Coleman | Las Vegas, NV |
| 2001 | Ronnie Coleman | Las Vegas, NV |
| 2000 | Ronnie Coleman | Las Vegas, NV |
| 1999 | Ronnie Coleman | Las Vegas, NV |
| 1998 | Ronnie Coleman | New York, NY |
| 1997 | Dorian Yates | Los Angeles, CA |
| 1996 | Dorian Yates | Chicago, IL |
| 1995 | Dorian Yates | Atlanta, GA |
| 1994 | Dorian Yates | Atlanta, GA |
| 1993 | Dorian Yates | Atlanta, GA |
| 1992 | Dorian Yates | Helsinki, Finland |
| 1991 | Lee Haney | Orlando, FL |
| 1990 | Lee Haney | Chicago, IL |
| 1989 | Lee Haney | Rimini, Italy |
| 1988 | Lee Haney | Los Angeles, CA |
| 1987 | Lee Haney | Gothenburg, Sweden |
| 1986 | Lee Haney | Columbus, OH |
| 1985 | Lee Haney | Brussels, Belgium |
| 1984 | Lee Haney | New York, NY |
| 1983 | Samir Bannout | Munich, Germany |
| 1982 | Chris Dickerson | London, England |
| 1981 | Franco Columbu | Columbus, OH |
| 1980 | Arnold Schwarzenegger | Sydney, Australia |
| 1979 | Frank Zane | Columbus, OH |
| 1978 | Frank Zane | Columbus, OH |
| 1977 | Frank Zane | Columbus, OH |
| 1976 | Franco Columbu | Columbus, OH |
| 1975 | Arnold Schwarzenegger | Pretoria, South Africa |
| 1974 | Arnold Schwarzenegger | New York, NY |
| 1973 | Arnold Schwarzenegger | New York, NY |
| 1972 | Arnold Schwarzenegger | Essen, Germany |
| 1971 | Arnold Schwarzenegger | Paris France |
| 1970 | Arnold Schwarzenegger | New York, NY |
| 1969 | Sergio Oliva | New York, NY |
| 1968 | Sergio Oliva | New York, NY |
| 1967 | Sergio Oliva | New York, NY |
| 1966 | Larry Scott | New York, NY |
| 1965 | Larry Scott | New York, NY |