Missy Truscott has won the Women's Fitness Olympia title at the 2022 Mr. Olympia, which happened Dec. 15-17 at Planet Hollywood Resort & Casino in Las Vegas, Nevada. She becomes the 12th champion in the history of the Fitness division, with Jaclyn Baker getting the runner-up finishing and Ariel Khadr coming in third place.
It was certain that the Women's Fitness title would see another champion emerge. Former division champion Whitney Jones was set to defend the title and possibly add the fourth Olympia trophy under her belt. However, she was forced to pull out of the show after suffering some unfortunate health issues. Jones confirmed to Fitness Volt that 'bad health news' would require her to stay on the sidelines for this edition. Alongside Jones, former division queen Oksana Grishina had to withdraw as well due to an injury.
Nevertheless, there was no shortage of talent in the division with former champions Missy Truscott, and Adela Garcia-Friedmansky, the most decorated Fitness competitor, taking to the stage against the rising prospects Jaclyn Baker and Tamara Vahn. Garcia looked to create history by becoming the only woman to reclaim the title a second time.
Following a few callouts, it was evident Truscott and Baker had the best conditioning of any competitor on the stage. They competed against each other in the final callout to determine who had the best package.
It was Missy Truscott who reclaimed the title and took home the top prize at the Women's Fitness Olympia. She first won the Fitness olympia crown in 2020, but lost the title in 2021. With an impeccable posing round matched with an impressive fitness routine, Truscott displayed the best overall athleticism.
2022 Fitness Olympia Results
Winner — Missy Truscott – $50,000
Second Place — Jaclyn Baker – $20,000
Third Place — Ariel Khadr – $12,000
Fourth Place — Sara Kovach – $7,000
Fifth Place — Michelle Fredua-Mensah – $6,000
Sixth Place — Tamara Vahn
Seventh Place — Michaela Pavleova
Eight Place — Minna Pajulhati
Ninth Place — Allison Kramer
Tenth Place — Terra Plum
Scorecard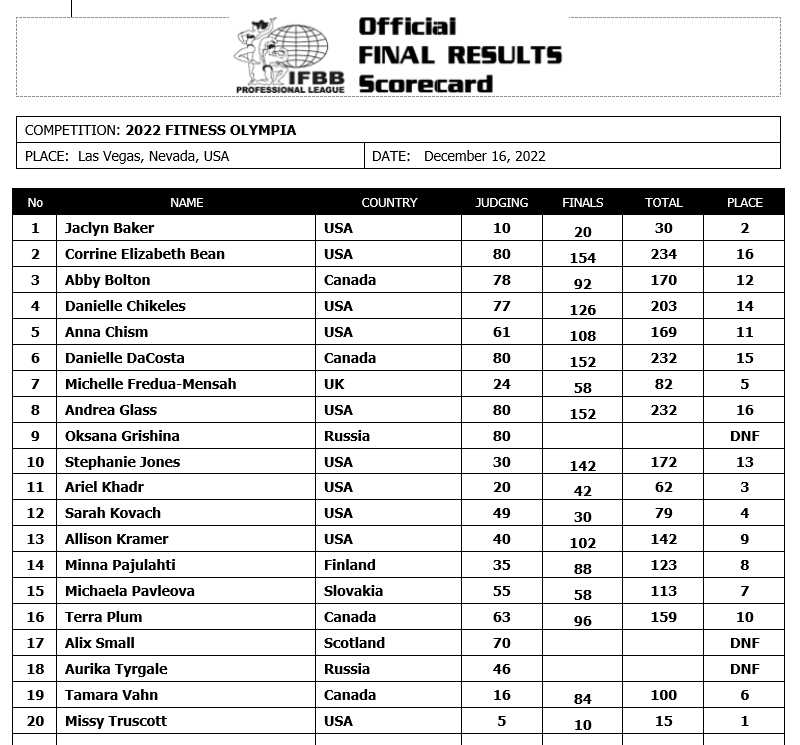 Previous Fitness Olympia Winners
2021: Whitney Jones
2020: Missy Truscott
2019: Whitney Jones
2018: Whitney Jones
2017: Oksana Grishina
2016: Oksana Grishina
2015: Oksana Grishina
2014: Oksana Grishina