Watching a UFC event, you are sure to notice the UFC Ring Girls introducing each round of action. Today we look at the ten Octagon Girls who have risen above the rest in popularity, to become famous beyond the sport.
It is impossible to watch a UFC broadcast without noticing the iconic Octagon Girls making laps around the cage in between rounds. They are the UFC's version of ring girls, and they are an important part of the experience for the fans in the arena, and watching around the world. So much so, that even during events that have no crowd in the arena, there is still at least one lady cageside to keep things going.
Over the years there have been some ladies who have risen through the ranks and established themselves as icons in the sport. These amazing ladies use their beauty in the arena, and other talents outside of it to make themselves truly famous, beyond their duties for the UFC. Today we celebrate these amazing women.
This is a breakdown of the top 10 most famous Octagon Girls in UFC history.
10. Holly Madison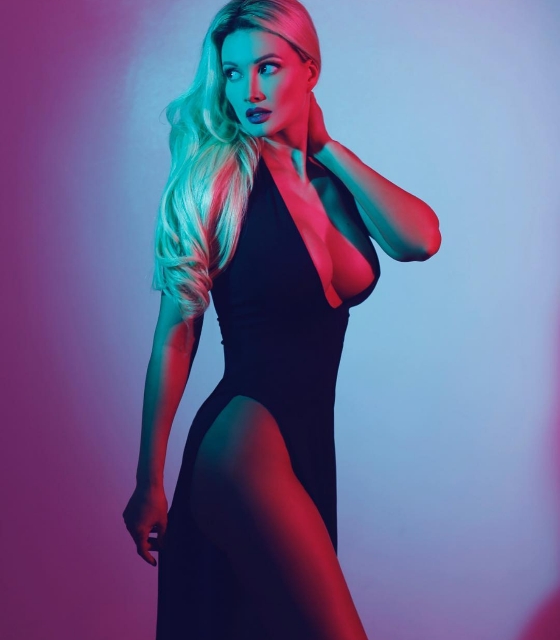 To be upfront, this entry is more of an honorable mention. This is because Holly Madison technically only worked as an Octagon Girl for one event, the massive UFC 100 card. However, she is easily one of the most famous people to don the bikini, and lap the cage.
Madison is known most for being the girlfriend of Playboy owner Hugh Hefner. Since then she has moved on beyond these types of situations, involving herself in a reality show, as well as doing Burlesque shows in Las Vegas. However, she is without a doubt the most famous person to ever take on this role.
9. Ali Sonoma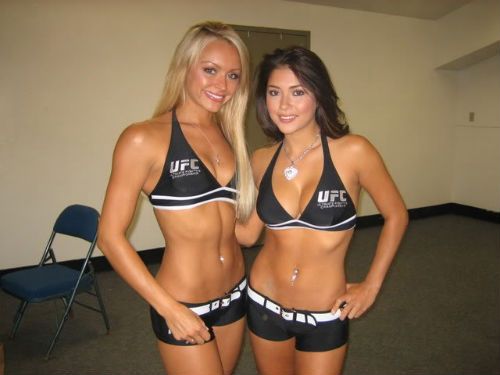 Ali Sonoma is born in St Louis, Missouri. She is 5 foot 7 inches tall, weighs 125lb, and comes from Swedish, German, French, and Native American descent. Ali started her career as an Octagon Girl in 2006 when she appeared at UFC 66. At one point, she was even engaged to UFC veteran Diego Sanchez.
Ali started her modeling career with 16 years and has even won bikini competitions as a bodybuilder, at the 2009 Arnold Classic. She likes sport and enjoys playing soccer, fishing, rollerblading, dancing, pilates, and shooting shotguns in her free time. You can call Ali something of an adrenaline junkie.
8. Logan Stanton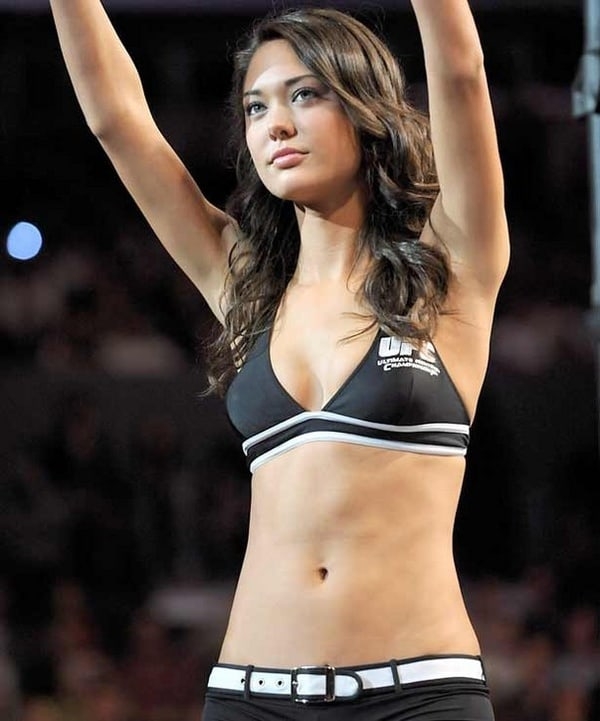 Logan Stanton is the skinniest UFC ring girl ever, at 5 foot 10 inches tall and weighing 115 lbs. She joined the ranks of UFC Octagon Girls in 2008, at UFC 92, with her last show being UFC 107. The rumors are that she stopped working with the UFC following an altercation between her and Arianny Celeste (more on her later).
Logan has focused on her modeling career since her departure from the UFC, and she is very successful. She is a represented by Wilhelmina modeling agency and has modeled several big brands including Roxy, Guess Jeans and many others. She had a short run in the UFC, but her successes after that have made a long-lasting impression on her fans.
7. Edith Labelle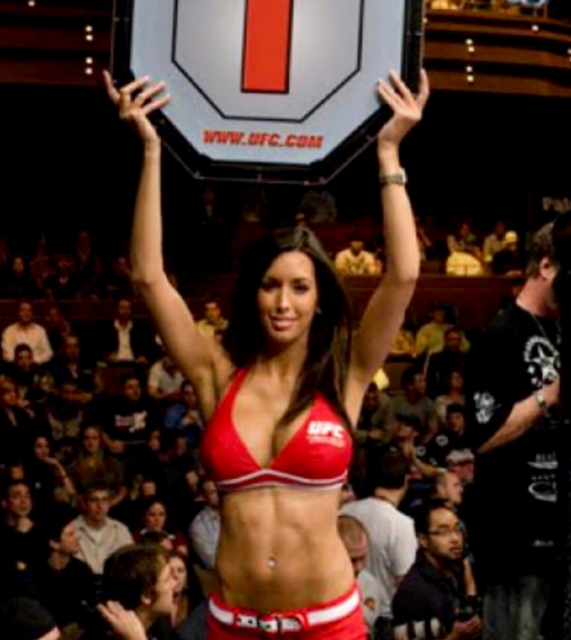 Edith Labelle is born in Montreal, Canada, standa 5 foot 8 inches tall and weighs 117 lbs. Edith Labelle started working as one of the UFC's Octagon Girls in 2007, when she stepped in as a replacement for Ali Sonoma. She was active until UFC 100 when she was released. It is believed that Edith was drunk the night before the event and was too ill to appear and do her job. However, she claims the reason for her absence was food poisoning.
From her fallout with the UFC, LaBelle has still been able to find success in the world of acting. She has been in a handful of films, including "Recon 2023" and "Heroes of the North." This exposure has kept her relevant, even after her less than idea departure from the UFC.
6. Chrissy Blair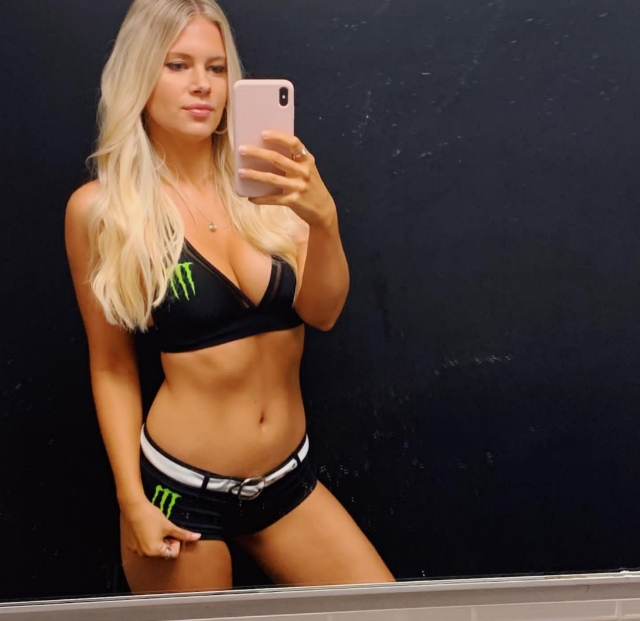 Standing at 5 foot 7 inches tall and weighing 107lb, Chrissy Blair is one of the most recognizable Octagon Girls of all time. Making her debut with the UFC in 2013, she came in with experience from other MMA promotions. This has made her a mainstay in the sport.
However Blair is more than just a pretty face. She also has a degree in Graphic Design and Fine Arts, as well as a background in marketing. This, combined with the skills that she displays at UFC events, has made her popular beyond her efforts in the sport.
5. Brittany Palmer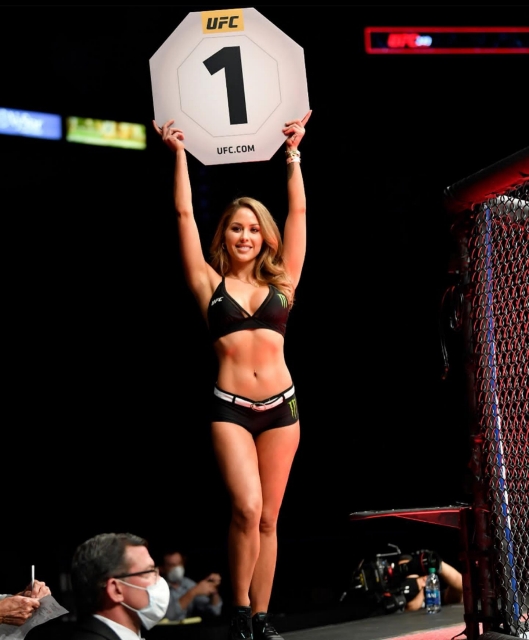 Finding a love for the travel and fans associated with working as an Octagon Girl, Brittany Palmer has been a staple in the organization for years. She is a beautiful lady who has worked hard to get to where she is. Beginning her run in 2011 at UFC 127, she has been cageside at some of the biggest cards in the sport's history.
In addition to her career as a ring girl, Brittany has also been a very successful model. Some of the magazines she has been on the cover of include C-Heads Magazine, Discover Hollywood Magazine, Complex Magazine, Most Magazine, AMB Magazine, and Sugarcane Magazine. All of this publicity has resulted in her being a super recognizable figure in the sport.
4. Rachelle Leah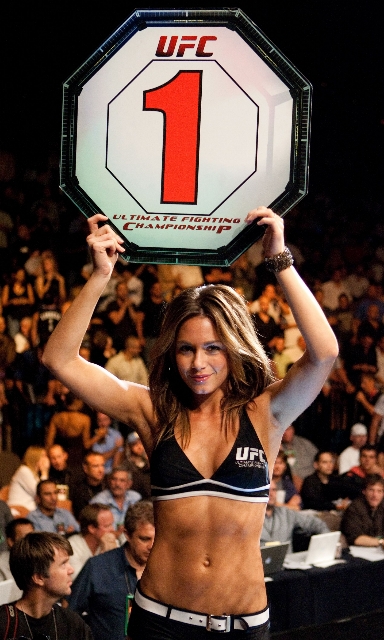 Standing at 5 foot 7 inches, and weighing 115lb, Rachelle Leah is a longtime staple amount the UFC's Octagon Girls. She started off as a ring girl for boxing, before she was noticed by coach James Pena, who asked her to work with the UFC. Her first show would be UFC 48, in 2006, and she would stay with the company for an extremely long time.
Howe we Leah's modeling career spanned much longer than her UFC one. Beginning as a teenager, she has been able to use her gorgeous looks to keep busy long past her time holding round cards is up. In addition to a handful of tv appearances, she has also found herself working for Men's Fitness, AXL Magazine, 944 Magazine, and Muscle & Fitness.
3. Vanessa Hanson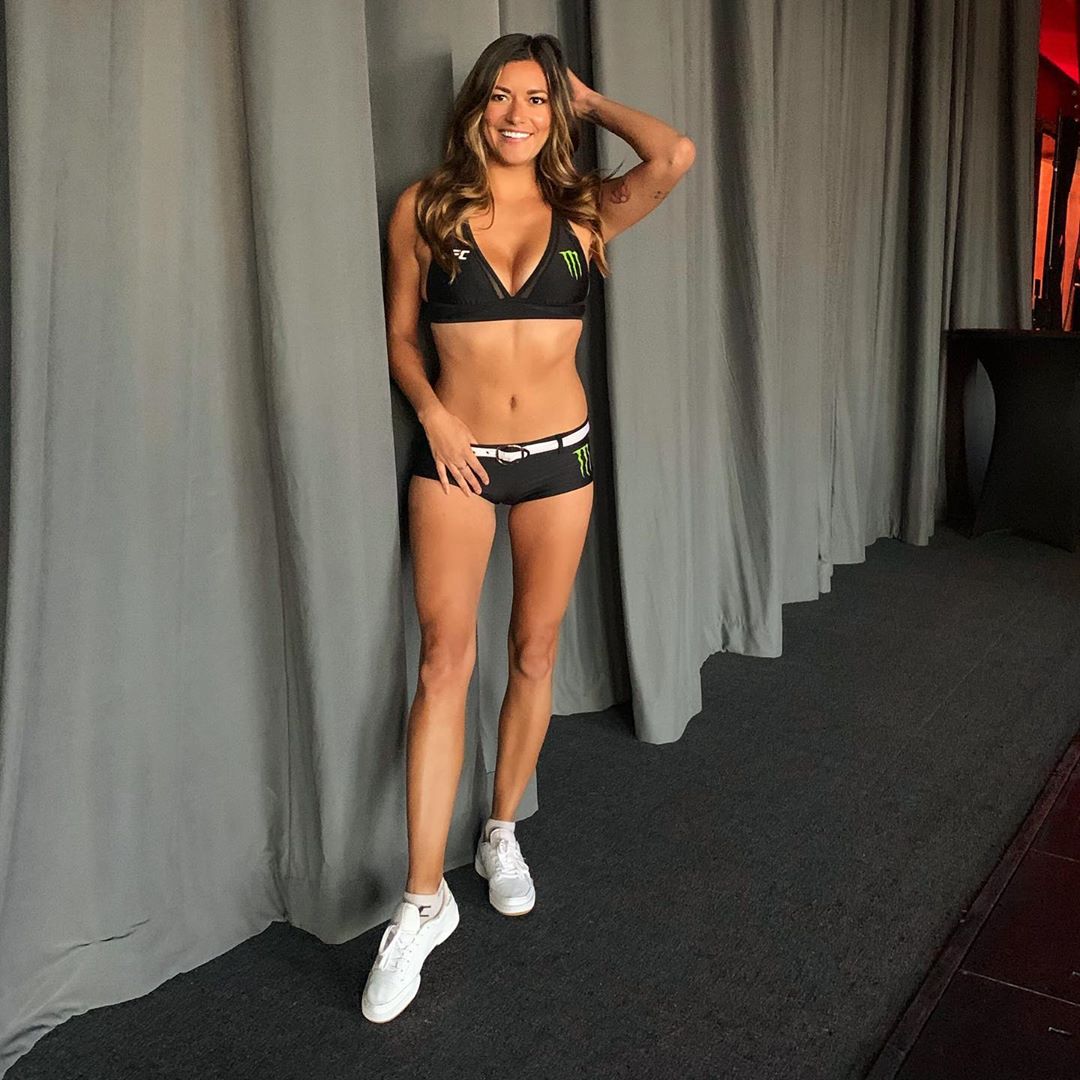 California native Vanessa Hanson joined the UFC's rank of Octagon Girls after a guest appearance in 2011. Her fan following immediately grew, as fans were drawn to her charming good looks. However, they were quick to realize there was more to her than this.
When Vanessa was in college she was initially interested in psychology and want a career in that field. That would change, however when she saw an ad for a surfing model. Shortly thereafter she was picked up by the UFC, and she has been one of the most recognizable people in MMA ever since.
2. Amber Nichole Miller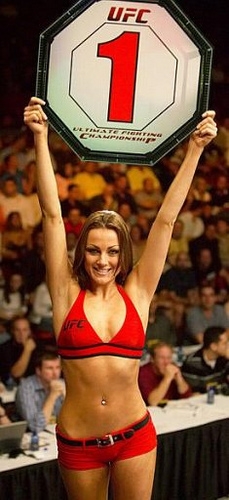 Considered to be the first in the modern era of Octagon Girls, Amber Nichole Miller started working with the UFC at their 40th numbered event, back in 2002. Interestingly enough, this card was headlined by Tito Ortiz, who eventually go on to have a relationship with Amber. The two would even go so far as to get engaged at one point.
Miller would depart from the UFC after just four years, reportedly due to a dispute between her and Rachelle Leah. Despite that, she had no trouble finding success in other modeling endeavors, working for Muscle & Fitness, Oxygen, and MAXIM to name a few. This, combined with several television spots have kept her in the public eye, even long after leaving the UFC.
1. Arianny Celeste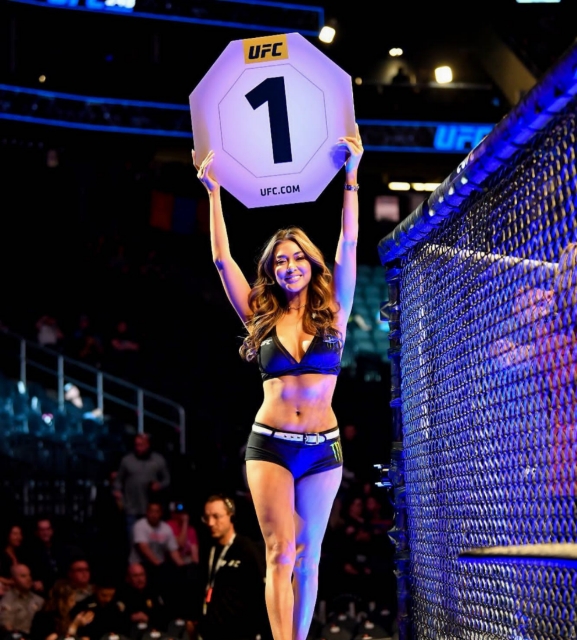 By far the most recognizable of the UFC's Octagon Girls, Arianny Celeste has been working for the promotion since 2006. For most people, she is the epitome of what the job represents, largely due to her extended tenure sitting cageside, and working the biggest events in the sports history. This has made her an extremely well-known model, both in and outside the sport.
Alongside her numerous appearances at UFC events, Celeste has had modeling gigs for several companies. Most notably, she has had a stint working as a Playboy model. The sheer longevity she has spent in this position made her a lock for our number one position.
What did you think of our list? Were there any Octagon Girls that we missed?