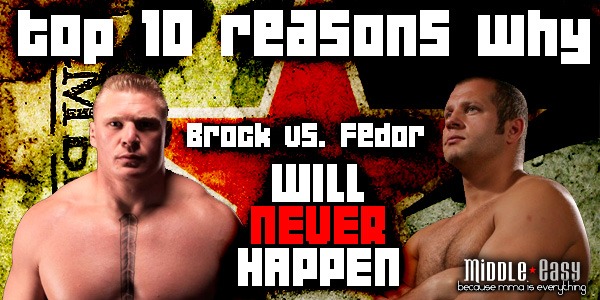 Everyone talks about it. It's like the battle of everything vs. everything. Good vs. Evil has nothing on this fight. It's what the entire MMA world salivates over just before they go to bed and dream about Kristin Kreuk fighting Gina Carano. Brock Lesnar vs. Fedor Emelianenko. The fight that the entire world wants to see, but sadly it will never come to be. Sort of like me going on a date with Kyra Gracie.
Check out the "Top Ten Reasons Why Brock vs. Fedor will never happen.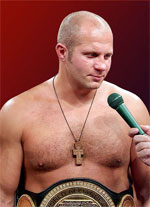 In case you haven't seen Fedor in his last few fights, dude rocks a massive wooden cross around his neck. Not like Ghostface Killah big, but it'll do. Emelianenko is a devout Russian Orthodox Christian. Really devout. In most of his interviews, he mentions that 'God's will' plays an important factor in his fights. But what's really more powerful…and overhand right or God's will? According to Fedor, it's the Jesus Christ Superstar.
Fedor has a strong belief against any fighter being created into an 'idol'. So strong in fact that in an interview that's posted on his website (hope you can read Russian) he claims that it's actually a sin to be idolized and that "the sin is in that someone or something obtains such control over the consciousness of the person, that it becomes an object of worshiping". In order to resist this temptation Fedor says "I am deeply confident, that the problem is in the person's incomprehension. People should just understand, that my victories happen from God's will and nobody else's. And if someone is genuinely happy for my accomplishments, they should thank and praise Lord God, and not me." Maybe religion is getting in the way of a Fedor/Brock matchup because if he is victorious, he will propelled to the top of mainstream superstardom, something that he seems vehemently against.
Looking at Brock Lesnar is like watching every single american sterotype condensed in 300lb bottle (and we friggin love it). The dude is ruthless, has superhuman muscles, was a linebacker for the NFL and a professional wrestler. The only other guy I know that falls in this category is this guy. On the other hand you have a dude that people call 'The Last Emperor'. If aliens came to earth, he would be the Russian representative. Who else from Russia do you know besides Fedor Emelianenko? (Tatu and Ivan Drago and don't count) Go ahead, I'll wait. Googling doesn't count, you cheated.
Currently, Russian/American relations are relatively stable. Ever since the end of the Cold War, America and Russia are somewhat on talking terms. Sort of like when you see your ex-girlfriend at a bar…without a guy. We don't have to worry about soviets parachuting to the US and taking over the country anymore despite the numerous times Hollywood has tried to scare the dookie out of us (Red Dawn im looking directly at your stupid face). So why even incite another USA vs. Russia battle that is non-olympic related? It's 2009, lets give peace a chance.
Fedor's translator is a dead ringer for a young Christopher McDonald. I had to get that off my chest, it's been bothering me for months now. Not everyone is fortunate to speak the same language and we all know English is an insanely a hard language to learn. Think about it, we're still forced to take English classes even in college. You would think that if you haven't grasped the language by then, you would just retire and move onto something else…like Maori. English is complicated, and Russian even more so. Apparently it takes 780 hours of immersive learning to have just an intermediate level of fluency. That means if you lock yourself in a room two hours a day for an entire year, you can nail enough of the language to talk your way out of that interrogation scene on Eastern Promises without being sliced up…maybe. It's the same amount of time that it would take you to watch Ray Mercer knock out Tim Sylvia a total of 70,200 times.
Now try translating between the two languages and you'll probably end up with a moderate sized portion of the content either translated poorly or not translated at all. It's just a fact that some Russian words/sayings/inflections don't have an English equivalent. Of course this works both ways. A lot of what a wordsmith like Dana White may say will get discarded or interpreted in a different light. On top of all of that, add an astronomically complicated contract with thousands of legal ramifications and you get a very confused, very flustered Fedor Emelianenko(and Christopher McDonald).
In a country of Spencer Pratts and Lindsay Lohans, do you really think America will buy into a 32 year old pudgy Russian with a receding hairline? (Who can arm bar God himself? We love you Fedor.) It's more a critique on America than it obviously is on Emelianko. Image is everything. We invented the term 'Cougar'. In a land of Botox, liposuction, lip injections and breast augmentations Fedor's apperance couldn't be sold to UFC's audience which are primarily composed of casual fans (Or as Joe Rogan called them 'casual drunken meatheads'). We all know the truth, Fedor is perhaps the most dominate pugilist in modern history but how can the MMA industry convince the American mainstream of that based on looks alone?
Take a guy like Jeff Monson, with the canvas of tattoos that is his body and the freakishly huge muscles that adorn it, dude looks like he just wrapped up shooting on a season of Oz. On the other hand, Fedor, based on appearance looks like I should be paying him for changing the oil on my Daewoo. Image is everything in America and if you can't adhere to the ridiculously high standards established by Hollywood, then you're not marketable. Ask Susan Boyle.
Dana White learned his lesson when he signed Mirko Cro-Cop to a "one fight" deal for UFC 99. Shortly after his victory, Cro-Cop announced that he was going to leave the UFC to sign a three-fight deal in Dream. It worked out for Cro-Cop, dude got some of the best publicity in the industry with the 'return of a legend' (or I know him as 'Spleen devourer') being touted in every media outlet possible. It was free, Cro-Cop didn't have to pay for it…in fact Cro-Cop got paid for it. When Cro Cop announced his wasn't coming back, he embarrassed the entire organization and more importantly pissed off Dana White. Dana White pulled a Dana White and said: "He didn't keep his word. He talked about honor and all this other [expletive] and he [expletived] me." "He fed me this bull [expletive] about wanting to take a run for the title, and what I think he did was, he went out and did this. He turned down every other [expletive] fighter I offered him, because I needed him to fight Cain. He didn't just poke Al-Turk; he poked me, too."
Currently, the head of M-1 Global, Joost Raymond, is seeking a 'fighter loan' of Fedor to the UFC which essentially means a 'one fight contract'. There is no way Dana White will ever let this happen…again.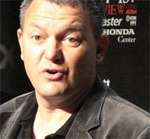 The head of M-1 Global publically admitted that all of his attempts to get Fedor into the UFC have fallen on deaf ears. Atencio tried, Raymond tried has tried even Fedor's manager has put a bid in to get Fedor into the UFC. For M-1 to get a rare and unheard contract with the UFC means that their organization has absolute validity in the business. It would mean the UFC bent over backwards just to get a taste of what M-1 Global has to offer. It's a huge step in the right direction for M-1, but after how many attempts will you just have to throw the towel in? It seems like every week there is an announcement stemming from the Fedor Emelianenko camp of them either offering a challenge to UFC or discussing potential contract negations. Are those challenges turning into desperate pleas? This chick that I was obsessed with, lets just call her "Jessica Alba" told me the numerous times I've expressed my love for her were cute after the first…20, but when you start getting into the triple digits it transforms into this weird, pathetic plea for attention. I eventually fell into the 'friend's zone' (friend's zone being a temporary restraining order). So to M-1, don't fall into the 'friend's zone'…unless you can hire a decent attorney.
Why would the UFC even care about Fedor Emelianenko? They are the most dominate organization in the MMA industry…why would they even care? For the casual fan, all mixed martial arts are referred to as "UFC fighting". They've enjoyed a near decade long partnership with SpikeTV and they have over 100+ successful events under their belt. Dana White appears on late night talk shows because he's a celebrity and one of their fighters, George St. Pierre is the first MMA fighter to ever ink a deal with Gatorade. The UFC is the green lantern of the industry right now, their ability is only limited to their imagination. Calling the UFC a juggernaut is an understatement. Without them, mixed martial arts, Brazilian ju-jitsu and Joe Rogan would be nothing.
The truth is that, as of now, the UFC calls the shots in this industry and if they wanted Fedor Emelianko to enter their octagon, it would have already happened.
.
Believe it or not, for fighters, the UFC is not the most directly profitable (not including endorsements) organization. That title belongs to the billionare boy's club's (Mark Cuban and Donald Trump) Affliction promoted by Oscar De La Hoya's Golden Boy promotions. Their first event, 'M-1/Affliction: Banned' racked up a total payroll of $3,321,000 with Tim Sylvia getting $800,000. Their most recent card, 'M-1/Affliction: Day of Reckoning' had an even larger payroll of $3,308,000 including a ridunkulous $1,500,000 for Andrei Arlovski. It's important to note that all of these numbers don't include bonuses (besides win bonus) or pay-per view cuts.
The UFC has the notoriety, but when it comes to dropping loot on fighters…M-1 Global/Affliction reigns supreme. Maybe Fedor is asking for his standard $300,000 a fight plus win bonus (a total estimated at around $1.4 million) but the UFC can't come up with the cash…or doesn't want to.
Who would volunteer to put theirself in the cage with the best MMA fighter in the universe? I wake up everyday in fear that I never have to be forced into a scenario where I would have to fight Fedor Emelianenko. The chances of that scenario occuring is about as small as my chance at dating Denise Richards (she's still hot) but its still a prominent fear that I deal with on a daily basis. Just like I would have a fear if Godzilla started stomping through my apartment complex. If that did happened, I can only hope he aims directly for my functional alcoholic neighbor's apartment and all twelve her of cats (Sorry PETA).
Fedor is unstoppable, sort of like Cheick Kongo…but really unstoppable. The dude's been power slammed directly on his head by Kevin Randleman, squashed by Hong Man Choi, evaded submissions by Rentao 'Babalu' Sobral, tested by Mirko Cro Cop, rocked by Andrei Arlovski, headbutted by Antônio Rodrigo Nogueira…and throughout all of that, the outcome has been consistent. A win for Fedor Emelianenko. Only once in his career has he "lost" and it was due to a cut from an illegal strike of Tsuyoshi Kohsaka's elbow. A technicality in the soon to be 'Pride FC' ruled that since Fedor could not continue in the tournament, he would be branded with an 'L', his only one in his nearly decade long MMA career. What hasn't been done to Fedor that hasn't already been done to Afghanistan? You can't stop the guy and why would anyone want to be Emelianenko's list of souls claimed?
Its just not smart for anyone who has a record of 3-1 (same record as Kimbo Slice) to go up against the guy who's fought nearly 10x as many fights. Fedor has the cage experience Brock Lesnar is yearning for. Lesnar may be the UFC Heavyweight Champion of the World, but he has admitted that he still has a lot to learn.
Hypothetical scenario. Brock Lesnar beats Frank Mir at UFC 100 unifying the title. Fedor Emelianenko beats Josh Barnett at Affliction III, retaining the title. M-1 Global finally get their "one fight" deal they've been looking for from the UFC. Fedor and Brock are finally in the cage, bell rings, Fedor knocks out Brock. He packs his bags that same night, returns to Russia and continues to be signed under M-1 Global. What would that do for the UFC? Better yet, what would that do for M-1 Global/Affliction? It would reinforce Joost Raymond's claim that the best Heavyweight MMA fighters are indeed housed under M-1 Global/Affliction. The stellar competition coupled with the gargantuan pay outs would be a tremendous temptation for all UFC heavyweights to opt out of renewing their contracts with UFC, and instead, sign with M-1 Global/Affliction. M-1 Global will finally get their cut of the 'MMA pie' and we will have witnessed the decline of the most prominent mixed martial arts organizations in history…all from an overhand right.
Of course we all know this is what Joost Raymond and Tom Atencio wants and Dana White fears (maybe not 'fear' but…let's face it, no one wants that to happen). Accepting Fedor into the UFC is like filling a B2 bomber full of pornography and dropping it on Iraq. His sheer presence on an established culture may have the impact to cause a full fledged revolution (and if not, it's free porn. Nothing's wrong with that).