Joe Silva, the guy that everyone wants to be until they're faced with a last-minute fight injury. He's the UFC matchmaker and essentially every UFC bout you've ever seen in the past decade was constructed by him. When you've been inundated with the sport for as long as Silva, it's a little hard to hide your inner-fanboy. Joe Silva seems to embrace the fact that he can still be as astonished by stunning finishes after all the years, and it's evidenced in our new list of 'The Top Ten Joe Silva Reactions In MMA History,' enjoy.
10. Joe Silva reacts to Gerald Harris slamming David Branch at UFC 116
A powerbomb KO so remarkable that it was actually shown on ESPN Sportscenter's 'Top Ten' that same night. Now it's on another top ten, and it's solely due to Joe Silva's reaction to it.
9. Silva was really enjoying Nick Diaz vs. Takanori Gomi in Pride FC
Most people call Nick Diaz vs. Takanori Gomi the greatest MMA fight of all time, and judging by the amount of fans in the audience standing in this screen cap, those people may be on to something. Look closely and you can see another fan going nuts ringside.
8. Joe Silva wasn't that thrilled when Josh Thomson picked him up at UFC on FOX: Henderson vs. Melendez
Note to fighters: Don't include picking up Joe Silva in your post-fight celebration antics. Just because Silva is shorter than the average guy doesn't mean you can treat him like your personal leprechaun. Josh Thomson found out this the hard way at UFC on FOX: Henderson vs Melendez.
7. Joe Silva's reaction to Frank Mir TKOing Big Nog at UFC 92
TUF 8 was notorious for giving us the MMA cultural icon known as Junie Browning. Hey, is that guy still on the run in Thailand? Regardless, Frank Mir and Big Nog coached the teams, which led to this extraordinary TKO at UFC 92.
6. Matt Brown smashing Joe Silva's hand at UFC Fight Night: Shogun vs. Sonnen
Matt Brown was so happy that he knocked out Mike Pyle in 29 seconds at UFC Fight Night: Shogun vs. Sonnen that he felt the need to slam Joe Silva's hand as hard as he possibly could. Although Silva tries to play it off, you just know the blood vessels were pulsating in his fingers from the impact. Even the cutman recoils when Matt Brown approaches him.
5. Joe Silva reacting to Kyle Bradley vs. Phillipe Nover at UFC 98
If Joe Silva quit the entire UFC matchmaking business and decided to scare babies for a living, this is the exact move he would pull off — and he would be amazing at it.
4. Joe Silva was stoked when Johny Hendricks knocked out Jon Fitch at UFC 141
People say that Joe Silva was exuberant for a number of reasons after Johny Hendricks did the impossible and knocked out Jon Fitch at UFC 141, and judging by this .gif he wanted to give Hendricks all the props he rightfully deserved.
3. Edson Barboza's spinning wheel kick KO over Terry Etim at UFC 142
This is still UFC's quintessential 'OMG' moment. Everyone gasped when Edson Barboza pulled off a spinning wheel kick KO over Terry Etim at UFC 142, including matchmaker Joe Silva. We even have a close-up .gif of his reaction!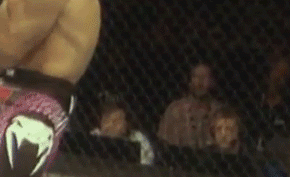 2. Stun Gun Kim's remarkable KO over Erick Silva at UFC Fight Night 29
It was perhaps the most unexpected KO that night in Brazil at UFC Fight Night 29, but when it happened one could only get out of their seat and hope for a replay. Joe Silva couldn't believe it either and from this .gif it appears that he was playing matchmaker and referee.
1. Bones Jones' spinning elbow over Stephan Bonnar at UFC 94
The moment Bones pulled off the spinning elbow at UFC 94 that dropped Stephan Bonnar, people knew this guy was special. I guess we also have to give props to Joe Silva for reacting the way he did when it all went down. Yep, that seems just about right, Joe.