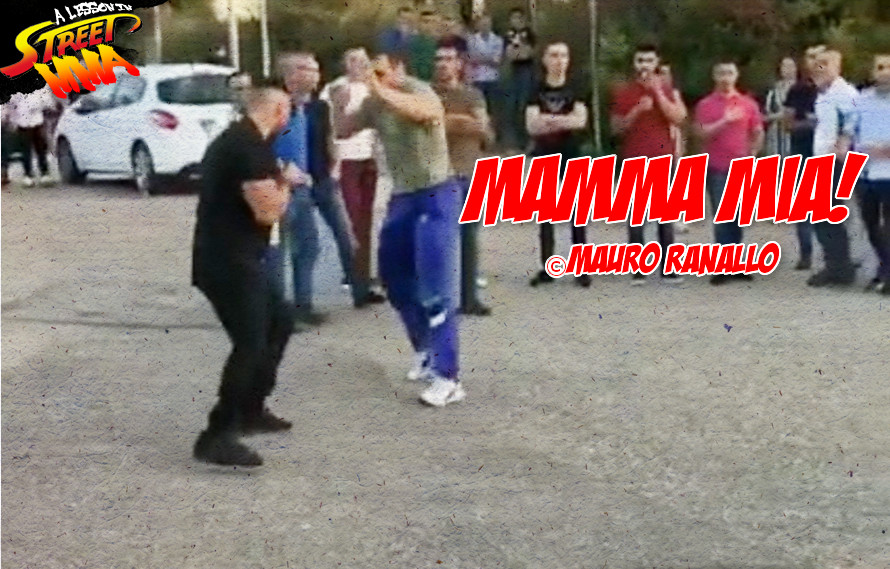 Who knew Italy had a thriving Street MMA scene? This is great news for Italian tourism and for lessons in what to do if you don't get in the club. Name not on the list? Time to throw hands.
Other than the very violent knockout ending, maybe the best thing about this video is how organized it all is. Form the ring, give the fighters some space, maybe eat some bread, and enjoy the show.
Everything is just classier in Italy, even their Street MMA.
So the story goes, dude in late 90s Cro-Cop cosplay was not let in the club. Rather just go home and wait out the night or maybe hit up a different spot, he waited until the club closed. Then he challenged the bouncer who did not let him in while wearing track pants to a fight.
See? Classy, challenging bouncers to fisticuffs and ish.
Apparently the bouncer is a trained fighter, and maybe even a boxer with real pro fights under his belt. Our hero? Probably just a dude with great hair, a nice tan, and a keen sense of Italian machismo.
He even opens the fight with a leg kick? Somewhere Alessio Sakara just chef kissed the air for no apparent reason.
Street fight in Italy — the guy in black is a bouncer who used to box.

Wait for it… pic.twitter.com/tEadatIdkR

— Al Zullino (@phre) July 31, 2019
Part two
He sent him straight into the oblivion… pic.twitter.com/BYfTYVzLza

— Al Zullino (@phre) July 31, 2019
Like he might as well just sleep there until his next shift. Bouncer got knocked out straight into the Lost Levels.
Also maybe not move a dead body like that. What kind of Italians are these. Stugats
H/T to the powerful @phre for the excellent find.