It all started with prayer candles however I didn't get a chance to fucking light them. If I have to step in and take the blame for all of this UFC 232 mess then you know what?
Maybe I will.
The idea was so simple I don't understand how I fucked up. Technically you're only supposed to light the prayer candle one time and let it burn. From there I would turn on the music and do some awkward seance with a cape or some shit in my room.
This was meant for champion Cris Cyborg and champion Amanda Nuñes to go through the fight smoothe sailing. But by not lighting them instead I brought myself to the end of days.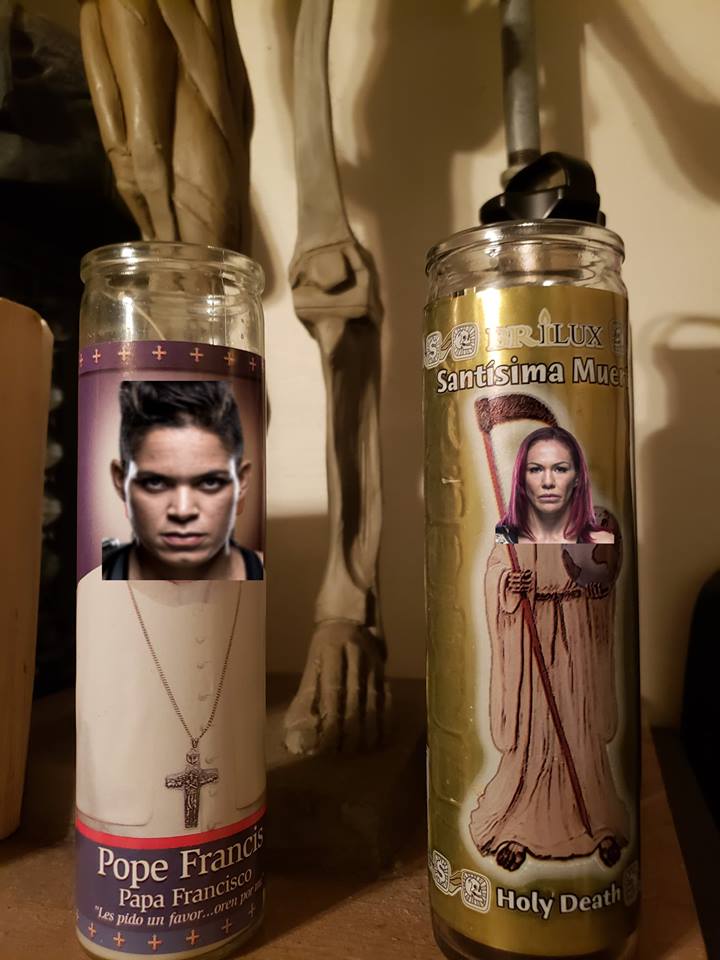 Knowing that the event was moved from Las Vegas to Los Angeles on six days notice was not only shocking but it didn't make things easier. Being from California some people would think getting to The Forum in LA would of been in my benefit however MY ASS STILL WENT TO VEGAS. As the anger ensued I was noticing the affect of not lighting those damn prayer candles in my daily life.
While packing for the trip the night before I had to take a second and eat some damn chow mein with some hot ass sauce watching UFC 232 Embedded Episode two. All of the sudden Jon Jones comes on the screen and I start laughing for some reason. In that moment I forgot all function after wiping my eyes of tears as I realized I had gotten that HOT ASS SAUCE IN MY FUCKING EYEBALL.
It was burning so bad I'm pretty sure Amanda Nuñes herself would call out of the fight. It was really a spiritual experience, but I didn't realize until after my eyeball was going to roll out of my socket like a damn BJJ class.
Fast forward to the next day, as I was leaving for the night I realized the prayer candle curse was continuing indefinitely. Even the bus driver was out of his mind right when I stepped foot onto that thing.
Given I had 12 hours until my arrival and still in the Bay Area, apparently it wasn't surprising to hear the bus driver shout "PLEASE NO SMOKING ON THE BUS! THERE ARE CHILDREN ON HERE" or "ARE YOU SURE YOU WANT ME TO TURN THE HEAT ON? BECAUSE IF I GET RID OF THE COLD I WILL PROBABLY CRASH THE BUS"
ME: Oh okay, cool. He must have been upset about the recent shenanigans with UFC 232 also.
Meanwhile, the next day I woke up to the Las Vegas sun. It was a bit weird because things were really starting to hit me knowing that the event was changed. I ended up realizing in this moment the only fight I was going to experience happened to be True Life: I'M BATTLING WITH CRIPPLING ANXIETY. When I stepped foot off the bus I started Round 1 at Applebee's with $1 Margaritas!!! After dipping my tongue in 3 of those bad boys I realized I was in for a 5 round title fight.
When I got back to my hotel room I was pretty bored and trying not to throw up on myself that I decided to count the picograms from the sugar packages used for coffee. As I drifted off to sleep without my cat I woke up in cold sweat per usual in Vegas which would scare anybody honestly. Of course the first thought that came to mind was BOTTOMLESS MIMOSAS with a side of minimal food intake. But who would I be if I didn't drink Modelo (THE BEER OF THE UFC) while watching the official weigh-ins and walk straight into that restaurant……with the cans of course.
Hours later tears were had because I was fucking drunk. What was I crying about? I don't know. Do you really need a reason in Vegas? Exactly. Anyways, what better way to cheer me up than a damn giant Ferris Wheel ride. At this moment I thought the idea was great and the prayer candle curse was lost because everyone ended up making weight and the fights were on. BUT BOY DID I THINK WRONG.
The whirlwind of endless alcohol running through my body started to hit right when I got inside the Ferris Wheel.. with a family of 4.. which included a small child. I would like to call this the MODERN DAYTIME BLACKOUT.
As a surprised gift I decided to give that families first UFC 232 blowout experience on the Ferris Wheel. Clearly this ride should of been nothing but sunshine and rainbows for everyone, yet it turned out to be fucking hell because most positive they didn't know what the UFC was. By the end of it all I do believe the Mother should get a degree in therapy. Because she did AMAZING SWEETIE. Sitting there with that stupid sad yet happy music playing overhead really just set the mood.
After realizing at this moment when everything was over I only ate one sausage, an egg and two spoonfuls of starch from that morning however I NEEDED FUCKING SUSTENANCE! While watching the ceremonials weigh-ins with one eye open my stomach started to feel a bit tickled and I became friends with the bathroom toilet.
It wasn't the first impression I wanted to give but that was just life and they had no other choice, AMIRITE?! Vegas had took complete control. Basically Vegas was Keanu Reeves in the movie Speed and my ass was the damn bus.
The next morning I decided to give this another go. I owe this to the MMA Gods on their most holy of days.. FUCKING FIGHT DAY.
I realized it was all truth and the curse I thought was happening in my head was a reality when I turned up to the T-Mobile Arena; I was completely alone. I could hear all the screams and the Rick Flair's "Woooooo0o0o0oOOOOooos" from from the casuals in my brain.
I didn't know the realness until I mumbled it quietly my damn self with a lonely ass tear steaming down my cheek.
I've never been so confused in my life if I'm cursed or not. I looked up in the sky, saw Brian Ortega and he whispered to me from the sun, "NEXT TIME YOU BETTER LIGHT THOSE PRAYER CANDLES BITCH."
*mic drop*
Vegas. You never seize to amaze me. See you in March.
*****
Esha Chanel