Matt Hughes is a former nine-time UFC Welterweight Champion. He is a fighter who brought a new thing into the octagon – "Matt Hughes style throws".
Athlete Statistics
Full Name: Matthew Allen Hughes
Born Name
Nickname
Age & DOB
Matthew Allen Hughes
N/A
Matt Hughes is currently 49 years old according to his date of birth October 13, 1973.
Fight Stats
Height
Weight
45 Wins // 9 Losses // 0 Draws
5 ft 9 in or 175 cm
170 lbs (77kg)
Reach
Fighting Style
Association
73 inches (185 cm)
Wrestling
UFC
Team: Finney's Hit Squad, retired in 2013
Nationality
Net Worth
Born Place
Irish-American
$8 Million
Hillsboro, Illinois, United States
Profile
Matt Hughes is known in the UFC as one of the best ground and pound fighters of all times. His throws were especially attractive and interesting to watch. He is one of the fighters why fans started to love this sport so much. He was the first real super strong wrestler in the octagon.
Matt had few signature moves where he lifts the opponent 2 meters in the air and slams him off the floor hard. As the time went by, his fights were becoming more and more attractive. When on the ground, Matt Hughes was known for mounting opponent's chest or back and delivering a specific combo of hooks until the referee stops the fight.
Hughes is also known as a submission specialist. He has earned 18 submission victories during his career. His best submissions are an arm-triangle choke, rear-naked choke, armbar, and Kimura but he is also known for surprising Dave Schultz front headlock victory.
In the stand-up, Hughes had very fast punches and solid leg kicks. As a world-class wrestler, he preferred ground fighting, and he was using every opportunity to move the fight to the ground.
The Road To The Top
Matt Hughes had his MMA debut at Jeet Kune Do Challenge 1 on January 1, 1998. He won Erick Snyder via tremendous slam after only 15 seconds, which is his fastest victory.
When joined UFC, Matt had a score of 9-1. However, he lost the fight to Dennis Hallman after only 17 seconds via standing guillotine choke, which is his fastest loss!
Matt Hughes – UFC Career
Matt Hughes had his UFC debut at UFC 22 versus Valeri Ignatov on September 24, 1999, and won the fight via unanimous decision.
After few fights in the smaller promotion, he reappeared at UFC 26 versus Marcelo Aguilar on June 9, 2000, and won again, this time via doctor stoppage.
Matt Hughes fought again in the smaller promotions and faced Dennis Hallman at UFC 29 on December 16, 2000. Hallman won after only 20 seconds via armbar. Hughes then returned to smaller promotions again.
Matt Hughes – The Champion
Matt Hughes got a chance to fight for the title versus Carlos Newton at UFC 34 on November 2, 2001. Hughes picked Newton on the fence, and Carlos grabbed the fence. After the referee ordered him to let it go, Hughes brutally slammed him off the ground and ended the fight.
Hughes had the first successful title defense versus Hayato Sakurai at UFC 36 on March 22, 2002. He won the fight via TKO.
Carlos Newton was the challenger again at UFC 38 on July 13, 2002. Hughes defeated Canadian superstar again, this time via TKO.
In his third title defense, Matt Hughes fought at UFC 40 on November 22, 2002, and defeated Gil Castillo via doctor stoppage after the first round.
His toughest title rival was Sean Sherk at UFC 42 on April 25, 2003. After five rounds of pure war, Hughes won via unanimous decision.
Matt Hughes Vs Frank Trigg
Matt Hughes fought Frank Trigg at UFC 45, on April 25, 2003. The event marked UFC's 10th anniversary. After an amazing grappling showdown, Hughes won via standing rear-naked choke in the first round, winning Tapout of the Night Submission Award.
Matt Hughes Vs BJ Penn – Title Loss
Matt Hughes fought Hawaiian BJJ specialist, BJ Penn, on January 31, 2004, at UFC 46. BJ Penn won the fight via surprising first-round rear-naked choke.
Hughes defeated Renato Verissimo at UFC 48 on June 19, 2004, via unanimous decision.
Matt Hughes Regains The Title
UFC 50, held on October 22, 2004, will be remembered for the showdown of two best Welterweight fighters ever – Matt Hughes and Georges St-Pierre. Hughes took GSP down two times and landed a world-class slam. Despite Georges St-Pierre kicked his ribs hard, Hughes won the fight via armbar.
Matt Hughes Vs Frank Trigg 2
He faced his old rival, Frank Trigg, at UFC 52, on April 16, 2005. Matt Hughes was kicked in the groin at the beginning of the round and looked towards the referee but the ref didn't see that and Trigg landed a barrage of punches. After few tough minutes, Matt Hughes set himself free, picked Frank Trigg up, carried him across the octagon and slammed him hard. Hughes won the fight via rear-naked choke and defended the title.
Joe Riggs missed weight so their fight at UFC 56 on November 19, 2005, wasn't a title fight. Hughes won via kimura, winning Tapout Of The Night award.
Matt Hughes Vs Royce Gracie – The Showdown Of Legends
The first and the current UFC champion fought at UFC 60 on May 27, 2006, in Los Angeles, California. In one of the biggest mismatches in the history of UFC, Hughes was dominant from the beginning and won via TKO in the first round. The fight had 620,000 buys, becoming the best-selling pay-per-view event in UFC history.
Hughes got a chance to revenge to BJ Penn at UFC 63 on September 23, 2006, and he successfully won the fight via TKO after a barrage of ground and pound punches, earning Fight Of The Night award.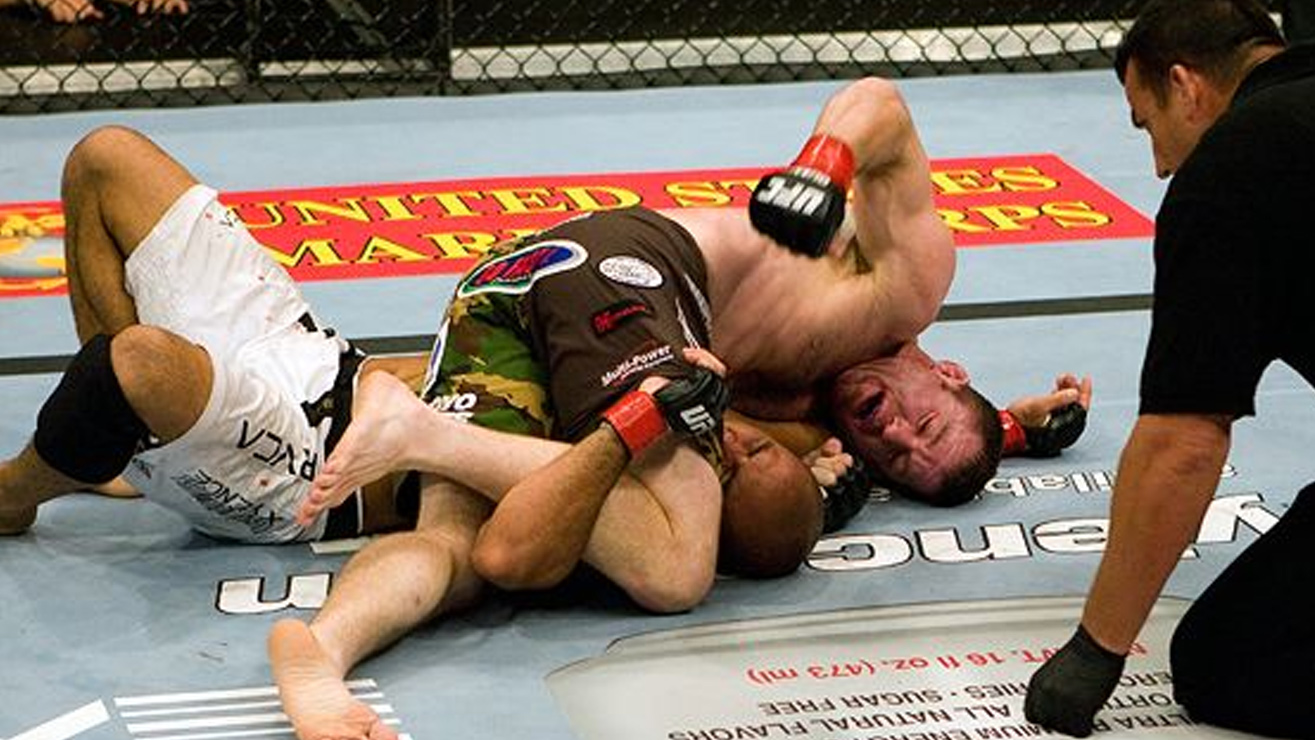 Matt Hughes – Title Loss
Georges St-Pierre and Matt Hughes met again at UFC 65, on November 18, 2006, in the main event of the evening. GSP dropped Hughes in the second round via left high kick and finished him via TKO.
Hughes defeated Chris Lytle at UFC 68 on March 3, 2007, via unanimous decision.
Matt Hughes – Interim UFC Welterweight Title Shot
Matt Serra was unable to defend his title at UFC 79 on December 29, 2007, due to a herniated disc in his lower back, and UFC organized a third fight between Matt Hughes and Georges St-Pierre. GSP was easily stopping Hughes' takedown attempts won the fight via armbar at the end of the second round.
Hughes faced Thiago "The Pitbull" Alves at UFC 85 on June 7, 2008. Alves didn't pass weight, but he won the fight via tremendous KO. Left flying knee sent Matt Hughes to the ground. Hughes' knee went sideways, leaving him with a torn MCL and particularly torn PCL.
Hughes faced Matt Serra at UFC 98 on May 23, 2009, and won the fight via unanimous decision. He also won Fight Of The Night bonus.
His next opponent was Renzo Gracie at UFC 112 on April 10, 2010, whom he surprisingly defeated via leg kicks and punches in the third round.
At UFC 117, on August 7, 2010, Hughes did something impossible – put 3rd dan BJJ black belt Ricardo Almeida via Dave Schultz front headlock to sleep, and earned Submission Of The Night Award.
Matt Hughes Vs BJ Penn III was held at UFC 123, on November 10, 2010. BJ Penn caught one of the kicks and dropped Hughes down via tremendous overhand, following three jaw shots. Penn won the fight after only 21 seconds!
In the last fight at UFC 135, on September 24, 2011, Matt Hughes was knocked out by Josh Koscheck in the first round.
Matt Hughes – Big Car Incident And Ovations
Hughes was hospitalized on June 16, 2017, with a serious head injury after a train hit the passenger side of his truck at the rail crossing. He recovered on October 4, 2017, and returned to the hospital to honor the staff that took care of him the same day.
Matt Hughes returned to the octagon as a guest of honor at UFC Fight Night 24 on January 14, 2018, in St-Louis, Missouri. He has received a gigantic applause.
Personal Life
Matt Hughes is married to Audra Hughes. They have two daughters together, and each of them has a son from previous marriage. Matt also acted in many movies and released his autobiography. He is a newborn Christian who regularly posts Bible verses on his website.
Matt Hughes – Social Media Profiles