Amanda Nunes is a three-time UFC Female Bantamweight Champion and a current title holder in Bantamweight division. She is a southpaw fighter known for world-class boxing, and that is the reason why more and more fans call her "a female Vitor Belfort".
Athlete Statistics
Full Name: Amanda Lourenço Nunes
Born Name
Nickname
Age & DOB
Amanda Lourenço Nunes
The Lioness
Amanda Nunes is currently 34 years old according to her date of birth May 30, 1988.
Fight Stats
Height
Weight
19 Wins // 4 Losses // 0 Draws
5 ft 8 in or 173 cm
135 lbs (61 kg)
Reach
Fighting Style
Association
69 inches (175 cm)
Boxing, BJJ, Judo
UFC
Team: AMA Fight Club MMA Masters
Nationality
Net Worth
Born Place
Brazilian
$1 Million
Salvador, Bahia, Brazil
Profile
It is believed that Amanda Nunes swings two or even three times faster than her opponents. She has an excellent right low kick. Amanda sometimes attacks with a right high kick, right diagonal kick to the body, and a right spinning heel kick.
On the ground, she looks for an opportunity to mount the opponent and deliver an endless barrage of elbows, hooks, and hammer fists. She has three victories via rear-naked choke, which is her best submission. She has improved her submission defense game a lot, and no fighter was able to submit Amanda Nunes in the UFC fight yet.
The Road To The Top
Amanda Nunes wasn't dominant, and she had the score 7-3 before joining UFC. She had her MMA debut on March 8, 2008, against Ana Maria India, and she was defeated via armbar after only 35 seconds, which is her fastest defeat and the only submission loss of the career.
The Lioness had the fastest victory of her career against Paty Barbosa – she won after only 11 seconds via doctor stoppage. After the KO victory over Julia Budd, Amanda Nunes switched from Middleweight to Bantamweight, where she competes today. She signed her UFC contract after the loss to Sarah D'Alelio at Invicta 4.
Amanda Nunes – UFC Career
Amanda Nunes had her UFC debut against Sheila Gaff at UFC 163 on August 3, 2013, in Rio de Janeiro, Brazil. In front of the home fans, Amanda demolished The German Tank and won via punches and elbows TKO in the first round.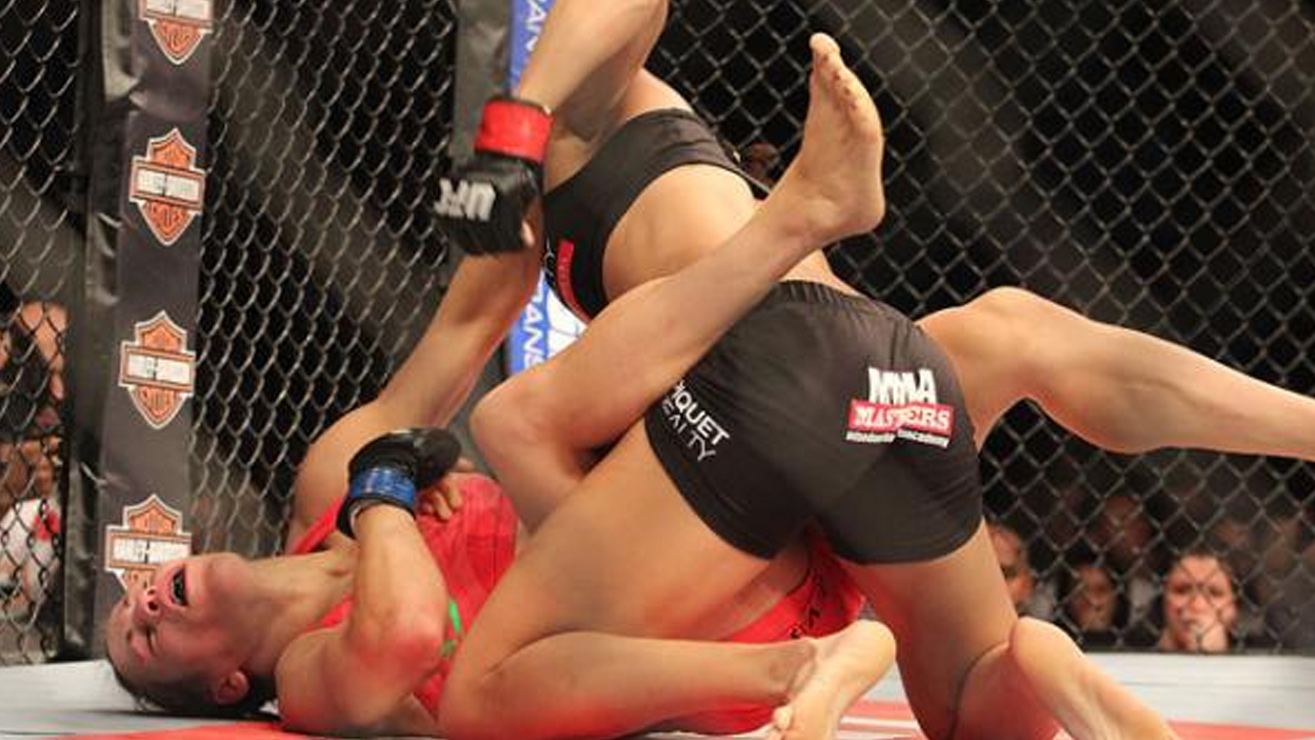 The next opponent was an outstanding Dutch striker Germaine de Randamie, at UFC Fight Night 31, on November 6, 2013. After receiving a right low kick, Amanda clinched up with her opponent, took her down, and won via TKO after a tremendous barrage of elbows.
Amanda Nunes vs Cat Zingano – First UFC Loss
The two faced at UFC 178 on September 27, 2014, in Las Vegas, Nevada. As soon as the fight started, Amanda Nunes delivered a brutal right low kick, but Zingano clinched up and took her down. During the first round, Amanda was more dominant on the ground and landed a lot of powerful punches.
After the great sacrificing throw off the guillotine choke in the third round, Cat Zingano ended up in the mount and started punching Nunes on the ground in the third round, and the referee stopped the fight. Nunes' face was completely covered in blood.
Amanda Nunes demonstrated the power of her low kick in the fight against Shayna Baszler at UFC Fight Night 62 on March 21, 2015, where she won via TKO after a stunning right low kick in the first round.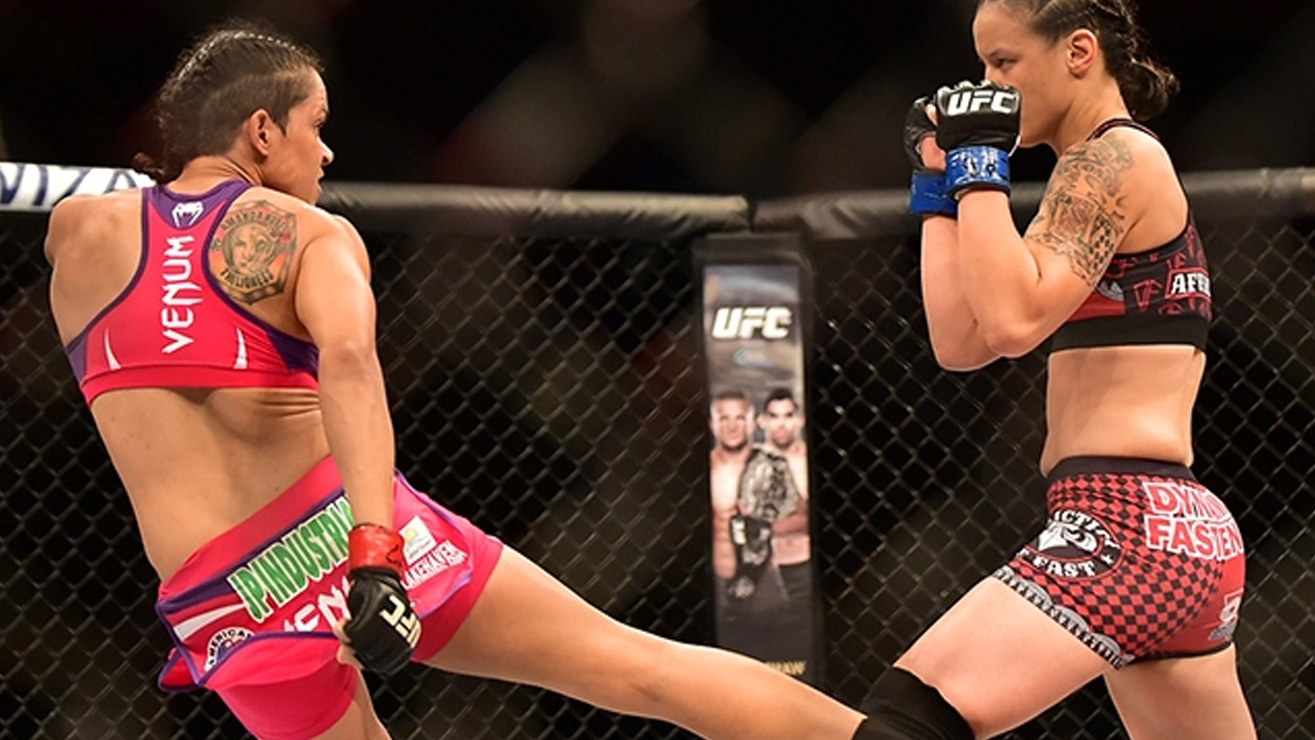 Amanda had her first Performance Of The Night against Sara McMann at UFC Fight Night 73 on August 8, 2015. The Lioness won in the first round via rear naked choke.
Amanda Nunes had a very tough job against a fearsome Peruvian superstar Valentina Shevchenko at UFC 196, on March 5, 2016. After three rounds of total war, one more victory via unanimous decision for Nunes.
Amanda Nunes vs Miesha Tate – UFC 200 Title Shot
The two fought on July 9, 2016, in Las Vegas, Nevada. It was Nunes' first main event of the evening. After Miesha Tate missed overhand left, Nunes countered with a strong overhand right and continued delivering a barrage which sent Cupcake to the ground.
Miesha recovered and got up, but she was sent to the ground again after a strong hook. Amanda secured ground and pound, delivered few punches and won via rear-naked choke at the 3:16 of the first round.
Amanda Nunes Vs Ronda Rousey – First Title Defense
Amanda Nunes successfully defended her title for the first time at UFC 207, on December 30, 2016, in Las Vegas, Nevada. Amanda was successfully attacking Rowdy and didn't let her get close. After a brutal left cross, Amanda rocked Ronda Rousey and continued landing heavy shots, and the referee stopped the fight while Ronda was still on her feet.
Amanda Nunes Vs Valentina Shevchenko – Second Title Defense
Amanda had her second title defense in a rematch versus Valentina "The Bullet" Shevchenko at UFC 215, on September 9, 2017, in Edmonton, Alberta. The two should face at UFC 213, but Nunes was hospitalized on the day of the fight due to sinusitis.
It was the longest fight of Nunes' career, the five rounds of a stand-up total war. The Lioness won via split decision. The first serious clinch was seen in the fifth round. Shevchenko took her down via neck throw, but Amanda Nunes escaped, pressed her against the cage, and took her down, maintaining the dominant position until the final bell.
Amanda Nunes is scheduled to face Raquel Pennington at UFC 224, which will be held in Brazil. The Lioness will have the chance to defend the title for the fourth time in front of her home fans.
There were also rumors of Amanda Nunes vs Cris Cyborg fight at UFC 226, but Cris Cyborg is scheduled to face Yana Kunitskaya at UFC 222. However, Cris Cyborg claims she is still interested in a super fight with Amanda Nunes. She hopes both of them would win their fights and their super fight would happen at UFC 226.
Personal life
Amanda Nunes is openly gay, and now engaged to Nina Ansaroff, a UFC fighter.
Amanda Nunes – Social Media Profiles