Live Stream Mr. Olympia 2019 online and all the details for the Olympia weekend events.
The biggest competition in all of bodybuilding is almost here. Here is everything you need to know about the 2019 Mr. Olympia competition, and the events of the Olympia weekend.
The 2019 Mr. Olympia takes place from September 12-15, in Las Vegas, Nevada. This annual competition pits the best of the best bodybuilders, from around the world, to see who stands above the rest. In fact, this year, in particular, has seen massive shake-ups, as there will be new champions crowned in various division.
Watch Olympia 2019 Webcast here:

LIVE
Finals of Mr. Olympia, Bikini Olympia, Men's Physique Olympia and Classic Physique Olympia Start at 7:00 PM PST (10:00 PM EST)
Watch Olympia FINAL Live Stream: 
https://www.youtube.com/watch?v=owJqo1OYb_A
WATCH Olympia Live Stream Day-1: (
Replay

)

https://www.youtube.com/watch?v=7_m2wS05T1I&autoplay=1
Watch Mr. Olympia Press Conference –
REPLAY
https://www.youtube.com/watch?v=fIy3MP8dzlU
Keep checking MiddleEasy.com for all the latest updates on the Mr. Olympia competition courtesy of our friends at FitnessVolt.com/Olympia.
Aside from the competition, the whole Olympia weekend will be jam-packed with various activities. There is going to be martial arts demonstrations, along with some of the biggest names in fitness. Moreover, there will be a booth set up, featuring some of the most notable brands of nutrition and supplements.
2019 Mr. Olympia Schedule
Here is the full Mr. Olympia events schedule and an overview of what to expect from the 2019 Olympia weekend.
Thursday, September 12 
12:00 pm – Olympia Press Conference
8:00 pm – Meet the Olympians
Friday, September 13th:
10:00 am thru 5:00 pm – Olympia Fitness & Performance Expo
10:00 am – IFBB Pro League Olympia Pre-Judging (212 Olympia, Fitness Olympia, Figure Olympia and Women's Physique Olympia)
7:00 pm – Olympia Friday Evening Arena Show (Finals of 212 Olympia, Fitness Olympia, Figure Olympia, Women's Physique Olympia and Pre-Judging of Mr.Olympia)
Saturday, September 14th:
10:00 am thru 5:00 pm –  Olympia Fitness and Performance Expo
10:00 am – IFBB Pro League Olympia Pre-Judging (Bikini Olympia, Men's Physique Olympia, and Classic Physique Olympia)
7:00 pm – Olympia Saturday Evening Arena Show (Finals of Mr. Olympia, Bikini Olympia, Men's Physique Olympia and Classic Physique Olympia)
Sunday, September 13th
11:00 am – Olympia Superstar Seminar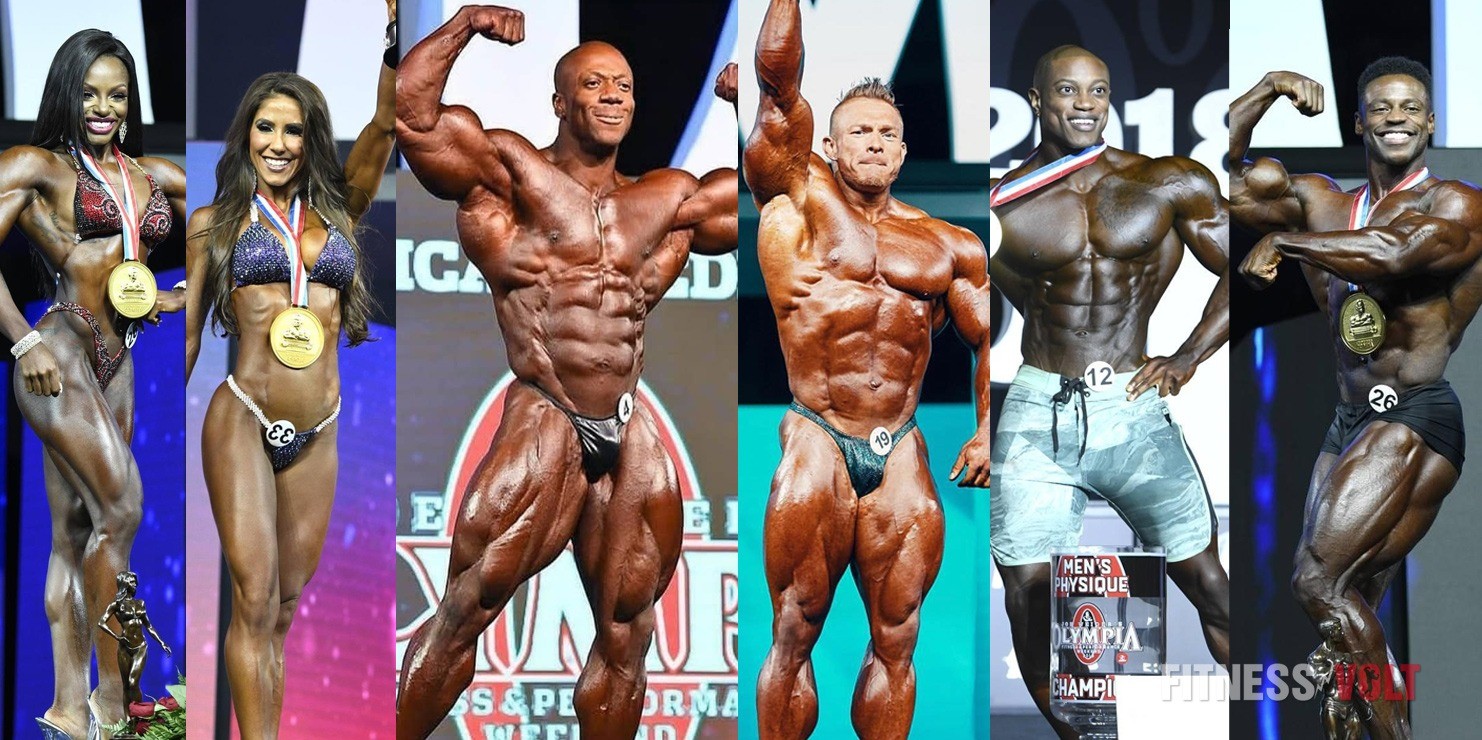 Men's Open
The Men's Open division of the Mr. Olympia is the most coveted division in all of bodybuilding. This year's Olympia will see a new champion crowned in this division, as it's reigning champ will not be competing at this year's competition. Subsequently, this has left the door open for some of the younger bodybuilders to step up, and claim the title.
Some of the athletes that are expected to do well in this division include Brandon Curry, William Bonac, and Roelly Winklaar. There have also been rumors that multiple-time Mr. Olympia, Phil Heath, may make a surprise appearance at the big show. Subsequently, this year could give fans the best competition among the athletes, to see who will be crowned Mr. Olympia.
212 Olympia
The  212 division will also be seeing a new champion crowned this year. Following his victory at the 2018 Mr. Olympia, Flex Lewis announced his retirement from the division. Similar to the Men's Open, this allows for a boost in motivation among the athletes competing, so expect to see everybody's top skills being shown on stage.
There are several people who are in place, primed and ready to snatch the crown at this year's Olympia. Some of the ones to keep your eyes on are Derek Lunsford, and Kamal Elgargni.  Additionally, the Iranian Hadi Choopan will be allowed to attend the event, after dealing with setbacks surrounding his U.S. Visa. So this year's 212 Olympia should be fun to watch.
Classic Physique Olympia
The reigning, and defending Classic Physique champ, Breon Ansley, will be looking to continue his run of dominance in the 2019 Olympia. He has won the Classic Physique title for the last two years, and he wants to make it a third time. Moreover, it seems very possible that he will, as he won every competition he has taken part in, since 2016.
However, he will have the likes of Chris Bumstead to go up against. Bumstead has scored second behind Ansley for the last two years, which is sure to have ignited a fire under him, competitively. Unfortunately, Bumstead revealed that he is dealing with a bicep tear, a few weeks from the Olympia. Hopefully that will not impact his performance too much, and we can see these two fighting for that top spot.
Men's Physique
Men's Physique is a bit different than the other divisions that have been mentioned thus far. Athletes here are judged more on their stage presence and muscular symmetry, than they are size or conditioning.  It is more about that "ideal physique," as opposed to their Classic Counterparts.
At the 2019 Mr. Olympia, it is likely that you will see defending champ Brandon Hendrickson bring a well rounded performance to the stage. He walked through his competition pretty easily, last year. Therefore, it will be exciting to see how he does against a new crop of opponents.
Bikini Olympia
Now it is time to turn our attention to the ladies competing at the 2019 Mr. Olympia. The Bikini Olympia works to demonstrate the physiques of these amazing women. However, it tends to focus more on a well-rounded appearance than muscularity.
Last year's queen, Angelica Texiera will be looking to capture that title yet again. However, the American will be pitted against the likes of Laura Chapados, Ashley Kaltwasser, and more. These ladies will be putting on a great show for the fans.
Fitness Olympia
The Fitness division in the Olympia is one of the more exciting female events to take place at the competition. Last year's champ, Whitney Jones, is looking to be like many of her past examples, and defend her title multiple times. She put on a strong showing last year, taking Oksana Grishina's vacant championship.
However, if she is looking to replicate that performance, she will have to make sure everything is in place. Jones will go up against the likes of Ryall Graber, who won second place last year. Therefore, this year's competition will not be an easy one.
Women's Physique
Here it is, the top of the mountain for female bodybuilders. The ladies competing here have to be sure their form is on point. Additionally, similar to the men, this event focuses on a well-rounded skillset from each of the athletes competing.
The 2018 Olympia saw Shanique Grant rise above the rest, to win the Women's Physique division. Subsequently, it is expected that she will be bringing her A-Game to the stage this year. However, she will have to go through women like Natalia Abraham Coelho and Jennifer Taylor, who finished in the top three last year, alongside Grant.
The 2019 Mr. Olympia will be an excellent show, with a big weekend of events. After all, you never know what might happen at the event. Who will rise above the competition, to establish themselves as an elite bodybuilder? Stay tuned to MiddleEasy to find out!