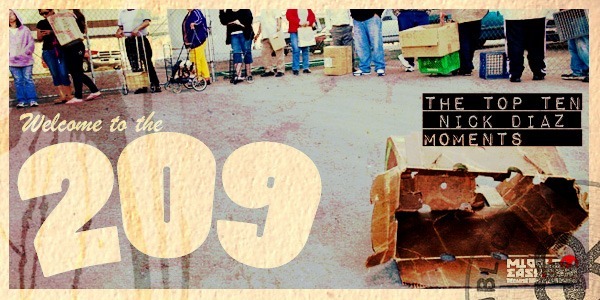 According to a report last year in Forbes Magazine, Stockton, CA was rated the most miserable city in the United States of America. Just don't tell that to the Diaz brothers. It's where they've learned the complexities of the 'mean-mug'. In fact, the hometown of Nick and Nate Diaz was also ranked the fifth most dangerous city in America with approximately 885 violent crimes per 100,000. I guess we should all thank the 209 (the area code of Stockton) for producing one of the most dominant welterweights in MMA. Nick Diaz will be the first person to claim that even Geroges St. Pierre is ducking him and with a solid seven-fight win streak (the same as GSP), it's the one fight that we all want to see but know in our hearts that it will never happen. Dana White stated that Nick Diaz won't sign with the UFC because he won't 'play the game'. We're not sure what 'game' Dana is talking about, but if it involves not representing the 209, then we completely understand.
So check out our list of the Top Ten Nick Diaz Moments only at MiddleEasy.com and remember, 'don't be scared, homie'.
A couple of years ago, Nokia launched a viral campaign to promote their 'Nokia N96' phone. The campaign featured Bruce Lee rocking his yellow jump-suit and playing table tennis with just a set of nunchucks. The video is pretty gnarly, but upon further review, it has nothing to do with cellular phones. The entire thing is a sham. It's just a video of a dude that sort of looks like Bruce Lee using nunchucks in front of a green screen. Damn these Hollywood tricksters and their bag of post-production special effects. Fortunately, there exists a man that can actually use nunchucks to smack flying objects across the room and he even taped it for all of us to witness.
Out of the 52 videos on XTERRAPlanet's official YouTube page, this video of Nick Diaz is by far the most popular. With over 28,000 views, it blows the other videos away by an average of nearly 22,000 views. Besides Nick Diaz crashing in the middle of the 2009 XTERRA World Championship Off-Road Triathlon, the most interesting thing about this clip is the song that Diaz was singing shortly before he toppled over. It almost sounds like Prince's 'Raspberry Beret'.
Takanori Gomi vs. Nick Diaz at Pride 33 in Las Vegas. The bout that Nick Diaz initially won via gogoplata in the second round, but was later changed to a 'No Contest' due to marijuana showing up in Diaz's urine in a post-fight drug test. Cesar Gracie claims that the entire drug test was one giant conspiracy by the Nevada State Athletic Commission because the commissioner 'was pathetic and wanted to make an example of Nick'. Whatever happened that night has been further complicated by Nick Diaz's claim that Gomi threw a Street Fighter 2 'hadoken' during the bout which opened up his eye and forced him to take a trip to the emergency room.
Back in the day, Frank Shamrock was Nick Diaz before Nick Diaz was Nick Diaz. He was the bad-boy of MMA until Nick Diaz showed up just to remind everyone that he is in fact from the 209. At Strikeforce's infamous 'New Era of MMA' press conference, Nick Diaz thought it would be appropriate to give Frank Shamrock the finger instead of shaking his hand before their 2009 middleweight bout. This moment will forever go down as one of the most awkward press conferences the world has ever seen.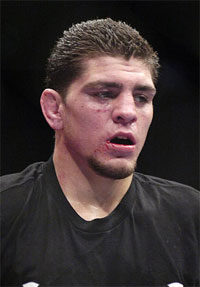 You remember how your friends told you they have a friend that knows a guy that can get marijuana? Nick Diaz probably knows that same guy. In fact, when asked a 'non-stupid' question by the LA Times, Diaz admitted that smoking weed was all 'part of his plan'.
"I'm more consistent about everything being a cannabis user. I'm happy to get loaded, hear some good music…I remain consistent. And I have an easy way to deal with [the drug tests].

"I can pass a drug test in eight days with herbal cleansers. I drink 10 pounds of water and sweat out 10 pounds of water every day. I'll be fine."
See people, that's an example of a question that's not stupid. Nick Diaz wants you to keep asking those…but just stay away from the stupid ones. It offends the 209.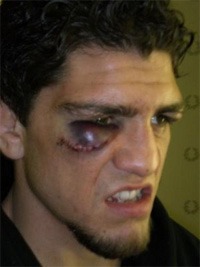 Back in 2006 when people were saying a fight between Georges St. Pierre and Diego Sanchez could be 'the biggest fight in the sport's history', the Las Vegas Review-Journal published a story of how Nick Diaz sent Diego Sanchez threatening emails that eventually led to Diaz throwing a shoe at him in a locker room in 2005.
One former opponent, Nick Diaz, badgered [Sanchez] via e-mail to sign for a fight. Once the bout was signed, Sanchez said the e-mails from Diaz grew harsher and more disrespectful.

Diaz, Sanchez said, insulted his family and questioned his manhood.

"It became very personal, but it backfired on him because it caused me to train harder than I ever trained," Sanchez said.

Sanchez said Diaz was cursing at him and threw a shoe at him in the locker room before the Sept. 5, 2005, bout at the Hard Rock.

He seethed inside, but remained calm outwardly. Diaz paid the price in the ring, as Sanchez dominated in a three-round unanimous decision.
Some of you may also remember shortly after Nick Diaz TKOd Frank Shamrock, he screamed at a Strikeforce producer to not only 'let his homie in the ring' but insisted that the guy needed to 'find out where his other shoe was at'. It escalated to a shouting match that was all caught on camera, but has somehow fallen off the face of the internet. I know it's out there, we all do. If anyone can find the 'Nick Diaz shoe scream clip', they will get a firm pat on the back from me.
That's right, before the antics that transpired at Strikforce: Nashville, Nick Diaz was a part of a larger, more disorganized brawl in Honolulu, Hawaii after being TKOd by KJ Noons due to a cut he sustained after the first round just five months earlier. That night in June, the MMA world was granted with perhaps one of the greatest catchphrases to ever be uttered out of a fighter's mouth: 'Come on, don't be scared homie'. That single phrase led to a cage-wide brawl that involved KJ Noons' dad, Nate Diaz as well as Goldberg. Nick Diaz eventually left the ring while giving KJ Noons a steady amount of middle fingers as he exited to the locker room.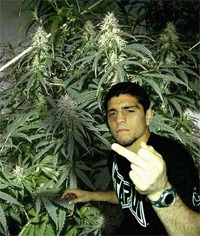 This will go down as one of the wildest things Nick Diaz did in his MMA career that no one will ever be able to see anymore. On a Strikeforce conference call last January, Scott Coker managed to get Nick Diaz and Marius Žaromskis in one metaphorical room while the media pelted Diaz with soft-ball questions like 'Who do you want to fight next?'. During the conference call, you could hear Nick Diaz sporadically engage in 'other activities' while questions were being asked to other fighters. A couple days later, Nick Diaz posted a video of what he was actually doing in the conference call and it involved him ruthlessly hitting a bong while occasionally playing with nunchucks. Within a couple hours, Nick Diaz decided to remove the video from his YouTube page for the obvious reasons, however a select few did see the clip and someone from the UG gives a brief summary of the activities that took place:
"I was lucky enough to see the vid before he made it private basically hes just sitting around listening to Zaromskis talk on the conference call he walks out of frame, and you clearly hear a nice bong rip he walks back into frame and starts playing with his nunchucks for about 5 minutes sits in front of the camera and just stares into space."
We can only hope that one day this video resurfaces on the net. It's up there on my wish list, right next to 'Global Peace' and 'Having a never ending supply of Adidas shoes'.
You're probably well aware of Nick Diaz vs. Joe Riggs II that took place entirely inside a hospital room but for the sake of sheer hilarity and redundancy, we'll tell it again. After Nick Diaz threw down with Joe Riggs at UFC 57, the two combatants decided to hold the 4th round in a Las Vegas area medical center. Below are transcribed phone interviews straight from the gurney grapplers themselves:
Riggs: We were like going to get a room, and like he is always popping off, talking smack. I go down toward his end of the hospital to find a doctor so he could watch me pee in a cup for the boxing commission, and he comes talking smack. I'm like, go back to the WEC. You're bush league. You just got beat up. That's two in a row. You're out. I was just standing around talking sh#t to him. He was like, that's it, and comes out of his room. I had my hands down. He starts coming up to me. I just never in a million years thought he'd throw a punch. He threw a right hook and hit me right in the chin. I mean it hit me right on the button. I seriously can't say that I was knocked out, but I kind of went down to a knee. Then we just fought and scrambled. I put him against the wall and just Thai clinched and started kneeing the sh#t out of him. His nose was bleeding. I kept kneeing him, and they broke us up. That's all that happened.

My hands hurt so bad. I hit him in the forehead too. I was tired of hitting him man. I had to hit him again and I was like I don't want to do it any more. He wasn't done. He wanted to go a couple of more man. He was getting his stitches. He was getting stitched up and he comes flying out there. God. Dude. That is so unprofessional. There is no way he should ever be allowed to fight back in the UFC. That's what I would say . . . I had never met him before this weekend, so I wasn't talking smack in any interviews and stuff like that. I see him down at the fights and he is like, are you going to make weight? Are you going to make weight this time? I'm like, you better f#%king hope not. We're just going back and forth. I never met him before in my life, and he starts talking crap right off the bat.
Diaz: I'm in one room at the end of the hall, and he is at the other in of the hall with a bunch of people. He walked all the way down. I don't know if they sent him over there to get something from the nurses station. You know, because I was a little bit closer to the nurses station. I don't know if they sent him over there, or if he walked over there close to my room, by my room. When he did, he walked all the way over to my room, and I was like, what the f#%k are you doing over here?

Do you want to get your ass whooped or what? I was all, I didn't even say that. I started talking sh#t to him when walked over to my room. He was talking sh#t to me too, so I wasn't going to sit there in my room. I got up out of my room, walked out of my room, and I was like, what's up bitch. He threw up his hands and started doing his little Joe Riggs dance around and sh#t. I f#%king knocked him down. Then he got up and started trying to take me down. I turned him around. I put double under-hooks because he had a single leg. I put both my arms under his. I turned him because I'm hopping on one leg. So I hopped him on one leg, and I hopped him into the little office right next to the doors. You know, where the emergency doors open? You can't get in, but you can get out unless you are an ambulance or whatever. I would have hopped him through those doors; I should have hopped him through those doors and outside, should have taken it outside. But I hopped him into this room and I started punching him in his face up against this wall in this room.

And then the f#%king security ran in and grabbed me. I stopped fighting the security and sh#t. I was like, all right, all right, all right. I'm sorry. I'm sorry because they were about to tase us or some sh#t. Seriously, they were going to tase us. The cops came in. I figured the cops would have arrested us, but they were Nick Diaz fans or whatever. One of them got an autograph. They were like, hell no I'm not arresting this guy. He's my favorite fighter. I couldn't believe it. We were in Vegas, so I figured that is the reason why. I signed some autographs for the police. He was like, get your brother man. Get your brother man. Get your brother man, please. He was like, get your brother man. He's crazy. I'm like, f#%k you. He walked over to my side of the hospital, though. I didn't walk over there to his side of the hospital and try to fight him. I stayed on my side of the hospital. I stayed in my room. Okay?
When the Strikeforce brawl went down last April, everyone proclaimed that it would be the death of Strikeforce and that it was 'an embarrassment to MMA and CBS'. Everyone on the west coast had to wait for the tape-delayed broadcast and rumors spread that the post-fight altercation was edited from the broadcast. They were wrong. In fact, the west coast feed had multiple camera angles of the fight. Within two days, CBS placed the entire brawl on their website where it still is to this day. The clip went viral and some CBS executive kicked his feet up on his overpriced, cherry-wood desk while he (or she) enjoyed every morsel of publicity the 'disaster' caused. It's all advertising. MMA is not going to go away because there was a fight after a fight.
Some people would say that we have Mayhem Miller to thank for the Strikeforce Brawl but if you watch the infamous video again, notice the first person that engages Mayhem Miller after he steps into the cage.
Shortly after the brawl happened, Nate Diaz tweeted a picture captured by Sports Illustrated that clearly shows Nick Diaz in his '209 welcoming' stance. Also, doesn't that dude at the top look like a direct decedent of Clay Guida? Yeah, I thought so too.