The middle finger is a form of currency in the 209. If arthritis ever hit Stockton, California, the entire economy would collapse. In the 209, commodities are purchased with either one middle finger, or two — depending on the value of the item. If you purchase anything in Stockton, California that's more than two middle fingers, people will automatically assume your first name is 'Goro' and you're defending the Netherrealms from Stockton. If the economy did collapse in the 209, there would be no 'Great Depression' — only a greater depression. The term 'Dust Bowl' would also have an entirely new meaning.
What we're trying to tell you is things operate just a little bit differently in the hometown of Nick and Nate Diaz. Therefore, the middle finger shouldn't be received as an insult. Not at all. More along the lines of a cautionary measure to denote 'whatever you just tried, didn't work.' By that definition, my car gave me the middle finger when I tried to start it up this morning.
Check out the Top Ten Greatest Diaz Brothers Middle Fingers in MMA History, only at MiddleEasy.com.
How tragic is it that in LayzieTheSavage's greatest picture with the Diaz brothers, his face is completely covered up by a middle finger. The middle finger giveth, and the middle finger taketh away. You better thank your lucky stars no one talks like that anymore — because that's just ridiculous. I could never imagine living in a universe in which Nick Diaz trash talks in Old English. It makes my head itch just thinking about it.
Most of you wish you had a picture like this in your personal collection. LayzieTheSavage and the Diaz brothers have some mysterious 209 bond that no one can fully understand. There's no other person on this planet that can enable a picture like this to be taken. From one amazing picture to another, we believe this moment was the turning point for LayzieTheSavage and his unprecedented coverage of the Diaz brothers. Check out this Diaz brothers middle finger moment coming in at number ten.
Whatever activity you engage in today, just please don't forget that Elite XC actually existed. The promotion brought MMA to thousands of casual fans across the country through their primetime CBS platform. While YouTube may be credited for giving birth to Kimbo Slice, Elite XC undoubtedly marketed the street fighter to such an incredibly high point that his fight against James Thompson was the most watched MMA event in history until FOX aired Cain Velasquez vs. Junior dos Santos in 2011.
In Nick Diaz's final fight with the promotion, he took on Thomas Denny on the televised portion of the card. Both fighters made it blatantly apparent the fight would be nothing less than a playground scrap fest — and it lived up to the hype.
After trading strikes for the entire duration of the bout, Nick Diaz outscrapped Denny Thomas and watched as his body literally collapsed on the Elite XC mat. To celebrate, Nick gave a resounding double middle fingers to the crowd in Stockton, California. They understood the sentiment and praised the fellow 209er with a standing ovation.
If you're interested in the video of the bout, notice the cameras actually cut away from Nick just as he was saluting the crowd in the Stockton Arena with double middle fingers.
We know the Diaz brothers smoke the 'ganja' because they make it widely apparent that they do. We're not exposing any ground breaking news here. There's been a synonymous relationship with the Diaz brothers and medical marijuana for years now. I would even venture to say that Nate and Nick Diaz have a fascination with non-medical marijuana too. Like Joe Rogan and Eddie Bravo, the Diaz brothers would not deny they occasionally take part in the herbal sacrament. Therefore, this picture is only evidence of their appreciation of marijuana. Check out Nate Diaz giving the middle finger, along with Nick Diaz on the far right in what appears to be the backseat of a car.
Remember that one time when you thought Shinya Aoki was some playful, Japanese Carebear hybrid that always wore silly seizure-inducing pants and came out to fun, whimsical music? Remember that one time when you fronted like you knew what 'whimsical' meant until you Googled it like five seconds ago? Well all those preconceived notions of what Shinya Aoki was came crashing down when he broke Hirota's arm at Dynamite!! 2009 and repeatedly gave him the finger and then proceeded to fly around the ring like he just got an extra 30 minutes in elementary school recess. Dude is the alpha male, the pants are just a decoy.
It's wildly known that Shinya Aoki has been a massive Nick Diaz fan since the early days of Elite XC. Why else would he rock that cool limited-edition TwoThree shirt.
So we're suggesting Shinya Aoki was actually 'possessed' by the soul of Nick Diaz on that night in the Saitama Super Arena back in 2009. After the fight, Aoki told the press that he should apologize for breaking Hirota's arm and his post-fight antics — but he doesn't.
"After my fight, I was excited, and so I did something rude that I should apologize for. But that showed just how excited I was over that fight."

"When I had his arm behind his back, I could feel it popping. I thought, 'Well, this guy's pride just won't let him tap, will it?' So without hesitation, I broke it. I heard it break, and I thought, 'Ah, there, I just broke it.' I was stopped afterward, but even if I hadn't been, continuing to break it more would have been fine by me."

"Dream got a solid win [with my victory over Hirota], so that was good, but we finished off Sengoku. Although Sengoku was already finished from the very beginning."

"When Sasahara tells me to go and do something, I do it, and that's how I live my life. If Sasahara tells me to go to Strikeforce and take them out or 'Go and kill that guy,' I'm going to do it. Even if he tells me to go take out Tanigawa, I'd do that too."
Like him or hate him, Shinya Aoki can still break your arm. Check out the disgusting arm-break in all of its glory below, along with the middle finger antics.
LayzieTheSavage informed me that the middle finger Nick Diaz gave when he walked out for his UFC 59 fight against Sean Sherk was the 'turning point.' Layzie didn't elaborate on this, but he expects me to fill you in on what he means. Well the jokes on Layzie, I'm not even going to talk about the Sean Sherk walkout. I'll use this time to show you a really cool Nick Diaz picture we published on our official Tumblr page. It's from the Pride FC videogame that was released on Playstation 2. See, Pride never die, homie.
The only reason I vividly remember this fight is because the night before this match went down, two thieves stole all of my bags as I slept inside Gatwick Airport in London, England. I had all of my belongings on a trolley and I stupidly wanted to 'rest my eyes' for a few minutes. An hour later, my bags were jacked, and all I had to look towards in life was a Nate Diaz fight the next day. It was rough returning to the US without a single possession, but this triangle sub over Kurt Pellegrino at UFC Fight Night: Florian vs. Lauzon quickly got my mind off my entire world collapsing.
Although you can't see it in the .gif, when Nate sinks in the triangle and extends his hands, he gives a double middle finger just before he flexes for the audience. Sure we could show you the actual fight, but we're not trying to jump into a ZUFFA lawsuit, folks.
Back in the day, Frank Shamrock was Nick Diaz before Nick Diaz was Nick Diaz. He was the bad-boy of MMA until Nick Diaz showed up just to remind everyone that he is in fact from the 209. At Strikeforce's infamous 'New Era of MMA' press conference, Nick Diaz thought it would be appropriate to give Frank Shamrock the finger instead of shaking his hand before their 2009 middleweight bout. This moment will forever go down as one of the most awkward press conferences the world has ever seen.
We've also provided a .gif of the moment so you can see Frank Shamrock's weird and ill-placed response to a Nick Diaz middle finger. It wasn't offensive, but just weird that Frank Shamrock grabbed his crotch in retaliation. I can't be the only one that found that somewhat bizarre.

What can be said about Nick Diaz that hasn't already been said about the kid who used to steal your lunch money in third grade? If you're a guy that likes to mean mug the peeling off an orange and is an obvious master of nunchuks then Nick Diaz is the perfect role-model for you. However, if you're looking for someone who doesn't drop the F-bomb four times in a course of nine seconds, Nick Diaz may not be the guy you want to emulate your life after.
Back in July 2010, HDNet's Michael Schiavello interviewed Mayhem Miller and brushed on the topic of Nick Diaz. Mayhem had some choice words for the 209er, which warranted this in-car vlog from Nick Diaz himself. After it was published, Nick removed it from YouTube, but fortunately we saved the clip and re-published it on our YouTube page. In retrospect, I'm pretty bummed that 'We were talking about chocolate when you made fun of me' never made it to the land of internet memes. Check out the double-middle finger opener from Nick Diaz in this clip.
Sure we saw the introduction of Alistair Overeem to the UFC and the retirement of Brock Lesnar from the sport of MMA. However, we must not forget that Nate Diaz gave Cowboy Cerrone a double middle finger just before the third round at UFC 141. Out performing Donald Cerrone by over 150 strikes was just not enough to fulfill whatever void resides deep within the Stockton native. It's the equivalent of dominating a six-pack of Heineken and then systematically breaking every bottle against a brick wall and igniting the remains as a sign of sheer disrespect. Press row was set up just behind Cerrone, but I managed to catch Nate Diaz initially give Cerrone the middle finger and then switch to a double middle finger solely because he didn't feel like one hand had the ability to express how much he loathed Cerrone. Just really think about that. The psychological process that went into that is phenomenally complex. The duration he held up both hands towards Cerrone was much longer than what you guys saw on the UFC 141 PPV. As you can see in this .gif by ZombieProphet, Nate Diaz gives Cowboy the finger and then the camera cuts to Cerrone acknowledging it. While Cerrone is nodding his head, Nate Diaz is still giving him the double finger and became nearly motionless at this point. The crowd inside the MGM Garden Arena exploded and then Herb Dean signaled for the start of the final round.
You remember how your friends told you they have a friend that knows a guy that can get marijuana? Nick Diaz probably knows that same guy. Nick Diaz openly admits that he smokes weed and that fact alone should automatically place him in your 'List of fighters I want to see Ice Age 3 with stoned'. He actually says that smoking weed is all 'part of his plan' and judging by his MMA record, the green leafy substance seems to be working.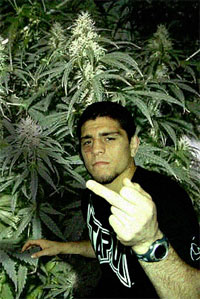 However, the previous statement brings us to the crux of the argument: Is marijuana a performance enhancing drug? Surely the Nevada State Athletic Commission believed it to be an enhancement when they stripped Nick Diaz of one of the slickest submissions in arguably the greatest MMA fight in all time when he took on a very game Takanori Gomi at Pride 33. After sinking in only the second successful gogoplata submission in Pride FC history, the NSAC changed the fight to a 'No Contest' and suspended Diaz for six months with a 20% purse deduction after he tested positive for marijuana. The threshold for THC count within a fighter is 150 on some incredibly complex scale that we fully don't understand. Apparently Nick Diaz's THC levels registered at 175, which seems to be 'off the charts' based on the NSAC's initial response.
A couple years after the Gomi ordeal, Nick Diaz gave the proverbial middle finger to the Nevada State Athletic Commission and anti-marijuana legislation by publicizing his marijuana usage within an interview from the LA Times.
"I'm more consistent about everything being a cannabis user. I'm happy to get loaded, hear some good music . . . I remain consistent. And I have an easy way to deal with [the drug tests].

"I can pass a drug test in eight days with herbal cleansers. I drink 10 pounds of water and sweat out 10 pounds of water every day. I'll be fine."
Keith Kizer's justification as to why marijuana is a banned substance stems from the belief that a fighter is actually putting their body in danger by indulging in the barbiturate. The NSAC believes that if a fighter is under the influence of marijuana he/she will perform under their athletic standard, which consequently places them in danger. It's sort of a reach for an explanation, however to ensure that athletes are performing at the top of their game, then the NSAC should make every fighter have mandatory training days up until their fight. Both actions work on the same principle of the NSAC playing the role of 'coach' instead of an athletic governing body.
Earlier this month, the Nevada State Athletic Commission issued a press release stating Nick Diaz tested positive for 'marijuana metabolites' leading up to UFC 143. The ruling prevented UFC from assembling a very lucrative (and justifiable) rematch with Carlos Condit at some point in 2012. Days after the ruling, Dana White publicly criticized the commission, stating the only consistency with the NSAC is their inconsistency.
It all comes down our culture's demonization of marijuana and the rise of pharmaceutical giants that have control over our political system. Even though I easily could write a few paragraphs that illustrate the hypocrisy in America's medically psychotic 'War on Drugs,' I won't take up your time. Instead, I will say the only method in which we can fix our political system is to take money out of politics. That's it.
After the NSAC Nick Diaz ruling, I think my grandmother said it best in a text message she sent to me:
"Sorry to hear about Nick Dias
I hope his mma days aren't over.
What B.S. over a little pot.
What's next, cerveza."