Over the years, MMA has seen some incredibly beautiful women take the role of a Ring Girl in various promotions. Today we take a look at those who have stood out, purely for their stunning looks.
It is impossible to watch an MMA event without noticing the beautiful Ring Girls who make laps around the cage. These ladies mark the start of each round, similar to their counterparts in boxing. Just as with the sweet science, these ladies play a noticable and iconic role in the sport of MMA.
Over the years there have been some ladies who have stood out immensely, with their stunning physiques and amazing looks. These are the women who have captured the attention of everyone watching, leaving them excited to see the next round. Today we celebrate those women who have surpassed the rest, and have become iconic for their unbelievable looks.
This is a breakdown of the top 15 most beautiful Ring Girls in MMA history.
15. Chrissy Blair
Standing at 5 foot 7 inches tall and weighing 107lb, Chrissy Blair is one of the most recognizable Ring Girls of all time. Making her debut with the UFC in 2013, she came in with experience from other MMA promotions. This has made her a mainstay in the sport.
However Blair is more than just a pretty face. She also has a degree in Graphic Design and Fine Arts, as well as a background in marketing. This, combined with the amazing looks that she displays at UFC events, has made her popular beyond her efforts in the sport.
14. Chandella Powell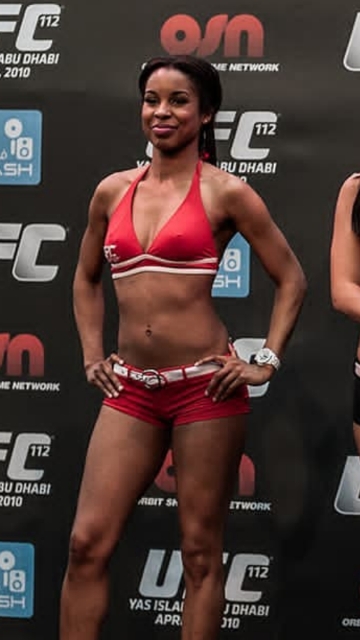 Noted for being one of the few African American Ring Girls in the UFC, Chandella Powell is simply drop dead gorgeous. She joined the UFC following work as a Playboy bunny, where she met Arianny Celeste. This would keep this role until 2012, when she mysteriously departed from the company.
It is believed that the reason for her unceremonious departure from the UFC stems from nude photos that Powell took and published under an alias. It is unclear whether or not this is actually the case, but she did go on to have a child shortly after she stopped working for the UFC. Either way, there can be no denying how stunning she was when she was with the company.
13. Brittany Palmer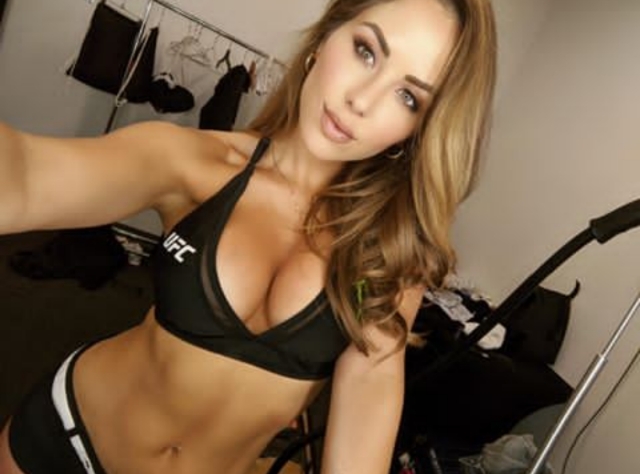 Finding a love for the travel and fans associated with working as an Ring Girl, Brittany Palmer has been a staple in the UFC for years. She is a beautiful lady who has worked hard to get to where she is. Beginning her run in 2011 at UFC 127, she has been cageside at some of the biggest cards in the sport's history.
In addition to her career as a ring girl, Brittany has also been a very successful model. Some of the magazines she has been on the cover of include C-Heads Magazine, Discover Hollywood Magazine, Complex Magazine, Most Magazine, AMB Magazine, and Sugarcane Magazine. All of this publicity is a direct result of her crazy work ethic, just as much as her beautiful appearance.
12. Rachelle Leah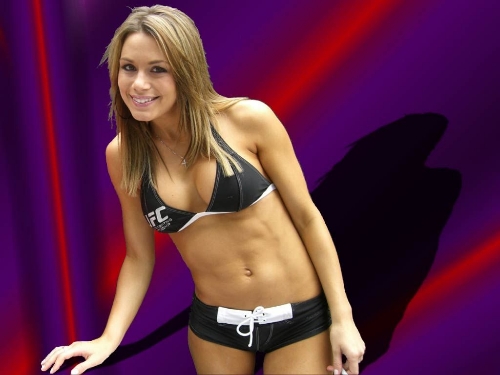 Standing at 5 foot 7 inches, and weighing 115lb, Rachelle Leah is a longtime staple among the UFC's Ring Girls. She started off as a ring girl for boxing, before she was noticed by coach James Pena, who asked her to work with the UFC. Her first show would be UFC 48, in 2006, and she would stay with the company for an extremely long time.
Howe we Leah's modeling career spanned much longer than her UFC one. Beginning as a teenager, she has been able to use her gorgeous looks to keep busy long past her time holding round cards is up. In addition to a handful of tv appearances, she has also found herself working for Men's Fitness, AXL Magazine, 944 Magazine, and Muscle & Fitness.
11. Jhenny Andrade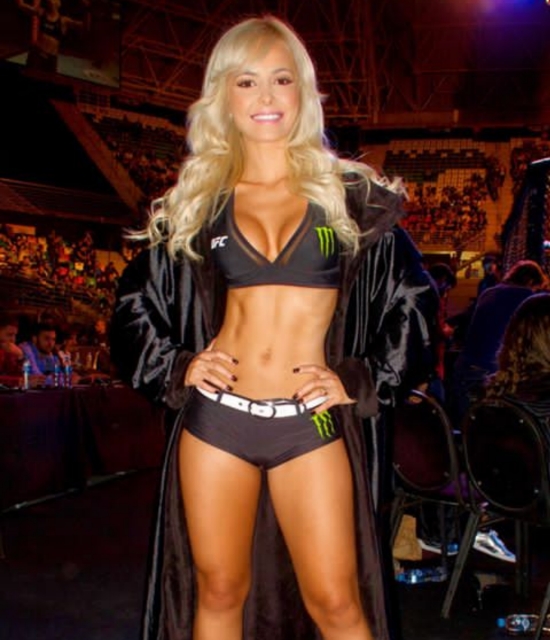 The career of Jhenny Andrade began at the age of six, when she started working in roles on Brazilian television. From there she was able to use her stunning looks in various modeling gigs, and lingerie shoots. Not only that, but she has found success with her writing skills, having a column in a magazine popular in Sao Paulo for over six years.
Eventually the UFC would catch wind of the modeling talents Jhenny possesses, and they would bring her on to the ranks of their Ring Girls. Her popularity in the sport would balloon almost immediately, with fans being attracted to her stunning looks. So she would work with the organization for many years, learning to love the action from the fights, and interactions with fans.
10. Lee Ji Na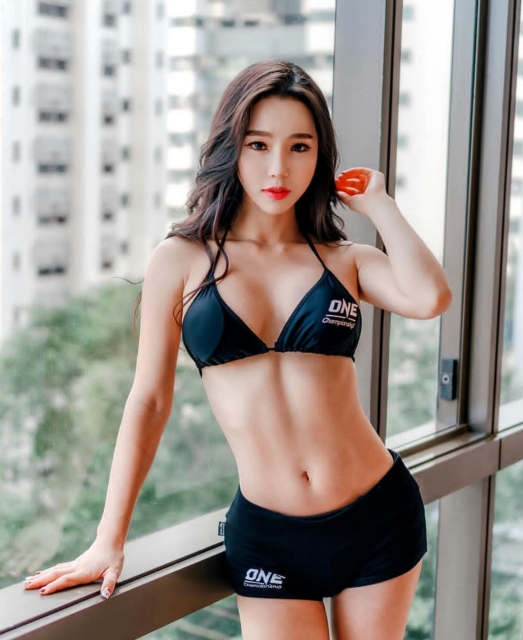 Lee Ji Na is a popular model who lives in Seoul, South Korea, weighing around 100 lbs, and she is 5 foot 4 inches tall. Ji Na started her modeling career with a victory in the Maxim bikini contest, and then she appeared in multiple men's magazines and motor events all-around Asia. Eventually she would begin working as a Ring Girl for ONE Championships, and immediately became a mainstay in the organization.
However it is more than just her stunning smile and great personality that has endeared Ji Na to fans. As her degrees in Accounting, Law, and Economics show, she is also extremely intelligent. All things considered, she seems to have the whole package.
9. Arianny Celeste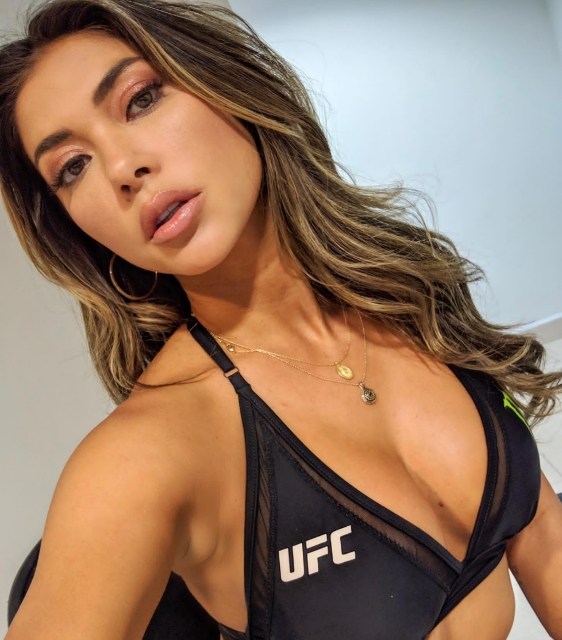 By far the most recognizable of the UFC's Ring Girls, Arianny Celeste has been working for the promotion since 2006. For most people, she is the epitome of what the job represents, largely due to her extended tenure sitting cageside, and working the biggest events in the sports history. This has made her an extremely well known model, both in and outside the sport.
Alongside her numerous appearances at UFC events, Celeste has had modeling gigs for several companies. Most notably, she has had a stint working as a Playboy model. The sheer longevity she has spent in this position is a testiment to just how beautiful she is, even as time goes on.
8. Eun Ji Ye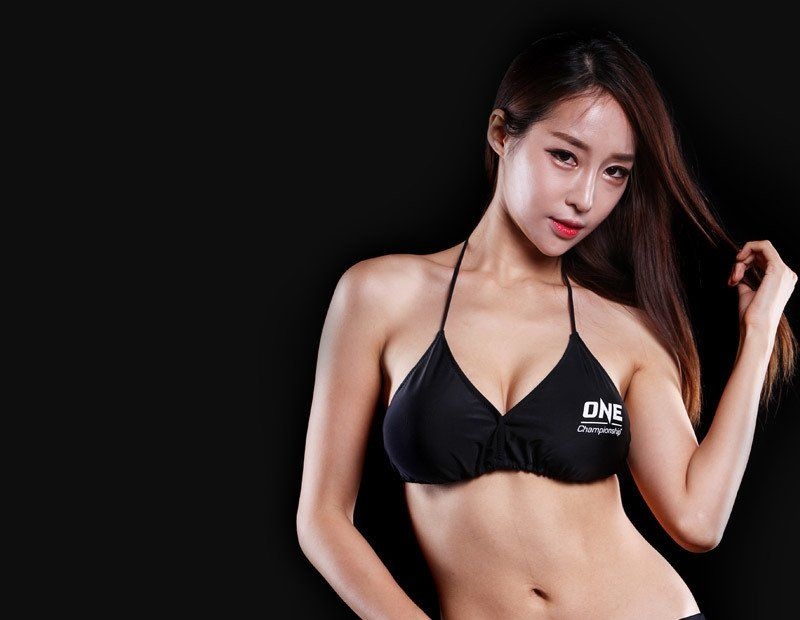 As far as the Ring Girls in ONE Championships are concerned, Eun Ji Ye is likely the most recognizable. Known primarily for her warm smile and great physique, she has also gained a reputation for her sweet personality. She has been with the promotion for years, and is likely the most beautiful model the company employs.
In addition to her work inside combat sports, Hi Ye has also been done work for motocross and racing events. Moreover, her modeling career has spanned into the likes of working with brands such as Samsung, Lotte, and LG. All in all, she is one of the best exports from Asia.
7. Luciana Andrade
Looking at the experience that Luciana Andrade has as a Ring Girl and model, it could easily be forgotten that she could have been a lawyer. However that is the case, as the Curitiba native has earned her law degree, spending a decade working in the field. That has not stopped her from still gaining recognition for her impeccable physique.
In addition to her work as a model, Luciana also likes to help people with their own fitness. She is often sharing tips with people on exercise and nutrition. Even outside of her time with the UFC, she has become a treasured figure, due to her positive outlook on life, and being beautiful both inside and out.
6. Summer Daniels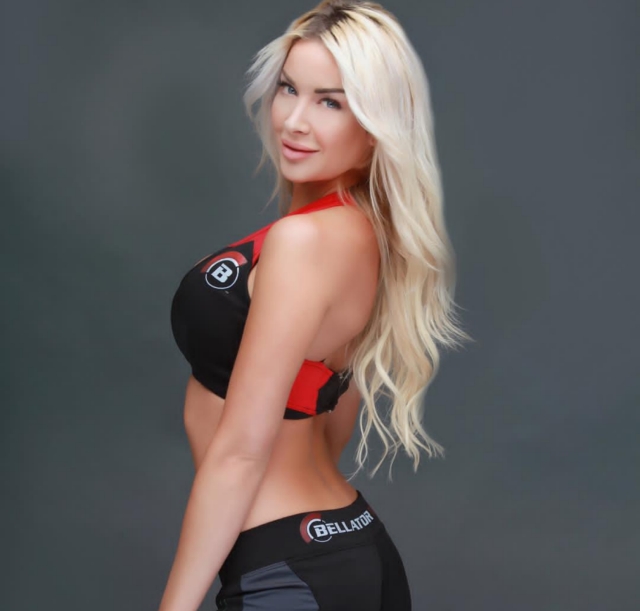 Seemingly never in a bad mood, Summer Daniels is easily the most popular of Bellator's Ring Girls. However she got her start in this line of work by working for such promotions as Elite XC and Strikeforce. Not only that, but she has always lent her stunning looks to some high profile boxing matches over the years.
In addition to her modeling career, Summer has interest in music and singing. Furthermore, she has used her talents to earn multiple acting and hosting roles, representing brands such as Racer X, Malibu Times, Hustler, Monster Energy, Night Guide, and Transworld Motocross. All in all, Ms. Daniels is unbelievably talented and gorgeous.
5. Carly Baker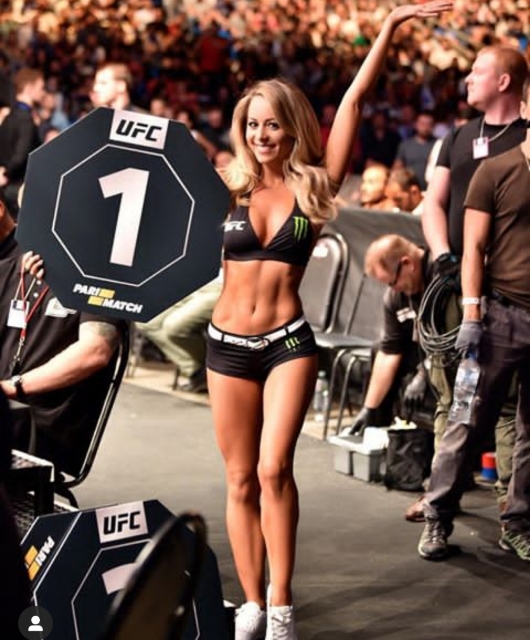 The list of accolades that Great Britain's Carly Baker have accumulated over the years could honestly be a list of their own. Not only has she been cageside as a Ring Girl for some of the biggest event in UFC history, but she has also displayed her glorious looks in television spots for Nickelodeon, Disney, and MTV. Her beautiful appearance has been the cause of her global recognition for years.
Carly's modeling career began at the young age of 14. However things took off after she started singing, which led to her aforementioned tv spots, as well as many commercial spots for PlayStation, Sony, Guitar Hero, and much more. Her pretty face has been the center of attention in a lot of different environments, during her immensely successful career.
4. Camila Oliveria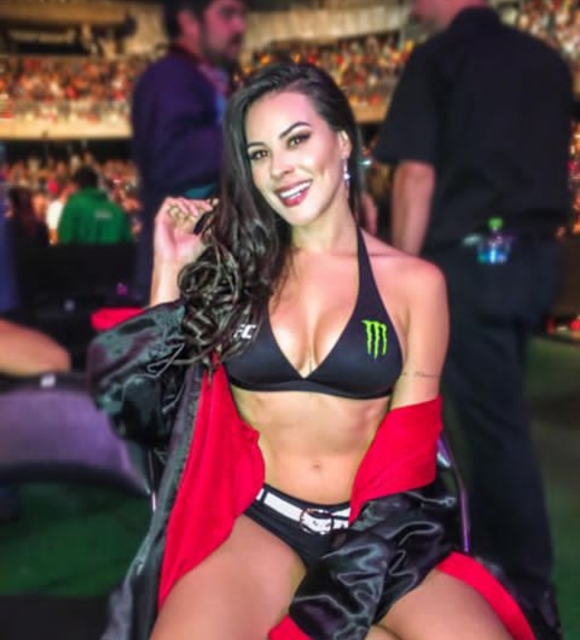 Starting her career with the UFC in 2013, Camila Oliveria is easily one of the most beautiful Ring Girls in MMA history. However she has quickly become a die-hard fan of the sport too, even crying when Anderson Silva lost to Chris Weidman. She is a delight to have making laps around the Octagon.
Beginning her career as a model at the age of 16, Camila has been featured in commercials for several big brands. Recent rumors have suggested that she could be in a relationship with UFC strawweight contender Claudia Gadelha. Nevertheless there can be no denying the gorgeous looks of this young lady.
3. Vanessa Hanson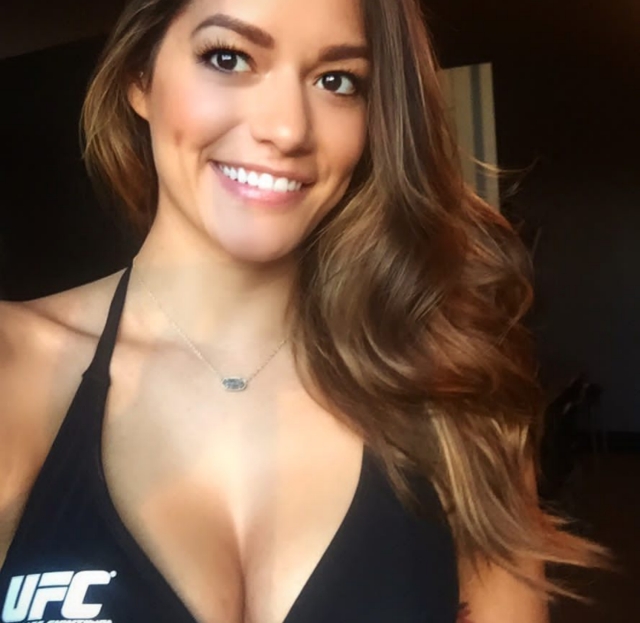 California native Vanessa Hanson joined the UFC's rank of Octagon Girls after a guest appearance in 2011. Her following immediately grew, as fans were drawn to her charming good looks. However they were quick to realize there was more to her than this.
When Vanessa was in college she was initially interested in psychology, and wanting a career in that field. That would change however, when she saw an ad for a surfing model. Shortly thereafter she was picked up by the UFC, and she has been one of the most recognizable people in MMA ever since.
2. Brooke Lynette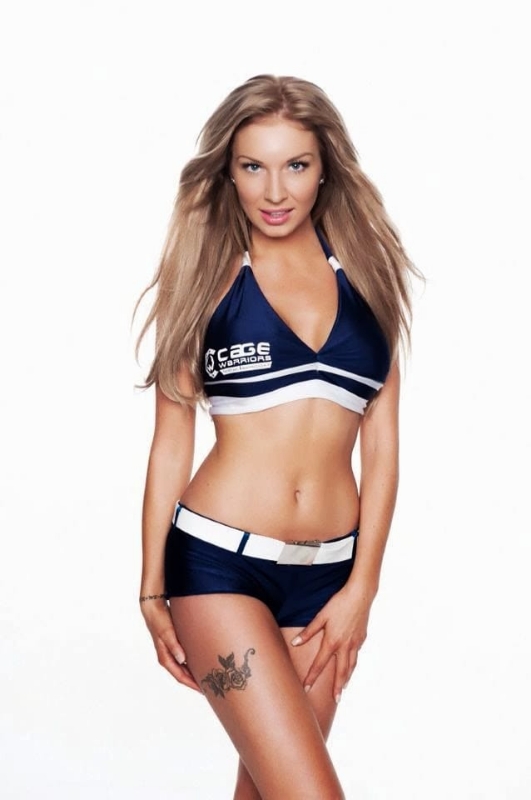 Beginning her career as a Ring Girl by working for Cage Warriors in 2011, Brooke Lynette is simply stunning. Therefore it came as no surprise that the promotion made her their lead lady, and one of the faces of the organization. Although her mainstream popularity may not be as well known as some of the others on this list, she is extremely well known in her homeland of Europe.
In addition to her work in MMA, Brooke is reportedly close friends with UFC superstar Conor McGregor. She has been modeling for many years, but is also a savvy businesswoman. She runs her own company, while doing modeling work with lingerie along the way.
1. Mercedes Terrell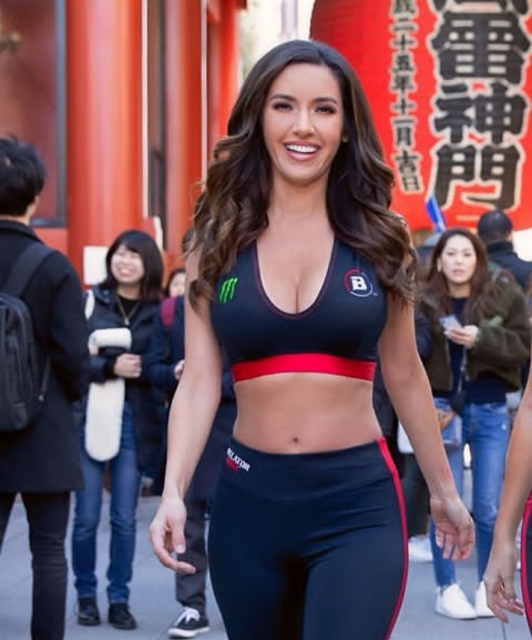 Bellator Ring Girl Mercedes Terrell is easily the most popular entry on our list, in terms of social media followers. As much as this may be because of her wonderful, down to earth personality, people are also clearly drawn to her phenomenal appearance. This has led her to countless modeling gigs over the years.
Initially, Mercedes dreamt of being an artist, but immediately found joy upon trying her hand at modeling. Now, working for Bellator, she says that she loves feeling like a rockstar and traveling the world. She is undeniable one of the most attractive Ring Girls in MMA history.
What did you think of our list? Were there any Ring Girls that we missed?