I've got to admit the idea of hopping on a Greyhound bus and traveling to Atlantic City has never been on my top ten list of things I'm really interested in doing before I die. Actually it has never even been on my list of things to ever contemplate doing in my life. I would have probably thrown going to Atlantic City on my list of things I'll be happy to never do. Fortunately my good buddy Bauzen used some jedi mind trickery and dangled some Catvonc style kryptonite in front of my face and convinced me to cash in some travel vouchers and head to the Jersey shore for the weekend. I say fortunately because had Bauzen not exploited my weakness I might not have gone out of my way to attend what in my opinion was one of the most well run, classiest and amazing combat sports events I've ever attended.
The show that Take On Productions in association with MSG Sports puts on, is a well oiled machine and I can only hope they continue to grow. I would love to see their show expand throughout the country. From the local favorite talented ring announcer Larry Legend, to MuayThaiIslife.com owner Eric Rivera handling the fight commentary, to the promotors and fighters-this show is the epitome of what a professional and entertaining show should be. I know from personal experience, we've got nothing that even comes close to their level of production quality here in Atlanta. Take On's event truly made me fall deeper in lust with the sport of Muay Thai and if you ever have the opportunity to go to one of their shows I say you had better jump on it. I'm not even mad that I somehow lost an earring, a ring, a phone charger and a flat iron in the post fight celebrations. I'll blame all of that on sharing too many watermelon rock rancher drinks with Bauzen's girlfriend.
The West Coast has always boasted about having the creme de la creme of Muay Thai fighters on American soil but I think the gyms on the East Coast are ready to give them a run for their money. Gyms like Sitan NY, Phil Nurse's The Wat, Cool Hearts from Philly and Boston Muay Thai just to name a few-have trained and assembled crews of skilled and exciting fighters that combat sport junkies need to start paying close attention to. From the ammy fights to the pro debuts and full rules title fights-there was not one moment where I felt the action was lagging. Here's some of the highlights of the night:
Amateur fight Rich Brattole of Weapons 9/Strategic Combat Gym vs Tim Scmeier of Sitan NY
These guys were both obviously not used to wearing headgear, which is a New Jersey athletic commission rule and not a requirement where the fighters normally fight in their home state of NY, but despite that they went to war with each other trading blows back and forth for the entire 3 round contest.
Amateur fight Caitlyn Dempsey of Impact Martial Arts vs Christina Rodriguez of Girl Fight MMA NJ
The ladies brought the first blood of the evening and the first extremely loud crowd response of the night. Caitlyn Dempsey won her debut fight and the crowd erupted in excitement.
Amateur fight Tianna Urman of The Wat vs Prarie Ruglio of Girl Fight MMA
Prarie came at Tianna Urman raging with unrelenting fists for one full minute before her right hand shut Urman down for good. Girl Fight MMA fans in the crowd went absolutely bonkers and let's be honest, Bauzen had a momentary fear of being trampelled by a mass of angry lesbians.
Main event Justin Greskiewicz of Cool Hearts Muay Thai Philly vs Eddie Martinez of Sitan Gym NY
Another really great fight featuring one of the Sitan gym fighters Eddie Martinez versus the always fun to watch purple haired Justin Greskiewicz. Justin took full advantage of the NJ elbow allowance and used those along with some kicks and punching combos to take the very close split decision win over Eddie Martinez.
Pro fight Jay Matias of Sitan Gym NY vs Jake Mainini of Boston Muay Thai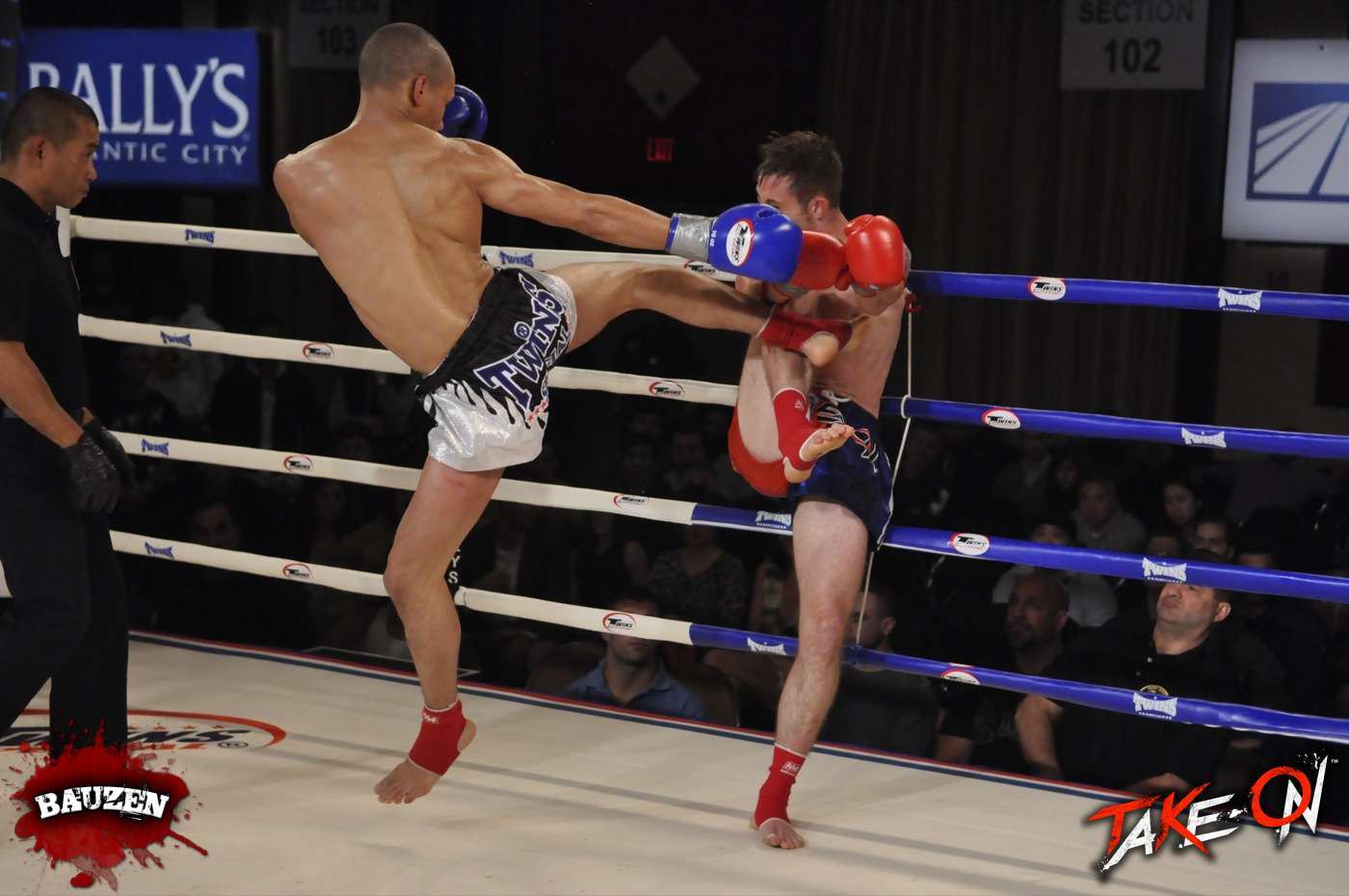 Saving the best for last here-this was the pro debut for both of these fighters and most of the media in attendance agree it was hands down the fight of the night. These two stole the show and put on an amazing display of technical and precise Muay Thai from round one all the way to the end of the fifth round and never once looked fatigued. Jay Matias gave the crowd a show that they will talk about for years afterwards with his arsenal of kicks and unrelenting combinations that ultimately won him the unanimous decision over an also very skilled Mainini. Here's a small video clip from this fan favorite fight to help fill your hungry Muay Thai bellies.
I know right now you are sitting there dying to watch the rest of that fight. As a matter of fact, I'm certain you want to watch the whole event and you are now angrily axe kicking your little sister into your mom's plastic covered couch because you missed out on all the action this weekend. Well calm down and stop being an angry bully. You can go check out the whole event on GFL.tv right now. The full event results on TakeOnProductions.com and don't forget to follow MSGSportsNYC and TakeOn Muay Thai on Twitter and like them on Facebook for all the information you are going to need about their upcoming shows.