MMA is relatively unpredictable, and picking fights can be a subjective exercise. But maybe that's an illusion. Maybe MMA isn't the problem, and we're just not using all of the available information. That changes right now. Using advanced morphology technology, combined with cutting-edge personality analysis (a free iPhone app called FaceFusion), fight results have never been more clear. Book your ticket to Vegas. Shit just got surreal.
Roy Nelson vs Mark Hunt
What do you get when you combine feared strikers Mark Hunt and Roy Nelson? An unimposing man-lion who has entered the witness protection program in an Amish community. A secret Lion King crafting hand-built cherry wood coffee tables by candlelight. But don't let Royben Huntersheim fool you. After all, at least half of him once ruled the PRIDE.
Expect the fight to start gently, like two men easing down a country road on horseback. But you can't domesticate the King of the Jungle. It will end violently, when one of them realizes that the other looks a lot like a nicely fattened gazelle.
Result: Hunt via trot-off KO in R1.
Bisping vs Le
Yes, Michael Bisping is brash. But on a superficial level, he is a well-tailored English gentleman. Cung Le is his Vietnamese-American counterpart. A Prada-suited throwback to the Lê Dynasty. Both are regal while ringside. But combine them, and you have a deranged vagrant on a stained park bench. Absconded from his 72-hour hold at a psychiatric hospital, he plays solo checkers with an unopened bottle of antipsychotic medication.
Expect this bipolar fight to be unpredictable and dangerous. Manic and depressive. It will start slow, change personalities mid-round, then peel off the face of a dead prostitute before being stopped by the authorities after a disturbing TKO.
Result: a confused audience boos, then cheers maniacally as a weirdly unconventional punch sends Bisping's eye into the lap of a hot dog vendor in R3.
Cain vs. Werdum

Fabricio Werdum and Cain Velasquez are not remarkably handsome men in their own rights. But combine them, and you have created an Anti-Frankenstein, the most attractive human being in the sport of Mixed Martial Arts. A manufactured creature with a slightly ascending eyebrow, a confident jawline, and warm eyes that invite you to the most classically romantic battle in UFC history.
Joe Silva has nailed this one. Because these men are less than the perfect sum of their flawless parts. Their styles will clash harmoniously, like Asian fusion cooking, producing the most visually appealing fight of the year. It will be like visiting the ballet for the first time. And actually enjoying it.
Result: an abnormally satisfying draw after five rounds of the most beautifully choreographed fighting this side of Crouching Tiger Hidden Dragon.
Jones vs Cormier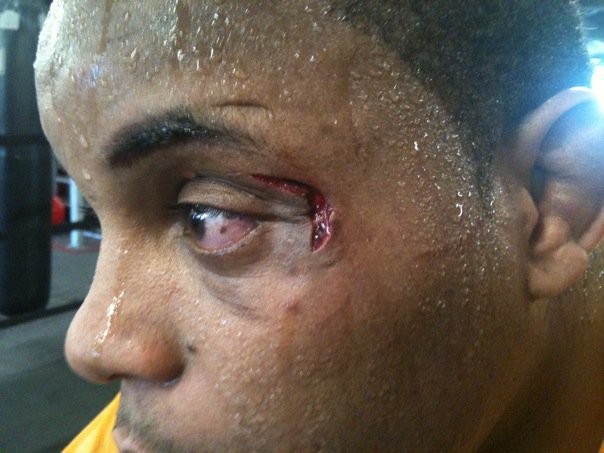 Take a look at this combination of Jon Jones and Daniel Cormier and I bet you'll say, "Why, what a nice picture of Cormier. Looks like he's thinned down quite a bit." That's because Daniel Cormier is dominating this morph like a leather-suited Genki Sudo at a submissive Japanophile convention. He's completely absorbed Jon's face into his own. And assuming the existence of a spirit-face connection, he's absorbed that as well.
Despite a recent knee injury, this one is all Cormier. You'll forget that Jon Jones exists, and you'll revel at the mystery that Cormier appears to be fighting himself the entire time. He will mount Jones until he disappears, absorbing the champion through osmosis.
Result: Daniel Cormier via soul-annihilating ground and pound in R2.
Anderson vs Diaz

"The morphed face of Diaz-Anderson is a man who is spiritually exhausted. His eyes have seen some kind of genocidal horror. He would weep, but his tears are bunched up against the surface tension created by two thousand years of resigned wisdom over the futility of human existence.
If this fight even happens, expect a chronically depressed Anderson to circle morbidly as he reflects on his sad losses to Weidman. Like a wounded Vietnam Veteran after the Battle of Khe Sanh. Meanwhile, a stoned and lethargic Diaz will taunt him, but his heart won't be in it. The whole thing just seems so meaningless.
Result: The fight is canceled before it happens. Like dismal clockwork, Anderson is re-injured during training. It is a testament to the inevitability of worldly disappointment. Or Diaz doesn't show up. Why would he? It's not like it will make a difference in the grand scheme of things."