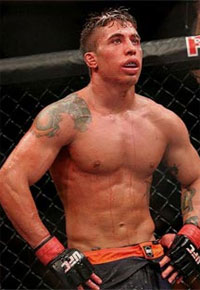 The last time we talked to War Machine, dude broke the news that he abandoned his MMA career to pursue a lifestyle of hooking up with incredibly hot chicks and get paid for it. We couldn't really argue with him. Just one look at Riley Steele and it's easy to deter whatever career path you've chosen in your junior high school assessment exam. A few porn scenes and a couple of warrants later, War Machine has decided to leave the porn business for good and focus on his MMA career with hopes of returning to the UFC. Late last night, we interviewed War Machine just to see what sparked the sudden change.
I never said I was leaving MMA all together. I always said I was going to fight again. Dude, I have like two court cases in Vegas right now. I'm on probation in San Diego. Then I got in that fight at that porn party, I almost caught a case for that.

I'm a wild man bro. I live my life recklessly because I never really cared to see the future. I literally thought that once I got to like 45-50 years old, I would just kill myself. That's why I've always lived the way I lived.

I have a fiance now, me and my partner are going to open up a gym. I have all these things that are lining up and being a wild man is not good for anything. I've done enough stuff, I've done everything there is to do. It's time for me to [expletive] play by the rules. I think if I don't straighten up, I'm just going to end up in jail. It's doing me no good to keep bucking the system because I can't change things. It sounds like I'm a quitter but I'm just being smart. I have to open this gym, get married, calm down and start training.
The porn party brawl. It's the stuff MMA legends are made of. Last November, the news broke that War Machine was in 'Kill Mode' at a porn party. After the incident, Las Vegas police considered War Machine an 'armed and dangerous' fugitive. War Machine tells us exactly what went down that Fall night:
My porn agent was pissed off. He thinks he's a mafia guy. Everyone pays him in cash, he doesn't take checks. One day I said 'I'll pay you with a check for your commission', I was just trying to do things legit. He didn't like that. So we were at the party, everyone was having fun and him and a bunch of guys tried to punk me. Like eight or nine guys surrounded me. I was trying to talk my way out. Some guy pushed me from the left side, I turned around and stuck him. Then I started fighting, everyone started surrounding me and I just fought my way out of it. I fought my way to my car, I got out of there but three guys went to the hospital. The guys never pressed charges.

That kind of screwed up my porn career because my agent is like one of the biggest agents there is and he tried to make everyone not shoot me. So I went from doing like five scenes a week to like two scenes a month.
War Machine also told us he's kept a close relationship with Dana White since his appearance on The Ultimate Fighter Season 6 and it may lead to his return inside the octagon.
I've talked to Dana White several times over the years. Dana White likes me because I'm tough, marketable but he said I have got to stay out of trouble. I was on a five-fight win streak last year. I probably could have got back in the UFC but I was still busy getting arrested. He told me you have to stay out of trouble and keep your nose clean…so it was my fault.

I think if I get back on the grind, start training, fighting, rack up a bunch of wins, cool down and change the way I am, I think Dana will definitely bring me back. There's no reason why he wouldn't.
If you've been searching for War Machine in the Twitterverse (lame word, I know), the dude has removed the XXX from the end of his name and just goes by WarMachine170. I guess it's his way of proving to the world that he's serious about his move to MMA and not so serious about hooking up with chicks on camera…or beating up wannabe mafia porn agents.