All of this. The verbal urination. Smack-talk. Collegiate wrestling comparisons. Every word exchanged by Shane Carwin and Brock Lesnar can be attributed to a single interview Brock Lesnar did with GroundnPound.org over a year ago. In the legendary interview, Lesnar claimed that he encountered Shane Carwin shortly before UFC 96 and the two took part in a contest to determine the force of their punch.
"Shane Carwin and I actually met the day before UFC 96. He is a great guy – we actually had our punch forces tested too."

"We were told to throw the hardest right cross we could on a punching bag. I was able to rack up 1350 pounds per square inch. He did a little over 1200, making my punch harder."
According to Carwin, the entire story was one elaborate lie. They never even met at UFC 96.
"The guy is a freaking liar. We never met at UFC 96, I was getting ready for a battle with Gonzaga not hanging out at Dave and Busters with Brock. I do not understand why guys like Brock claim to have tested against me. He has the belt, shouldn't he be the standard?"
It's hilarious how these two guys have an issue over who can punch the hardest. I'm pretty sure anything coming at you with a force of over 1200 pounds per inch would be enough to rip through the fabric of time and space, let alone your jaw. After the historic beat down Brock Lesnar placed on Mir at UFC 100 and the subsequent post-fight antics, Shane Carwin used his personal blog to issue a response within hours of Lesnar unifying the belt.
"The flipping off of the fans that just lined your pocket with millions of dollars is just LAME. He may be a Champion but he has a long ways to go before he earns the respect of a Champion. The fans are why we do this Brock, this sport is not about fat paychecks and drama it is about hard work and sacrifice for a shot to do what you did last night. It doesn't matter how much money you make if you can't earn your peers respect and the respect and love of the greatest sporting fans in the world. We have no scripts in this sport, no pre-determined earning amount and no pre-determined outcomes. It doesn't matter if you win or loose it matters how you win or loose.

Every autograph I give, every hand I shake I am thankful that you give me the opportunity to be a part of your world. This is the greatest sport int he world and most of the athletes in it deserve the love and respect they get and some just dont get it.

From leaving the venue all the way to the Airport I have had fans of the sport ask me to take out Brock Lesnar for them."
It's an amazing thing when one of the top heavyweights in MMA tells another top heavyweight that 'he's lame'. The phrase 'he's lame' only means anything if it's coming out of the mouth of a dude who's undefeated with every one of his wins coming in the first round.
Shortly after Lesnar unified the belt, he started to verbal urinate on Shane Carwin's collegiate wrestling record insisting that it was on a sub-par level to his.
"He's a tough guy. He's undefeated, but some of the guys he's beaten aren't worthy of having on your record. He hasn't fought anybody. He's fought (Gabriel) Gonzaga, so I really think he's 1-0. He's a tough guy and a wrestler. But he's a Division II national champion – enough said."

"I don't know what he is, 11-0, 10-0, but he'll have a loss against Brock Lesnar."
I bet whenever these guys urinate, the oceans rise and planets re-align. Every droplet probably has it's own orbit. The next day, in an interview with Heavy.com, Shane Carwin swiftly responded to Lesnar's jabs.
"This is the first time that I am getting ready for a fight with a little hate for my opponent. He continues to fuel the fire with his ignorant comments about my opponents and my record. Next thing you know, he will tell you his high school was bigger than mine and therefore that'll be the deciding factor."

"I am ready. I wish I could kick his ass tomorrow."
With their fight a little bit over a month away, Carwin broke down the appeal of Brock Lesnar in an interview with 5ozofPain.com
"I feel like I have paid my dues and so have a lot of fighters waiting for their shot. Brock is what they call a 'Draw', he sells tickets, I am what they call a 'Fighter,' I fight who I am told to fight the way my coaches train me too. We are different people and we treat people different. To me this sport is as much about respect and honor as it is paychecks sound bites."
Just days away from UFC 106, it was reported that Brock Lesnar contracted H1N1. The reports were refuted by Dana White and then later changed to infectious mononucleosis which magically became diverticulitis over the course of a few weeks. Regardless, on Carwin's blog he made it clear that he even had H1N1 but had no intentions on pulling out of the fight.
"Fighting for the UFC belt is my path and honestly Brock coming down with his illness only gives me more time to be in that much better shape. It is a blessing if you want to know the truth. I would have never pulled out of the fight. I would wheel myself to the cage if it was my choice. I know this is my destiny and I don't need everything to be perfect I just need my opportunity to show the world what I can do and who I am."
In the meantime, Shane Carwin was slated to go against Frank Mir for the UFC heavyweight interim title at UFC 111. Prior to the bout, in an interview with MMAWeekly, Frank Mir chose to intercept the smack-talk between the two and called Shane Carwin a better version of Brock Lesnar. Brock then said on ESPN the next day that 'If Shane Carwin is a better version of myself, then the fight [between Frank Mir and Shane Carwin] is over in the first 30 seconds'. UFC 111 went down and Frank Mir became yet another victim to a guy that has hands the size of coffee tables.
Although Shane Carwin claims that it was unintentional, a picture taken in his hotel room after the fight shows a stack of Bud Light cans surrounding the UFC interim heavyweight belt. The rumor was that Carwin wanted to show allegiance to one of UFC's biggest sponsors in response to Brock Lesnar's infamous 'Coors Light' outburst shortly after he delivered some of the rawest ground and pound we've ever seen at UFC 100.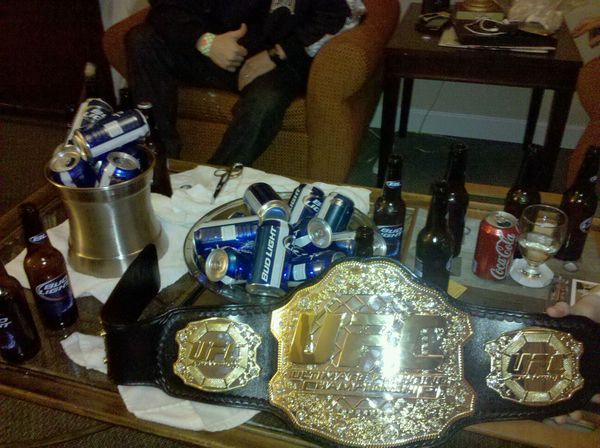 After Shane Carwin's 'media blackout', the smack-talk between the two seemed to subside leading up to this weekend. Today, the UFC press-conference was held inside the MGM casino which led to a potpourri of quotes that can all be read here. Since we're on the verge of the fight we've been promised for nearly a year, here's a throwback video of a promo that was originally cut for UFC 106. It's all about the nostalgia on MiddleEasy.