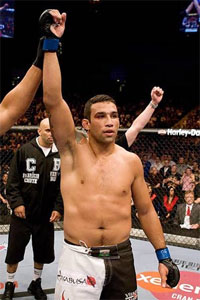 I just spent the last 5 hours of my life fighting Fabricio Werdum, getting submitted with an arm bar and reseting my Xbox so that my perfect record won't get tarnished. I'm so heated right now. I want to rip UFC Undisputed out of my 360 and smash the disc in pieces and bury them in the five corners of Scotland like they did William Wallace in Braveheart. It's so BS too, I win every moment of the round and then the dude gets me in this unbreakable rubber guard and transitions to an arm bar everytime. Everytime man. I don't even know what to do. If there is a cheat code to make both of Werdum's arm explode simultaneously I would kidnap (catnap?) my functional alcoholic neighbor's cat and…friggin…give it a good home (Hello PETA). This game has been out for two days and I've been stuck on Fabrico Werdum for a day and a half. What a great game though (until you reach Fabrico). I really would like to see more of this from the gaming world. MMA being represented with accuracy (unlike the 'chick' I met in Thailand last summer…wtf was that).
Strikeforce for 360? Make our dreams come true. Imagine Gina Carano digitalized (wow) it would be a rapid succession of mount after mount after mount after mou…
Join our list
Subscribe to our mailing list and get interesting stuff and updates to your email inbox.