Roy Jones Jr. vs. Anderson Silva CONFIRMED…Oh wait, not really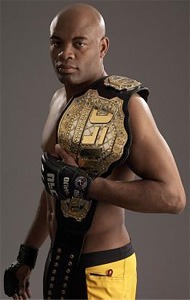 Roy Jones Jr confirmed that he will be willing to fight Anderson Silva using MMA Rules. You would think holy f, this bout may be the most explosive bout this year sans Lesnar vs. Mir! But Dana White murdered the that warm and fuzzy thought you just got by saying something along the lines of 'As long as Anderson Silva is in the UFC, he's not fighting a washed up 40 year old boxer.' That's not the exact quote, but its close enough to kill any hopes of this fight happening.
Maybe Dana White forgot that he's talking about Ballard, the character on The Matrix Reloaded with that unforgettable line 'We'll do it just to see what happens'. Awesome. Look, should boxers fight in MMA? Why the hell not? It doesnt seem like Anderson Silva has any competition in the UFC anyway. He walked through his last three opponents and now we will be absolutely blessed to see GSP and Silva sometime in the near future. But other than that, who else is up for Spider? After that impressive victory over Hatton, throw Manny Pacquiao in there and make it a pure stand up war. Now that would be quite possibly the best thing to ever happen for human civilization.
Read more about it here