What elements of this universe must be aligned for this fight to happen? Of those of you that don't know, the chick on the left can submit you in less than 30 seconds and you would enjoy every moment of it. In fact, 3 out 4 of Michelle 'The Karate Hottie' Waterson's wins have come from submission.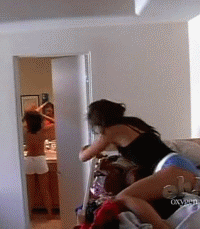 That's right, she isnt a prop or a card girl, this chick loves mounting other chicks and got bless her for that. So its about time for her to face another friggin hot minx and one of my favs, Rosie Sexton. Chick has sex in her name, enough said. But really, She's won all of her fights with her only lost coming to the queen of friggin hot, Gina Carrano. I saw Sexton's last fight against Debi Purcell and she won by split decision. I think she's ready to battle and so is Michelle Waterson. Just look at her. 
So what needs to be done to make this fight happen? Really. Do I need break down my neighbors door and tell her to put down her vodka tonic for the third time this morning? I'm hoping Strikeforce will assemble this card along with the inevitable Carano/Cyborg for hopefully this summer.
Oh, and your moment of zen: