Well then, Fabricio Werdum tell us how you really feel. From the random but hilarious section of the mixed martial arts toy department, we have former UFC heavyweight champion Fabricio Werdum completely burying the promotion's biggest sponsor. Now when Werdum unleashes his inner troll there are very few in the game who can hang with his expertise.
Booked in a highly anticipated rematch with Cain Velasquez at UFC 207 at the end of the year, Werdum took to Instagram to vent all his frustrations at Reebok. Per a very loose interpretation of the Portuguese language via Google, Fabricio Werdum says "I'm not generic, I @nike from baby! #Suck #MyBalls #Reebok".
50 to 60 years from now alongside his UFC championship belt and his triangle choke out of Fedor, Werudm's inspiring words of "Suck my balls Reebok" will be etched in stone somewhere.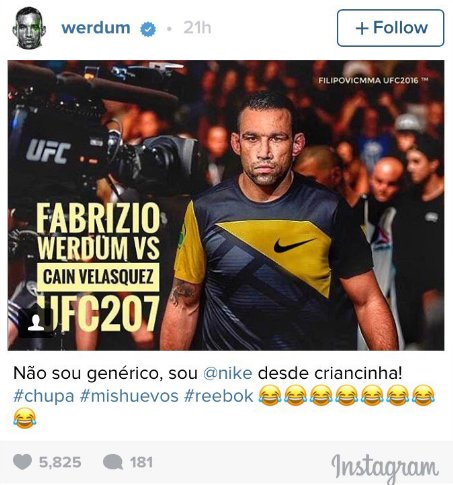 H/T to MMA Fashion Insider @jnsanchez for the find