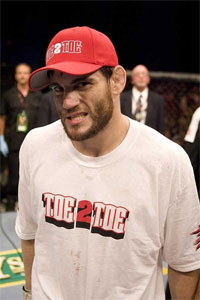 If you get a group of friends together and watch a night of MMA, try taking a shot of Jagermeister every time a commentator says 'styles make fights' to justify a wrestler's dominance when the action seems lackluster. It's actually based off of MiddleEasy's official drinking game – which requires you shoot tequila every time Joe Rogan refers to Phil Davis as 'explosive'.  Whichever game you chose to play, you'll probably end up consuming a lot of booze and end up making questionable decisions for the remainder of the evening. Based on Jon Fitch's choice of walk-out music, you can tell that he's known the joys of Jagermeister at least once or twice in his life. Walking out to Johnny Cash is the equivalent of telling the entire world that your remote control is broken, but since the TV is stuck on the country music channel, you're totally cool with that.
Regardless of what you think of country music, this past weekend, Jon Fitch was married to a hotter girl than I'll ever get to share any fragment of my life with. The plan was to go on his honeymoon while the UFC holds his #1 contender status until Josh Koshcheck and Georges St. Pierre resolve their differences at UFC 124. Everything was going dandy for Fitch until Fighters Only reported that Dana White may have gone back on his decision of offering the winner of Fitch/Alves the next title shot.
"I want to wait for Koscheck and St. Pierre to happen and then we'll figure put who gets the next shot. By then Jake Shields will have fought Kampmann… a lot of it is timing,"
Reading between the lines has always been pretty hit or miss for me, but what I think that means is Dana White feels Jon Fitch winning five straight fights may not be enough to earn the rematch with St. Pierre (or a fight with teammate Josh Koscheck if he beats GSP in Montreal) that he's been waiting for since August of 2008. Imagine coming home from your honeymoon and finding out all this. Let's hope Fitch left his iPhone at home and doesn't have access to the internet wherever he is right now. News like this is what turns romantic vacations into Jager-induced drunk-dialing your boss and crying for an explanation. [Source]
Join our list
Subscribe to our mailing list and get interesting stuff and updates to your email inbox.