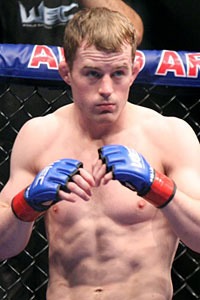 When James Buster Douglas knocked out Mike Tyson in Japan, the next day I went to school and told everyone in my elementary school. Later that day I got a detention for being a social butterfly. Guy Mezger called it before I even had the chance. In this morning's Dream 9, Joe Warren defeated Kid Yamamoto in a split decision win dropping Yamamoto's record to 17-2-0 (Dude's last lost was 7 years ago). Oh and its Warren's second fight (says a lot for Team Quest).
Yes, Joe Warren is 2-0 but he just beat a dude that went through Caul Uno, Royler Gracie and WEC's Rani Yahya. This is the MMA equivalent of James Buster Douglas defeating Mike Tyson (and it happened in Japan!). The dude has a chin of titanium alloy. He just pursued Kid Yamamoto nonstop trying to get either the take down or the muay thai clinch (landed some impressive knees to Yamamoto's dome). Thats how Warren won. Its not rocket science. Superhuman cardio, titanium alloy chin and scored takedown after takedown. Joe Warren is like Colossus from X-men with five ounce gloves on.  Yesterday, no one knew who this dude was, now he's officially on the map. Remember this name: Joe Warren. Then remember where you read this from.
Join our list
Subscribe to our mailing list and get interesting stuff and updates to your email inbox.