The past twenty-four hours has been an orgy of unexpected fight announcements and last-minute replacements for some guy named TBA. Everytime we planned on telling you guys about an announced fight, another one fell threw the pipeline (the imaginary fight announcement pipeline of MMA) and we just stopped what we did, grabbed a beer and sat on the sofa in disbelief. I guess we'll start with the only guy we know (besides Galactus) that snacks on planets for breakfast.
Bobby Lashley vs. Yohan Banks / Herschel Walker vs. Greg Nagy at Strikeforce: Miami
Back in high school, I didn't know who I was going to bring to my Senior prom. The head chaperone just put my date down as "TBA". I just assumed I was assigned a date because it was pretty last minute and there was probably someone else that didn't have a date either. Well…TBA ended up standing me up. In an odd coincidence, TBA seems to have backed out of fights with Bobby Lashley and Herschel Walker for Strikeforce's upcoming Jan 30 fightcard in Miami.
This might be the only thing I ever have in common with Bobby Lashley and Herschel Walker.
Greg Nagy (1-1) looks to be stepping in to face Hershal Walker. We don't really know anything about him except that he most recently dropped a unanimous decision to Francisco Navarro at RITC 136 in November (according to 5thround.com). Trust me, we Googled it and that's all we know.
As for Bobby Lashley, he's been paired with Yohan Banks. Back in September of 2008 at 'Strikeforce – Young Guns 3', Banks impressed us with a knockout victory over Michael Diaz in only 19 seconds. Since then, we don't really know what he's been doing, but all signs point to Call of Duty: Modern Warfare II (It's really addictive).
We don't know if these fights will go down in history as triumphant performances, or even if EA MMA will finally give "TBA" a spot in the game, but we do know that Jay Hieron got screwed.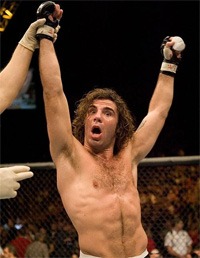 Sean Shrek vs. Clay Guida at UFN 21

If you were in Philadelphia MMA Expo today, chances are you ran into Sean Sherk and got your picture taken with him. The picture is probably going to get lots of comments on your facebook page. I'll bet it was 'rad' meeting the dude who figured out how to stuff 200lbs of muscle onto a 155lb body. Ironically I'm trying to do the complete opposite after murdering this bag of Doritos and a 2 Liter bottle of Mountain Dew.
At one point, Sean "The Muscle Shark" Sherk pretty much ran the UFC Lightweight division. Then UFC 84 came along and he had to prove his old diet of Gatorade & steroids had been replaced with consumables that Dana White hasn't put on his UFC ban list (like Xyience and Bud Light). Unfortunately, even though Sherk passed his drug test that night, he couldn't get past BJ Penn, who teleported a knee from hell across the octagon and took away the Lightweight Championship belt.
Since then, Sherk has defeated Tyson Griffin and lost to Frankie Edgar, but neither performance was particularly impressive to his fans. At this stage in his career, pretty much needs the most dominant performance of his career to remind the world of how rawesome he once was at 155lbs. Unfortunately, so does his next opponent, Clay Guida, who's coming off two nasty losses of his own to Diego Sanchez and Kenny Florian. Any way you slice it, Sean Sherk and Clay Guida both had a rough 2009, but on March 21st, At UFC Fight Night 21, barring a no contest, double-knockout, steroid accusation, disqualification, or a draw…someone's luck is probably going to improve (that's a lot of commas).
Jonathan Goulet vs. Marcus Davis at UFC 113
Just as this story was going out, Ariel Helwani interrupted my Saturday football addiction with the announcement that Marcus Davis will bang against Jonathan Goulet at UFC 113.
A welterweight bout between Jonathan Goulet and Marcus Davis is in the works for UFC 113 in Montreal, QC, Canada. MMA Fighting has learned that bout agreements have not been signed, but both camps have verbally agreed to the fight.

Goulet, who hails from Victoriaville, QC, which is located outside of Montreal, hasn't competed since December 2008 when he lost via 33-second knockout to Mike Swick. He was scheduled to face Dong Hyun Kim at UFC 100 in July, but a dislocated shoulder suffered in training forced him out of the bout.
There, Fight Announcementpalooza 2010 is officially over, the orgy of bouts are finished. I hope you guys used protection.