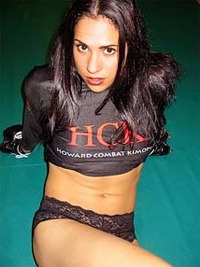 Watching Erin Toughill (pronounced 'Toe-hill', I know! Its nuts!) fight is like witnessing the birth of baby Jesus. At first you're like, who are these three dudes sitting next to me which is shortly followed by a 'Oh shit! I can't believe I just saw that!'. It's hard knowing that a chick this smoking can fight so good. Usually when you're in the presence of a chick this hot, you think maybe the genetic playing field would be leveled by God giving them an extra toe or something. Not the case here. Erin Toughhill is pretty on point (I've never seen her feet though, maybe I'm right). Ever since I saw her nab that first round TKO against Karen Williams at PFC earlier this year, I knew that this chick was for real.
Chick hasnt lost a single MMA fight in five years. Not to mention she's also boxed Laila Ali! If I were looking to create the female version of ED-209 (Robocop reference for the win) Toughill would be on the top of a very short list. Really, the only people I could think of that's next of Toughill's path of (super hot) destruction is Cyborg and your girl Gina Carano. If you're a promoter then you would be an idiot not set up a Toughill vs. Carano. It would be 9 minutes (this is why chicks need five minute rounds!) of hot on hot crime and the ultimate winner…me.
Join our list
Subscribe to our mailing list and get interesting stuff and updates to your email inbox.