If not for the DQ loss to Carlo Prater back in January we could've had two 'Happy Wallid' interviews so far this year. That sucks but damn this Erick Silva is fun to watch, and he's probably going to be responsible for some sort of MiddleEasy T-shirt if he keeps up his handsome winning ways.
Tonight at UFC on FX 3, Erick Silva and Charlie Brennemen bounced around the cage like a pair of five year olds after blowing a line of pixie stix. Somehow after a myriad of takedown attempts mixed in with some wildly fun standup, Erick Silva somehow ended up on the Back of Charlie Brennemen and choked him from the rear until he tapped.
Afterwards an elated Wallid Ismail took the mic to translate for Erick Silva while Bauzen pumped his fist and jumped onto his coffee table.
.gifs of the fight after the jump.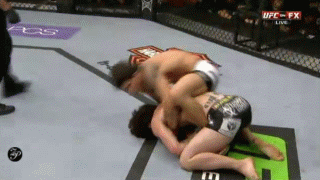 [Source]