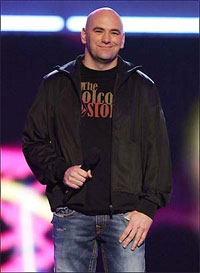 When CNN interviewed the victims of Hurricane Katrina they always said 'I could have been dead…or even worse'. That even worse they're talking about is being a victim of Dana White's verbal wrath. He's probably not going to fight Tom Attencio in the ring, but by this point he doesnt even need to. Dude has already ripped people to shreds and left a ruthless trail of destruction (without even throwing a punch). You guys remember how Dana White verbally gouged Loretta White right in the eyes with his video blogs calling her everything. Since then he's apologized and removed the videos from his blog but days later, the dude responds to Tom Atencio's mma challenge by saying "If I were him, I'd want to fight me, too," White said. "I'm the guy who is killing all of his hopes and dreams." [source]. Dana then goes on to say "…why would I fight this goof? He's neither a fighter nor a promoter. He's a [expletive] loser. That's all he is."  But hold up, Dana isnt even friggin done yet. He still has a potpourri of heads to chop off. The most recent decapitation belongs to your boy Pat Miletich after Dana White says 'It's not my fault Pat Miletich is a (expletive) dummy' [source] in regards to him leaving WAMMA. 
It's like we're all trapped in a never ending episode of 'As the world turns'. Everyone, stop the shit talking. It's pointless, negative and doesnt bring anything to the sport. Just focus on feeding our addictions with hardcore MMA, not drama. Bladow.
Join our list
Subscribe to our mailing list and get interesting stuff and updates to your email inbox.