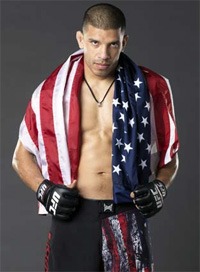 YES! YES! (That's my Diego Sanchez impression for the day, I'm done). DaMarques Johnson will forever be our dude because he granted us our first interview when he was elbow deep in Ray Elbe's skull during The Ultimate Fighter Season 9 this year. After losing the TUF finale against James Wilks (with just six seconds left in the fight!), the UFC offered him a multi-fight contract and now it's been confirmed that Damarques Johnson will make his first post TUF-9 appearance in Manchester, England at UFC 105 (which will also air free on Spike TV).
Breaking news over your cranium, one article at a time. We're actually the first site to release this information since his camp called us directly. Cell phone technology ftw.
The name of his opponent hasn't been released yet but we're hoping that it's someone who doesn't mind getting their trachea smashed in with a triangle choke. I will have to check my list, but I can assure you…I'm not on it. War Damarques!